Is Ardor Price Good Enough For Investment?
#investment
#defi
#cryptocurrency
#blockchain
#ardr
tl;dr
If you're a crypto enthusiast, you know more than enough about the importance of blockchain technology and all it offers. Also, you know that blockchain suffers from some drawbacks, and many projects are striving to cover those dark areas and use the full potential of this mind-blowing technology. Ardor is one such project with big dreams and objectives. Keep reading to learn all about Ardor price, its technology, roadmap and many other details.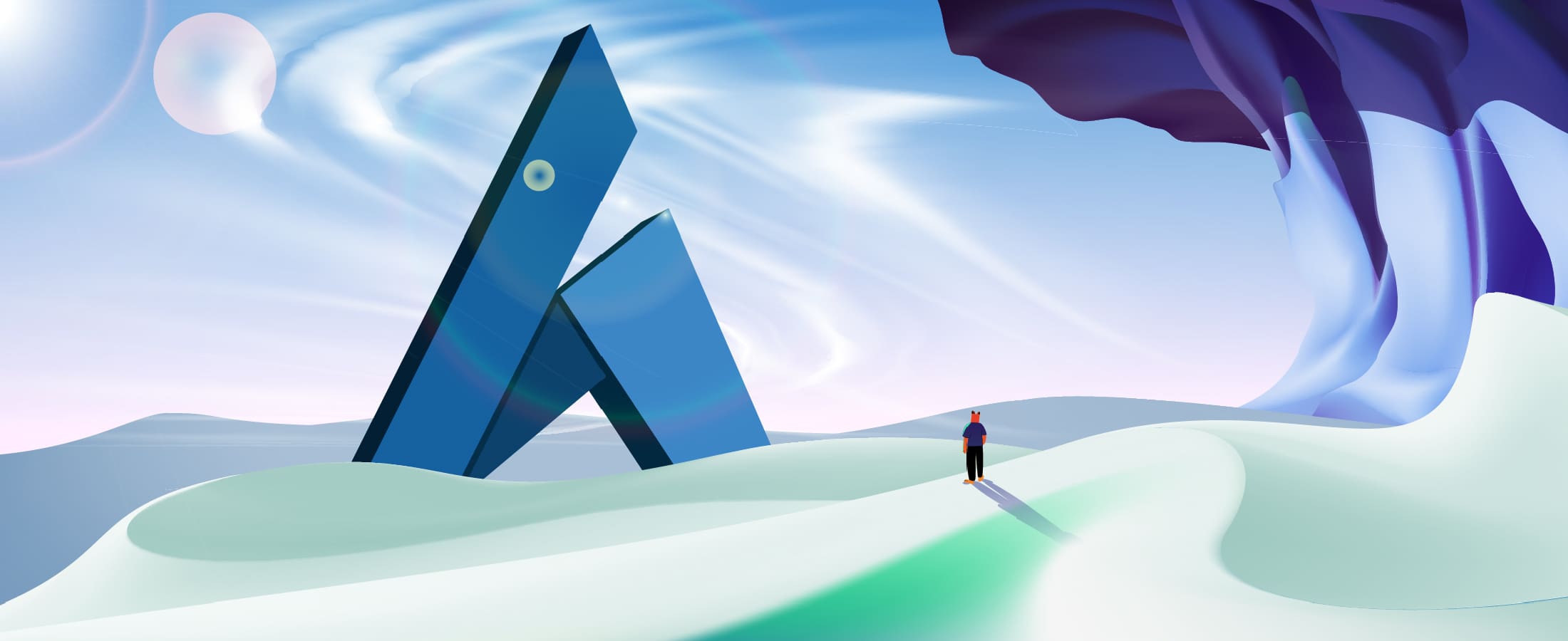 How do you rate this post?
Is Ardor Price Fair For Investment?
To see if Ardor price is fair for investment, we first need to see what Ardor is, what it offers, how it has performed so far, and where it's heading. Ardor is a multichain platform with open-source codes launched by Jelurida Swiss SA in 2018. It is designed to overcome blockchain technology problems and increase scalability. Ardor's design includes a parent-child chain system where the parent chain is responsible for network security and transaction processing, while the child chains cover functionality, such as creating assets, voting on polls, sending messages, etc.
Ardor Price and the Three Child Chains
Ardor price is partly affected by the technology it offers. In addition to the parent chain, Ardor comes with three child chains: IGNIS, AEUR, and Bitswift. The most significant innovation of Ardor is binding multiple transactions into a single transaction on the parent chain, called bundling. To ensure the security of child chains, Ardor applies the Proof-of-Stake consensus mechanism on the parent chain.
Ardor Plarform Unique Features
The Ardor platform's architecture offers three main advantages as follows.
There's a native token for each child chain, used to pay transaction fees and paid features.
The Ardor platform ensures scalability by removing the unnecessary child chain data when it is included in the permissionless Ardor parent chain to prevent the network "bloat".
The source code for all the child chains is the same, and they are all connected to ensure interoperability in the platform, which enables child chain tokens' trading in a decentralised way.
Ardor Price Is Affected By The Problems It Solves!
Ardor tries to solve the blockchain problems, including using one token for all the platform features, blockchain bloat, customisation and cloning issues. These problems led the Nxt developers to come up with the Ardor protocol. The Ardor platform is based on the codebase of Nxt, running as a public blockchain since. November 2013. Ardor will support all the existing functions of the Nxt blockchain.
What Solutions Does Ardor Solve and How Does It Affect Ardor Price?
The solutions Ardor offers are threefold, i.e., blockchain bloat solutions, Single token dependency solutions, and Baas solutions. The solutions that Ardor offers indirectly influence Ardor price.
Ardor Forging vs Bundling
The function Ardor has to bind multiple transactions into one is called bundling. Also, with the Ardor platform, instead of one blockchain architecture, there is a combination of one forging chain, where transactions are denominated in a single token (ARDR), and multiple child chains, with their own transactional tokens each. The following image shows the differences between forging and bunding.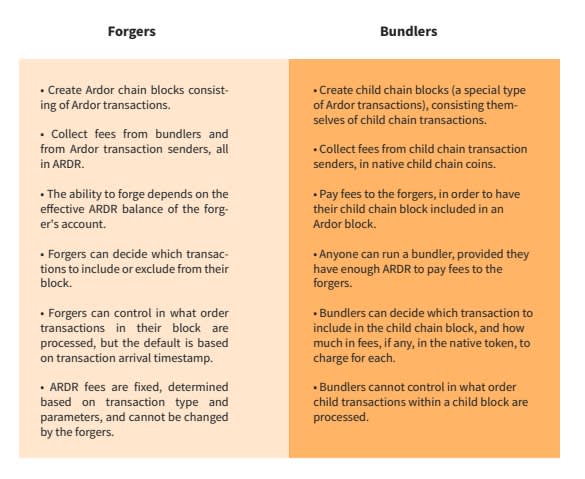 How Does Ardor Validate Transactions and How Does Ardor Price Change?
The Ardor price is indirectly influenced by what the platform does. The Ardor platform ensures the validity of child chain transactions and account balances. It does so through anchoring them to the forging chain via ChildChainBlock transactions. This transaction includes a list of one or more transactions denominated in that child chain's native token, and applying them would only affect account balances and holdings on that certain chain. Actually, this attachment is indicative of a "block" on the child chain, although forging (block generation) has not happened on child chains. A cryptographic hash is the only way to link the attachments to the ChildChainBlock transaction, enabling the transaction signature verification even after removing the content of the attachment. The following image shows the sequence of events in Ardor.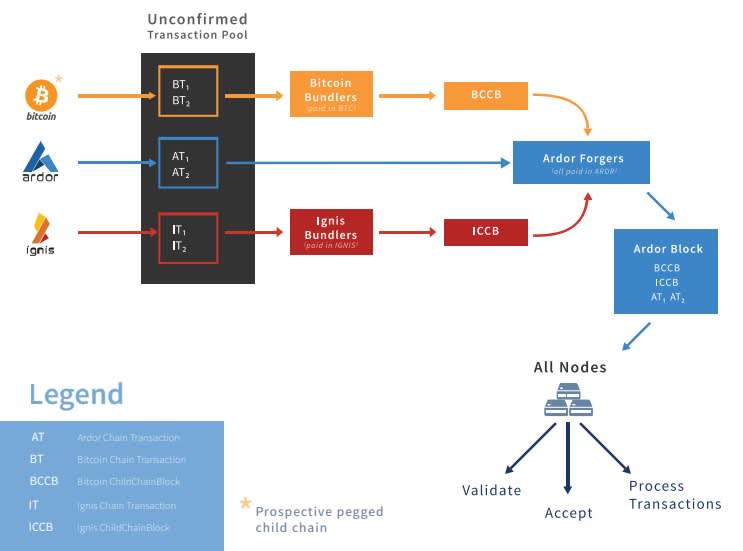 How Can I Make Money In Ardor Platform?
Ardor platform enables the following secondary revenue sources:
Custom Plugin Development
Bundler Services
Archival Node Services
Whitelabel Wallet Creation
Ardor Price and Financial Analysis
The Ardor parent chain token, ARDR, is mainly used for forging - generating new blocks and network consensus. ARDR forgers earn the transaction fees from the blocks they forged, but no new ARDR coins are created. Today, on Jun 22, 2022, Ardor price is $0.097250300208 with a 24-hour trading volume of $4,199,713. In the previous 24 hours, the ARDR price has been down -2.6%. Ardor's circulating supply is 1 Billion ARDR coins, and its total supply is 998 Million. Currently, ProBit Global is one of the active exchanges to trade ARDR coins.
Ardor Price, Market Cap, and ROI
According to the financial charts provided at Cryptologi.st, Ardor price is 95.2% lower than its All-Time High of $2.04 on Jan 13, 2018. However, it is 1018.0% higher than its All-Time Low of $0.00874500 on Dec 06, 2016. Currently, Ardor holds the rank #245 in market cap rankings among all crypto projects. Ardor's liquidity score is 38%, making it a hard sell in a bearish market. Regarding the Return on Investment (ROI), Ardor hasn't been profitable in the recent year and has resulted in -14% growth, meaning that your $100 investment in ARDR a year ago would result in losing $14. However, its damage has been less than similar projects, with -32% growth in ROI, but way lower than the ROI of the top 1500 projects, with 6,357% growth!
Disclaimer: Don't take this article as financial advice. You need to DYOR (Do Your Own Research) before investment.
Ardor Price Prediction
One of our main reasons to invest in a volatile market like crypto is to make a fortune. To this aim, you need to do your own research, weigh your options, monitor the market changes and follow the trends and experts' opinions. In the following sections, we'll summarise the crypto experts' predictions from Priceprediction.net about the Ardor price in the coming years.
Ardor Price Prediction for 2022
In the current bear market in 2022, the average price of Ardor coins is estimated at $0.12. The minimum and maximum Ardor prices are predicted to be $0.11 and $0.13, respectively.
Ardor Price Prediction for 2023
Crypto experts predict that the average Ardor price can reach $0.16 in 2023. Pessimistically, ARDR coins will hit a low level of $0.16. Optimistically, the Ardor price can reach a maximum of $0.20.
Ardor Price Prediction for 2024
In 2024, the average price to trade each ARDR coin is expected to reach $0.24. Ardor price may reach a low level of $0.23 and hit a high level of $0.28.
Ardor Price Prediction for 2025
Experts assume that according to the current performance of Ardor, its average trading price will reach $0.34 in 2025. The minimum and maximum prices of each Ardor coin are predicted to reach $0.33 and $0.40, respectively.
The Team Behind Ardor
Lior Yaffe is the Co-Founder and Managing Director of Jelurida, who helps the main software engineers Petko Petkov and Tomislav Gountchev.
Ardor Price and Roadmap
To check the Ardor price and IGNIS distribution, check here. The following image shows the Ardor Roadmap. To learn more about the Ardor roadmap, check here.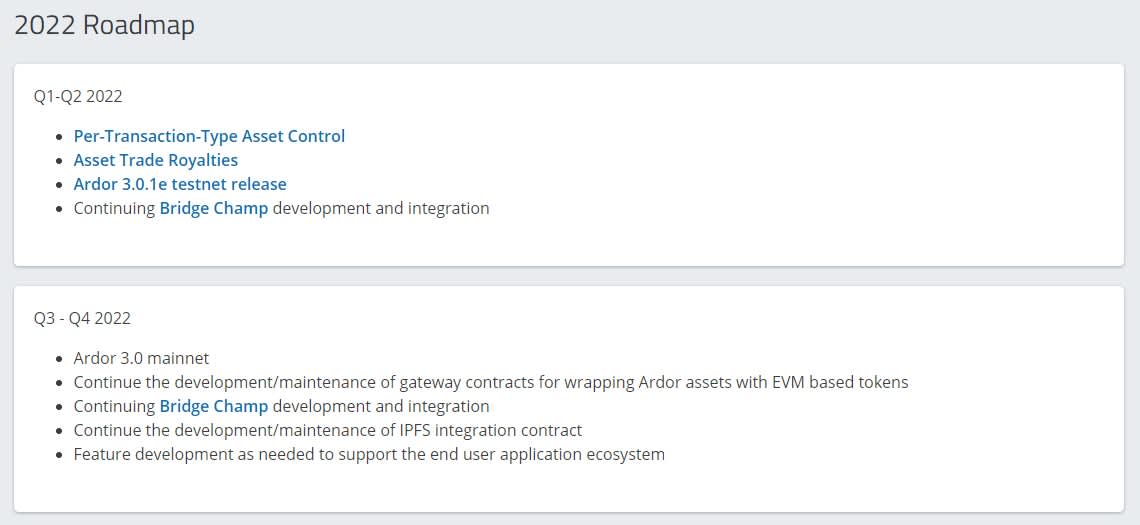 Is Ardor Price Good for Investment?
After learning the ups and downs of Ardor price and technology, now we can get to answer this question. Ardor price is not so high, and it is bought easily, but since the liquidity score is low, it is not that easy to sell. You may consider it a long-term investment, considering the price predictions and the possibility of reaching a bull run in the upcoming years. Meanwhile, you can put Ardor on the watchlist to monitor its changes and use our free screener tool to compare it with hundreds of projects. Also, it's vital to stay updated in this volatile market. Don't worry! You don't need to check myriads of websites to access the news. We have gathered the hot news, project reviews, and educational content all in one place. Cryptologi.st is all you need to make confident investment decisions!
How do you rate this post?