Infinity Wallet Review: How to Use It? Is It Safe?
#investment
#blockchain
#amm
#eth
tl;dr
Crypto veterans believe that ease of use, security, speed, low fees, and allowing transactions among various cryptocurrencies are the main features of the best crypto wallets. In my searches to find such a wallet, I came across the Infinity Wallet, and this article is the Infinity Wallet review to let you decide if this crypto wallet can meet the bar!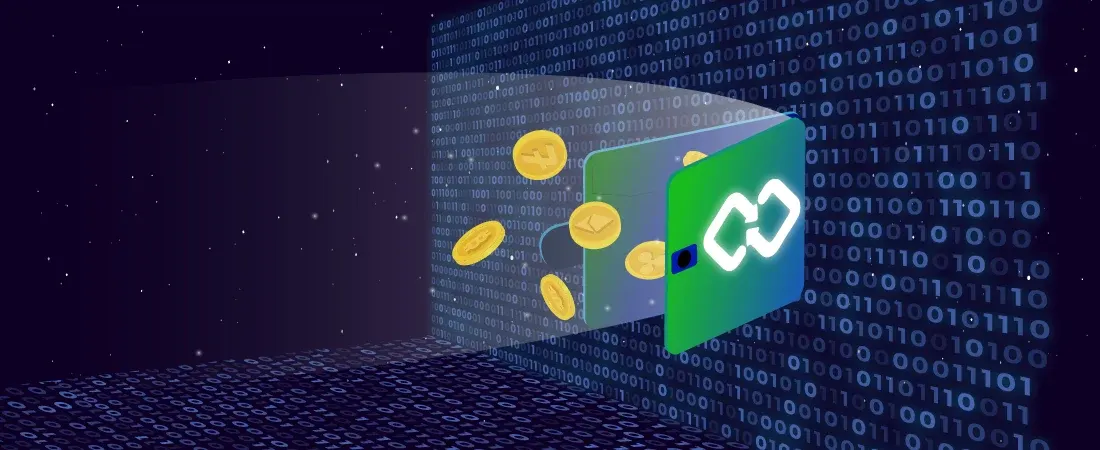 How do you rate this post?
What Is A Crypto Wallet?
A crypto wallet is a physical device, software program or online platform that holds the private keys to a cryptocurrency and safeguards them.
Storing the passkeys you use to sign the transactions, a crypto wallet provides the interface that enables you to access your cryptocurrencies.
Technically, wallets don't hold and store your cryptocurrency (i.e., you don't give them your crypto coins). They enable you to prove the ownership of your digital assets, do transactions, and hold your coins/ tokens using blockchain technology.
Learn the details of blockchain wallets and how to use them as crypto wallets come in different kinds, including two major types 'hot' and 'cold'. Here, we'll focus on hot wallets, but you can also learn about the top cold wallets.
What Is A Hot Wallet?
A Hot Wallet is one of the most popular kinds of crypto wallets, which stores the users' private keys in cloud storage to speed up transactions. Hot wallets are highly convenient as they are connected to the Internet, but this feature makes them more prone to get hacked. Find the top hot crypto wallets.
To use a hot wallet, you need to create an account on an exchange platform, download its mobile or desktop wallet, and start transferring cryptocurrencies. The hot wallet we're about to review is the Infinity Wallet.
What Is The Infinity Wallet?
Infinity wallet review includes all you need to know about this wallet to decide if it's a good platform for your transaction needs. Let's start with the basics.
The team creating the Infinity Wallet started working on it in 2018, and their efforts led to the launch of the Infinity Wallet in 2020.
The idea behind developing this wallet was to improve safety and convenience by creating an easy-to-use and advanced user interface. Infinity Wallet also aims to streamline public access to Decentralised Finance (DeFi), leading to its mass adoption. The short video below introduces the Infinity Wallet. Now that we know the basics let's check out Infinity Wallet's key features.
Read more: BEP2 vs BEP20: A Free Guide to Binance Tokenisation Standards
Key Features of Infinity Wallet
Infinity Wallet prioritises simplicity and ease of access. It also favours security by being a non-custodial platform. Many users love its design and have enjoyable experiences with this crypto wallet. But it's not enough! We need more details to decide if it can be our wallet of choice. So, keep scrolling to find its pros and cons.
Read more: The Best Crypto Wallet for Under 18
Pros and Cons
Infinity Wallet comes with many positive and some negative points, as follows.
On the positive side, the Infinity Wallet
is a non-custodial wallet where users control their private keys, not the wallet.
is a multi-chain wallet that enables users to store multiple cryptocurrencies from ten blockchain networks, including Bitcoin, Ethereum, Binance Smart Chain, Binance Chain, XRP, Litecoin, Dogecoin, Polygon, Metrix, and Groestlcoin.
supports major cryptocurrencies, ERC20, BEP20 and Matic tokens;
supports NFTs.
is anonymous, and the users don't have to comply with KYC.
aims to be user-friendly.
On the negative side,
the Infinity Wallet claims to support over 150,000 digital assets, but its website lists only 39 tokens as supported.
the users need more blockchain networks to be supported.
there are complaints about high fees and extra charges.
In addition to the pros and cons, a critical factor that helps you decide about this wallet is how it works and what its website offers the users, which we'll elaborate on below.
How Does Infinity Wallet Work?
Infinity Wallet offers most of its features on a dashboard inside the wallet, which you find on its left-side menu.
On the Dashboard, you can see the wallet balance in different periods, including one month, three months, one year, and all. You can also see your active assets with a search bar to easily find the asset you're looking for.
The second button below the Dashboard (on the left-side screen) is 'My Wallet', where you can find all the coins added to your wallet. Some coins are added by default, but if you don't see your favourite among them, clicking on 'Add Asset' can show you the full list. The button 'Add Custom Token' lets you add any token on Ethereum, Binance Smart Chain, or Polygon Network.
The third button on the left-side menu leads you to the NFT page, which shows your NFTs and lets you receive NFTs or use the marketplace.
The other buttons on the left-side menu are
Swap
Transactions
News
Market Stats and
DApps.
The following image shows the main page of the Infinity Wallet with the bar menu on the left. Below the image, you'll see the Inifinity Wallet review containing facts about its privacy to usability.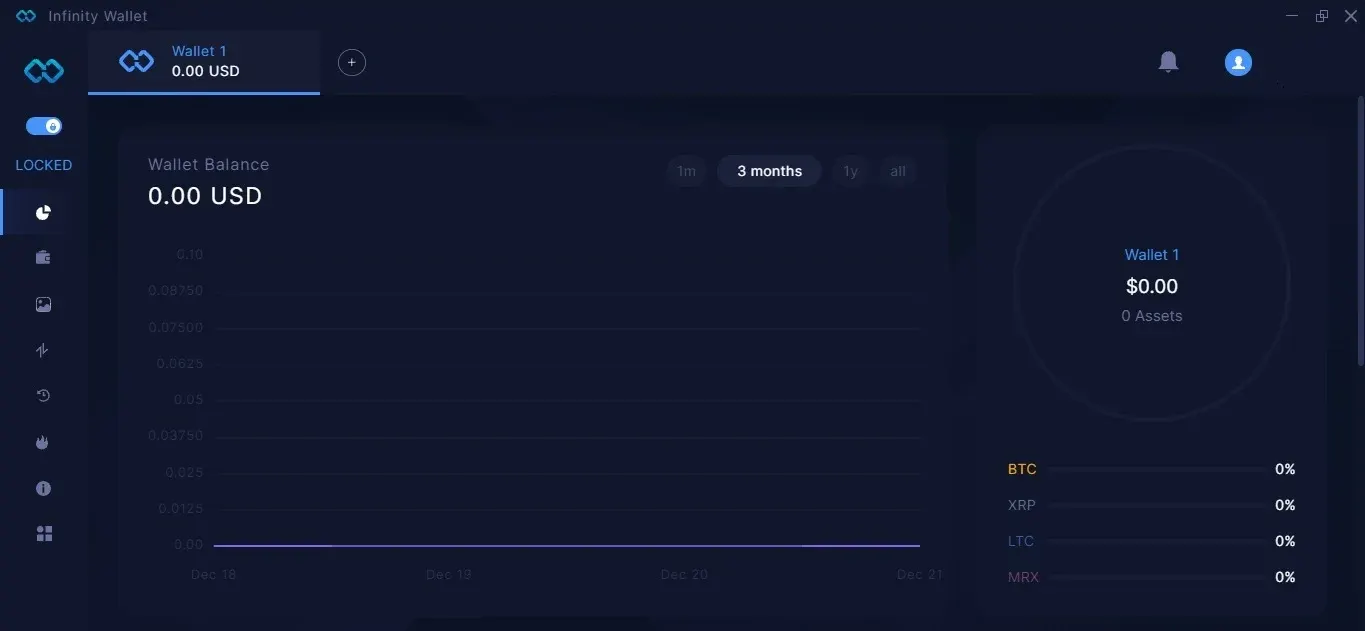 Infinity Wallet Review
So far, we have learned about crypto wallets, hot wallets, the basics, key features, positive and negative points of the Infinity Wallet, and how it works. Here, we'll continue the Infinity Wallet review to check its security and privacy, costs and fees, the coins it supports, and its usability.
Security and Privacy
The Infinity Wallet encrypts the users' private keys and data on their devices to maximise security. It only grants access to the wallet and private keys only to the user to maintain data privacy.
Cost and Fees
Using an Automated Market Maker (AMM), the Infinity Wallet charges a trading fee of 0.40%, 0.35% of which is proportionately distributed among liquidity providers. The remaining 0.05% is distributed among SHARD Holders as protocol fees.
Coins
Infinity Wallet is a multi-chain, supporting ten blockchain networks and the main cryptos, in addition to ERC20, BEP20 and Matic tokens.
Usability
The Infinity Wallet was developed to streamline public access to cryptocurrencies and allow users to monitor various wallets in a simple and secure platform. It enables users to control, track and exchange digital assets using one wallet.
Infinity Wallet User Review
Infinity Wallet has yet to release its mobile version, so there are no reviews about it on platforms like Google Play or App Store. However, many of its desktop users have left comments about it on various forums, which we'll take a glance at in the following.
"It's legit. Great features. It's all in one wallet. Secure"
"Good, but we need more networks (tomo chain network and Thunder Token (TT)."
"Seems to be very advanced wallet, I'm amazed. Design is perfect and features got everything relevant to start maintain every crypto needs for it's users."
"ETH gas fees in this wallet will make you regret installing it. Its literally 2x more than what its supposed to be, for example, withdrawing $120USDT (ERC20) Will cost you over $49 of ETH to cover the fee, on average speed, and just over $20 on slow speed, which is supposed to be the fee for average withdraws on ETH network. They have high minimums for swapping and will warn you that you do not have enough ETH to do the swap. It's crazy."
"When I need to swap or withdraw 14 USD, they charge you 7 USD fees."
"I really enjoy using the Infinity Wallet. It is by far one of the most intuitive and user friendly wallets I have used. I think this wallet has the ability to make cryptocurrency accessible and understandable for those with little to no experience."
How to Download and Install Infinity Wallet?
The Infinity Wallet website only offers the desktop version of the wallet, and its mobile version is not released until today, Dec 21, 2022. It's an easy wallet to set up and use. We'll explain everything you need to know about downloading and installing Infinity Wallet step by step.
To download the Inifinity Wallet, search its name on Google and get to its website. The following image shows what you'll see on its main page.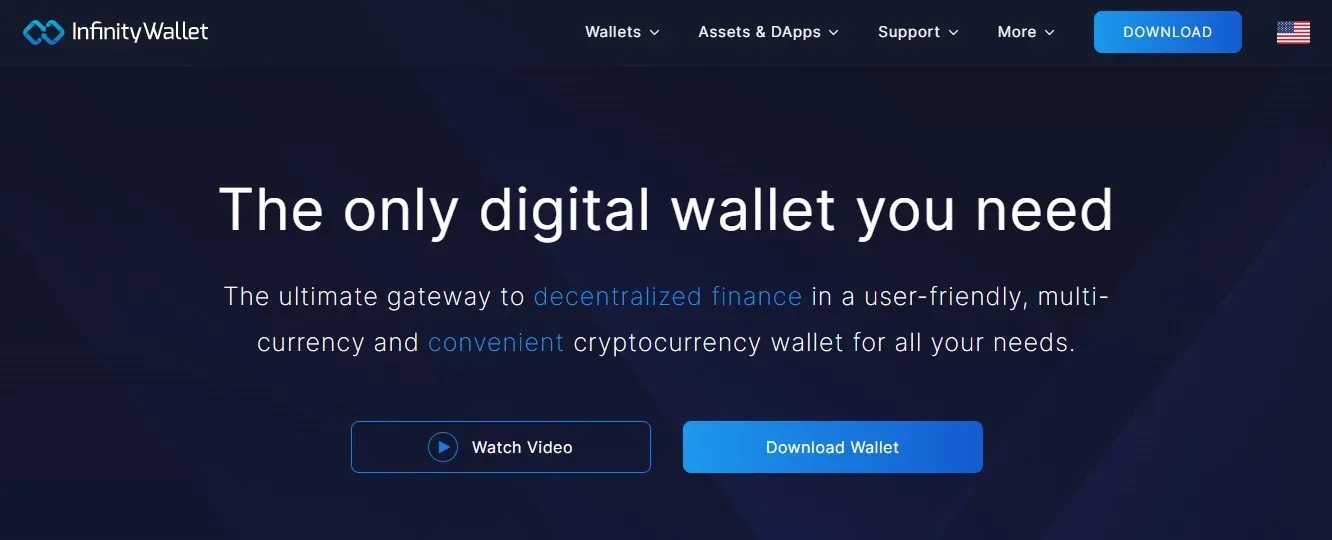 Click on the 'Download Wallet' button to get to the download page, which looks like the image below.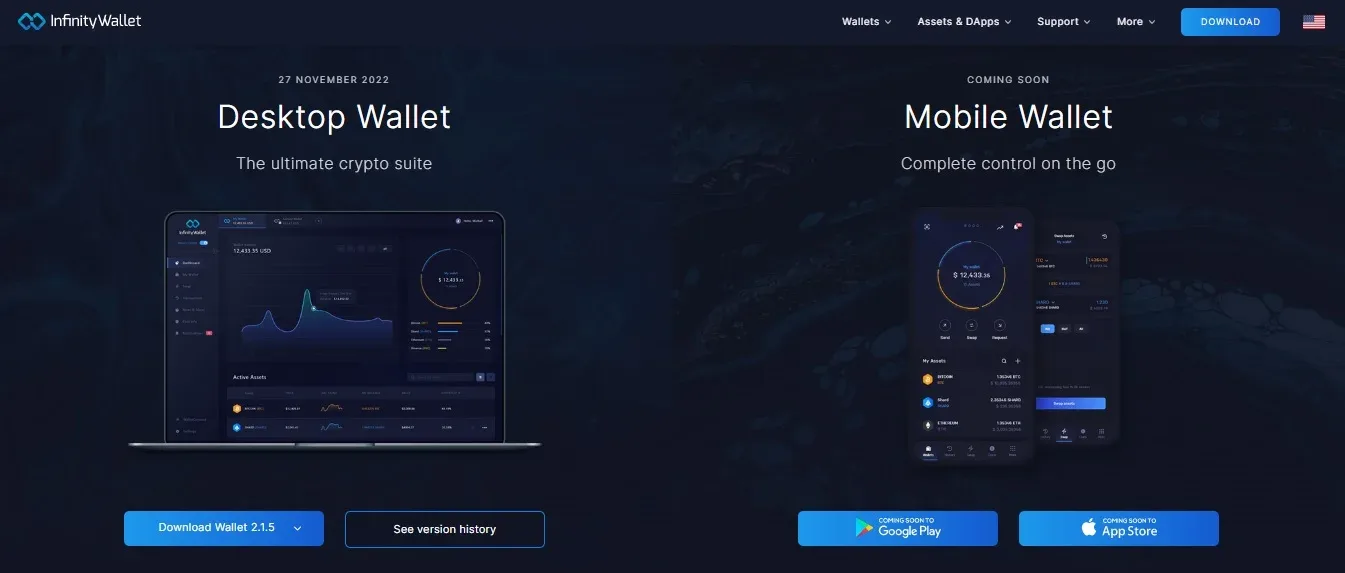 As the above image shows, the mobile wallet is yet to be released, so click on 'Download Wallet', which is currently version 2.1.5. This button opens a list that lets you download for Windows, MacOS, and Linux. Choose the one you want and wait for it to be downloaded.
Once the file is downloaded, open it to start setting it up. The first window that pops up wants you to agree with the terms. Once you click on 'I Agree', it proceeds and installs the wallet, and you see the welcome pages you can skip.
Then, you get to create an account, choosing a username and password.
In the next step, you choose if you're creating a new wallet or restoring an old one. By choosing 'Create new wallet', you see the following page to name your wallet.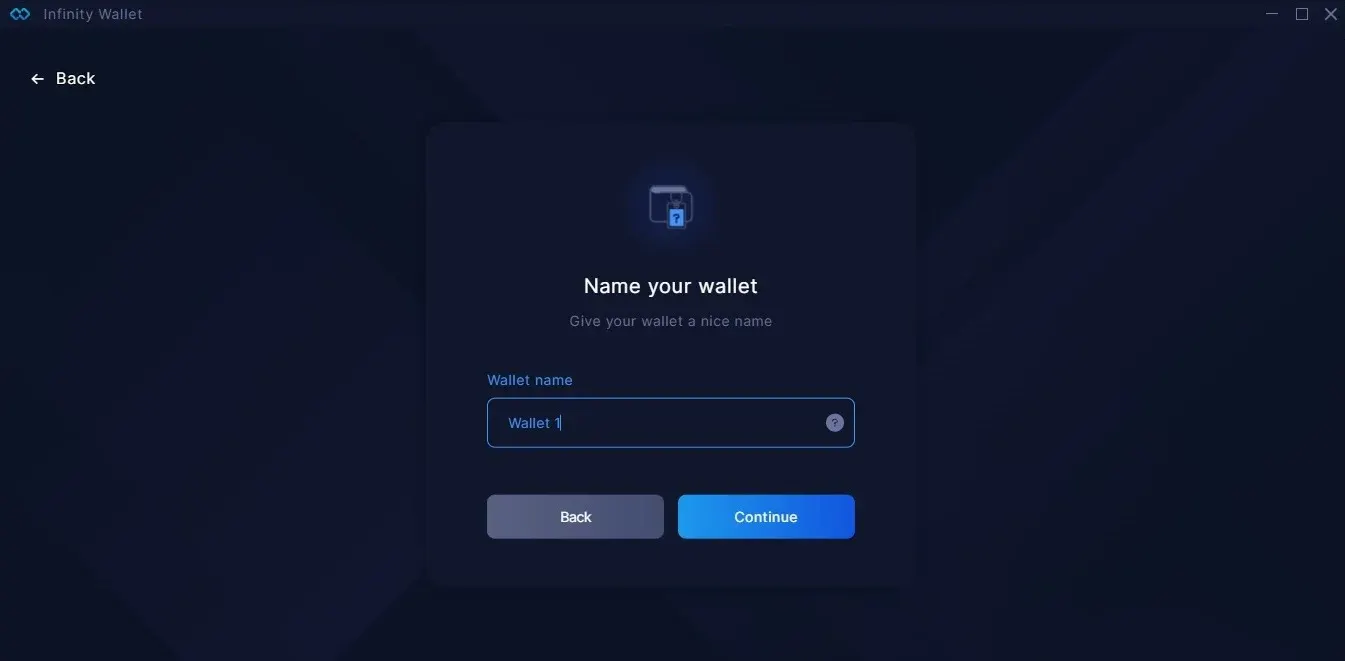 The next step is creating a wallet pin, which is optional, i.e., you can choose it now or later from the setting.
Then, you need to select a seed phrase from two choices, a 12-word or a 24-word, as the following image shows.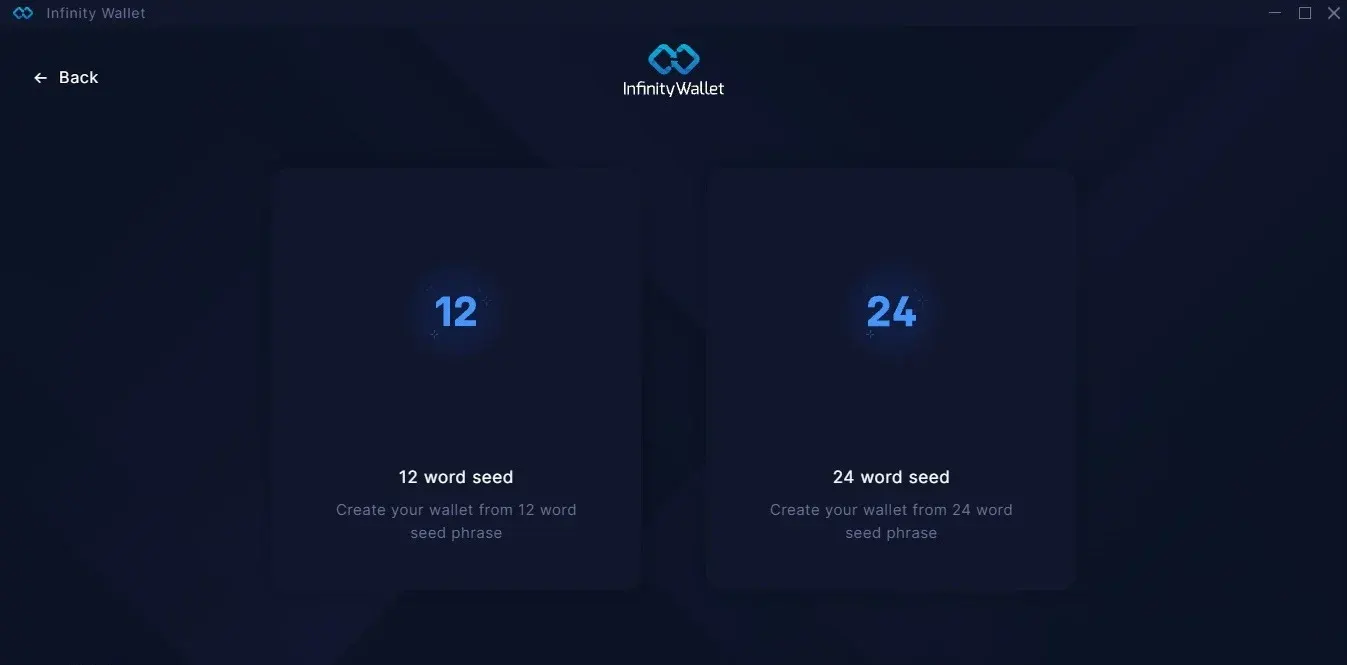 Whichever seed phrase you choose, you must keep it safe as it is the only way to back up your wallet. You can proceed by ticking the box, reminding that if you forget the seed phrase, your wallet can never be recovered, as the image below shows.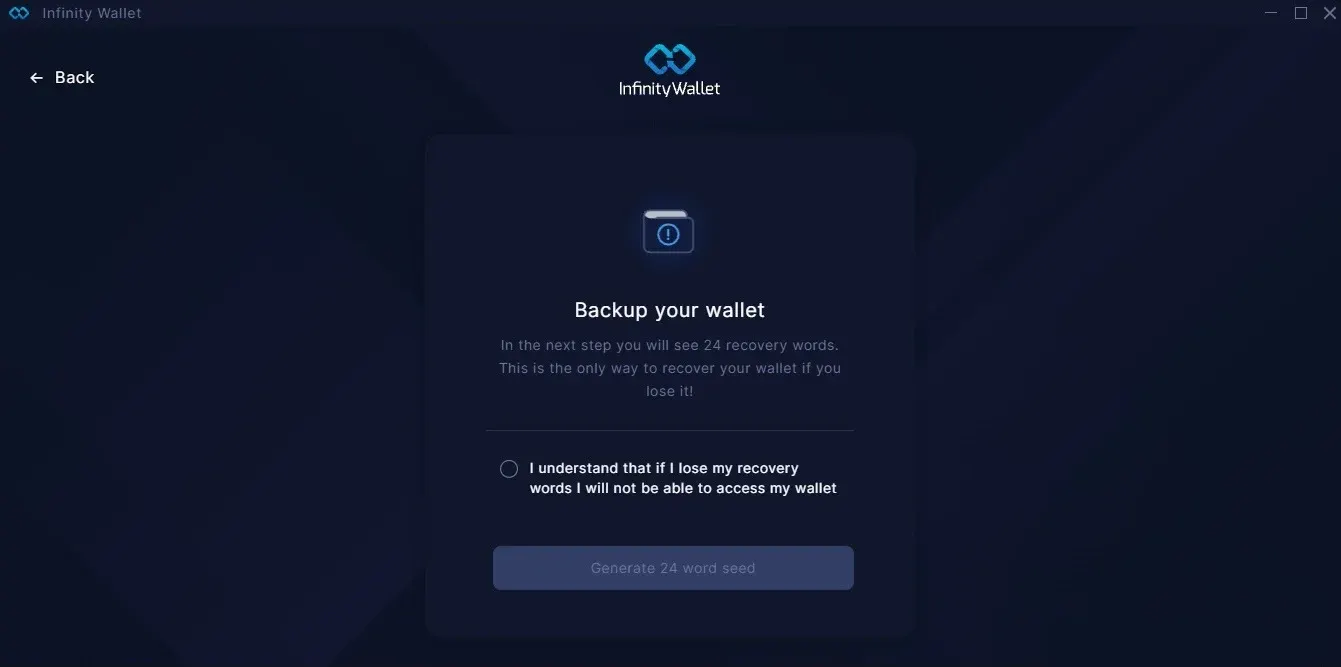 In the next step, you'll see 12 or 24 words (depending on which you chose in the previous step). Remember that you need to write these words in the same order shown on the page, as the next step will ask you some of these words randomly for confirmation. The following image shows an example of a 24-word seed phrase.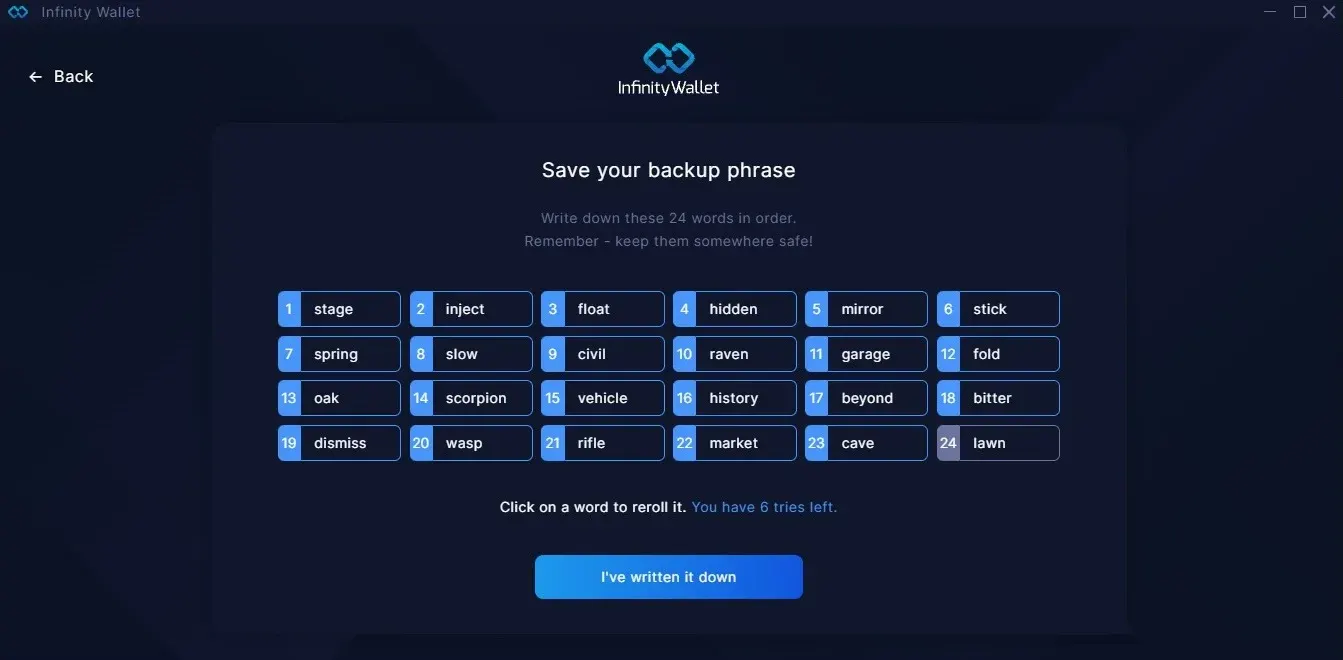 Then, you need to confirm your backup phrase by entering the words equalling the numbers shown on the page. The image below shows this stage.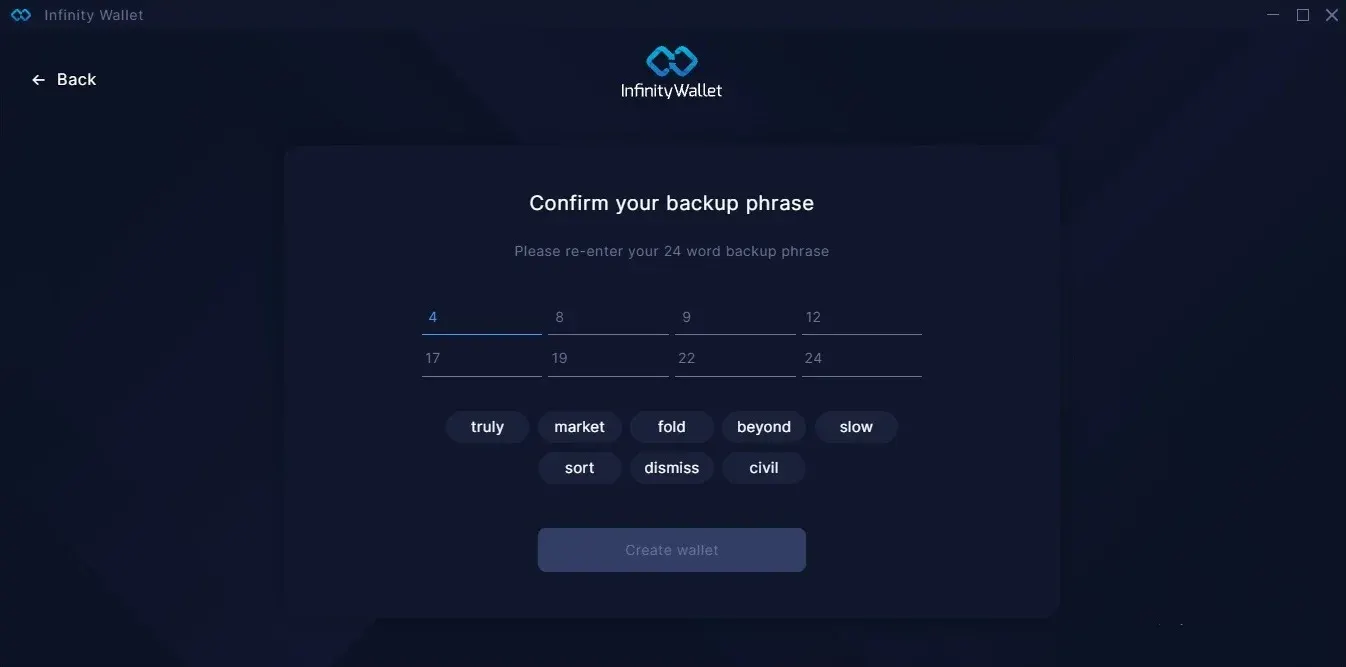 Once you choose the correct words, the wallet is successfully created, and you can see the following image.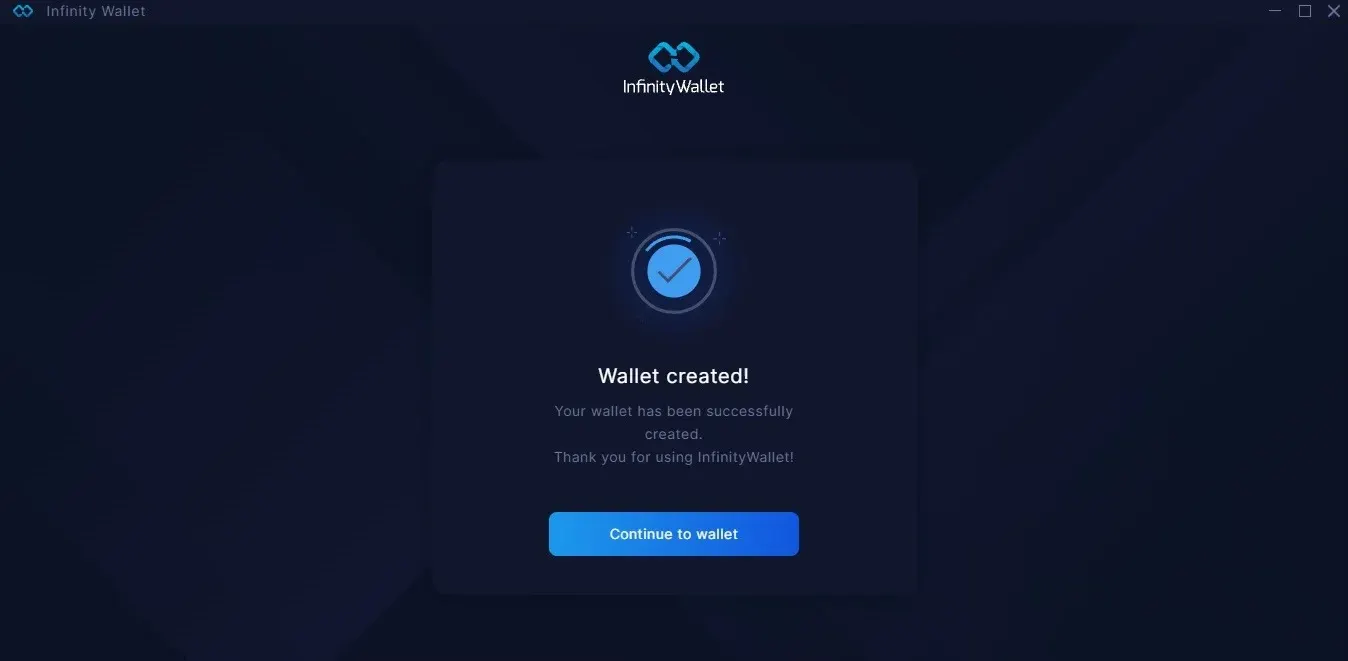 The installation is done, and you have reached the main page of the Infinity Wallet. It looks like the image below.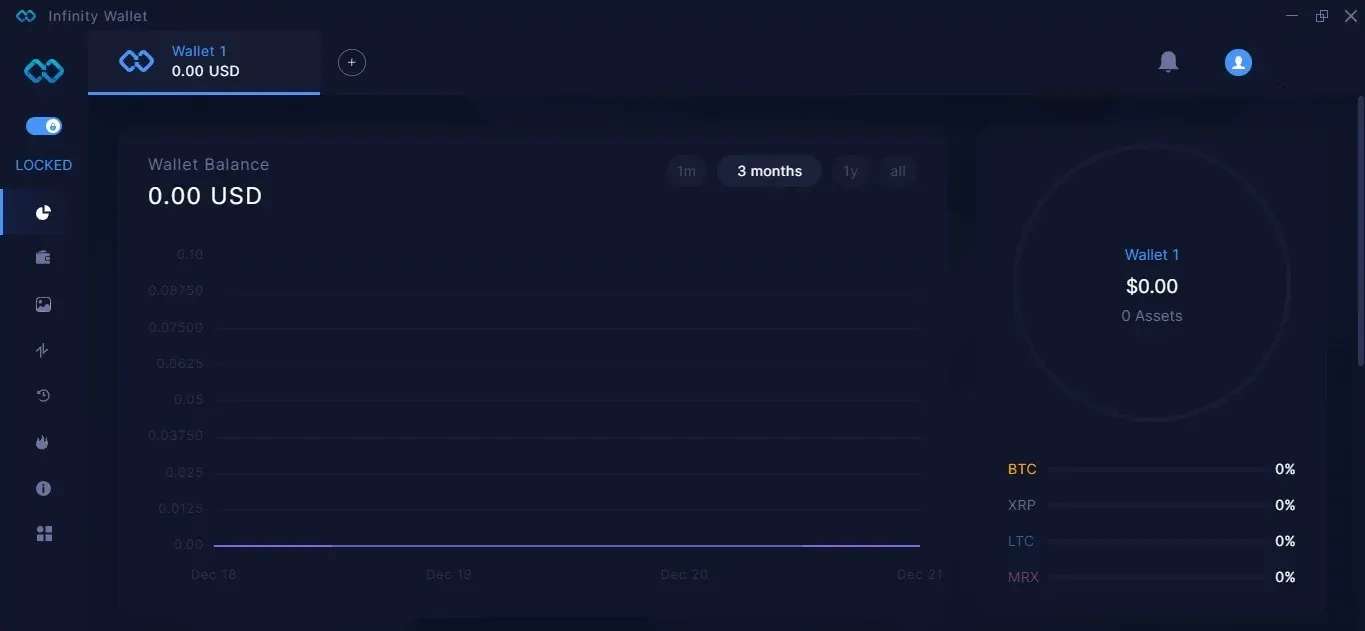 Is Infinity Wallet Safe?
As Infinity Wallet is equipped with Top-Tier encryption plus a custody-free solution, and offline generating the seed phrases is also possible, it can be categorised among safe wallets.
Is Infinity Wallet Good?
Although the answer to the question, "Is Infinity Wallet good?" is different from person to person, as each of us has diverse needs, Infinity Wallet is favoured by many users online. Its ease of use, design and features have attracted many users.
However, some others have complained about high fees and mentioned that it charges the user 2X as it should, which keeps it from being an ideal wallet for the average user.
Summary
Congrats! You have read through the Infinity Wallet review, meaning that you now have a clear picture of everything this crypto wallet offers, and you can use it if it meets your needs.
The main factor differentiating a novice from a professional crypto investor is knowledge. Not only about this wallet but about everything in crypto, you need to stay updated about the news, tools and information. You can find it all at Cryptologist.
How do you rate this post?