ICOs: The Ultimate Guide to Finding The Best Ones!
tl;dr
ICO or Initial Coin Offering is an unregulated way for startups to raise money by selling new digital coins. The process involves creating a new cryptocurrency that the users will use to pay for goods and services within a company's ecosystem. This is your ultimate guide where we will go through all methods you can use to find the best ICOs, identify ICO scams, and if ICOs are a good investment for you!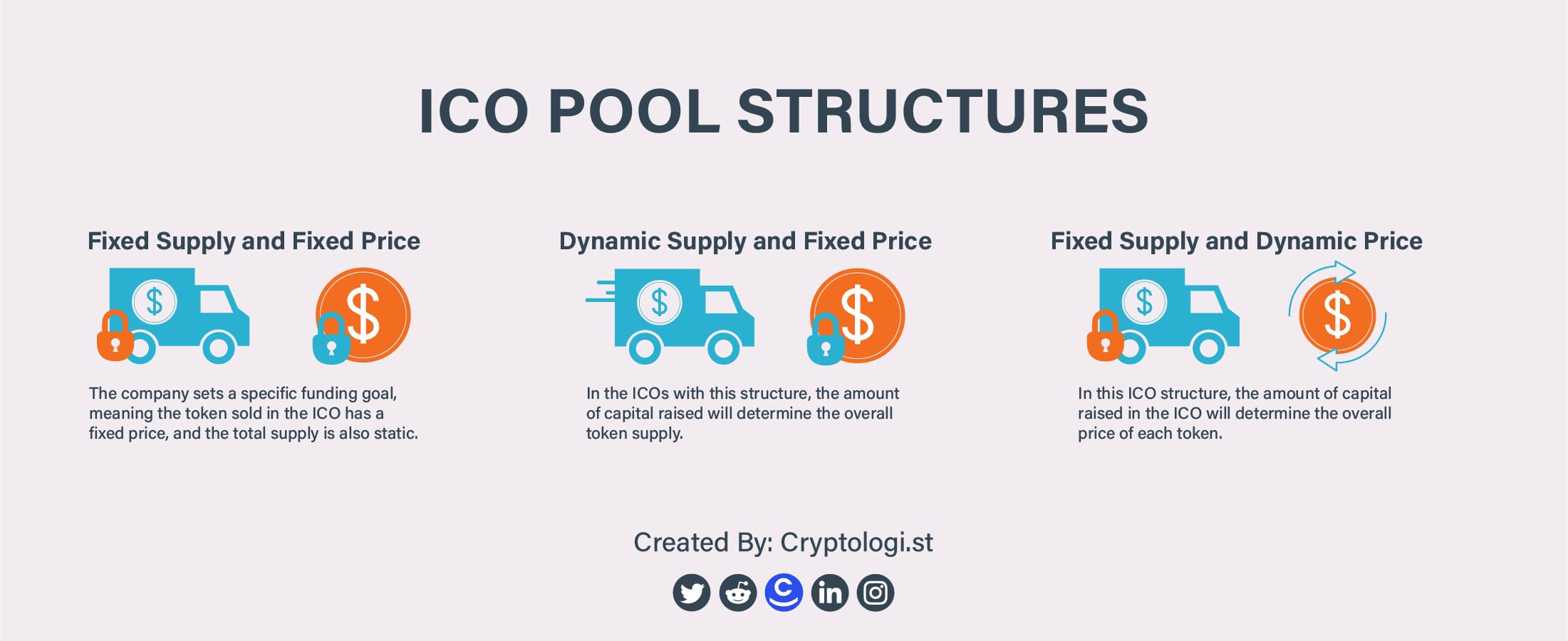 How do you rate this post?
What Are ICOs?
If you've spent some time in the stock markets, you're probably familiar with IPOs. Initial Product Offering (IPO) is a fundraising method for the first time a private business offers shares to the stock market. ICOs are not so different from that. Initial Coin Offering (ICO) is another way for companies to raise capital in the cryptocurrency market by offering their native token to the investors at the base price.
How Do ICOs Work?
When a project decides to raise capital via offering its coins or tokens, they first need to determine how they want to structure the ICO. There are three main ICO structures:
Fixed Supply and Fixed Price: The company sets a specific funding goal, meaning the token sold in the ICO has a fixed price, and the total supply is also static.
Fixed Supply and Dynamic Price: In this ICO structure, the amount of capital raised in the ICO will determine the overall price of each token.
Dynamic Supply and Fixed Price: In the ICOs with this structure, the amount of capital raised will determine the overall token supply.
Differences Between ICOs, IEOs and IDOs
ICO is an alternative way for new projects to raise capital by selling their tokens on the blockchain. ICOs are an alternative to traditional fundraising methods, which consist of selling shares and stocks, getting loans, banking, and dealing with tax issues.
What Is An IEO?
Initial Exchange Offering (IEO) is a fundraising method used by new crypto projects. IEOs are ICOs that are conducted through cryptocurrency exchanges.
IEO vs ICO
Even though IEOs are a type of ICOs, there are many differences between the two as follows.
Investors: In IEOs, only users with a valid account on the crypto exchange platform can participate, whereas anyone can invest in an ICO, and there isn't such limitation.
Centralisation: ICOs are entirely decentralised, whereas IEOs are conducted through centralised exchanges.
Fraud Risk: Since ICOs aren't regulated, they are on the riskier side of investment options. However, since IEOs run through centralised exchanges (which are regulated), the odds of fraudulent activities are pretty low.
Token Listing: In some cases, the tokens of projects conducting ICOs aren't listed on any DEX, which eventually leads to the project crashing. However, since IEOs are run through exchanges, the token must already be listed on an exchange.
What Is An IDO?
IDO is short for Initial Dex Offering and is when a decentralised crypto exchange conducts an ICO for its very own native token. In IDOs, unlike IEOs, investors don't need to wait for pre-sales to access capital.
IDO vs IEO
Listing: The IDO tokens are listed on the Decentralised Exchange itself, whereas in an IEO, the tokens are listed on an exchange, and the tokens are not the native tokens of the CEX (Centralised Exchange).
Marketing: In an IEO, the Centralised Exchange is responsible for marketing the outside project, whereas, in an IDO, the DEX project does the marketing of its own product.
Token Availability: In an IEO, the tokens won't be available immediately for trading, unlike in an IDO.
Why Are ICOs Great Investment Options?
ICOs are profitable for everyone participating in them, and here are a few reasons why you should invest in an ICO.
ICOs Are Decentralised!
Due to their nature, ICOs are available to everyone all around the globe since they run on blockchains and use decentralised technologies. The only thing required for participating in the ICOs is that the investors can transfer funds, i.e., pay the money!
There Is Low Competition In ICOs!
Many new projects struggle to raise funds via traditional fundraising methods and eventually get lost in the competition! Another reason could be their location and the fact that they're based somewhere out of the main centre of wealth. ICOs help solves this issue with their simplicity and decentralisation, which offers projects from around the globe to raise funds seamlessly.
Accessing Liquidity In ICOs
Through ICOs, investors can access tokens of high liquidity, unlike traditional fundraising methods where the investors' capital remains inaccessible for many years. Also, in ICOs, real-time pricing is based on the project's current value, so the money doesn't get locked up.
ICOs Are Open-Source!
ICOs allow investors to invest any time, which traditional fundraising methods won't do. In traditional models of funding new projects, it is nearly impossible to become an early investor unless you have a connection with the team. Investing early has several benefits, including buying tokens at a lower price. Anyone who wants to invest early in an ICO just needs to keep an eye on the upcoming ICOs and be prepared to buy tokens as soon as the ICO is conducted.
Earning Profits with ICOs
ICO is a fundraising method used by cryptocurrency projects or any other project that plans to launch its own native tokens. ICOs can be a profitable investment, just like how cryptocurrencies themselves can be lucrative, as their investment models aren't so different. Cryptocurrency holders usually hesitate to cash out their wealth and turn it into fiat because they have to pay taxes, go through regulations, etc. Cryptocurrencies continuously increase in value, but many investors cannot get their wealth to use via cashing out. ICOs are the perfect solution to this issue.
Where To Find Crypto ICOs?
You can use several platforms to find and monitor new crypto projects and the details of their ICO. Let's explore the best of them below.
Use Centralized Exchanges to Find ICOs!
Where to look: Coinbase, Gemini, Binance, Kraken, Crypto.com
Centralised crypto exchanges are one of the best and most reliable platforms to look for new coins and tokens. Most of these platforms have a section where you can look for new coins and their other details, such as their blockchain.
Examples of website pages you can find new coins and ICOs on:
Use ICO Calendars to Find ICOs!
Where to look: CoinGecko, CoinMarketCap
Crypto data aggregators offer useful data and features, such as ICO calendars and new cryptocurrency sections. You can use the New Cryptocurrencies section to keep an eye on new projects and the ICO Calendar section to check what projects are conducting ICOs when they're planning to launch the ICO and their fundraising goal.
Website pages you can find these data on:
CoinMarketCap: ICO Calendar, New Cryptocurrencies
CoinGecko: New Cryptocurrencies
Where to look: Discord, Telegram, Twitter, Reddit
The cryptocurrency industry is extremely community-driven. Thanks to its hyperactive community, you can seamlessly find the information you need on social media platforms. Social media play a crucial role in finding new cryptocurrencies and NFTs and ensuring if a project is a scam or not. Moreover, most crypto project founders and team members - even pseudonymous - are active on social media, such as Discord and Twitter, with their aliases or real names.
Here are some examples:
Use Websites to Find ICOs!
Where to look: ICO Drops, ICO Listing Online, ICO Bench, Smith + Crown, ICO Whitelists, ICO Hot List.
Various websites offer ICO calendars and ICO listings. Some also provide:
Ratings
Social media of the ICO provider, and
A description of the project.
These are designed to help you decide if the ICO is worth investing in.
Where to look: Cryptologi.st, Token Sniffer, PooCoin charts
Many developer tools help you identify crypto scams or verify if a crypto project is legit and backed by a strong team. For ERC-20 and BEP-20 tokens, you can use Cryptologi.st Code Audit and check various project activities all in one place. The code audit score is a way to measure how well the token's code and contract have met the safety criteria. For this example, let's go through Axie Infinity's status:
Swap Analysis: Buy fee is less than 10% (0%). Sell fee is less than 10% (0%)
Contract Analysis: Verified contract source, Ownership renounced or source does not contain an owner contract.
Liquidity Analysis: At least 95% of liquidity burned/locked (< 0.01%)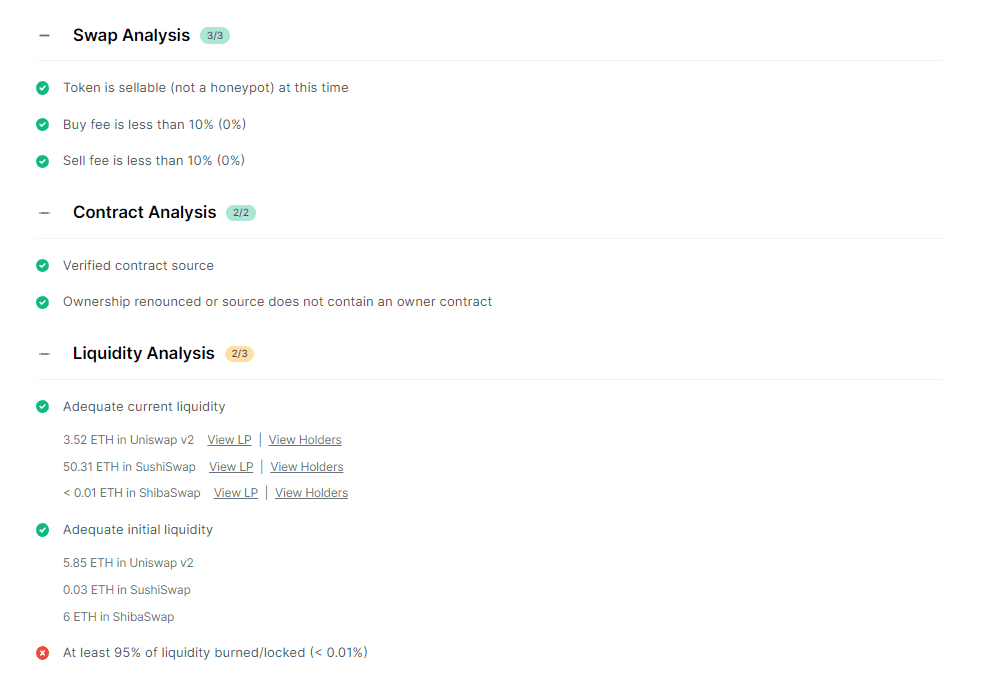 For tokens on other blockchains, you can use Token Sniffer. You can enter a cryptocurrency's name or address, and Token Sniffer will display an audit of the token. As an example, let's go through Snowbank, a recent rug pull project, and analyse it.
The following information is from Jul 30, 2022.
Audit Score: 25/100
Contract Analysis: Verified contract, ownership renounced, or source does not contain an owner contract.
Holder Analysis: The owner's wallet contains less than 5% of the circulating token supply (35.27%).
Liquidity Analysis: At least 95% of liquidity burned/locked for 30 days (< 0.01%).
Token Sniffer offers a bubble map, a unique feature that visually displays the token transfer between the top 100 token holders. Creator addresses are shown as orange, burn addresses are red, and other addresses are shown as blue. The following is Snowbank's bubble map: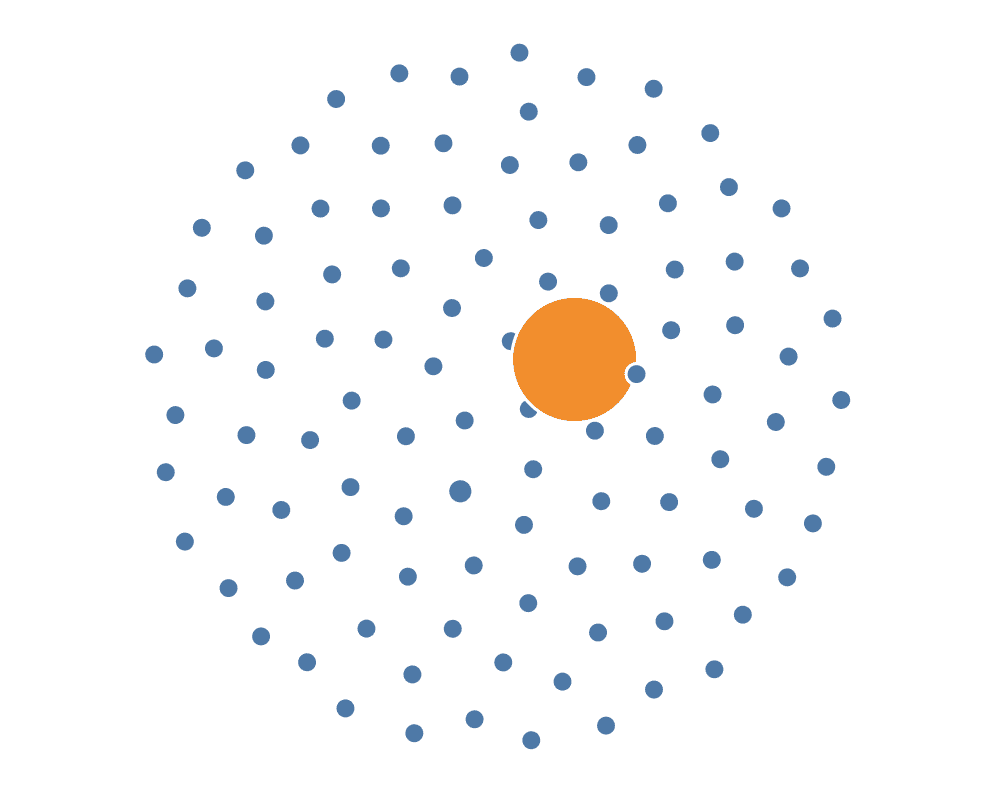 DeFi Platforms
DeFi (Decentralised Finance) platforms are revolutionising the money market without relying on third parties. They are trustless, built on blockchain, and are run by smart contracts instead of humans; therefore, the chances of human errors happening on them are meagre. With the magic of smart contracts, DeFi platforms have made many financial situations possible, including ICO launching and management. These platforms, also known as crypto launchpads, host various crypto projects to raise funds and launch their ICOs or IDOs through these platforms. Crypto launchpads also provide investors with exclusive benefits, like early access to tokens at a reduced price. To learn what DeFi really is and how you can benefit from it, you must check this article.
15 Most Popular ICO/ IDO Crypto Launchpads in 2022
Many ICOs have been conducted through crypto launchpads. These platforms offer ICO conductions in a simple, user-friendly manner and allow projects to access an active community of investors. One of the best places you can look for new ICOs is through crypto launchpads, and all you have to do is to check their communities regularly to be notified about any new ICOs on the platform. We will go through the top 15 ICO launchpads in 2022.
Binance Launchpad
Binance is one of the most popular and well-known exchanges offering its launchpad, Binance Launchpad. Binance Launchpad is a token launching and fundraising platform that helps new businesses raise capital and increase their visibility. Binance Launchpad uses a system similar to lotteries for choosing participants to invest in token sales. This launchpad has helped some of the most significant crypto projects, such as BitTorrent Token.
OKX Launchpad
Formerly known as OKEx, OKX is a token launchpad platform connecting new blockchain projects with a large community of investors and crypto enthusiasts. OKX launchpad allows for a convenient ICO for projects and ensures the investors' funds are secure. Some of the successful ICOs on the OKX launchpad are Harmony, Perlin, and Beam.
KuCoin Spotlight
KuCoin is a secure crypto exchange that offers basic trading options and provides margin, P2P trading, and futures. KuCoin Spotlight is a feature that allows users to participate in early-stage crypto projects' ICOs. To access the KuCoin Spotlight, you need to log into your account, click on "Earn", and then "Spotlight". From there, you can access a list of available or ongoing ICOs.
Huobi Prime
Huobi Prime was introduced in March 2019 by Huobi Global and is a crypto exchange that provides users with discounted token prices. Projects like TOP Network have used the Huobi Prime launchpad to launch their ICOs.
Gate.io Launchpad
Gate.io launchpad allows new crypto projects to raise capital and improve their brand awareness by selling their tokens. The algorithm used by Gate.io to select participants of ICOs is the "first-come, first-served" basis. Some successful ICOs launched on the Gate.io launchpad are WeWay, Olive, and Zipmex.
Polkastarter
Polkastarter is a Polkadot-based launchpad that allows projects to launch their ICOs securely, in a decentralised manner. Because of the Polkadot blockchain's unique structure of parachains, Polkastarter can do cross-chain token exchanges while preventing whales from manipulating the sales.
Ethereum Launchpad
As the name suggests, Ethereum Launchpad is an Ethereum-based launchpad that enables users to create their tokens and raise capital for their projects through ICOs. Since Ethereum is a smart contract-compatible blockchain, it allows the Ethereum Launchpad to employ special smart contracts to oversee the ICO of your tokens.
GameFi
GameFi is an e-sport platform that provides PVP games, an NFT marketplace, fantasy gaming, betting, and lottery services. GameFi aims to become a platform where users can play games and interact with one another from around the globe without any country restrictions and is the first launchpad specifically designed for games. In most crypto gaming platforms in competition, the initial fund that the platform requires the users to put in before they can game is too expensive for the average crypto user. In simple terms, the amount of money a user needs to put into the platform is pretty high and unaffordable to most people. GameFi's goal is to solve this by tokenising the platform. It uses cryptocurrency as a form of payment so everyone can easily participate in the platform globally. Built on the Solana blockchain, the transactions are way cheaper and faster than most crypto gaming platforms. Since most e-sport fans aren't familiar with blockchain technology, GameFi provides a seamless experience for users; it takes care of the technical processes and lets users have a simple, smooth gaming experience.
Seedify
Seedify is a decentralised community-driven launchpad that prioritises community feedback and involvement. New crypto projects can submit their project to Seedify's community of governors and earn votes on their initial capital. Some platforms that you can buy seed funds from are PancakeSwap and KuCoin. Seedify launchpad also allows investors early access to ICOs before they go live.
Avalaunch
Avalaunch is an exclusive launchpad built for Avalanche-based projects. It offers fast, secure, and decentralised fundraising for new crypto projects and provides fair and widespread distribution to the Avalanche community. The native and utility token of Avalaunch is XAVA, where users can stake to access sales. If you want to participate in an IDO in Avalaunch, here are the steps you need to follow:
Register on the platform and KYC (you can still earn and stake XAVA without registering).
Verify your wallet.
Stake XAVA to earn allocations in IDOs (you can still make a profit by staking XAVA without participating in sales).
Register for sale to confirm you are interested in participating.
FireStarter
FireStarter is the first IMO (Initial Metaverse Offering) launchpad platform that works on the Polygon network and supports DeFi, NFT, and GameFi projects. FireStarter offers new opportunities for investors to invest in Metaverse projects in their early stages. With the tagline "Own the Future", FireStarter creates an ecosystem where early crypto and Metaverse projects can use to seamlessly raise funds and access a large community of Metaverse enthusiasts who look forward to helping build the future. There are two main reasons a crypto project would consider using FireStarter to launch their IMO:
FireStarter allows the project to access a big following.
They can raise capital easily and quickly.
Investors can benefit from FireStarter's exclusive features by holding FLAME tokens in their wallets. The FLAME token allows investors access to funding rounds before the sale goes live so they can participate earlier in the fundraising.
BSCPad
BSCPad is a launchpad on Binance Smart Chain that allows crypto projects to distribute tokens and raise capital via decentralised and fair launches. The main issue addressed by BSCPad is staking issues. In other launchpads, acquiring enough tokens for participating in the network is prohibited, and even if users stake their tokens, their allocation spot isn't guaranteed. BSCPad enables fair launches and allows traders to invest in new Binance Smart Chain projects in a decentralised manner. The BSCPad has a two-round fundraising system that ensures each tier receives allocations. BSCPad's influencer marketing, advisory, development, investment, and legal support services help project owners execute their innovations from ideation to execution.
TrustPad
TrustPad is a multi-chain launchpad that allows projects to raise capital while ensuring that the early investors' wealth will be safe. TrustPad is accessible through the Binance blockchain, Ethereum, MetaMask, Trust Wallet, Solana, and Certik Skynet. This launchpad aims to solve the friction in other launchpad platforms and provides users with an integrated limit order experience. Users can execute to earn, resulting in an ecosystem that encourages users to learn more about the processes of a transaction.
Starpunk
Starpunk is a Decentralized Autonomous Organization (DAO) that aims to connect blockchain and NFT projects with a large community of crypto enthusiasts. Starpunk is a P2E platform that primarily targets NFT or blockchain gaming projects. It is also creating a Metaverse where users can play and develop assets. Starpunk only works with leading game studios based in Vietnam to launch only the best projects. Gaming projects can use the StarPad, Starpunk's game launchpad, to raise capital and launch their ICOs.
Red Kite
Red Kite is a secure, community-driven crypto launchpad that addresses the lack of trust in ICOs, which prevents investors from participating in ICOs, no matter how profitable their investment. Any project that launches its ICO on Red Kite must go through deep scans. Red Kite is an anti-scam mechanism that ensures investors that their funds are safe and secure. Red Kite is available on Ethereum and Binance Smart Chain blockchains and will soon be adding support for Polkadot, making it the first platform on Polkadot that has flexible pool types.
Are Crypto Launchpads Reliable?
Although crypto launchpads aren't 100% risk-proof, they still provide investors with exclusive investment tools so they can make more profit. The main reason investors would consider investing in launchpads and projects launched via them is that they would gain early access or, in some cases, purchase the tokens at a lower price. Remember that every investment decision involves a bit of risk, but you can manage the risk using the ARC strategy!
Are New Crypto Coins Still Coming Out?
Even though the market isn't feeling its best, new crypto projects are launching daily. Using the tools mentioned above, like CoinMarketCap's ICO calendar, websites such as ICO drops, and Cryptologist's news section, you can find and track these new projects and find out if they can be good investment options for you.
How To Know If ICOs Are Legit?
You can use various factors and tools to check if ICOs are legit or potential scams. Don't worry; it's not rocket science! We've already done the hard work for you, gathered everything in one place, and made pro investment tools. Let's dive deeper!
Legit cryptocurrency projects tend to form an engaged and active community of enthusiasts around them. They understand the power of a good society and how much it can contribute to the project's success. You can check the social media channels of the new crypto project you're researching and the team members' social media profiles. You also can research who they are and what they have in their resume' before teaming up for this project.
Read Whitepapers to Find Legit ICOs!
A reliable source to start evaluating an ICO's legitimacy is its whitepaper. This document should give you a clear idea of what the startup is trying to achieve and the risks involved. It should also contain details about the founders, advisors, and other key players. Projects with whitepapers are much more reliable than projects that haven't released any whitepapers yet.
Check Technicalities to Find Legit ICOs!
When checking a coin's information section here, you can see a "technical" section which refers to the project's code status and other details. Projects with higher stars, higher code commits, and more contributors tend to be more reliable and active, and the possibility of them being scam projects is very low.
You can also check the following if you want to make sure you've done complete research.
Check the project's website.
Check the members' LinkedIn profiles.
Read reviews about the project.
Thoroughly study their roadmap.
Are ICOs A Good Investment?
ICOs are on the riskier side of investments since the legality of crypto assets isn't guaranteed to persist. Even though ICOs are legal, they are usually involved in some regulatory issues. For example, the People's Bank of China banned ICOs in 2017 because they are "counterproductive to economic and financial stability". We make no representations and do not give investment advice; each individual's situation is unique, and you should weigh your options before making your investment decision. Cryptologi.st does not give investment advice, but it does provide investment tools, like educational crypto articles, a crypto screener, and a watchlist, to help you make the best investment decisions.
How do you rate this post?