Hubble Protocol: Supercharging Liquidity on Solana
tl;dr
Solana, the Ethereum-killer, is hosting a new DeFi on its platform. Hubble Protocol has come out of the shadows to provide both a censorship-resistant stablecoin and a governance token, i.e., USDH and HBB. Hubble Protocol will enable its users to deposit crypto assets and borrow LTV. Also, providing staking and yielding options will reward the users for their support. Don't hesitate to read this thorough article on Hubble Protocol, what it offers, how it works and more!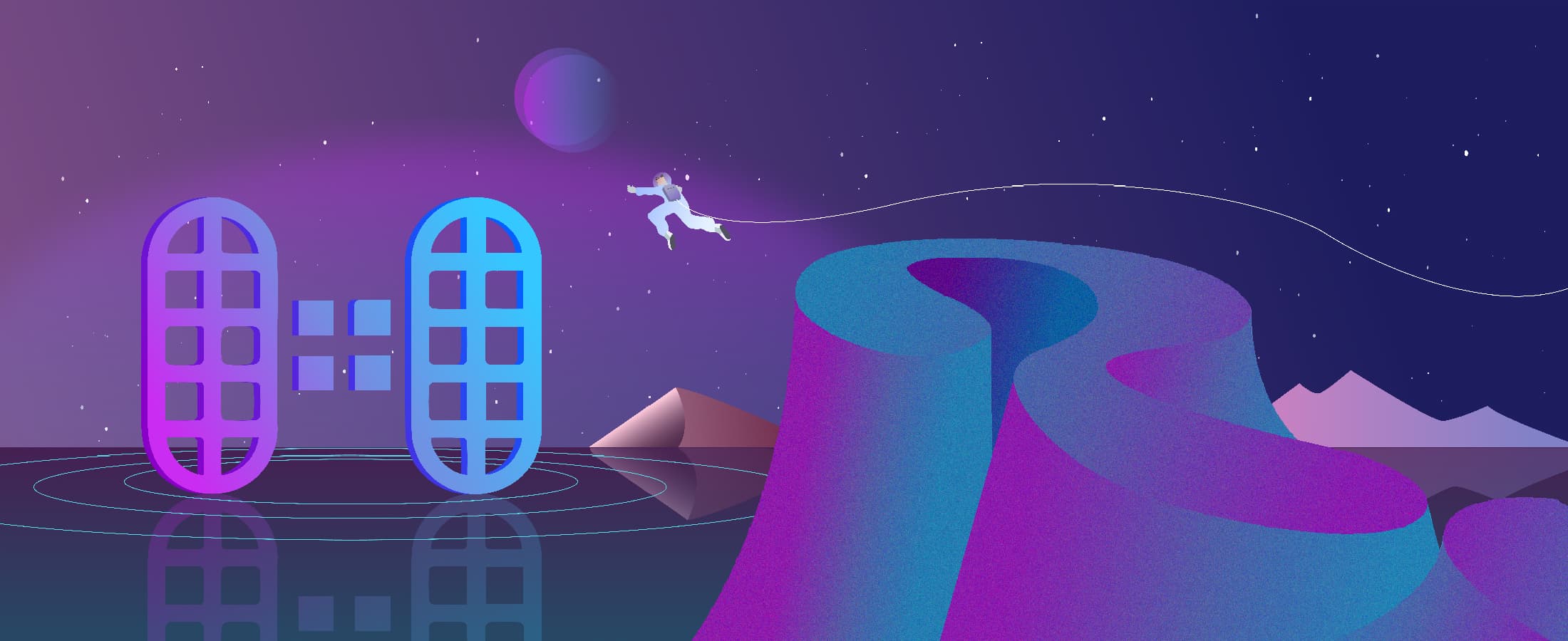 How do you rate this post?
What Does Hubble Protocol Offer?
The first phase of the Hubble Protocol begins by focusing on minting and borrowing USDH. Here, the users are allowed to deposit various crypto assets, including BTC, ETH, and SOL, to borrow about 80% LTV (loan to value) in USDH. The bonus for the users is to earn yields on their deposits. The security of these borrows is ensured by the USDH Vault (aka Stability Pool). USDH Vault providers make USDH deposits to pay off the bad loans and earn about ten per cent in liquidated assets. The other bonus for those who deposit USDH in the USDH Vault is earning HBB, Hubble's governance token.
What Is LTV in Hubble Protocol?
Whether it's Hubble or any other protocols, LTV stands for Loan-to-Value, which is the total value of the USDH borrowed compared to the total value of deposited collateral. LTV is calculated using the following formula and is expressed as a percentage:
USDH Borrowed Value/ Collateral Deposited Value × 100% = LTV%
Hubble Protocol Salient Features
Borrowing USDH provides users with liquidity in their long-term holding tokens by zero-interest borrowing.
Users can mint USDH, a censorship-resistant stablecoin on Solana.
Users can borrow 80% LTV.
Users can yield interest on deposits while borrowing.
Users benefit from democratising liquidations using Stability Vault.
Why Should I Use Hubble Protocol?
First and foremost, Hubble Protocol enables you to make money out of your idle tokens waiting in your wallet. The other incentives to use the Hubble Protocol are as follows:
Earning yields while benefiting from collateral
Earning collateral yields without getting blocked
Being leveraged
Earning from democratising liquidations
Staking HBB tokens and earning protocol rewards
How Can I Use Hubble Protocol?
To use Hubble Protocol, you need a Solana wallet, some SOL tokens to pay the gas fee, and the accepted tokens to borrow on Hubble. Maybe the best thing about Hubble Protocol is its integrated platform where it offers all services on its own Decentralized Application (DApp).
Should I Pay Fees In Hubble Protocol?
Yes, once when borrowing from Hubble Protocol and another time for Stability. The cumulative interest on Hubble is currently zero. When users borrow from this protocol - which means each time they do so - they need to pay a 0.5% fee of the total USDH borrowed, i.e., borrowing 100 USDH, you must pay 100.5 USDH back.
Stability Fee on Hubble Protocol
Whenever USDH goes lower than its peg, the Hubble Protocol raises the Stability Fee to incentivise repayments of USDH loans. When there is too much USDH in the market, USDH's price can decrease and go less than parity with 1 USD. Then, when the Stability Fee is raised, borrowing USDH gets more expensive and repaying USDH loans becomes a cost-efficient alternative. When users get USDH from the market to repay the loans, the market supply of USDH makes contracts and increases prices back to $1. Also, A part of the Stability Fee collected from the users is rewarded to those who stake USDH in the USDH Vault.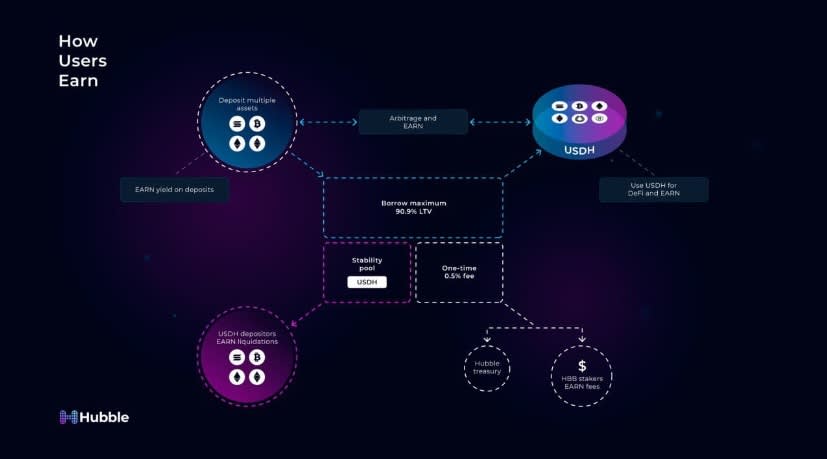 What Coins/ Tokens Does Hubble Protocol Offer?
Hubble Protocol has introduced a Solana-native stablecoin pegged to USD, which is also censorship-resistant. Overcollateralisation of USDH is done using an array of crypto assets, i.e., SOL, mSOL, BTC, ETH, RAY, SRM, FTT and more to come. In addition, Hubble has a governance token, HBB.
What Is HBB Token In Hubble Protocol?
HBB token is Hubble Protocol's native token that will also be used for governance when Hubble becomes a Decentralized Autonomous Organization (DAO). Hubble users will take part in the protocol's decision-making process by holding and staking HBB. Currently, the main function of HBB is to create value for the users as USDH rewards.
How To Borrow On Hubble Protocol?
The minimum amount of borrowing from the Hubble Protocol is 200 USDH (200$). There is no maximum limit, and you can borrow as much as you can provide collateral for. To borrow from Hubble, you need to follow these steps:
On the Hubble App, go to the Borrow section.
Choose how much collateral you'd deposit from the accepted tokens you own.
Choose how much USDH you'd borrow against your collateral.
Click Borrow to open your position.
Is Hubble Protocol Safe?
Hubble Protocol goes under regular audits to ensure the users' safety and security. You can check the list of its current audits here. Also, Hubble will announce any major changes to its smart contracts. Meanwhile, Hubble benefits from a bug bounty program and will reward up to %500,000 if the users can report a critical bug. Check here to see how Hubble came into being.
What Are Hubble Protocol Plans For The Future?
The future phases of Hubble's roadmap are focused on launching services to enhance the platform's utility. Hubble strives to build products to turn DeFi into a source of financial services worldwide.
You can follow Hubble Protocol on Twitter, Telegram, Discord, Reddit, and Forum to check the community supporting the Hubble and engaging in discussions and activities.
A Word To The Wise
Cryptologi.st is a technical surgeon on the top 1500 crypto projects. We are not here to give you trade signals but to open your eyes to some aspects of the top projects that may have been overlooked. Using the tools and services provided at Cryptologi.st will help you make confident investment decisions in a volatile space like crypto. Speaking of tools and services, we offer this free screener tool to compare and contrast hundreds of projects, this watchlist made for you to keep an eye on your favourite projects, and detailed project reviews all in one place. Enjoy the ride and invite your friends to use what we offer!
How do you rate this post?