Grin Coin Price: Is Restrictionless Transaction Possible?
tl;dr
The word that best describes Grin is 'cool', as it derives many of its names and concepts from the Harry Potter movies' characters! Digging into the Grin website, you'll see everything explained in the simplest way possible, and the project intends to simplify transactions for all people, regardless of location, age, or time. Aiming toward creating a cashless society, Grin strives to be widely accepted and used as digital cash. There are details you need to get your head around before deciding to invest in Grin Coin. This article will guide you through the core ideas of the Grin platform and teach you hacks about Grin Coin price. Keep scrolling to grasp it all!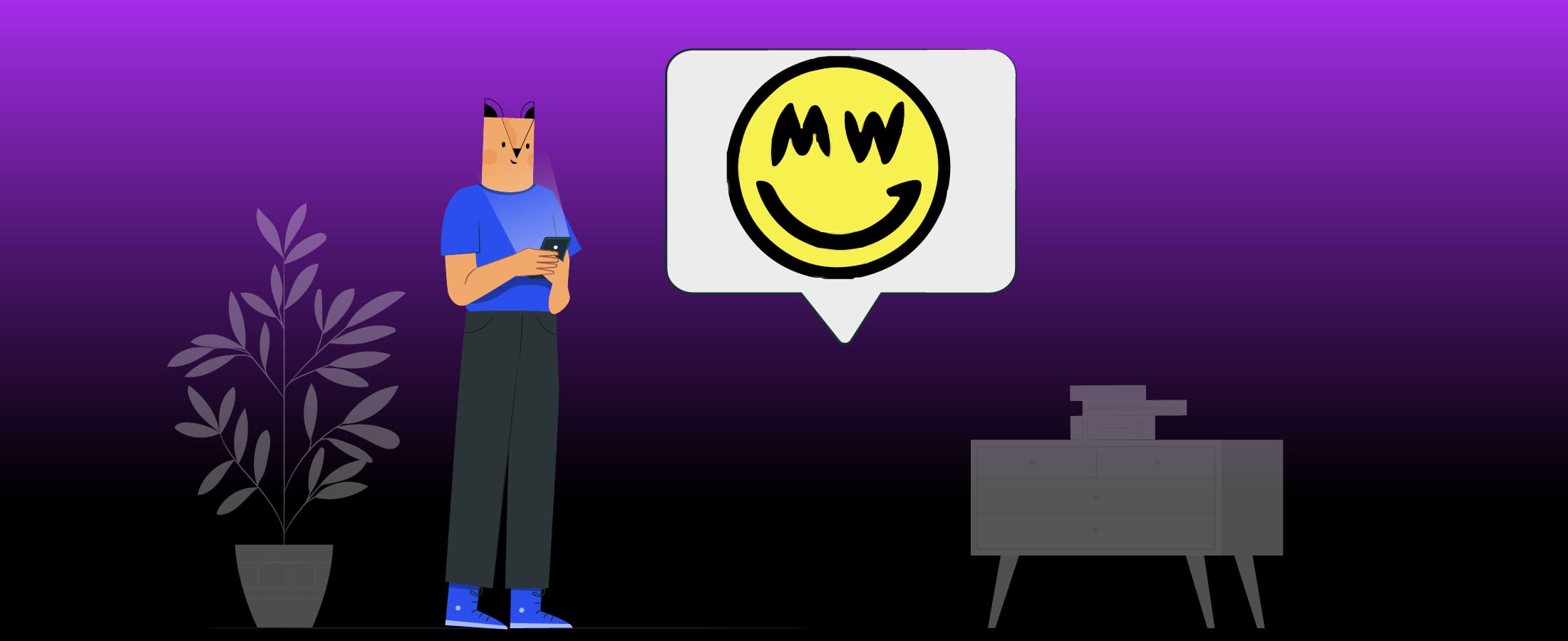 How do you rate this post?
Grin Coin Price 101: Unique Features
Before checking the Grin Coin price, there is a lot to know, e.g., the features that help Grin stand out from the crowd of cryptocurrencies, the technology backing it, and its plans, to name but a few. Let's start with its unique features.
Open: Grin is truly open as it is developed by contributors worldwide. No specific company or foundation is registered to own Grin, and there has been no ICO, founder reward, pre-mine or dev-tax. The project relies on donations to keep running, and the founders have designed the coin distribution to be fair but not gratis. Every second, one Grin Coin is emitted.
Private: It's needless to say that privacy is the most vital feature needed in the crypto space. To achieve privacy on Grin, transactions do not have amounts or addresses and can be trivially aggregated. This feature is the key to providing fungibility without eliminating the ability to disclose information when needed. To avoid revealing the origin of a newly created transaction, the team relays the coin among a sub-set of peers before being broadcasted.
Scalable: The Grin blockchain is significantly lightweight compared to similar blockchains thanks to its ability to allow pruning old transactional data. In other words, Mimblewimble leverages cryptography to let old transaction data be eliminated without compromising security, which prevents Grin from being heavy because of keeping all the data on-chain. Scales mainly include the number of users and minimally the number of transactions.
Simple: Grin prioritises simplicity, so it's inclined to minimal implementation to ensure clarity and simplicity as much as possible, streamlining audit and maintenance over time.
Proven: Grin blockchain (Mimblewimble) depends on Elliptic Curve cryptography.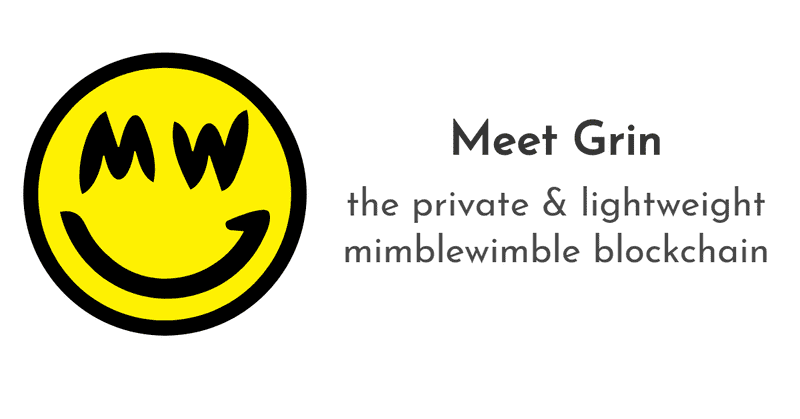 Grin Coin price is directly related to Mimblewimble, but what is Mimblewimble? Let me tell you a short story of how Grin came into being. Back in 2016, somebody under the pseudonym Tom Elvis Jedusor incepted the idea of a private and highly lightweight protocol named Mimblewimble. There were several unanswered questions on the paper introducing this protocol, which started many discussions. Two months later, Andrew Poelstra refined the original proposal and clarified many technical details.
Funnily enough, the name Tom Elvis Jedusor is the French version of Tom Riddle, aka Lord Voldemort, the fictional character in the Harry Potter series, where Mimblewimble is known as a tongue-tying spell!


Grin Is About To Be Born!
On Oct 20, 2016, a developer with the pseudonym Ignotus Peverell announced that he began to work on a minimal implementation of the Mimblewimble protocol, which he named Grin. Later, he also left the project and is still unknown!
Revealing Secrets About Grin Coin Price: Is Mimblewimble a Blockchain?
Mimblewimble did its best to serve as the foundation of a blockchain, but it didn't have all it takes to be a complete cryptocurrency, and many changes were needed. This was when a community of contributors and users started to form around Grin to turn it into a real deal! Finally, on Jan 15, 2019, Grin's genesis block was mined. As Grin is a young and experimental project, it is still subject to changes and developments. In its initial two years, it includes hard forks every six months.
Grin Coin Price and Financial Analysis
Financial reports at Cryptologi.st indicate that today, on Jul 16, 2022, the Grin Coin price revolves around $0.064919630852, with a 24-hour trading volume of $219,709. In the previous 24 hours, the Grin Coin price has been down -7.4%. GRIN's circulating supply is 110 Million GRIN coins, with a total supply of ∞ (infinity). Currently, Gate.io is one of the active exchanges to trade GRIN.
Grin Coin Price, ROI, and Market Cap Analysis
Considering the Grin Coin price and GRIN's one-year ROI (Return on Investment), we reach -76%, indicating that your $100 investment in GRIN a year ago would result in losing $76! However, similar projects have shown 96% growth over the same time frame. Having said that, GRIN has had a 6% growth in the recent month, which is a good sign in this bearish market. The current liquidity score of Grin Coin is 23%, which is lower than the market average, making GRIN a difficult sell. The following graph visualises these explanations.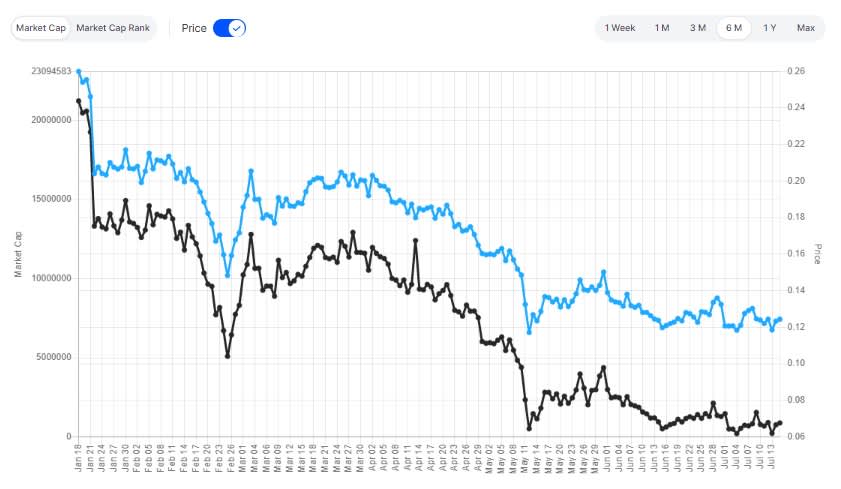 Grin Coin Price Affected By Technicality and Popularity
The other two essential factors affecting Grin Coin price are its technical analysis and popularity. Analysing Grin's technical matters on Github, we conclude that it currently has 4940 stars, meaning that people have it on the Watchlist to monitor GRIN's changes. Also, there have been 1005 forks made out of this project, with 168 current contributors. The more contributors, forks, and stars a project has, the more popular it will be. Regarding Grin's popularity on social media, Cryptologi.st charts indicate a 16% growth on Twitter in the recent six months. However, the project hasn't progressed satisfactorily on Telegram, losing 8% of the followers over the same timespan.
Disclaimer: Don't take this article as financial advice. You need to DYOR (Do Your Own Research) before investment.
Grin Coin Price Prediction
It's no secret that price predictions are not verified facts we can solely rely on. They are means by which we can learn how crypto experts see the future of a project. In the following sections, we'll review the Grin Coin price predictions in the coming years from 2022 to 2025, retrieved from authentic sources of price prediction.
Grin Coin Price Prediction for 2022
Experts predict that the Grin Coin price may cross $0.17 by the end of 2022. Since it cannot be considered a short-term investment, holders may see an average trading price of $0.15 in 2022.
Grin Coin Price Prediction for 2023
The average trading price of each GRIN is expected to be almost $0.21. The maximum price is forecasted to be $0.24.
Grin Coin Price Prediction for 2024
The maximum price to trade Grin coins may reach $0.35 in 2024. If things go as predicted, we can expect an average trading price of $0.31 with a maximum level of $0.35 for 2024.
Grin Coin Price Prediction for 2025
GRIN is predicted to hit a maximum level of $0.52 by the end of 2025. Hoping to experience a bull run, the price of each GRIN will be around $0.45 and $0.47, with a maximum price level ranging from $0.45 to $0.52.
Considering Grin Coin Price, Should I Invest In It?
To answer this question, we need to check the Grin Coin price, which is now 100% lower than its all-time high of $261.65 on Jan 16, 2019, but 13.2% higher than its all-time low of $0.057962 on May 12, 2022. As you see, the bear market has hit Grin hard and considering its liquidity score of 23%; you cannot take it as a short-term investment option. It currently holds the market cap rank of #967, and if it acts better in the communities and mass adoption works well for it, the next bull run can be a high time for Grin. The vital fact when choosing a crypto project for investment is having 'knowledge'. You need to stay alert to the changes in the crypto market and follow the top 1500 projects to make the best choice at the best time. Cryptologi.st is all you need to increase crypto knowledge and stay on top of your game!
How do you rate this post?