GET Protocol: A Smart Digital Ticketing Platform
tl;dr
GET Protocol is a smart ticketing protocol built on the Ethereum blockchain. GET Protocol runs on a type of fuel called Guaranteed Entrance Token or GET. Ticketerian companies use the GET Protocol to incorporate the primary and secondary market, and it allows owners to resell their tickets anonymously to other consumers. The GET is a utility token performing a certain function in the GET Protocol. The Get Token is used as fuel for each ticket, just like Ether is used for gas fees. Its goal is to deliver a scalper-proof ticketing platform using NFTs and blockchain technology. GET Protocol's Price has been %468 over the last year, and it ranks #791 with a live market cap of USD 23,193,012. It has a circulating supply of 11,388,258 GET coins.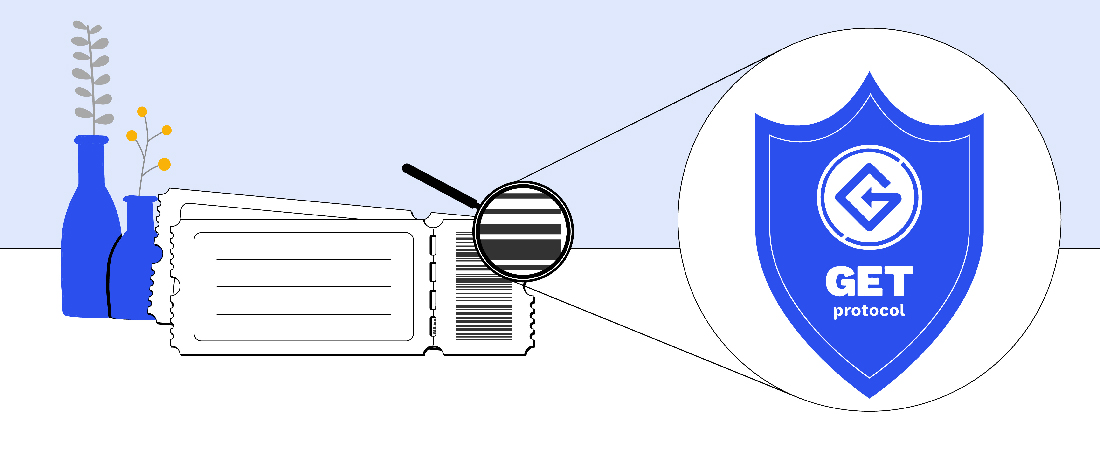 How do you rate this post?
Key Features
We all use tickets in different ways as evidence to prove our right to enter a place, concert or stadium. With GET Protocol, scamming becomes impossible, and tickets cannot be faked or sold for a higher price. Additionally, GET Protocol implements a platform that allows artists, agents, and organizations to check if the tickets are authentic and distributed in the right way. Visitors and organizations will be connected to an honest marketplace with complete control, and they can offer a fair, transparent and simple ticketing experience. GET Protocol makes tickets digitally sale-aware and uses dynamic QR codes instead of static QR codes.
GET Protocol White Label
GET Protocol offers another solution to provide any futuristic new ticketing company with the perfect start for issuing smart tickets in their local market under their branding and gives them complete control of their tickets.
What Is GET Protocol's NFT Ticket Explorer?
NFT Ticket Explorer is a kind of efficient block explorer that presents the ticket information in a simple manner that doesn't need any specific technical knowledge. The NFT Ticket Explorer provides a bright view of ticketing operation and specifies the measure of the ticketing process through the GET Protocol.


What Is GUTS?
GUTS is a ticketing company based on blockchain, which specifies the benefits and possibilities of a fully digital and smart ticketing platform on blockchain and is called GET Protocol. GUTS is the first commercial company that implements GET Protocol to create an honest ticketing service. The token is being held in about 30000 wallets, and 616000 of it has been sold since 2016.
GET Protocol Team Members
GET Protocol was launched on Oct 13, 2017, by a team based in the Netherlands. Maarten Bloemers is the Co-Founder at GET Protocol foundation. Ivo van der Wijk is CTO and shareholder at Guts Tickets.
GET Protocol Tokenomics
To invest in each cryptocurrency, we need to take note of how its market cap is. GET Protocol has a circulation supply of 11,388,258 GET coins and no predetermined max supply. It ranks #791, and its market cap is $$23,193,012M when writing this article on Dec 14, 2021. GET Protocol's ROI has been 468% over the last year, and it hit its all-time high on April 1, 2021, with $10.22, and hit its all-time low on Jan 15, 2019, with $0.076.
GET Protocol Popularity Rate
Over 13,000 wallets have GET Protocol, and the liquidity score of the token is 9%. In five months, GET Protocol's popularity grew by 29% on Twitter, 20% on Reddit, and 1% on Telegram.
How To Buy GET Token
Since GET is an ERC20 token on Ethereum blockchain, you need to have an address on the Ethereum blockchain for owning GET. GET is available on exchanges like Uniswap, Quickwap, Idex, and Hotbit.
Similar Coins and Projects
Polygon, Dai, LINK are the other similar projects with 2432% growth in ROI over the last year. Polygon and Dai are based on the Ethereum blockchain like GET.
Is GET Protocol the Best Investment in 2022?
Although the GET Protocol brings lots of innovations for investing, we are no financial advisors and this article has been written for educational purposes only. All in all, the one who can provide you with the best financial advice is you since you are fully aware of your financial status and preferences. At Cryptologi.st, we facilitate your decision-making process by providing reliable information about the hottest coins you are looking for. Don't miss the opportunity to be an educated investor.
How do you rate this post?