GalaxyWar Upcoming IDO Full Report: All The Hacks
tl;dr
IDO or initial DEX offering is one of the newest ways to invest. Reading this blog post, you will get a complete account of the details of the GalaxyWar IDO, which will start on Dec 27, 2021. GalaxyWar is a Defi +NFT space strategy classic game. The fundamental driver of value in GalaxyWar is the monetary reward system. This decentralised, multichain blockchain supports a dual token system ($GWT | $DARK). GWT is a multifunctional governance token (total supply is 100,000,000), and DARK is the native in-game currency. The IDO price of $GWT will be about $0.03. Needless to say that we are no financial advisors; you need to DYOR (Do Your Own Research) before investing. But if you are busy doing your own research, check out our research document aligned with this essay to make your own decision confidently. Let's travel to the multiverse together!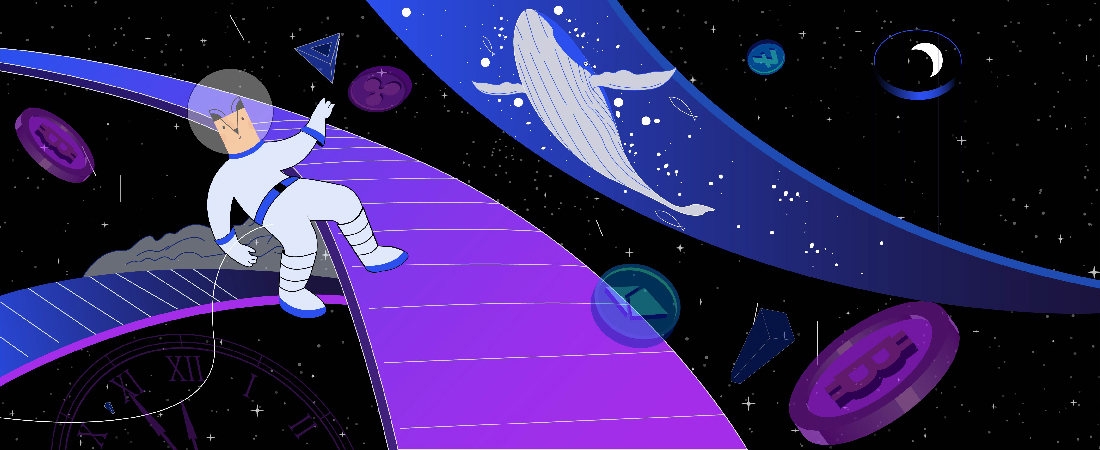 How do you rate this post?
GalaxyWar Overview
GalaxyWar is a simulation game based on Defi + multichain NFT space strategy classic that player competes against thousands of other players for multiverse supremacy! This game is derived from classic games like EVE Online, Minecraft, Roblox, etc. GalaxyWar's primary goal is to create an ever-expanding METAVERSE product that combines several gaming aspects, such as starship battle, simulation operation, and planet collection.
The adventure begins with establishing a small colony in an uninhabited world. To assert influence over the galaxy, you must use your colony's resources and tactical genius to develop new technologies and build a powerful fleet. There are countless perils and obstacles in the endless depth of space, but there are also tremendous treasures and limitless power. You can read more in the GalaxyWar whitepaper.
GalaxyWar Studio Background
Galaxy Studio, founded in 2009 by Gru (CTO & Founder), is an independent game studio that has released and developed a number of titles around the world.
one of Galaxy studio games, STAR DREAMWORKS, earned multiple awards for the best independent game in 2013.
In the year 2020, Galaxy Studio decided to devote all of its time and resources to the development of GameFi.
In 2021, this studio will release GalaxyWar on multiple chains (first OEC, BSC, and Solana)
GalaxyWar Tokens
The monetary reward system, which is given via well-balanced, robust economics, is a fundamental driver of value in GalaxyWar. On OKExChain, GalaxyWar is powered by a dual token system ($GWT | $DARK). The market has proven this technique to be successful time and time again. Furthermore, the two-tiered P2E concept allows players to begin earning right away, with a $100 investment by trading, completing dungeons, and fighting other players.
GalaxyWar Token (GWT)
GWT is a multifunctional governance token with applications both in-game and in directing real-world economic policy. The total supply will be 100,000,000, and players can earn by winning PVP battles.
DarkMatter (DARK) Token
DARK is the native in-game currency used to acquire buildings, ships, crew, and equipment. It is also the predominant marketplace currency. The total supply of this token will be unlimited.
$GWT Distribution
Seed: 50,000,000 (5%)
Private: 120,000,000 (12%)
Public: 20,000,000 (2%)
Liquidity for BSC\OEC\SOL chains: 50,000,000 (5%)
Rewards for liquidity providers escrow. with Vesting: 100,000,000 (10%)
Advisors and incubators: 70,000,000 (7%)
In-game rewards (P2E): 245.000,000 (24.5%)
Team: 145,000,000 (14.5%)
Development and marketing funds: 200,000,000 (20%)
GalaxyWar Roadmap
🔅Last month of 2021
Beta Test
Multiverse (multichian)
Marketplace
🔅Q1 2022
Plunder (PVP)
Explore (Mining)
Wormhole
Allience
🔅Q2 2022
Arena
DarkZone (PvPVE)
Planet Colonization
🔅Q3 2022
Alliance war
Multiverse war
NFT stake
🔅Q4 2022
GalaxyWar Team Membres
Galaxy War is being developed by
Gru - CTO&Founder
20 years of experience in game programming
Led the development of 5 web games
6 years of experience in blockchain development
Developed 5 blockchain products
Jack - COO
Used to work for UBI
Senior Executive Producer
10 years experience in game development
3 years experience in blockchain game development
Roke - Core Programer
More than 10 years of programming experience in game front
More than 10 web games development experience
The total turnover of web games exceeded 1 billion
Steven - Contract Programer
8 years of experience in programming
3 years of experience in blockchain development
Developed 3 blockchain products
Queena - Core Art Designer
Used to work for UBI and Zynga
Original character design for games
8 years experience in game development
Rock - Designer
Used to work for UBI
8 years experience in game development
2 years experience in blockchain game development
Jean - UI Designer
Used to work for Zynga
5 years experience in game UI design
Sunny - Core Marketing
5 years experience in the advertising industry
3 years of brand promotion and operation experience in a Fortune Global 500 company
Kaylee - Business Development
5 years of USA study and work experience
3 years of business development experience in the game industry
Game Features
Build economic and military infrastructure;
Charge into battle for valuable resources;
Arm your fleet with your heroes and consolidate your strength;
Mine resources or plunder them from other players;
Trade with other peaceful civilisations;
Forge alliances and attack other planets in concert.
GalaxyWar Game Graphics
GalaxyWar has more than 300 fantasy drawings that will show players an epic and vivid universe-spanning hundreds of thousands of years.
All 50+ constructions, 20+ techniques, 15+ starships, and 10+ campaigns are thoroughly studied and carefully manufactured to ensure realness and a great gaming experience.
GalaxyWar Game Story
Immerse yourself in the new fantasy universe created by science fiction writer
Unravel the secrets behind the feud of three races: Sidel, Yudak, and Mita
Collect resources, build your own colony, and engage in war, politics, trading, and exploration with hundreds of thousands of other players
GalaxyWar Trading market
All important transaction information is disclosed on the blockchain, and players can sell their in-game assets (crystals, weapons, components, and even planets) on the trading market. Also, The hero system is featured in the Galaxy War, and hiring heroes will significantly improve the combat effectiveness of fleets.
The hero has five careers (Eternals, Technical Pioneer, Matrix, Terminator, Bounty Hunter), each of which has a different attribute bonus and 25 hero skins. Each hero has five ranks as Common(white), Rare(green), Elite (blue), Epic(purple), and Legendary(orange), and the rarity and stats increase in turn. Each hero is an NFT, which can be traded on the trading market.
GalaxyWar Partners
Here is the list of GalaxyWar partners. You can check out all the partners in our research document.
Interesting Facts about GalaxyWar
Although GalaxyWar is not launched yet, the CoinMarketCap and DappRadar have already started to support it, which may rarely happen in IDO projects.
GalaxyWar IDO was supposed to launch sooner, but after entities and marketing supports - some of which include LaunchZone, GD10, and Bing Ventures - they announced their decision on the Twitter account to develop the best market strategy for GalaxyWar; hence, the IDO will be delayed.
GalaxyWar is almost active in all social media, including Telegram, Twitter, Instagram, TikTok, Twitch, Facebook, Youtube, Medium, Discord, and Reddit.
On December 24, KenzoVentures held an AMA with GalaxyWar COO and Business developer. 10 Common NFTs were given away to the five best questions. Also, they had another AMA with Mandysicoresearch, Azventures x, etc.
Another exciting thing about GalaxyWar is that the team is working on a wormhole that can bring you to other planets in the multiverse to raise resources, "Things can get out of a black hole, both to the outside, and possibly, to another universe."
Players will be required to mine metal, crystal, and deuterium to develop your colony.
How to participate in IDO
To participate in the GalaxyWar IDO, you can choose your favourite launchpad from the following list and click on them for the full participation guideline.
Final remarks
Cryptologi.st is here to help you access all the information you need about the cryptocurrency market before investing. However, no one better than you is aware of your financial status and needs, and therefore, you are the best person to decide whether to invest in a project or not. That being said, check out our website to stay updated about all the upcoming IDOs, top 1500 cryptocurrencies, news, and many more!
How do you rate this post?