What Is Firo Coin (Zcoin)? How to Mine Firo?
#blockchain
#cryptocurrency
#nft
#play-to-earn
#news
#firo
tl;dr
Firo coin started its journey back in September 2016 with a different name, Zcoin. Using a combination of different zero-knowledge proofs in its privacy mechanism, Firo allows users to remain anonymous when sending or receiving payments and burn their coins without showing which coins they burnt. Keep scrolling to find out how we can join Firo mining, what Firo wallet is, How to Mine Firo? and what technologies Firo uses.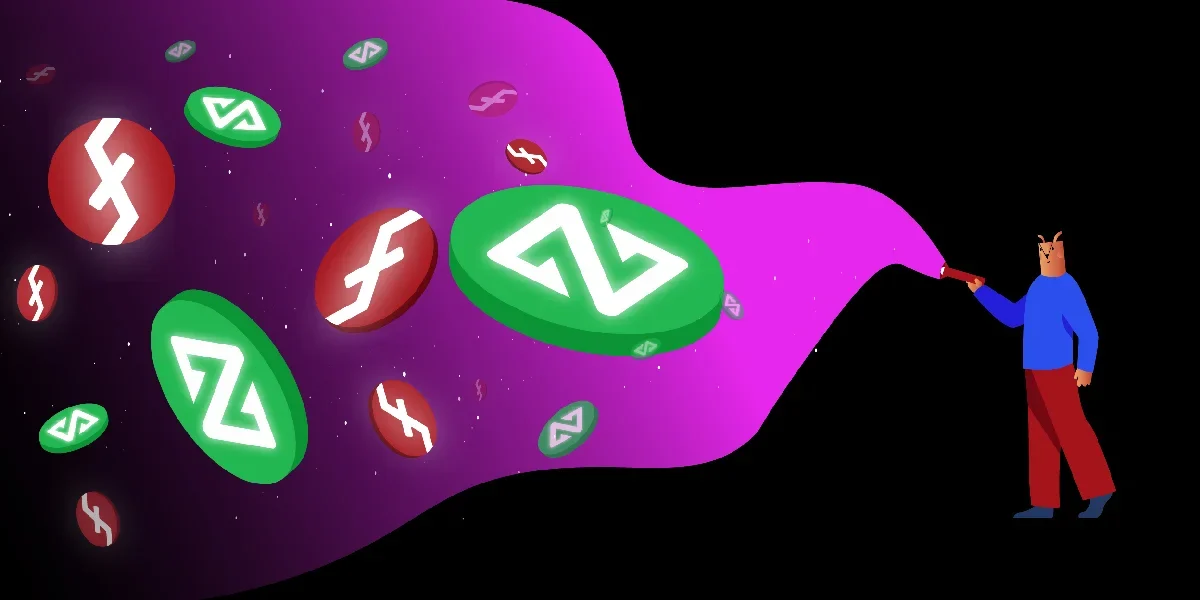 How do you rate this post?
What Is Firo (Zcoin)?
Firo aimed to create a privacy-preserving cryptocurrency using trustless privacy protocols, Lelantus and Lelantus Spark.
Using RSA encryption and zero-knowledge proofs, the Firo project allows users to remain anonymous when sending or receiving payments.
It also lets them burn their coins to destroy them and then redeem them later for coins with no previous transaction history.
Who Created Firo?
Firo came into the picture in September 2016 with a different name, Zcoin. It was founded by Poramin Insom and Reuben Yap.
Almost four years after its launch, in October 2020, Zcoin announced a rebranding to a new name called "Firo", which signifies a unique way of burning (destroying) and redeeming coins.
How Does Firo Work?
By learning about what technology Firo uses, we can better understand how Firo works and ensures privacy. To ensure privacy, Firo has utilised advanced protocols, including Sigma, Lelantus, Dandelion, and MTP, which we'll elaborate on below.
Sigma Technology
Sigma is developed to remove the need for trust in the Firo privacy system. Sigma uses 256-bit Elliptic Curve Cryptography (ECC) curves for proof sizes of just 1.5 kB, which is a 17x improvement on then-current technology.
Lelantus Technology
Lelantus is a privacy protocol developed by Firo developers. This protocol allows users to burn their coins, which hides them in an anonymity pool of over 65,000.
Also, the receiver can redeem coins from this anonymity pool and redeem them later for coins that have no previous transaction history.
Dandelion Technology
Firo uses Dandelion technology to protect its users' IP addresses. Before broadcasting to the whole network, the transactions are shuffled between nodes by a random number of steps. This way, the origin of the transactions cannot be recognized.
Merkle Tree Proof (MTP)
MTP is the mining protocol of Firo that reinforces the anonymity of the transactions. This protocol is designed in a way that prevents miner centralisation.
What Is Firo Coin?
FIRO, previously known as Zcoin, is the token of the Firo platform, which started its journey back in September 2016. FIRO is a digital currency with a focus on setting privacy standards.
It uses advanced cryptography to provide better privacy for those who want to do private cryptocurrency transactions.
FIRO Financial Analysis
Standing on the market cap rank #638, FIRO is currently worth about $1.62, with a live market cap of $19,112,762, a circulating supply of 11,735,150, and a maximum supply of 21,400,000 FIRO coins.
FIRO saw its ATL almost six years ago on Dec 02, 2016, when each FIRO was worth $0.279591, and after one year, its value skyrocketed and recorded its highest price at $139.77 on Dec 26, 2017.
Read more: Firo Price Prediction 2023, 2025, 2030: Is Firo (Zcoin) A Good Investment?
FIRO Tokenomics
FIRO is the utility token of the Firo platform, which copies Bitcoin in token distribution and halving cycles (every four years).
Firo Coin Block Reward Division
The total supply of the FIRO token is 21.4 million Firo coins. The following pie chart shows how the block rewards are divided within the platform.
Firo Coin Block Reward Division
Firo's Roadmap
Firo's roadmap is comprised of two major sections: development and research. Let's see how Firo has done on each one below.
Firo's Focus On Development
Developing the project includes ongoing functions. The following processes are in progress to help expand the Firo ecosystem:
Elysium (still in progress and will allow stablecoins or asset-backed coins to be issued on Firo's network to use its privacy technology)
Lelantus Spark (still in peer review and will make direct anonymous payments possible using a new address system)
Firo's Focus On Research
Firo's research is in the progress of the following parts:
Fast Sync Clients: Allows users to use their wallets rapidly without downloading the entire blockchain while supporting Lelantus transactions.
Aura Private Voting: To enable fast synchronisation for clients to sync the wallets quickly while supporting Lelantus transactions, but no need to download the whole blockchain
Mixents: Tries to tunnel transactions and node communications into Mixnets to protect metadata even versus state-level adversaries.
Cross-Chain Bridges: Make it possible for the tokens of other ecosystems to bridge in and out of Firo's Elysium layer.
Avalanche: To enable instant transactions, enhanced security and fork-free upgrades.
Elysium v2: To expand the capabilities of Elysium with easier bridging and DeFi capabilities.
What Are The Main Features Of Firo?
One of the main features that make Firo unique over similar projects is its focus on privacy and using cutting-edge technologies to provide it.
However, the story doesn't end here and what follows is a list of other advantages of the Firo ecosystem.
The 2020 Fat Blockchain Award went to Firo as the most popular project.
Firo launched its Watch app to monitor its price.
Firo coin can be mined using a personal computer or a mining pool. The block processing time for Firo is about five minutes, and 12.5 coins are awarded per block.
Following the Bitcoin halving schedule, Firo decreases its supply to half almost every four years. Learn all about Bitcoin Halving.
Firo's integration with renVM makes possible the trustless bridging of Firo into Ethereum, i.e., users can enter and exit the DeFi ecosystem trustlessly and without KYC.
Firo can be stored in the official Firo wallets for Windows, macOS, Linux, iOS, and Android. Firo is also compatible with Coinomi's multi-currency wallet, Trust Wallet, and hardware wallets like Ledger and Trezor.
As the first coin to implement MTP (Merkle Tree Proof) proof-of-work type, Firo allows all people to mine Firo with GPUs and CPUs.
Best Zcoin (Firo) wallet
We already know that a cryptocurrency wallet is one of the best places to store and use your digital assets. To set up a Firo wallet, you can download a desktop wallet, mobile wallet or third-party wallet. The following are the Firo wallets.
QT Wallet (Desktop)
Electron (Desktop)
Electrum (Desktop)
Android Wallet (Mobile)
Stack Wallet (Mobile)
Campfire Wallet (Mobile)
Now Wallet (Third-Party)
Trust Wallet (Third-Party)
Edge Wallet (Third-Party)
How Do I Get Firo?
Currently, there are three ways to get FIRO, buying, earning and mining it. Keep reading to learn about each of them.
Where Can I Buy Firo?
You can buy FIRO from several top exchanges, including Binance, Huobi Global, Gate.io, DigiFinex, HitBTC, and Bitcoin.com Exchange.
How Can I Earn FIRO?
Being a masternodes within the Firo is another way to get FIRO. Masternodes refer to every node that host Firo's infrastructure and provide additional services, such as 51% mining attack protection via LLMQ chain locks and instant sends.
In return, for hosting Firo's infrastructure and their added services, each masternode would earn 50% of block rewards.
How Can I Mine Firo?
In cryptocurrency and blockchain, mining refers to the process of verifying new blocks and the Firo platform implements the FiroPoW mining algorithm. Since Firo mining is a lucrative thing to do, let's learn it step by step for both windows and Linux users.
How to Mine Zcoin
Before starting the mining process, you must set up a wallet for your mining payouts. Firo coins are designed to be mined by GPUs and use the FiroPoW algorithm targeted at GPUs that keep mining accessible to everyone.
However, you should remember that Only GPUs with at least 6GB of memory can be mined. The following steps help you realise how to start FIRO mining!
Download mining software.
Official reference miner (open source, no fee. Performance on newer AMD cards is poor on the reference miner)
Nvidia GPU: T-Rex Miner (closed source, 1% fee)
AMD GPU: Team Red Miner (closed source, 2% fee)
AMD GPU: SRBMiner-Multi (closed source, 0.85% fee)
After installing your mining software, you need to register on multiple mining pools that have recently joined the Firo mining ecosystem, including Cruxpool, Minerpool, and BadHasher.
Then, you have to edit the bat files depending on the mining software you use. Once you are done, run the bat file you created and start! Happy mining!
Firo Coin New Listings And Pairs
Firo coin has recently been listed on
Tokocrypto
BitMart
TradeOgre
Incognito DEX
Tip.cc
BingX, and
Bitwell.
It also has Binance (BUSD) and Bittrex (USDT) as its trading pairs. To buy Firo coins, you can pay fiat money via Visa or MasterCard through Binance and the 7b app.
Firo Coin Platform Technical Updates
The Firo coin platform has improved some of its technical features, which we'll go through here.
FiroPoW And InstantSend Release
One of the Firo coin's technical updates happened in October 2021 when FiroPoW was activated. This new PoW (Proof of Work) replaced the MTP (Merkle Tree Proof) mining algorithm to help FIRO resist ASIC/ FPGA and decrease the overhead.
This development was made to help make the Firo coin mineable and improve its scalability by decreasing storage and network needs.
Together with FiroPoW, its InstandSend feature was activated at the same time. As its name suggests, InstantSend removes the need to wait for block confirmation and finalises transactions in a few seconds. This feature also helps improve functionality and user experience.
MTP Data Stripping
MTP stripping results in reducing the size of the Firo coin blockchain from over 60 GB to under 4 GB, which makes it more practical to run on regular computing devices.
MTP stripping omits unnecessary MTP data proofs from Firo's prior PoW. As the number of nodes using the MTP stripping mode grows, the amount of data needed for a fresh sync dramatically decreases.
Elysium Testnet And GUI
The Firo coin platform has provided Elysium as its tokenisation layer to let users build their tokens and use the privacy features offered by Lelantus technology, enabling users to access private stablecoins and voting tokens.
To start the wallet with Elysium on testnet, use the following.
Windows: firo-qt.exe -testnet -elysium
Linux: ./firo-qt -testnet -elysium
MacOS: ./firo-qt -testnet -elysium
FiroDEX: Atomic Swap Powered DEX
Powered by AtomicDEX, FiroDEX is a cross-chain atomic swap DEX. FiroDEX enables users to swap Firo coins in chains like Ethereum, BNB Chain, Avalanche, etc., in a decentralised way.
The Future Of Firo Coin
Similar to other crypto projects, the future of FIRO depends on various factors, including roadmap, team, popularity, investors, the crypto industry, etc.
However, to discover when the FIRO price goes up, whether the FIRO is a good investment, and when is the best time to buy FIRO, you can freely check out our article about Firo coin price prediction 2023, 2025, 2030.
Is Firo A Good Invesment?
That's all about Firo! The project has been on top of its game from the first months of its inception. It has provided a clear direction for the project and was created by active team members thriving to bring Firo closer to achieving its goals.
However, moving to its finances, Firo's investors have been faced with heavy losses in their portfolios within the last year. Screening its liquidity score, we'll see that Firo's score is %38, meaning that the current market volatility is causing spikes in cryptocurrency prices, and Firo coins cannot be traded easily.
FAQ
Below, we have answered the hottest frequently asked questions about the Firo coin.
​What Is FIRO Coin Worth?
When writing this article on Nov 21, 2022, the value of each FIRO coin is 1.58 USD, with a 24-hour trading volume of $1,429,571.
Is FIRO Coin A Good Investment?
Although FIRO has been a good investment, and its value went from $1 to $136 from Dec 2016 to Dec 2017, the token's value has decreased more than %77 over the past year, and we couldn't consider FIRO as a lucrative short-term investment.
How Long Does It Take To Mine 1 FIRO?
It depends on your mining software. For instance, it would take six days to mine 1 FIRO with an Nvidia RTX 3080 or with an Nvidia RTX 3080 LHR.
Which Hardware Can You Use To Mine Firo?
According to Firo's Official website, you can use one of the following software to start mining FIRO.
Official reference miner,
Nvidia GPU: T-Rex Miner,
AMD GPU: Team Red Miner,
AMD GPU: SRBMiner-Multi.
How do you rate this post?