FEG Token Price Prediction 2023, 2025 And 2030: Is FEG Coin A Good Investment?
#cryptocurrency
#defi
#decentralized
#feg
tl;dr
Many eyes are on this DeFi project as investors have begun investigating to see if FEG is going to the moon again. However, the FEG token's price action is suggestive of a pump-and-dump scheme. Keep reading about FEG token price predictions for 2023, 2025 and 2030 to find out what FEG is all about and if it'll make a profitable investment.
How do you rate this post?
What Is FEG Token?
FEG token (Feed Every Gorilla) is a hyper-deflationary Decentralised Finance (DeFi) token. It provides services from investing to earning passive income or even creating your own security token.
It operates on both the Ethereum blockchain and Binance Smart Chain and is driven by its native token, FEG. There are no specific owners for the project, and the team members claim FEG to be a highly community-driven crypto project.
What Is The FEG Ecosystem?
To make an accurate FEG token price prediction, we must first know what it is all about. At the heart of the FEG Token ecosystem lies FEGex, a multi-chain DEX that allows users to buy and sell FEG tokens.
In the near future, FEG plans to add more blockchains, including AVAX, MATIC, and FTM. Also, FEGex supports the following:
Swapping,
Staking (FEGstake),
fWrapping, and
Adding tokens to liquidity pools.
Next, we will talk about FEG token price predictions for 2023, 2025 and 2030.
Read more: Spell Price Prediction 2023, 2025 and 2030: Is SPELL A Good Investment?
Price History
Let's take a look into how the FEG token has performed so far before going through the FEG token price prediction. The price action of the FEG token is very suggestive of a pump-and-dump scheme.
On Feb 4, 2021, the FEG token came into circulation with an initial price of less than $0.000000000001 and remained in that range until May 10, 2021.
On May 11, the FEG token experienced a sudden pump of 10000%, and its price jumped to $0.00000001. It remained at that price until May 12.
On May 13, FEG's price doubled and reached $0.00000002. The pump lasted for three days before dumping back to $0.00000001. FEG token experienced this exact price pattern three times in less than a month.
FEG token's price dropped back to its initial price on Jun 22, 2021, and got back up to $0.00000001 the very next day.
Finally, on July 16, 2021, FEG's price dropped to its initial price of <$0.000000000001 and remained in that price range until mid-September.
FEG's price began fluctuating on Sep 13, 2021 and peaked at $0.000000012 on Oct 30, 2021.
Since October 2021, FEG's price has experienced a gradual downfall. Currently, on Dec 11, 2022, FEG is still in the $0.0000000005 range.
Read more: XEN Crypto Price Prediction 2025 and 2030: Is XEN a Good Investment?
FEG Token Price Prediction 2023
The FEG price prediction 2023 suggests that the average price of FEG would be $0.00000000152 in 2023. The reported minimum and maximum price estimations are $0.00000000128 and $0.00000000155, respectively.
FEG Token Price Prediction 2024
According to FEG coin prediction done by crypto experts, FEG token will cost $0.00000000203 on average in 2024. The minimum and maximum prices can reach $0.00000000176 and $0.00000000214, respectively.
FEG Token Price Prediction 2025
The FEG price prediction 2025 shows us that the FEG token could cost an average of $0.00000000270 throughout this year. FEG's price can be $0.00000000230 at a minimum, and it can be $0.00000000272 at a maximum.
FEG Token Price Prediction 2030
Price prediction resources have estimated that the FEG token would reach $0.00000000853 in 2030 and can cost $0.00000000824 at a minimum and $0.00000000863 at a maximum. Below is the FEG coin prediction summed up in a chart.
Read more: CCX Coin Price Prediction. Is Conceal A Good Investment?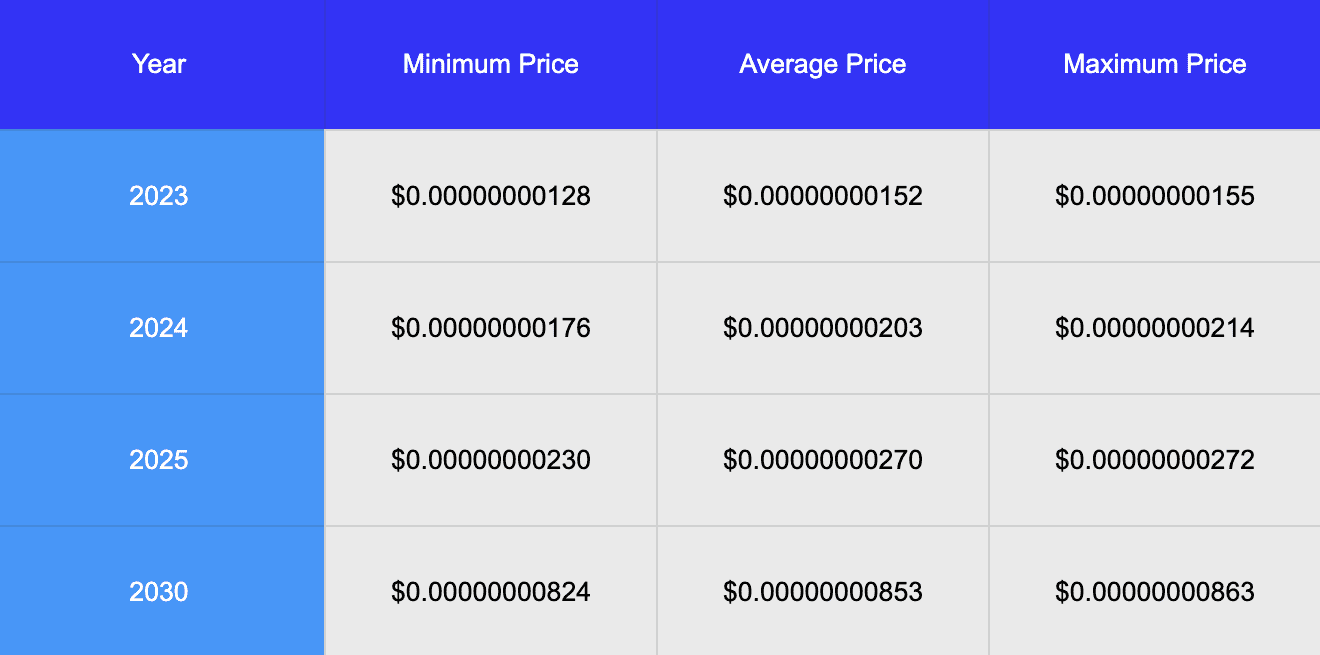 Why Is FEG Token A Shitcoin?
As seen above, the FEG token's strange price action starts to make sense when we look at how FEG was introduced to the crypto space.
Shortly after the FEG token's launch, anonymous investors began discussing and tweeting about how the FEG token would be the next crypto moonshot for investors.
Chats about FEG tokens were popping up on different crypto communities across Discord servers and Subreddits and incentivising people to join a Telegram group related to FEG.
The group's members grew to 40,000 people actively discussing the project, sharing memes, and how the price of FEG was bound to skyrocket.
On May 8, 2021, hundreds of thousands of random investors started buying the token, and after only three days of this mass purchase, the price of FEG skyrocketed.
However, shortly after the insane price pump, those investors began cashing out their assets and loading a total of $120 million off the platform, resulting in a drastic price dump. The price chart of the FEG token since the day of its launch is given below.
FEG Token Financial Analysis
Currently, on Dec 11, 2022, the FEG token is being held in more than 98K wallets. There have been 339K transactions with FEG tokens, with a trading volume of $297K during the past 24 hours.
The liquidity score of the FEG token is currently 16%, meaning it is a challenge to sell this token, even in the bull market!
FEG, with the symbol FEG, is a cryptocurrency project or a kind of crypto asset holding the current market cap rank #747 and a live market cap of $22,706,444.
FEG has a Circulating Supply of about 40,348,101,373,549,600 and a Total Supply of undefined. Today, the FEG price is $0 with a 24hr trading volume of $348,609.69 indicating a 6.45% decrease in FEG price.
The current price of FEG is 98.48% lower than its All-Time High of $4e-8 on 13 May. 2021, but it is undefined higher than its All-Time Low of $0 on undefined.
Read more: Savanna Price Prediction 2023, 2025 And 2030. Is SVN Token A Goof Investment?
FEG Tokenomics
FEG token is a deflationary token with a maximum supply of 100 quadrillions. At the time of writing this article on Dec 11, 2022, more than 40 quadrillion FEG tokens are in circulation.
No tokens have been allocated to team members, and 100% of FEG's supply has been dedicated to public listing liquidity on FEGex, Uniswap, and Pancakeswap.
Keep in mind that even though this token distribution model could suggest the project is highly community-driven, it could also mean the project makes a risky investment option.
Public listing liquidity - 100%
ROI
The ROI of the FEG token for different periods is as follows:
FEG Token's ROI for the Last 24 Hours: 6.45%
FEG Token's ROI for Last Week: 11.84%
FEG Token's ROI for Last Month: -70.45%
FEG Token's ROI for Last Year: -85.15%
FEG token has underperformed compared to similar projects in its field, which have grown by 2,414% during the past year. It has also underperformed the entire crypto market, which has increased by 1,394%.
Read more: Goldfinch Protocol Price Prediction 2023, 2025 and 2030. Is Goldfinch Coin A Good Investment?
Market Cap
According to Cryptologist's financial analyses on FEG, currently, the token has a market cap of $25 million and holds the rank #564 in the market cap rankings.
ATH And ATL
FEG token's current price is $0.000000000567386, which is 98.7% lower than its All-Time High of $0.000000044111, which happened on May 13, 2021.
The current price is 6989.8% higher than its All-Time Low of $0.000000000008068 that happened on Feb 12, 2021.
FEG Token Fundamental Analysis
Before diving into the FEG coin prediction, we need to learn about this token's fundamental analysis to make accurate estimations. We'll go through FEG Token's team, popularity and investors in the following sections.
Team
The team behind the FEG token consists of pseudonymous but not anonymous members. They revealed their faces at Crypto Expo Dubai 2022 when the FEG project won the title "The Best DeFi Technology".
The team comprises more than 150 blockchain enthusiasts from around the world. Some of the key members of FEG are:
Lead Blockchain Developer: FEGrox
Global Operations Manager: RTRcrypto
Developer Team Lead: Tomi
Head of Marketing: Frankie
Popularity
The past six months haven't been the easiest for FEG. The popularity of this project hasn't increased much across various platforms - in fact; it has dropped by 18% on Telegram.
FEG's Twitter growth during the past six months has been only 1%, and its Reddit subscribers have also grown by 1%. The chart of the FEG token's popularity across social media platforms in the past six months is given below.
FEG Token Roadmap 2023
Currently, the FEG token is going through a rebranding and migration process. The FEG team plans to do the following in Q1 2023:
Auditing Aggregator
Auditing FTW (from The Wallet Feature)
Release of SmartDeFi 2.0
FTW Platform Launch
Aggregator Launch
FTW Chain Expansion
FTW NFT Integration
Exploring CEX Listing
New FEG Token Website Mockup
Moreover, other plans for the FEG ecosystem include the following:
Building The New FEG Token Website
Grafene 2FA Wallet
Explore NFT and P2E Industries
How Does The FEG Token Rewarding System Work?
The FEG Token ecosystem comprises a rewarding system, including fWrapping, Staking and GASrebate.
fWrapping allows you to wrap any crypto in your wallet and earn 1% of that wrapped currency every time someone else wraps the same currency.
Staking is one of the ways to benefit from the FEG ecosystem. All the users can stake FEG tokens to start earning several tokens in return. FEG token stakers earn a share of 0.12%-0.15% of all sell volume on FEGex.
What Is GASrebate In The FEG Token Platform?
GASrebate is a rewarding system to reward traders for using FEGex. According to the FEG token whitepaper, the buyer or seller will receive 1/8th of the total BNBback or ETHback pool at the time of their purchase, depending on the respective chain they're on.
What Is SmartDeFi In The FEG Token Ecosystem?
SmartDeFi is a token template for a new generation of DeFi projects and one of the essential innovations of the FEG token. It autonomously provides the functionality of a complete financial system within one smart contract.
In simple words, SmartDeFi rewrites DeFi to make it more secure and efficient.
With the help of the SmartDeFi deployer, everyone can create their very own SmartDeFi token in a few minutes and contain the exchange, lending protocol, and asset-backed store of value inside the smart contract, creating a safer and more reliable token.
FEG Token Unique Features
FEG is a hyper-deflationary token with a 2% tax on every transaction, sending a 1% split between holders of FEG and 1% to the burn wallet.
FEG is a governance token of FEGex. You can earn more FEG tokens just by holding FEG in your wallet because a portion of every FEG token transaction is immediately and automatically sent back to all FEG token holders.
Is FEG A Good Investment?
FEG token does not make a good crypto investment, even for those investors with the highest risk tolerance! FEG's price history is suggestive of a pump-and-dump scheme. Learn all about cryptocurrency scams and how to avoid them.
Although the team behind FEG is offering a detailed roadmap and is constantly working on implementing new features into the platform, the project has lost its reputation due to its past price performance.
We can wait and see how FEG will get back up again, but currently, the FEG token does not make a safe investment.
Summary
FEG token is a DeFi project that runs on both Ethereum and BSC blockchains. It offers a variety of DeFi tools, and the platform is powered by the FEG token.
Although the project offers utility, the price of the FEG token has experienced weird fluctuations and does not make a proper investment for investors.
FAQ
After learning about FEG coin prediction and price performance, let's answer some FAQs so you can make better investment decisions regarding this token.
Will FEG Token Reach 1 Dollar?
It is not possible for FEG to reach 1 dollar. Considering FEG's circulating supply of 41 quadrillions, if the token were to reach $1, it would have a market cap of $41 quadrillion, which is about 125000 times more than Bitcoin's current market cap!
Will FEG Token Reach 1 Cent?
With the FEG token's circulating and maximum supply in mind, the FEG token can't reach 1 cent. If FEG's price reaches 1 cent, it needs to have a market cap 1250 times bigger than Bitcoin!
Is FEG A Pump and Dump?
The price action of the FEG token shows many similarities to a typical pump-and-dump scheme. So, take heed!
How do you rate this post?