EverGrow Coin Price Prediction 2023, 2025 and 2030: Is EGC A Good Investment?
#blockchain
#decentralized
#investment
#metaverse
#egc
tl;dr
Far away from this bearish market, EverGrow has been quietly building a better financial world and will continue to build through what comes next. Keep reading the EverGrow price predictions for 2023, 2025 and 2030 to see when the EGC coin will pump again and how EGC holders will make massive 100x gains!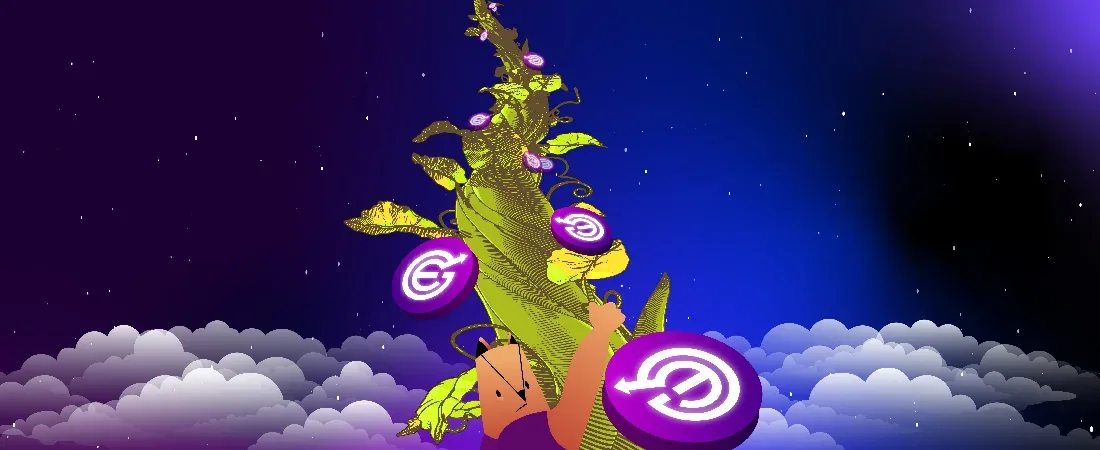 How do you rate this post?
What Is EverGrow Coin?
EverGrow is a deflationary stablecoin on Binance Smart Chain launched on Sep 25, 2021. Being a deflationary token means that the supply of coins will decrease over time instead of increasing, and as a result, the value of each coin will rise if the demand remains consistent.
EverGrow describes itself as the first-ever stablecoin yield generation token, rewarding the users with Binance-USD (BUSD) stablecoin via its innovative token distribution strategy.
You can earn BUSD just by holding EverGrow in your wallet. The passive income you receive will vary depending on the total amount of EverGrow you hold and the token's daily trading volume.
Since its launch, EverGrow has distributed $37.5 million in BUSD to its holders, apparently more than any stablecoin project in history.
However, EverGrow's success doesn't end here, and the EGC coin comes with mind-blowing features, which will explain below. Next, We talk about EverGrow price predictions for 2023, 2025 and 2030.
Read more: Songbird Price Prediction 2025 and 2030, Is SGB Token A Good Investment?
EverGrow Features
EverGrow ecosystem and features can affect EverGrow price prediction. Although EverGrow is a young project which requires time to take form, it has developed some unique features that can put the EGC's price and future in the spotlight.
LunaSky NFT Marketplace
EverGrow is developing the LunaSky NFT marketplace, where you can mint, buy and sell NFTs.
The crater is a content subscription and social media platform that integrates both crypto and fiat payment options.
EverGrow Crypto Wallet
EverGrow crypto wallet allows you to buy, sell and swap your crypto and hold your EGC coins to earn passive income. Learn about the 10 best coins to stake in 2023 to make some easy passive income.
This is where you can enter a 3D virtual world and visit an NFT gallery, a virtual crypto bank or play a suite of virtual reality games. It's no secret that as the buzz around the Metaverse continues to grow, the EverGrow's price gets a big chance to explode.
However, there are other crucial factors affecting EGC's future, one of which is how the token has performed financially so far, which we'll elaborate on below.
EverGrow Price History
The first trade with EverGrow coin took place on Sep 27, 2021, when each EGC coin was worth about $0.000000009, recording its lowest value on the same day.
Shortly after its launch, its value skyrocketed and saw its All-Time High (ATH) of $0.00000337 on Nov 01, 2021.
On Dec 21, 2021, the EverGrow coin's value raised from $0.00000337 to $0.0000006.
The token saw another peak at 0.00000016 on Jan 05, 2022, and started a steady downward price trend since then.
Today, on Jan 04, 2023, each EGC is traded at about $0.00000007714.
To get a more digestible view of the EGC coin price changes in the recent 12 months, let's take a look at the following chart and then move on to EverGrow's financial analysis, which plays a key role in EGC coin price prediction.
EverGrow Financial Analysis
Being launched as the first major project offering stablecoin by a professional team, EverGrow achieved a $2 million valuation within 2 hours after its launch and caught the attention of the crypto world during the first months of its launch. These are among the factors that lead EverGrow into the spotlight.
However, there are still other important factors that shape the future of this project. Higher ROI for EverGrow can mean a more promising EverGrow price prediction. Let's not wait and evaluate the EGC coin tokenomics, ROI, market cap, ATH and ATL in the following sections.
EverGrow Tokenomics
The word "tokenomics" (token + economics) refers to the token's supply and demand characteristics, fees and rewards. The EverGrow coin has a circulating supply of 460 trillion EGC coins, a total supply of 464,846,384,206,124, and a max supply of 1,000,000,000,000,000 coins.
It is currently held in more than 139,200 wallets, processing up to 1,938,471 transactions. EverGrow's liquidity score is about 15%, making the token a difficult sell during the bear market.
Since every transaction with EGC is charged with 14% fee, the following pie chart shows how each part of this 14% transaction fee is distributed within the network.
Read more: XDC Price Prediction 2025 and 2030, Will XDC hit $100?
EverGrow Transactions Fee Distribution
ROI
Return on Investment (ROI) describes the percentage of growth or loss of a crypto investment during different timespans.
Analysing EverGrow's financial charts, we realise that the token's ROI during the last year was about -92%, which is dreadfully down, meaning that your $100 investment in EGC would result in losing $92!
Considering EGC's monthly and weekly ROI, the token has been 24% and 10% down, respectively.
However, during the last 24 hours, the EverGrow coin's ROI increased by about 4%.
Market Cap
At the time of writing this article, on Jan 04, 2023, EverGrow's market cap ranking is #441, with a current market cap of $35,858,678.
ATL and ATH
EverGrow coin recorded its ATL during the initial days of its journey, on Sep 27, 2021, at $0.000000004056.
After one year, the value of EGC saw a sudden massive growth, and the token touched its ATH at $0.00000337.
Today, on Jan 04, 2022, EverGrow's current price revolves around $0.000000074, which is -97.8% lower than its ATLH but 1801% higher than its ATL.
Apart from how EverGrow coin has performed financially, EverGrow price prediction and the EGC's success depend on its ability to attract users and the development of the team behind it. That's why we'll walk you through EverGrow's fundamental analysis in the next section to learn it all.
Read more: DigiByte Price Prediction: Is DGB A Good Investment?
EverGrow Fundamental Analysis
The more talented team members a project has and the more it attracts the public's attention, the more chance it has to pump and hit new highs. So let's quickly review EverGrow's team members and see how popular this project is.
Team
EverGrow was the brainchild of Praveen Rai, a Marketing specialist, and Ajeet Singh, a Blockchain developer. In addition, EverGrow's original core team members, who are a talented group of experienced business leaders, developers, designers and marketing specialists, are listed below.
Paul Treffinger: Operating Manager
Cody Black: Project Manager
Sam Kelly: Chairman
Popularity
EverGrow's team members caught the attention of Sam Kelly, an award-winning investment manager and entrepreneur whose expertise and experience spans over 20 years in business.
Data from Cryptologist indicates that the growth rate of EverGrow's Twitter has risen by about 12% over the six months, while its Reddit and Telegram account hasn't shown a significant improvement, with 0% and -12% growth rates during the same time frame.
Reviewing all financial and fundamental factors of EverGrow, it's time to move on to the EverGrow price prediction from 2023 to 2030 and focus on EGC growth rates in the coming years.
EverGrow Coin Price Prediction 2023 - 2030
The following table shows how EverGrow coin price prediction from 2023 to 2030 will be. You can find the annual growth rate of the EGC coin in the following sections.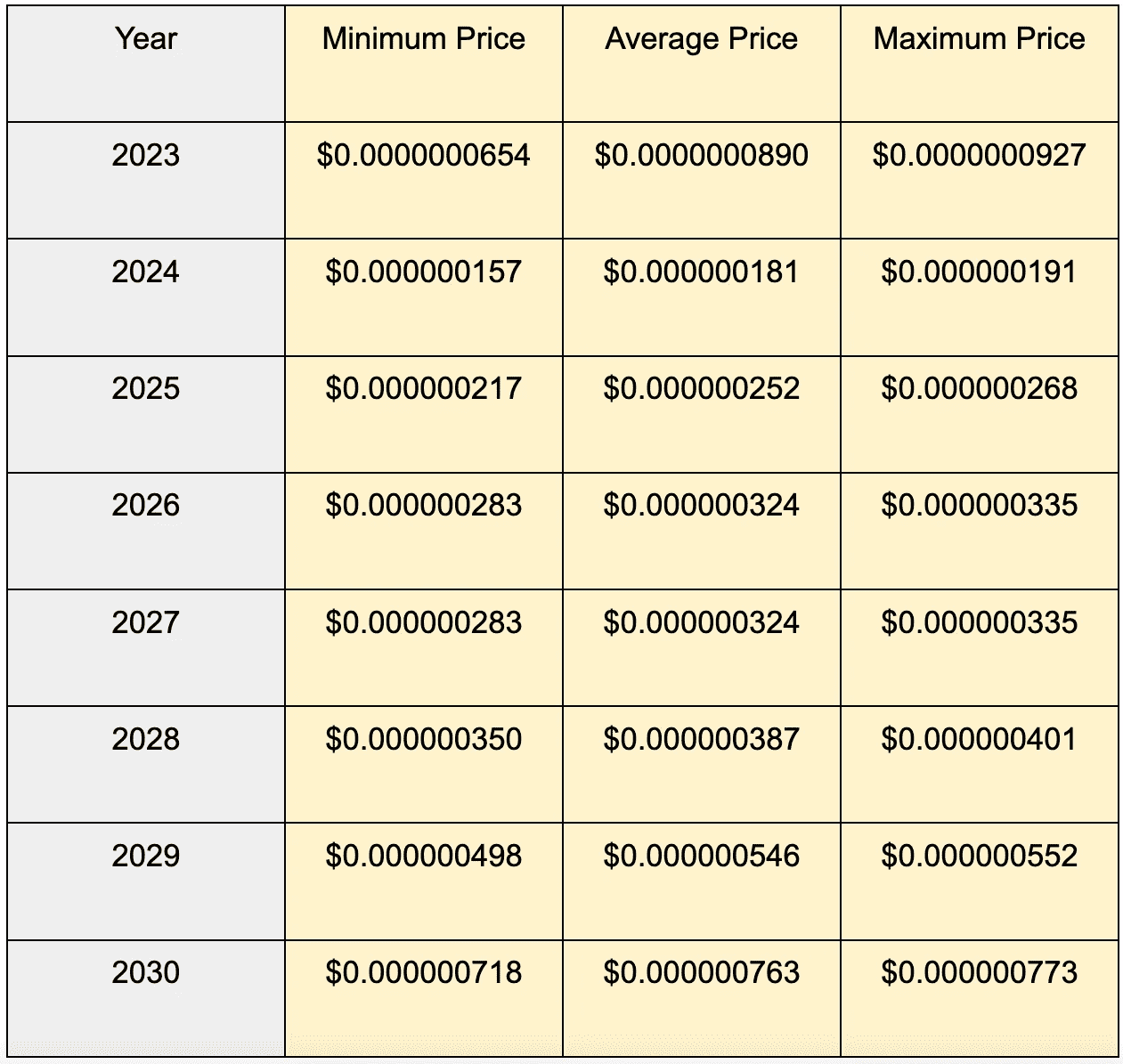 EverGrow Coin Price Prediction 2023
EverGrow price prediction 2023 reveals that the average and maximum value of each token can rise by about 20% and 25%, while its minimum price will decrease, i.e., its growth rate will drop by about -11%, throughout 2023.
EverGrow Coin Price Prediction 2024
According to the EverGrow coin price prediction 2024, the average price of each EGC can grow by 145%, on average, and reach $5.71. EGC can have a minimum price growth of 113%, and at a maximum, it can grow by 159% during 2024.
EverGrow Coin Price Prediction 2025
EverGrow price prediction 2025 shows that each EGC coin can increase by an average rate of 241%, while its minimum and maximum values can experience 194% and 263% growth rates, respectively.
EverGrow Coin Price Prediction 2030
By the end of 2030, the average value of each EverGrow coin can increase by 935%, reaching $0.000000773. It is also estimated that EverGrow's minimum price can rise by about 874%, and its maximum can see a growth rate of 948% throughout 2030.
Is EverGrow A Good Investment?
EverGrow Coin (EGC), one of the biggest stablecoin reward tokens in the market today, is a young project with a long way to go! A liquidity score of 15%, an ROI of -92%, and the current bear market situation are red flags signifying that EverGrow cannot be a lucrative short-term investment.
However, it is the first stablecoin of its kind that allows holders to earn passive income, and if the token can survive this bearish market, it may recover itself and even hit new ATHs in the long run.
Summary
That's all about EverGrow price prediction. When it comes to investing in young projects like EGC, nothing is more valuable than updated knowledge.
To access all the information you need before investing in the EverGrow coin in one place and avoid crawling various sources, you can freely check out this Crypto Screening tool, make your Portfolio, and read through the analyses of the top 1500 crypto projects worth investing in.
FAQ
The following Q&As will help you get your head around the EverGrow project.
What Is EverGrow All Time High?
EverGrow saw its All-Time High about one year ago, on Nov 01, 2021, at $0.00000337.
Will Coinbase List EverGrow?
The EverGrow coin has not been listed on Coinbase yet, but depending on its function and ongoing development, it may be listed on well-known exchanges like Coinbase.
Is EverGrow On Binance Smart Chain?
Yes, EverGrow is one of the newest stablecoins on the Binance Smart Chain.
How do you rate this post?