Enjin Coin Price Prediction 2025 and 2030: Is Enjin A Good Investment?
#erc20
#metaverse
#enj
#cryptocurrency
#investment
tl;dr
Enjin has been around for a very long time! It got pumped up with the magic of the bull market and tolerated the curse of the bear market. Now, ENJ token holders are wondering: how can we make an accurate Enjin Coin price prediction 2025 and 2030 for the years to come? Here lie your answers and some more info you didn't know existed about Enjin! Keep reading!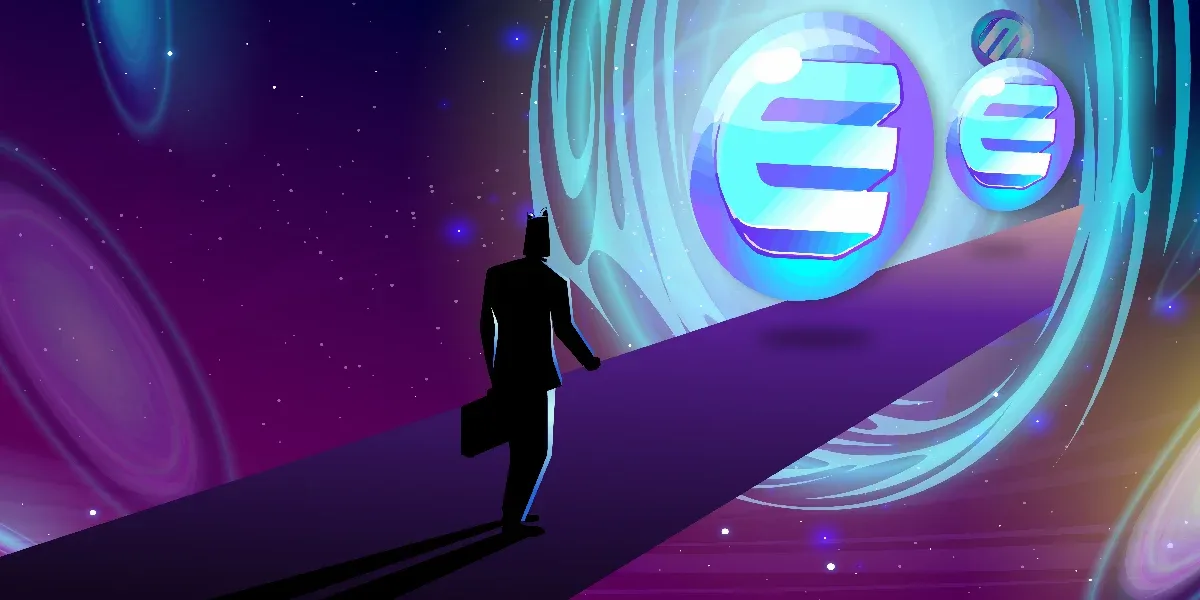 How do you rate this post?
What Is Enjin?
Enjin is a for-profit company founded back in 2008, aiming to create a community-based gaming platform. At its core, Enjin is the software that allows users to create, store and manage virtual assets on Ethereum.
These assets can range from gaming NFTs like swords and diamonds to in-game currencies designed to be traded in the game. To make an accurate Enjin coin price prediction 2025, we first need to see what the Enjin coin is.
What Is Enjin Coin?
Enjin Coin (ENJ) is an Ethereum-based token developed to streamline using NFTs for individuals, businesses, and brands. Some of the main usages of Enjin Coin are
Supporting the value of NFTs and assets minted in the Enjin ecosystem;
Governing the network;
Used in different games using the wallet as an in-game currency; and
Minting virtual goods.
Price History
Prior to elaborating on the Enjin coin price prediction, let's scrutinise its price history.
Enjin Coin was first traded on Nov 10, 2017, at $0.02055940, with a trading volume of $40,805.11.
Two days later, on Nov 12, 2017, ENJ fell to its lowest level and marked its ATL at $0.01865964.
About two months later, the token saw its first significant price jump on Jan 08, 2018, at $0.408822.
A downtrend started since the jump, which ended in another price rise at $0.203414 on Mar 10, 2019.
Since then, fluctuations accompanied a downward trend for about two years, but on Jan 09, 2021, a series of jumps started at $0.220746.
The early months of 2021 were the time for the Enjin Coin when it reached an eye-catching surge and recorded $2.70 for each ENJ coin.
The Enjin price increased even further and reached $3.23 on Apr 11, 2021.
In less than two months, the Enjin Coin price fell to $0.947111 on Jun 22, 2021.
This fall was backed by another rise, which elevated Enjin's price to $2.11 on Aug 31, 2021.
After some fluctuations, finally, on Nov 25, 2021, about four years after its launch, Enjin Coin recorded its All-Time High of $4.82 on Nov 25, 2021.
Since the ATH, Enjin Coin has continued a downtrend and currently, on Dec 12, 2022, each ENJ is traded at $0.297925.
The following chart shows the Enjin Coin price changes in the recent year. Next, we talk about Enjin coin price prediction 2025 and 2030.
Read more: Brise Price Prediction 2025 and 2030: Is Bitgert A Good Investment?
Enjin Coin Financial Analysis
According to Enjin coin financial analysis from Cryptologist, currently, ENJ is held in over 196K wallets recording over 2M transactions. 100% of Enjin coins are in circulation, and its liquidity score hovers around 60%, which is slightly higher than the market average, making it a relatively easier sell in bear markets.
Let's get into details and check Enjin's token allocation, ROI, Market Cap, ATH and ATL below.
Enjin Tokenomics
Enjin Coin, with a maximum supply of 1,000,000,000 and a circulating supply of 846,734,704.57 ENJ coins, has allocated the ENJ tokens as the following pie chart indicates.
Crowdsale Purchasers - 40%
Incentivising The Community, Beta Testers, Marketing, and Strategic Partners - 10%
ROI
Return on Investment is a frequently checked metric by crypto investors, as it shows how profitable a certain coin has been in various time frames. Enjin Coin's ROI in different periods is as follows.
Annual ROI: -88.36%
Monthly ROI: -18.14%
Weekly ROI: 0.76%
24hr ROI: -5.13%
Although Enjin's annual ROI is -88.36%, meaning that your $100 investment in ENJ would result in losing 88.36% of your funds, similar projects have had a 2,302% growth during the same period.
Read more: Gala Price Prediction 2023, 2025 and 2030: Is Gala A Good Investment?
Market Cap
Today, on Dec 12, 2022, Enjin Coin's market cap is $297,713,060, with a market cap rank of #107 among all crypto projects.
Currently, each ENJ is traded at about $0.297925, with a 24-hour trading volume of $12,675,900. In the recent 24 hours, ENJ's price has been down 4.7%.
ATH and ATL
Enjin Coin recorded it's All-Time High (ATH) on Nov 25, 2021, at $4.82, and its All-Time Low (ATL) on Nov 12, 2017, at $0.01865964. ENJ's current price is 93.8% lower than its ATH but 1495.8% higher than its ATL.
Read more: IMPT Crypto Price Prediction 2023, 2025 And 2030: Is IMPT A Good Investment?
Enjin Coin Fundamental Analysis
Another factor affecting Enjin Coin price prediction is its fundamental analysis, which includes the team behind the project, the popularity of the coin/ project and its investors. We'll elaborate on all of them in the following sections.
Team
Enjin enjoys the following team members on board. To know more about them, you can find their social media accounts in the Cryptologist team analysis section.
CEO/ Creative Director: Maxim Blagov
CTO: Witek Radomski
Chief Growth Officer: Ilija Rolovic
VP of Communications: Bryana Kortendick
Popularity
The popularity of a crypto project on social media is indicative of its good performance, active community, and effective Marketing, all of which make the project a more pleasant investment option.
To take a closer look at Enjin Coin's popularity in various time frames and its effect on the token's price, check out Enjin Popularity Chart.
Investors
Enjin is supported by some well-known investors who add to the authenticity of this platform. Some of these investors are listed below.
Crypto.com Capital
Hashkey
Digital Finance Group (DFG)
DeFi Alliance
Hypersphere Ventures
ICONIUM
ArkStream Capital
Hashed
Fenbushi Capital
Arrington XRP Capital
Enjin Coin Price Prediction 2023
Price actions and Enjin Coin price prediction indicate that Enjin Coin can reach an average trading price of $0.49 in 2023. It may fall to a minimum of $0.48 and reach a maximum level of $0.56.
Enjin Coin Price Prediction 2024
Crypto experts predict that the Enjin Coin can hit a minimum value of $0.70 in 2024. Each Enjin Coin can rise to a maximum price of $0.83, with an average trading price of $0.73.
Enjin Coin Price Prediction 2025
2025 can be an important year for Enjin as experts predict an average price of $1.05 for each ENJ. At its lowest level, Enjin can see a minimum price of $1.02 and can reach $1.22 at a maximum.
Enjin Coin Price Prediction 2030
Enjin Coin is predicted to reach a low price of $7.25 in 2030. Predictions indicate that ENJ's price can reach a maximum level of $8.27, with an average trading price of $7.45 throughout 2030. The following table summarises the Enjin Coin price prediction from 2023 to 2030.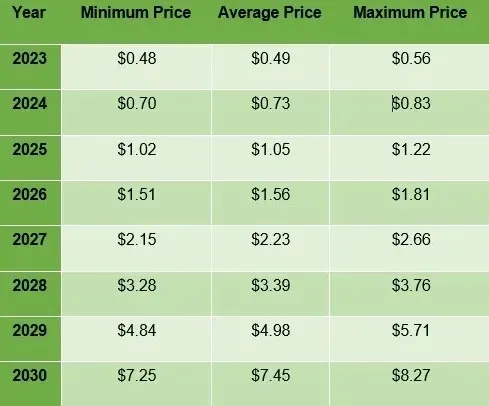 Is Enjin Coin A Good Investment?
According to the Enjin Coin price prediction given above, Enjin has the potential to grow in the coming years. Although Enjin has continued a downward price trend in recent months, the bear market can be partly blamed, and things can change in the next bull run.
Can Enjin Coin Reach $100?
It may be unlikely, but some experts believe Enjin Coin can reach $100 after 2030.
Summary
Congrats! If you're reading here, it means you've read through the Enjin Coin price prediction for 2023 to 2030, and now you have a clear picture of the token's future.
Remember that you need to stay updated and educated about the crypto market if you aim to be a successful investor. Cryptologist helps you achieve even higher aims in the crypto sphere with an AI Sentiment Tracking tool, a free Screener, and analyses on the top 1500 projects.
FAQ
You can find answers to the most frequently asked questions about Enjin Coin below.
Can Enjin Coin Reach $500?
For Enjin Coin to reach $500, a market cap of $500B is needed, which equals Ethereum's at the moment. It seems highly unlikely for Enjin Coin (ENJ) to reach $500.
Is It Too Late To Buy Enjin Coin?
Generally, it is never too late to invest in cryptocurrencies, especially Enjin Coin, that's still developing and has been around since 2017 and holds the market cap rank #107.
Enjin Coin plans to participate in developing the Metaverse, making it a Metaverse cryptocurrency.
How do you rate this post?