Dogelon Mars Price Prediction 2023, 2025 And 2030: Is ELON A Good Investment?
#cryptocurrency
#investment
#elon
tl;dr
Dogelon Mars has had a jaw-dropping price pump of 5,000% - not only once, but twice! It has left investors wondering when this token will have such price pumps again. Keep reading the Dogelon Mars price prediction to learn if this meme coin can replicate the success of other dog tokens like Shiba Inu and Dogecoin and if it should have a place in your portfolio next to your other dog-themed crypto assets!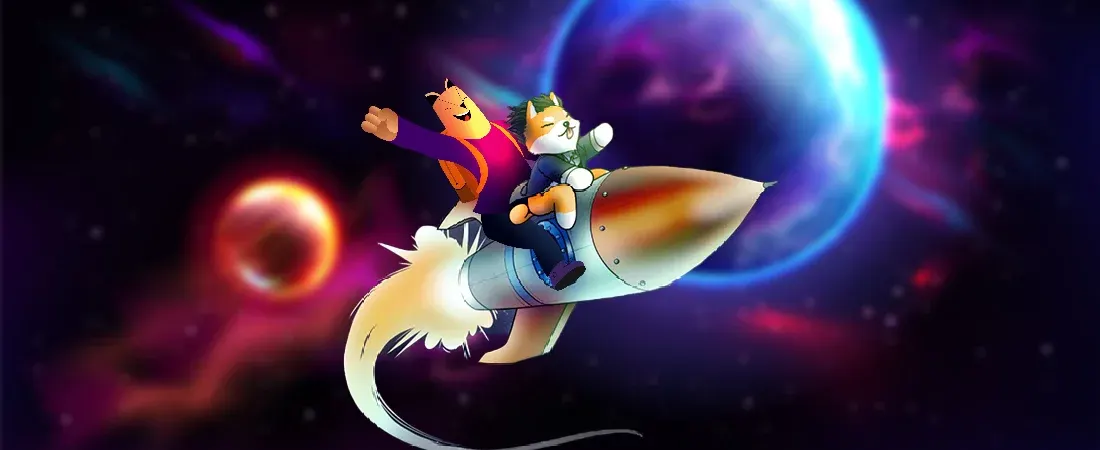 How do you rate this post?
What Is Dogelon Mars?
Dogelon Mars is a dog-themed meme coin that aims to become an "interplanetary currency used by space colonisers". In addition to being a meme token, Dogelon Mars is also a character in an NFT comic series created by the Dogelon team.
Founded in April 2021, Dogelon Mars was created as a fair currency and an attempt to undo the damage done to the crypto space by crypto scams.
To ensure fairness, the developers didn't hold a presale or allocate a percentage of this token to themselves. Speaking of the Doeglon Mars token, ELON, let's see what it is all about!
What Is ELON Coin?
Dogelon Mars' native token is ELON, an ERC-20 utility token on Ethereum. This token is available on Uniswap, KuCoin, Gemini, and Crypto.com. As of now, the token doesn't have any significant utility other than being bought, sold, and traded like a regular cryptocurrency.
Even the NFT comic series mentioned above are only purchasable with ETH and not ELON.
So, let's take a look at Dogelon Mars' price history to see how the ELON token has performed so far to see if ELON is suitable for your trading needs.
Price History
ELON started trading on Apr 23, 2021, with an initial price of $0.00000004.
Shortly after, on May 12, 2021, its price had a significant pump and reached $0.00000231.
After the pump, ELON's price dropped to its initial price and fluctuated in the $0.00000005 zone.
ELON's price started to increase gradually in October 2021 and recorded its All-Time High (ATH) of $0.00000259 on Oct 29, 2021.
Since its ATH, ELON's price has started declining steadily and is being traded at $0.00000033 as of today (Jan 19, 2023).
Below is Cryptologist's price chart of ELON since the day it came into circulation to help you get a clearer picture of this token's price action. In the section following the chart, we'll dive into this token's financial factors.
Dogelon Mars Financial Analysis
Today, on Jan 19, 2023, Dogelon Mars is being held in more than 172K wallets. The ELON token has a 38% liquidity score, which is lower than the market's average, meaning it will be challenging to sell during a bear market.
In the past 24 hours, the trading volume of ELON has been $1.8 million, and 1,035,740 transactions have occurred.
To understand all about the ELON token, we need to consider its other financial factors, i.e., Tokenomics, ROI, ATH, ATL, and Market Cap.
Dogelon Mars Tokenomics
Dogelon Mars has a maximum supply of 1 quadrillion, 55% of which (549,233,048,947,735‌ ELON) is in circulation. Let's take a look at the journey ELON had during its initial distribution.
At the start of the project, developers sent half of these ELON tokens to Ethereum's co-founder Vitalik Buterin, copying Shiba Inu's journey.
Vitalik Buterin donated 43% of ELON tokens to the Methuselah Foundation, a charity focused on human longevity extension.
In May 2021, the Methuselah Foundation publicly announced that they wouldn't sell any ELON tokens for one year to help maintain Dogelon Mars' long-term value.
Developers transferred the other half of ELON tokens to a liquidity pool on Uniswap. They also deposited 40 ETH into the pool and burned the liquidity provider tokens they received as a demonstration.
The team behind Dogelon Mars doesn't plan to commit rug pulls because they have deposited their funds into Dogelon Mars and burned the tokens they've received in return.
ROI
The Return on Investment (ROI) is a financial factor that shows how much you've benefited from an investment asset over a specific time frame. The ROI data for Dogelon throughout different timespans are as follows.
The Recent Year: -72.67%
The Recent Month: 8.94%
The Recent Week: 13.37%
The Recent Day: 5.26%
Projects similar to Dogelon Mars had a growth rate of 31,235,355% during the recent year.
Moreover, the crypto market had an average growth rate of 22,746,756% throughout this year, meaning that Dogelon Mars has a weaker performance than similar projects and the crypto market.
ATH and ATL
Currently, each ELON token is traded at $0.000000347113. Dogelon Mars recorded its All-Time High (ATH) of $0.00000259 on Oct 30, 2021, and its current price is 87.3% lower than its ATH.
Dogelon Mars' current price is also 1772.3% higher than its All-Time Low (ATL) of $0.000000017563 recorded on Apr 23, 2021.
Market Cap
At the time of writing this article, on Jan 19, 2023, Dogelon Mars has a live market cap of $190 million and ranks #163 in market cap rankings.
To make price predictions, the Dogelon Mars financial analysis alone is not enough. Another major point we need to go to is the fundamentals of Dogelon Mars. Keep scrolling.
ELON Fundamental Analysis
To better estimate the price performance of Dogelon Mars, we have to analyse how popular this project has been, who is running it, and who has invested in it. Let's see.
Team
As of writing, there is no information available about the founders and the team behind Dogelon Mars! Moreover, an official whitepaper for this project detailing its utility and goals hasn't been released yet, which can be considered a red flag, especially with meme coins.
Popularity
Popularity is one of the keys to success for crypto projects, and a strong community adds to the reliability of the project.
The past few months haven't been easy for Dogelon Mars' popularity across different social media platforms.
Dogelon Mars' popularity has dropped by 16% on Twitter and 23% on Telegram in the past six months, but it has increased by 2% on Reddit.
The following chart showcases the popularity growth rate of Dogelon Mars on the platforms mentioned above during the past six months.
Now that we know enough about the financial and fundamental bases of Dogelon Mars, we will go through the Dogelon Mars price prediction in the sections following the chart.
Dogelon Mars Price Prediction: 2023 - 2030 At A Glance
The following table summarises Dogelon Mars price prediction from 2023 to 2030. Details about the most important years for Dogelon Mars and the potential growth rate percentages are provided in the following sections.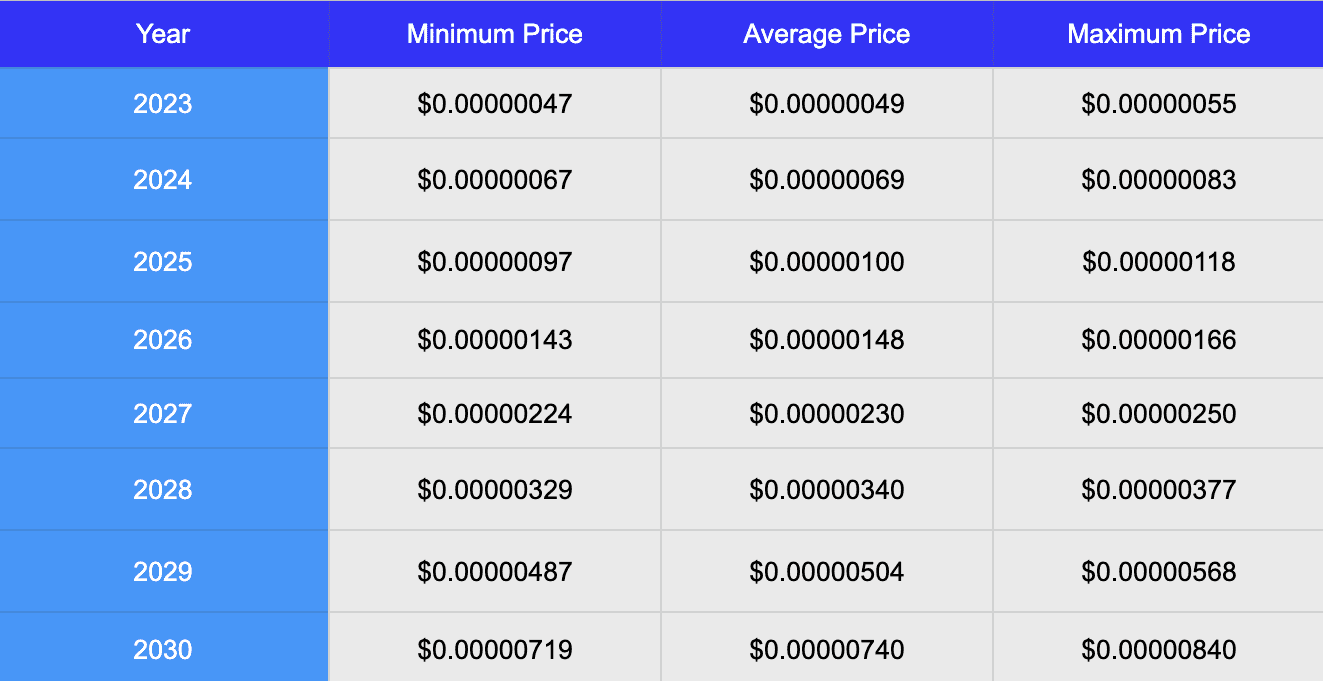 Dogelon Mars Price Prediction 2023
As of today, on Jan 19, 2023, ELON is being traded at $0.00000034. Throughout this year, the average price of Dogelon Mars can be $0.00000049, which indicates a 44% growth. The ELON token's minimum and maximum prices in 2023 indicate 38% and 61% growth rates, respectively.
Dogelon Mars Price Prediction 2024
Dogelon Mars' average trading price in 2024 is estimated to be $0.00000069, showcasing a 102% growth rate.
In the best-case scenario, the ELON token's value can peak and reach a 144% growth rate. Its minimum growth rate is estimated to be 97% throughout 2024.
Dogelon Mars Price Prediction 2025
Dogelon Mars price prediction for 2025 indicates that the average trading price of this token can be $0.00000100, signifying a 194% growth rate.
The minimum and maximum growth rates of Dogelon Mars throughout 2025 are estimated to be 185% and 247%, respectively.
Dogelon Mars Price Prediction 2030
Dogelon Mars can explode in 2030 with more than a 2,000% growth rate. The average price of the ELON token is estimated to be $0.00000740.
It's still not a significant price, but it shows a growth rate of 2,076%. The ELON token can grow by 2,014% at a minimum and by 2,076% at a maximum.
Is ELON Coin A Good Investment?
Dogelon Mars' ELON Coin cannot be considered a good investment because it contains many red flags. But judging by the developers' actions, it is highly unlikely that Dogelon Mars will be a scam.
However, we need to consider the following crucial facts about Dogelon Mars.
The team members are unknown.
The investors are unknown.
The ELON token doesn't have real utility.
There is no whitepaper dictating the purpose of this project or its roadmap.
Needless to say, you need to DYOR and define your crypto investment goals before investing in a cryptocurrency, especially if the project is as risky as Dogelon Mars.
Summary
Dogelon Mars is a dog-themed meme coin created to replicate the success of other major dog-themed cryptos such as Shiba Inu and Dogecoin.
Dogelon Mars was created to be an "interplanetary currency," and while this might be true to some extent, its only utility is to be used as a regular cryptocurrency.
Cryptologist brings you all the data you need to look up before investing in a crypto asset. We gather all the data you need in one place so you can make confident crypto decisions.
FAQ
Having read all about Dogelon Mars price prediction and its financial analyses, let's answer some frequently asked questions to help you better grasp this project.
What Will Dogelon Mars Be Worth In 2023?
Dogelon Mars can cost $0.00000049 on average in 2023. According to price predictions, ELON's minimum and maximum prices in 2023 can be $0.00000047 and $0.00000055, respectively.
What Will Dogelon Mars Be Worth In 2030?
Dogelon Mars' price can be $0.00000740 on average in 2030. Price predictions indicate that the ELON token's price can reach a minimum of $0.00000719 and a maximum of $0.00000844 in 2030.
Is There A Future For Dogelon Mars?
Since there are no official whitepapers or real utility for Dogelon Mars tokens, this project will not likely have a future.
Is Dogelon Mars Backed By ELON?
Yes, Dogelon Mars' native cryptocurrency is the ELON token.
Who Owns Most Of Dogelon Mars?
Dogelon Mars is not held by the team behind it, and the founders have deposited all of the remaining ELON tokens in a Uniswap pool.
How do you rate this post?