DEXTools Price and Financial Analysis
tl;dr
DEXTools price and financial analysis will open the eyes of crypto traders to the future potential of this DeFi project. Reading this article will help you make better investment decisions since it will elaborate on DEXTools price predictions for the coming years. Currently, DEXTools holds the #735th market cap rank among all crypto projects. Scroll down to see if DEXTools should be in your portfolio.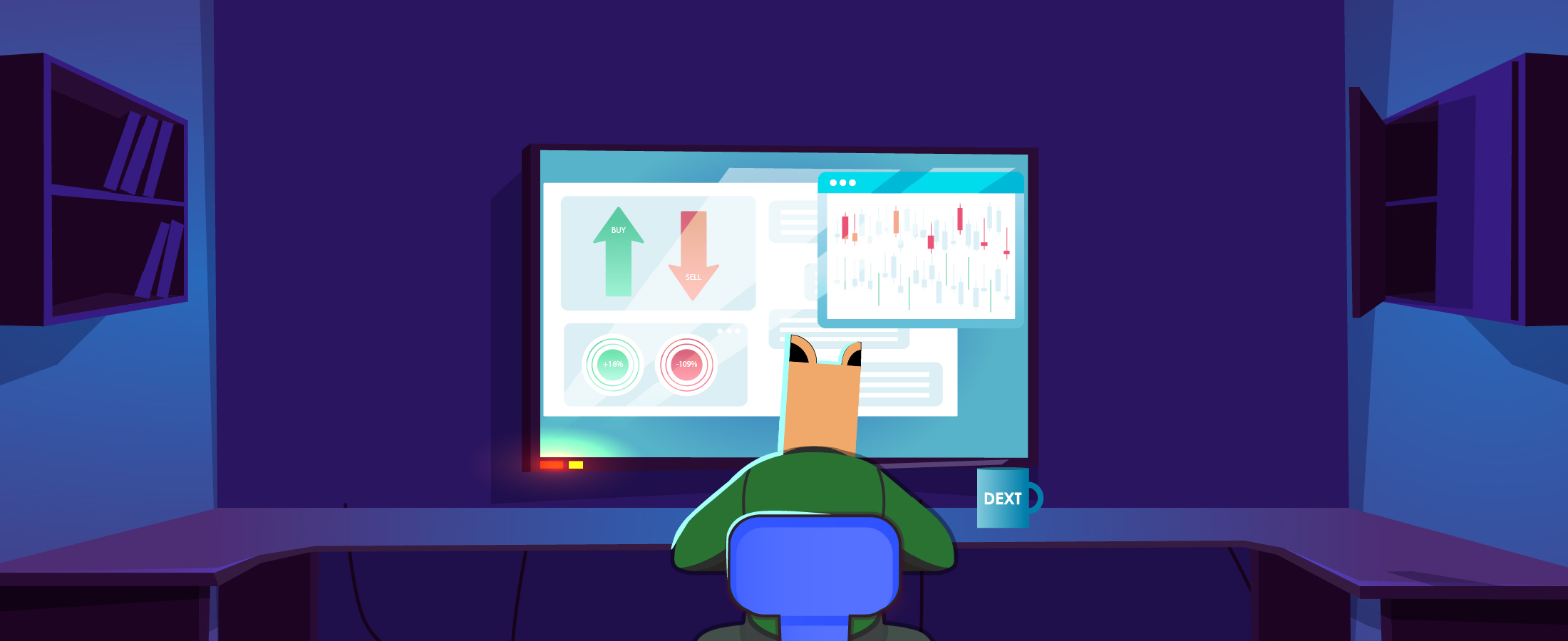 How do you rate this post?
DEXTools Price
DEXTools price, like any other project's financial changes, depends on various factors. Most importantly, the technology behind a crypto project and the problems it solves will affect its mass adoption, which will directly influence its price. It's no secret that the crypto world is full of surprises owing to its volatile nature. Many events that seem irrelevant to the crypto world can affect it, events as political upheavals, social movements and events, sports events, natural disasters, influencers' comments about a project, etc. Let's see what DEXTools price is dependent on.
DEXTool Price Is Directly Related To Its Solutions!
DEXTools price can directly be influenced by the project and solutions it provides. DEXTools is what its name suggests, DEX tools! This ecosystem provides apps and tools to improve exchanging and trading experiences by integrating blockchain data into a unified UI. Or, as the team puts it, "DEXTools will do for DeFi what cryptographic blockchains did for value and information transmission".
DEXTools Price Is Influenced By Its Vision!
DEXTools price is also determined 'indirectly' based on its vision, as it reveals where the project is heading. DEXTools' vision relies on the development resulting from the DEX revolution. Before the emergence of Decentralised Exchanges (DEXs), the crypto market was ruled by major Centralised Exchanges (CEXs), which had great power and central authority and exposed traders to huge risks of manipulation, fraud, and scam. DEXs avoid such problems by simplicity in structure and decentralised authorship. However, this simplicity means the traders will not access high-tech tools and valuable information provided at CEXs. This is where DEXTools comes into play to fill this gap by providing reliable, up-to-date information on transactions and liquidity pools and offering valuable flexible tools to analyse the information meticulously.
DEXTools Price Comes From Its Features!
One of the reasons for fluctuation in a project's price is the unique features it provides, and DEXTools price is no exception. Let's see what is unique about DEXTools.
DEXTools aims to provide reliable real-time data.
DEXTools develops based on community feedback and supports initiatives like DEXT Force and DEXT Force Ventures.
DEXT is available on trustworthy exchanges like Uniswap V2, including cryptocurrencies and stablecoins.
DEXTool Price Depends On Its Popularity!
Analytic charts at Cryptologi.st indicate that DEXTools price is affected by its recent changes in its social media. DEXTools has experienced a 57% growth on Twitter and 23% growth on Telegram. However, its Reddit account does not seem to be functioning properly, with 0% growth in the recent six months. The popularity of a crypto project matters because it is an indicator of mass adoption of the platform and whether people can practically use it.
DEXTools Price Depends On Its Team and Roadmap!
DEXTools price can also increase and decrease due to its team and roadmap. A team of young developers with related experiences in technical directing and entrepreneurship created DEXTools. Javier Palomino Fernandez and Frederic Fernandez co-founded DEXTools in June 2020, with Javier being the CEO. Pablo Ojanguren is the CTO and Lead Engineer of the project, with Ignacio Garcia managing the development of DEXTools as its Lead Developer. The following image visualises the DEXTools roadmap for 2022.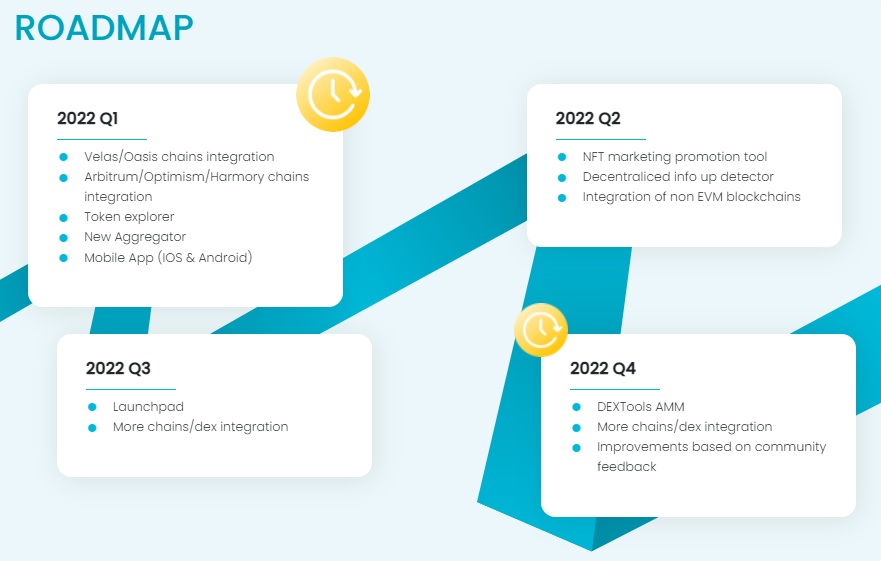 DEXTools Price and Its Financial Analysis
DEXTools price can be better predicted if we know how it is performing financially. Today, on May 15, 2022, DEXTools is standing on the #735th market cap rank among all crypto projects. Each DEXTools coin is being traded at $0.166302, with a 24-hour trading volume of $116,289.1. In the previous 24 hours, DEXTools' price has been down -1.8%. DEXTools' circulating supply is 100 Million DEXT coins, with a total supply of 147 Million.
DEXTools Price When It Hit The Highest and Lowest
DEXTools price is 82.3% lower than its all-time high of $0.940315, which happened about a year earlier, on Mar 9, 2021. However, it is 1490573.6% higher than its all-time low of $0.00001117 on Jun 19, 2020. Currently, on May 15, 2022, the DEXTools token (DEXT) is held in 14033 wallets, and 60363 transactions are recorded for it. Uniswap (v2) is one of the most active exchanges to trade DEXTools coins. Check out the comprehensive crypto analysis tool provided by Cryptologi.st.
DEXTools Price Depends on Its ROI and Liquidity Score!
DEXTools price can be better predicted by knowing its Return on Investment (ROI), which has been -66% in the recent year, and it has not been a profitable project in this time span. It is unlike similar projects that showed 9,243% growth in their ROI and top 1500 projects with 2,175% growth. -66% ROI means if you had invested $100 in DEXTools a year ago, now you would have only $34 left and no benefit. However, its 24-hr ROI indicates a 3% growth. DEXTools' current liquidity score is 16% making it a risky investment and a hard sell in bear markets.
Disclaimer: Don't take this article as financial advice. You need to DYOR (Do Your Own Research) before investment.
DEXTools Price Prediction
Nobody is sure what the future crypto world will look like, but some crypto experts predict the future price of coins and tokens to help investors and traders make better decisions. The following sections will provide such predictions for the DEXTools coin to shed some light on its future path. But remember that these are only predictions and no financial advice by any means.
DEXTools Price Prediction for 2022
The average trading price of DEXTools is predicted to be $0.21 throughout 2022. Its minimum and maximum prices are expected to be $0.21 and $0.23, respectively.
DEXTools Price Prediction for 2023
DEXTools price can fall to a minimum level of $0.29 in 2023. It is predicted to go up and hit a maximum trading price of $0.36, with an average price of $0.30.
DEXTools Price Prediction for 2024
In 2024, the minimum price of DEXTools is expected to go down and hit a minimum of $0.43. The price of each DEXT token can reach a maximum of $0.52, with an average trading price of $0.45.
DEXTools Price Prediction for 2025
The average trading price of each DEXTools is predicted to be $0.66 in 2025. Crypto experts predict that its minimum and maximum price can reach $0.64 and $0.76 throughout 2025.
Is DEXTools Price Fair For Investment?
DEXTools price predictions imply it will grow in price in the coming years, and with streamlining exchange and trade, it can have a bright future in the long run. DEXTools looks like a decent project, with a team of experienced developers and growing popularity. However, its recent performance, liquidity score, and market cap rank make it a risky project for the short term. To know more about DEXTools and the top 1500 crypto projects, you should visit Cryptologi.st, which provides the necessary screening tools and up-to-date data.
How do you rate this post?