Cryptocurrency Infographic: Crypto Exchanges From A to Z!
tl;dr
With the rise of the blockchain, different exchanges were born to facilitate trading cryptocurrencies and digital assets. Nowadays, hundreds of crypto exchanges offer an array of digital assets and varying levels of security and associated fees. Even though we have gone through crypto exchanges before, this time, we will delve deep into their basic components to refresh your minds on different types of crypto exchanges and their differences with this cryptocurrency infographic model to easily understand and digest it!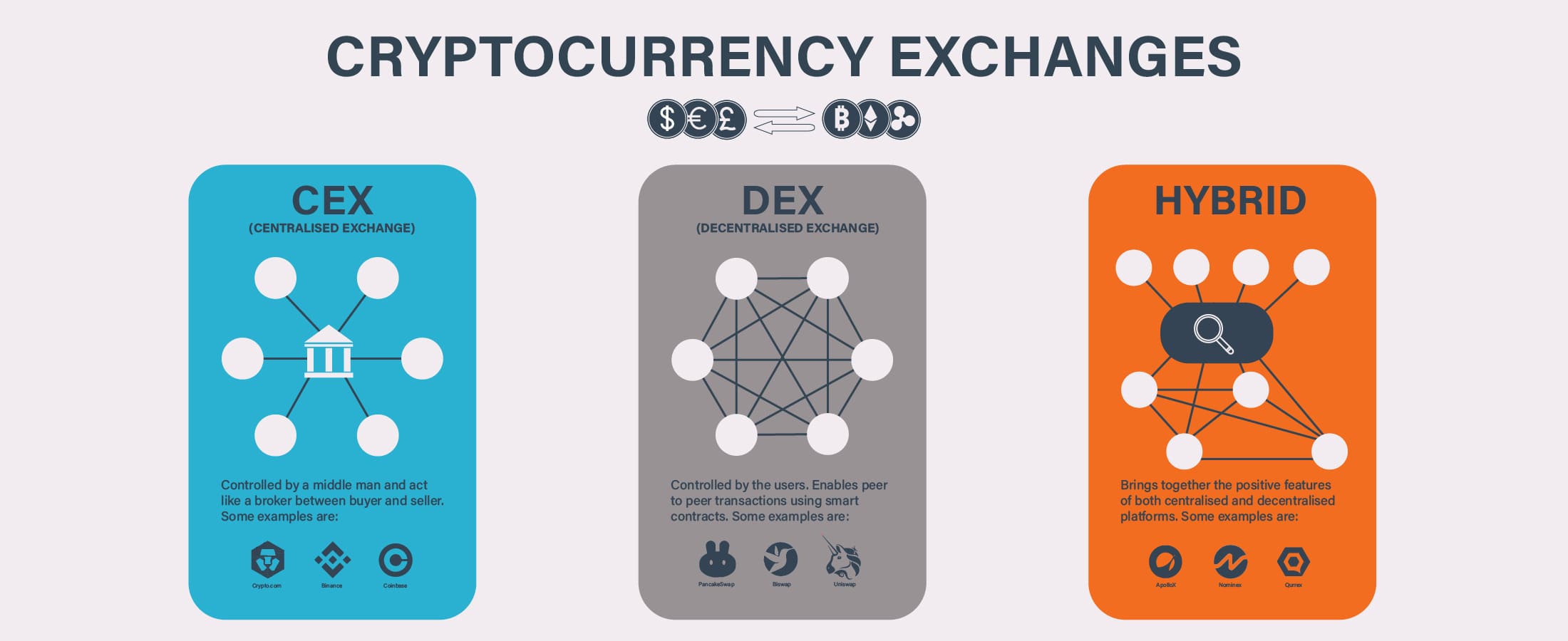 How do you rate this post?

What Is A Cryptocurrency Exchange?
In simple words, a cryptocurrency exchange is what you need when you want to trade your digital assets and exchange them with other ​​conventional fiat money or other digital currencies. Cryptocurrency exchanges come in centralised, decentralised, and hybrid formats to provide effective tools and practical services for buying or selling assets. Thousands of crypto exchanges are available on the Internet and are widely available. To learn more about these exchanges, you'll enjoy this detailed list.
What Is A Centralised Exchange?
Centralised exchanges are regulated by government authorities and align with their financial regulations. They are all controlled by a company, which works as a bridge between the buyer and seller and acts as a third party.
Below are some centralised platforms with which you can trade and exchange your cryptocurrencies.
Binance
Binance is the world's largest cryptocurrency exchange by trading volume.
Coinbase
Coinbase is a user-friendly platform for investors, especially beginners.
Crypto.com
Crypto.com has been recognised as the safest in the cybersecurity ranking.
What Is A Decentralised Exchange?
A Decentralised Exchange or DEX operates free of centralised authorities using blockchain technology or distributed ledgers. It allows you to have complete control over your funds. Being the total opposite of the centralised exchanges, DEXs enable peer-to-peer transactions using smart contracts. Let's see some prominent examples of Decentralised Exchanges.
What Is A Hybrid Cryptocurrency Exchange?
It's no secret that both decentralised and centralised exchanges suffer some drawbacks. The solution to most of these drawbacks is a hybrid exchange, which brings together the positive features of both centralised and decentralised platforms. Let's have a couple of examples of hybrid exchanges below.
Things To Consider When Choosing A Cryptocurrency Exchange
If you want to start investing in cryptocurrency, remember the following factors to choose your exchange.
Security and Authenticity
Fee Structure
Trading Volume
Easy Interface (for beginners)
Supported Tokens
Customer Support
Deposit And Withdrawal Limits
Availability In Your Country
That's all about cryptocurrency exchanges you need to know! It's clear that cryptocurrency exchanges are an integral part of blockchain technology. As blockchain technology grows rapidly, more people will find themselves asking what platform they should use to begin buying and selling these assets. The more you educate yourself, the more you can find your crypto exchanges based on your goals and have a confident investment. Here at Cryptologi.st, we strive to expand your crypto knowledge with the help of our unique features like a free crypto screener, a watchlist, and many educational articles and related news. Follow Cryptologi.st and stay on top of your crypto game!
How do you rate this post?