Cryptocurrency Exchanges: from A to Z and Beyond!
tl;dr
I have spotted some cool investment options in the crypto world, but how can I buy them? I've heard about exchanges, da! But how are they different? Which exchange is the best option for my particular financial aims and situation? Keep reading to find the answer to all these questions and some others you haven't thought of before!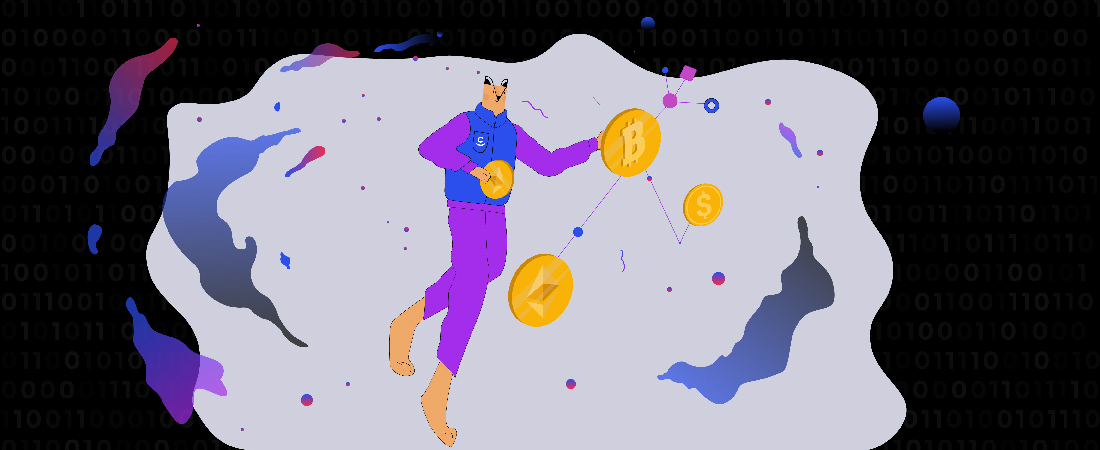 How do you rate this post?
What Is A Cryptocurrency Exchange?
A cryptocurrency exchange is a digital platform that runs on the blockchain. Crypto exchanges are designed to provide effective tools and practical services for trading, buying or selling assets. With that being said, you need somewhere with efficient features that allow you to purchase various coins or tokens. As an investor, you can also utilise an online exchange to convert your crypto coins back into fiat currency (e.g. US Dollar).
Cryptocurrency Exchange Types
Cryptocurrency exchanges were created to fulfil several transitions. There are different types of exchanges on the blockchain, including CEX and DEX. Let's see how each one works.
Centralised exchanges (CEX)
As the name suggests, these exchanges are completely regulated, meaning a third party or central authority controls these exchanges. Therefore, they are more in danger of cyberattacks. A CEX does not support private keys and requires KYC (Know Your Customer) to give you access to your wallet.
Decentralised Exchanges(DEX)
A DEX stands for Decentralised Exchanges and is entirely the opposite of CEX. DEX allows all the users to start trading directly on its marketplace and have control over their funds. To read more about this type of exchange, follow me.
How Does An Exchange Work?
For the purpose of trading, you can register with an online exchange as a user and go through a series of verification processes to validate your identity. After verifying your account, an account is ready for the user, meaning you in this case! Then you should transfer funds into this account before you buy assets, like Bitcoin (BTC), Ethereum (ETH), Litecoin (LTC), Polkadot (DOT), Dogecoin (DOGE). Your cryptocurrency exchange wallet is being used to send or receive crypto from other accounts. Make sure not to lose any passwords related to the app, wallet, or exchanges since they may never be recovered!
Cryptocurrency Exchange Features
You should consider several factors to operate your transactions safely, including security, fee, localisation, liquidity, and supported assets. Let's figure out why each factor matters.
Exchange Security
It's no secret that security plays a vital role in blockchain and networks. If you decide to let an exchange or mobile wallet have custody of your crypto assets, it's essential to search about the exchanges and consider different aspects. You need to make sure whether the exchange has ever been hacked or not and how the exchange secures the wallets. Also, user-level protection, such as two-factor authentication (2FA), provides extra security to exchange and makes it more trustworthy. Even if you use a super-secure exchange, you can use crypto wallets for additional safety.
Exchange Fees
Another essential factor in cryptocurrency exchanges is the fees. Exchanges charge a fee for every transaction made to promote and facilitate the transactions. The amount of the fee depends on what crypto exchange you use and how much of an asset you want to trade.
Localisation
Another crucial factor is making sure the exchange is appropriate to your local needs. Some exchanges are not supported in some countries. So, it's wise to check the terms and conditions before embarking on a journey!
Liquidity
To pick up any cryptocurrency exchange, you need to consider how much liquidity an exchange has, and exchanges with more users typically have higher liquidity.
Supported Assets
Actually, not every exchange supports each of the thousands of cryptocurrencies that exist on the blockchain. In the case of some popular coins like Bitcoin, Dogecoin or Ethereum, you will find them in any cryptocurrency exchange. Generally, coins with high market caps are more likely to be traded on every exchange. However, for less famous ones, you need to check if the exchange supports it or not.
Top Cryptocurrency Exchanges
Now that we have learned about cryptocurrency exchanges and how they work let's have a tour of the most famous cryptocurrency exchanges. Some of the most favoured are Binance, FTX, Coinbase, Kraken, and Kucoin that will be analysed below.
Binance
The Binance is a combination of Bitcoin and Finance and is the world-leading cryptocurrency exchange platform founded in 2017 by Changpeng Zhao. Like other top cryptocurrency exchanges, Binance provides efficient services across the blockchain for trading and fundraising. Most common and popular cryptocurrencies like Bitcoin, Ethereum, and LiteCoin are supported by Binance. Also, Binance has its own native token called Binance coin (BNB) that can be used to pay the fees. Fees start from 0.015% to 0.10%, and even if you hold a Binance token ( BNB), you will get a 0.25% discount on your fees.
Binance Pros and Cons
Although many traders use Binance to invest in various crypto assets with high liquidity, Binance is not convenient for new users. In some countries like the US, users don't have full access to Binance due to regularity issues and need to use the Binance US version instead of the original platform.
FTX
FTX is a leading centralised cryptocurrency exchange founded in 2017 by Sam Bankman-Fried. FTX exchanges support 275 cryptocurrencies, including BTC, TRX, EOS, BNB. Due to FTX offering a mobile application, multiple users, especially beginner traders, can easily use this exchange. Trading fees start from 0.070% to 0.040$. Although FTX doesn't charge deposit or withdrawal fees for crypto assets, if you want to take away less than $10'000, you need to pay $75 as fees.
FTX Pros and Cons
FTX has its own native token known as FTT. You can hold FTT tokens within the exchange to get an extra fee discount. For instance, if you hold $100 worth of FTT tokens, you will get a 3% fee discount on the FTX exchange. To automate your trading, you can use Quant Zone through FTX.
Coinbase Exchange
Coinbase was founded in 2012 by Brian Armstrong and Fred Ehrsam. Coinbase is one the most popular and widely-known cryptocurrency exchanges in the world, with more than 73M verified users and $255 billion worth of assets. Coinbase includes 100 cryptocurrencies like Bitcoin, Uniswap, Shiba Inu, Polygon and users in more than 100 countries utilise the Coinbase exchange. The amount of the fees depends on the country where you are living. The payment fee for regular transactions is 1.5% and can go up to 4% when using your credit cards. Fees start from 0.5% and could be reduced depending on how much you trade in a month.
Coinbase Pros and Cons
To buy and sell via Coinbase, you can operate on two different platforms known as Coinbase and Coinbase Pro. Coinsbase Pro brings more advanced features and has lower fees, and any Coinbase user can switch to the Pro version. Both platforms are easy to use and are beginner-friendly. Nevertheless, Coinbase fees are more expensive than other adversaries, and regarding customer service, some issues have stopped Coinbase from being nominated for having the best performance.


Kraken
Kraken was founded in 2011 by Jesse Powell and is in the public eye because of the low transaction fees. It is used by many traders as their first crypto exchange to keep track of all their cryptocurrencies in one efficient place. More than 7M regular traders use Kraken. The fees for spot trading start from 0.26% to 0%, and there is a 0.9% fee for purchasing stablecoins (USDT, USDC or DAI) with USD or purchasing them with another stablecoin. Payment fees are increased to %1.5 if you buy a stablecoin with another asset (like BTC). Kraken supports SEPA, SWIFT, bank transfers, or wire transfers for deposits and withdrawals. Kraken is available in more than 80 countries.
Advantages of Kraken Exchange
Kraken provides high levels of security by keeping more than 95% of all deposits offline. Also, it is protected by armed guards and video monitors 24/7. To secure your account, Kraken has made two-factor authentication available. Another advantage is that Kraken introduced the dark pool service. The dark pool provides extra liquidity and anonymity for trading large blocks, and if you use a dark pool, you can expect to pay fees from 0.36% to 0.2%
Disadvantages of Kraken Exchange
If you are located in some Asian countries like Afghanistan, Iraq, Tajikistan, Syria, and some other countries like Cuba, Kraken does not offer services to you. Kraken doesn't support Mastercard and VISA cards to deposit, and due to different levels of KYC, it's not a good option for new beginners.
KuCoin Exchange
KuCoin was founded in 2013 and is designed for all types of investors. KuCoin supports more than 500 coins and is available in over 200 countries. KuCoin allows traders to buy and sell assets with a credit card, bank transfers and Apple Pay. Additionally, you can trade with coins that can not be found on other exchanges. For this reason, KuCoin is insanely popular, and 1 out of 4 crypto holders use KuCoin around the world. Maker and taker fees in KuCoin start from 0.1%, and the more you trade in a month, the fewer fees you would pay.
Positive Points of Using Kucoin
KuCoin has its own native token called KCS. You can use KCS tokens to get extra discounts and reduce transaction fees. Also, KuCoin offers unique applications to trade anytime and anywhere, and contact customers will support you in the live chat at any time.
Drawbacks of Using Kucoin
KuCoin exchange is not licensed in the US, and it does let you buy cryptocurrency with fiat money, and you'll need to do it through a third-party app. Because KuCoin has limited educational resources, it is not suitable for beginners, and one must have enough knowledge to use this exchange.
Conclusion
As you know by now, there are many cryptocurrency exchanges in the market, but you need to be super careful before choosing one. You need to consider your own aims and the situations or limitations of each specific exchange. Here at Cryptologi.st, we stand by you to educate you and help you make confident crypto decisions. However, remember that we are no financial advisors and do not provide financial advice.
How do you rate this post?