Crabada: A Fully Decentralised P2E Game
#investment
#cryptocurrency
#play-to-earn
#cra
tl;dr
You know the drill with P2E games; you play to earn! Crabada is an innocent battle game among teams of crabs! It depicts a world undersea filled with fierce fighting Hermit-Crabs called Crabada. You can breed these crabs and use them in games to earn cryptocurrencies with real value. Crabada's economy is comprised of three main assets: the NFT asset Crabada (ARC-721), the native token CRA (ARC-20), and the in-game currency TUS (ARC-20). Let's get into details and see how we can benefit from Crabada!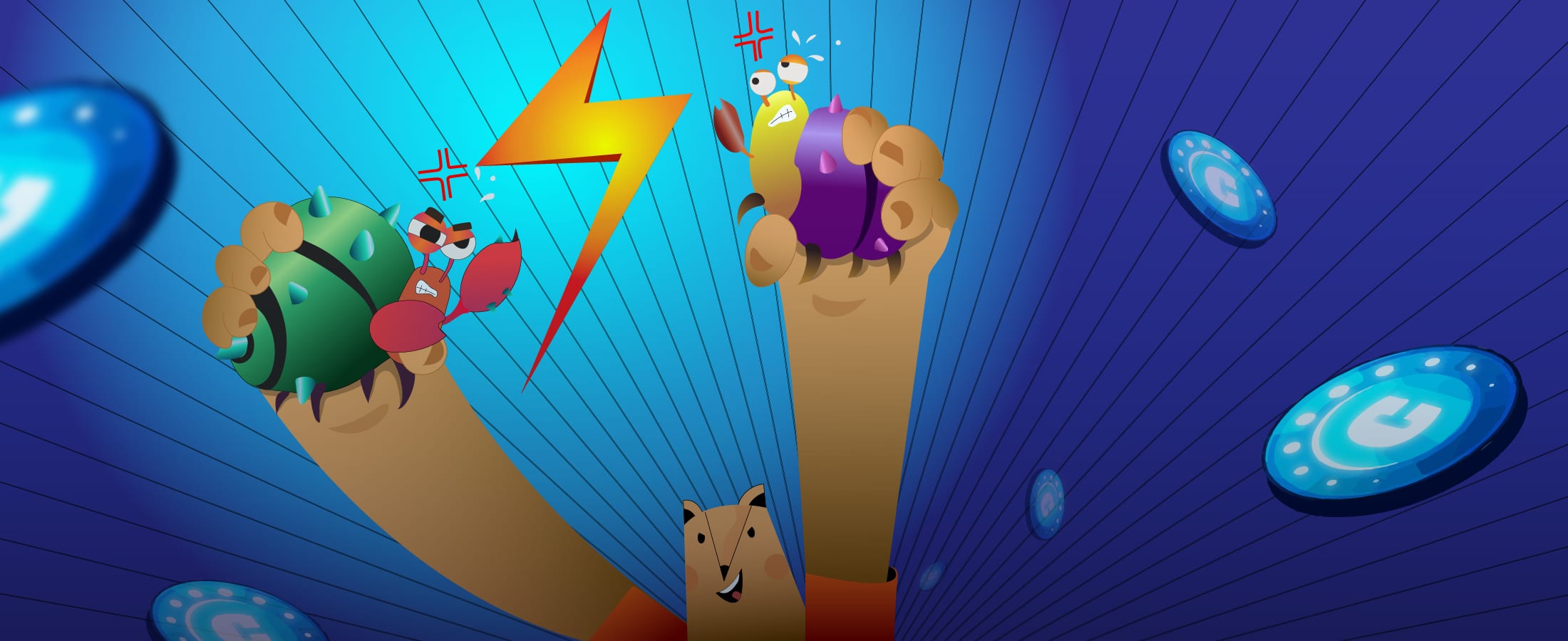 How do you rate this post?
Before We Begin
The gaming space has been revolutionised since it integrated with blockchain because it brings more liquidity to gaming. The liquidity in gaming stays in the game because if you buy game items and lose, the cash paid for them is also gone. See for yourself how Crabada adds to liquidity in gaming.
Crabada is On-Chain!
All the game characters (Crabada) live in Avalanche mainnet, meaning that players are in complete control of their assets. Using blockchain also increases transparency, and on Crabada, all gameplay interactions are processed on-chain, including RNG.
Crabada Characters
Crabada offers various combinations of crabs, all fighters! It sounds funny, but they're cute warriors equipped with astonishingly dangerous weapons. You get to choose from eight classes of Crabada, where each class contains eight Breed Types with unique skillsets in battle. Each Crabada has unique strengths and abilities inherited by breeding. Totally, there are 64 Breed Types. The paradoxical idea of seeing harmless crabs hitting each other and fighting for victory is interesting!
How To Play Crabada?
There are four things you can do as a player in this simple game: mining, looting, breeding, and battling. Use the forces you possess and mine for valuable undersea treasure, and expand your Kingdom! Attack other players that are mining to claim the treasure! But take heed that they may come to take revenge! The good thing is that you can breed your forces, and as in real-life, the stronger will survive!
Crabada Assets
Let's just make something clear here, Crabada is both the name of the game and the name of the fighter crabs, the game's main characters. You can breed Crabada (the cute in-game crabs), use them in games, and earn cryptocurrencies with real value. Since all these Crabada creatures are on the blockchain, players will have complete control over their assets.
Crabada CRA Token
The other asset in the Crabada game is CRA, the governance token rewarded via staking and playing the game in the incentive period. Users can obtain CRA through DEXs. To learn all secrets of choosing the best DEX, check here.
CRA Token Distribution
The number of CRA tokens distributed in the community is as follows: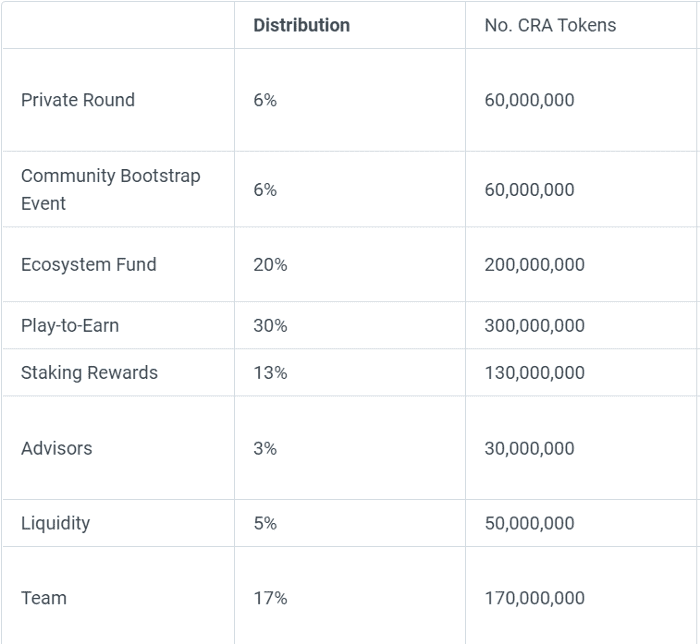 Crabada In-Game Currency
TUS is an in-game currency in Crabada that stands for treasure undersea. You can earn TUS by playing a game in a team of three Crabada to mine, loot, and lend Crabada via the Tavern. Players can obtain TUS through gameplay or buy it using a DEX.
What Is CRAM (Crabada Amulet)?
Yes, I know we mentioned Crabada has three assets, but we said "three main assets"! The last asset on Crabada, CRAM, is an amulet that you can earn by staking CRA. What is it good for? Well, players can use it for in-game perks and exclusive rewards. To make millions by staking, check this out.
Crabada Mining Expedition
As mentioned above, one of the main assets of this game is Crabada. They are productive assets since players can deploy them into the various mines of the undersea world. At first, players need to form a Mining Party (including three Crabada). Then, they should select a vacant mine to deploy their Mining Party there. Then starts the easy part, the Crabada will begin mining treasures without any supervision from players. That's why it's called the 'Idle game'! One Mining Expedition will take 4 hours to complete, and when it does, it brings 3.75 CRA and 303.75 TUS as a reward.
Crabada Looting Mission
Crabada assets can also be used to loot a mine occupied by a Mining Party. To loot a mine, you need a Looting Party comprised of three Crabada. Then, you should choose a mine already taken by another player and let your Looting Party do their thing. That's when the two Mining Parties start the claw-to-claw combat. A Looting Mission will take 1 to 2.5 hours, depending on if the Mining Party defends its mine and fights back.
Looting vs Mining in Crabada
It seems easier to run a Looting Mission and get what others have mined, but there are risks. Yes, it is a risky endeavour that is rewarded by a small bounty, apart from the mission's results. A Looting Party will earn only 0.3 CRA and 24.3 TUS for each Looting Mission. If the Looting Mission is successful, you'll end up with 65% of the Mining Party's rewards, i.e., 2.4375 CRA and 197.4375 TUS.
Use Tavern to Lend or Hire Mercenary Crabs in Crabada!
It's possible to get rewards even with Idle Crabada that are not mining or looting. All you need to do is to deploy them on Tavern mercenaries. There, players with insufficient staff will pay you to hire your Crabada and use them as reinforcements. No matter what the result of the battle is, all Crabada will return to the Tavern unharmed. Players should pay TUS for hiring a Crabada, and the lender determines the cost and a 10% fee goes to the Tavern.
Crabada Game Mechanics
Your mining expedition will go up by 10% if you use Prime Crabada.
Faster Crabada decreases the mining process to 30 mins.
Looting crab will have an hour cooldown; hired Crabadas have a 2-hour cooldown.
During the first half-hour of the game, the defending players can call for reinforcement, and the attacking players can react to that at the same time.
Breeding actually works and results in offspring, but it needs CRA and TUS. There is a 5-day hatching period for the bred eggs.
The offspring has an equal chance of becoming the class of either parent.
There is a slight chance of genetic mutation in breeding crabs that may result in a special crab!
For more details, you can check Crabada's Whitepaper.
Crabada Price Analysis
According to the report from Coingecko.com, Crabada's price today (Apr 6, 2022) is $0.814469. Its 24-hour trading volume is $1,833,839, and CRA's price is down -9.6% in the last 24 hours. Crabada has a circulating supply of 92 Million CRA coins, with a total supply of 1 Billion. CoinEx is currently the most active exchange to buy and sell Crabada.
Crabada has an active community on Twitter (with over 47k followers), Discord, and Telegram (with over 8k followers).
Crabada Roadmap
Crabada has delivered what was promised in the 2021 roadmap, which includes the following:
Marketplace (November 2021)
Breeding (November 2021)
Idle Game Mode: Mining Expedition (November 2021)
Idle Game Mode: Looting Mission (November 2021)
Battle Game Prototype (November 2021)
Mobile Lite Version
Staking for Amulets (CRAM)
Crabada's roadmap for 2022 is as follows: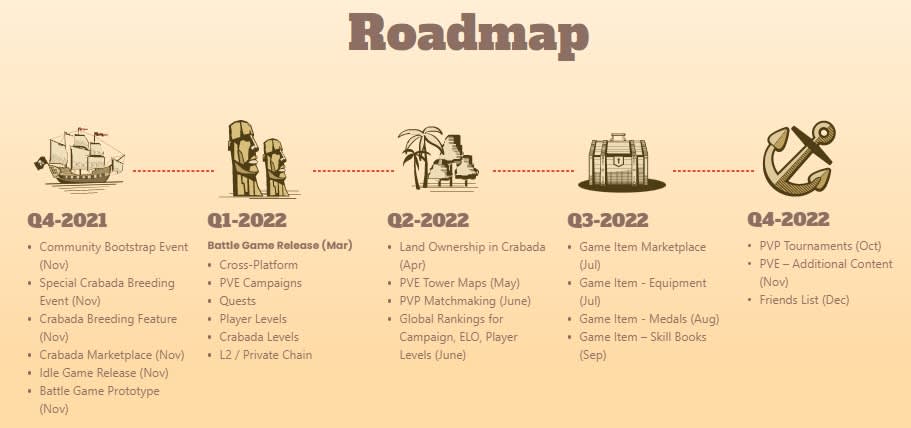 As long as you're searching for a simple game to play, Crabada is simple and fun. It's also backed by a team that has delivered what promised so far. Many have earned decent amounts from Crabada, but it's all your call. Since it is not financial advice of any kind, you need to proceed carefully and always remember that winning and losing go shoulder by shoulder. At Cryptologi.st, we always have something to offer. You can find all about the top hot crypto projects here on the news page.
How do you rate this post?