Chess price prediction 2023, 2025 and 2030. Is Tranchess A Good Investment?
tl;dr
Certain indicators are pointing to the crypto market entering a new age. Many people are confident that CHESS's long-term price predictions will be much higher than they are now since there is still a lot of optimism around the currency and its potential to attract even more attention. Tranchess Protocol is a DeFi service that provides various risk-return solutions for investors with any risk preferences. To know more about Chess price prediction 2023, 2025 and 2030 keep reading this article.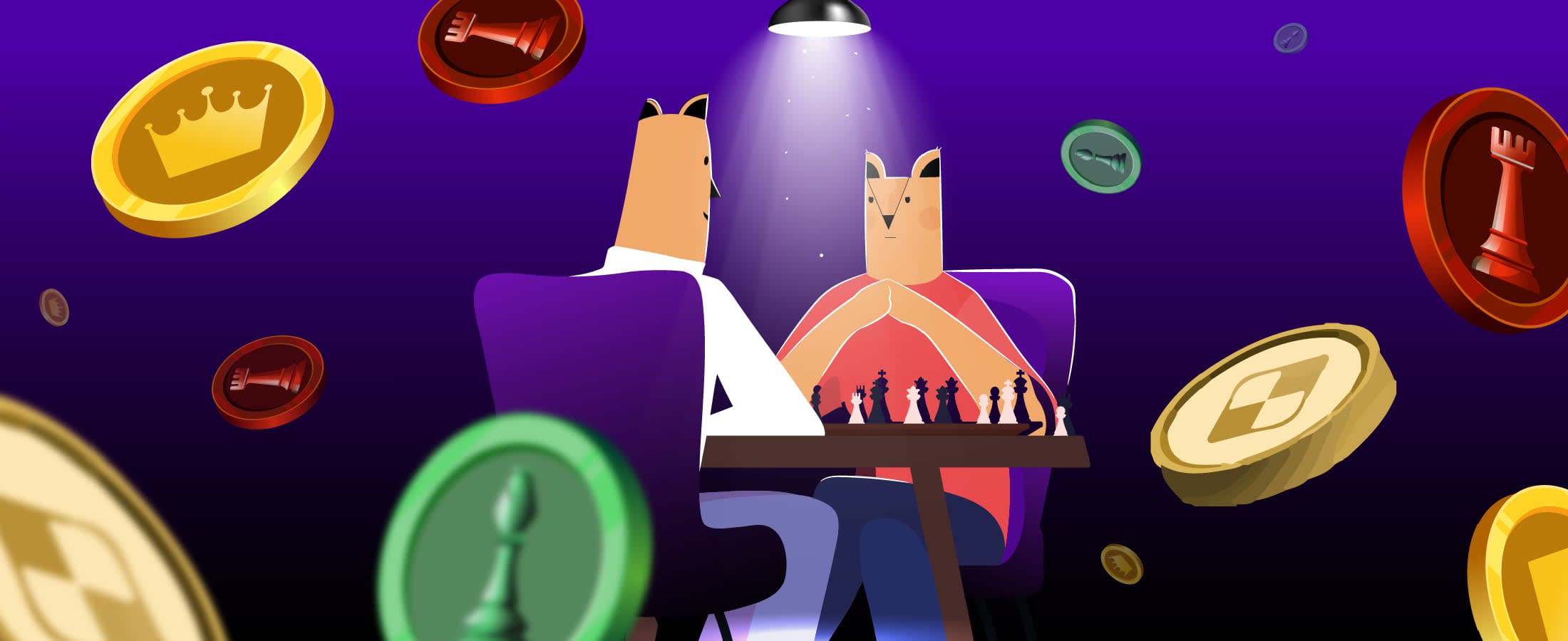 How do you rate this post?
Tranchess Protocol (CHESS) In Short
Tranchess defines itself as a tokenized asset management and derivatives trading protocol. As a yield-enhancing asset tracker, Tranchess is a protocol that offers various risk-return solutions.
Tranchess also provides some of the popular DeFi features like borrowing and lending, single-asset yield farming, trading, etc.
It is developed on Binance Smart Chain (BSC) and provides different risk-return options from a single main fund considering people's different risk-taking thresholds.
What Does Tranchess Mean?
The name "Tranchess" is inspired by two words: "Chess" and "Tranche." It is often associated with a specific kind of structured fund called "tranche," which serves different classes of investors with unequal degrees of risk acceptance.
What Does Tranchess Provide For Its Users?
By investing in the Tranchess protocol, users are given these promises:
There would be no incurring impermanent losses associated with yield returns.
It offers cheap leveraged positions with no forced liquidation.
There is no lock-in period for QUEEN holders.
Using Time Weighted Average Price (TWAP), the protocol prevents Oracle attacks.
What Makes Tranchess Unique?
Leveraging smart contracts makes the project transparent and automated across processes. Users have access to enhanced earnings while tracking BTC.
Also, users can earn extra interest by lending out their tokens or enjoying leverage with no forced liquidation.
A share of platform earnings also goes to users as part of their staking returns. Gaining from both NAV and yield perspectives are both allowed on Tranchess.
What Values Tranchess Propose?
Using a cutting-edge technique called tranching allows Tranchess to offer diverse risk-return solutions from a primary fund. These tranches are used in structured finance and are designed for various risk-taking thresholds. Moreover, Tranchess tries to address the following shortcomings of DeFi with its tokenized solution:
A limited number of available single-asset yield farming opportunities for Bitcoin holders;
Most available yield farming opportunities in the current DeFi market suffer from impermanent loss because of price risks of at least two assets requirement.
Tranchess aims to solve these problems by offering users a simple and secure experience. CertiK and PeckShield have performed many rounds of code audits on Tranchess' smart contracts.
ImmuneFi has also created a bug bounty program, with rewards of up to $50,000 for significant issues.
How Is Tranchess Protocol Secured?
Smart contracts on Tranchess do not rely on price feeds from other smart contracts. Therefore, price manipulation attacks, such as flash loans, cannot cause serious problems.
Tranchess price oracle uses a 30-minute Time Weighted Average Price (TWAP) instead of discrete oracle price. Doing so minimizes the possibility of oracle manipulation attacks.
Tranchess Oracle
By adding Compound, Tranchess oracle extends the Open Oracle standard. It computes Time Weighted Average Price (TWAP) every 30-minutes.
Bug Bounty (Immunefi), Multi-signature settings, and code audits by well-known teams, such as Peckshield and Certik, are among other security measures on Tranchess.
Tranchess Roadmap
Tranchess team members believe good timing would pay off, and that's why they keep a close watch on the market in addition to having a to-do list.
For the product offering section, the team tries to increase the number of tracked underlying crypto-assets, offer diverse fund structures, and increase the use cases for CHESS tokens.
On the business development side, they try to collaborate with other protocols in the ecosystem, upgrade functionalities continuously with regular audits, and expand multichain.
What Is Trunchess's Vision?
Trunchess's vision is to empower DeFi users by bringing flexibility to asset management. "We hope to be a long-term solution for long-term holders of crypto assets," the team claimed on its whitepaper.
Tranchess defined its mission to expand its protocols continuously to offer users more options while adding new chains and assets as underlying to improve its accessibility for users at the same time.
Tranchess Has Three Tokens In Its Vibrant Ecosystem!
The protocol consists of three tokens: QUEEN, BISHOP, and ROOK, and the CHESS token functions as the governance token.
Each token is designed to serve a specific group of investors' needs. QUEEN, as the primary fund of the protocol, is intended for long-term asset holders, BISHOP is for stable return yielding, and ROOK is for investors who want to do leveraged crypto asset trading. QUEEN can be split into two equal parts; BISHOP and ROOK.
How Do I Earn CHESS?
Users can earn CHESS by staking QUEEN, BISHOP, and/ or ROOK in the protocol. Check out this link for a complete guide on staking tokens to make CHESS tokens.
CHESS Token Distribution
Although CHESS is currently functioning on BSC, it follows the ERC-20 standard. Tranchess Protocol's governance token is widely used in the Tranchess ecosystem for voting, fee rebate, etc.
The maximum number of 300 million CHESS tokens will be released over four years with a decaying schedule. The token allocation would be as below:
Half of the total supply is dedicated to community incentives
20% is reserved for the core team
15% is allocated to future investors
10% goes into the ecosystem
The remaining 5% is the share of seed investors
Tranchess Creators
Tranchess's team consists of an international group of blockchain developers and financial experts with different backgrounds and experiences.
The majority of the members come from investment banks, asset management firms, and hedge funds.
The tech team members have experience in cyber security in decentralized crypto exchanges and DeFi protocols.
All the team is anonymous, except for the co-founder Danny Chong, who has over 16 years of banking experience.
Tranchess (CHESS) price prediction 2023
Certain indicators are pointing to the crypto market entering a new age. Many people are confident that CHESS's long-term price predictions will be much higher than they are now since there is still a lot of optimism around the currency and its potential to attract even more attention.
Tranchess (CHESS) Price Prediction 2024
In 2024, Tranchess CHESS price prediction has much room for expansion. As a result of the potential announcements of numerous new partnerships and initiatives, we anticipate that the price of CHESS will soon surpass $0.512912.
However, we should wait to see if the CHESS's relative strength index comes out of the oversold zone before placing any bullish bets.
With market volatility in mind, CHESS is predicted to have a minimum trading price of $0.410330 and an average trading price of $0.451363.
Tranchess (CHESS) Price Prediction 2025
If the upward trend continues until 2025, it could reach $0.718077 and CHESS may profit.
However, if the market experiences a decline, the goal may not be met. CHESS is expected to trade at an average price of $0.656528 and a low of $0.615495 in 2025.
Considering the market volatility, CHESS will have a minimum trading price of $0.410330 and an average trading price of $0.451363.
Tranchess (CHESS) Price Prediction 2030
By 2030, Tranchess is expected to surpass its previous ATH values and reach new price levels.
The minimum price is estimated to be $1.64, potentially reaching a maximum price of $1.74, averaging out at $1.68.
Summary
Nobody can deny that the cryptocurrency market is full of projects that are more than only hype.
Considering its pros and cons, Tranchess has a lot of potentials, but we need to watch how the project develops in the following months.
It is solely your responsibility to DYOR (Do Your Own Research) and find a good project to benefit from on-time While Cryptologi.st does not provide financial advice, it can help you narrow down your search and keep you up to date on the latest news and project reviews.
How do you rate this post?