Chainlink Price Prediction 2025 and 2030: Is Chainlink A Good Investment?
#investment
#cryptonews
#blockchain
#smart-contract
#link
tl;dr
Chainlink price prediction 2025 is a must-know for any crypto lover out there. Chainlink is a decentralised oracle network that offers a solution to the blockchain's inability to get off-chain data to operate smart contracts. Chainlink token incentivises users to provide Chainlink with the data or use the data provided by other users. Keep reading to learn about one of the most profitable tech cryptos out there!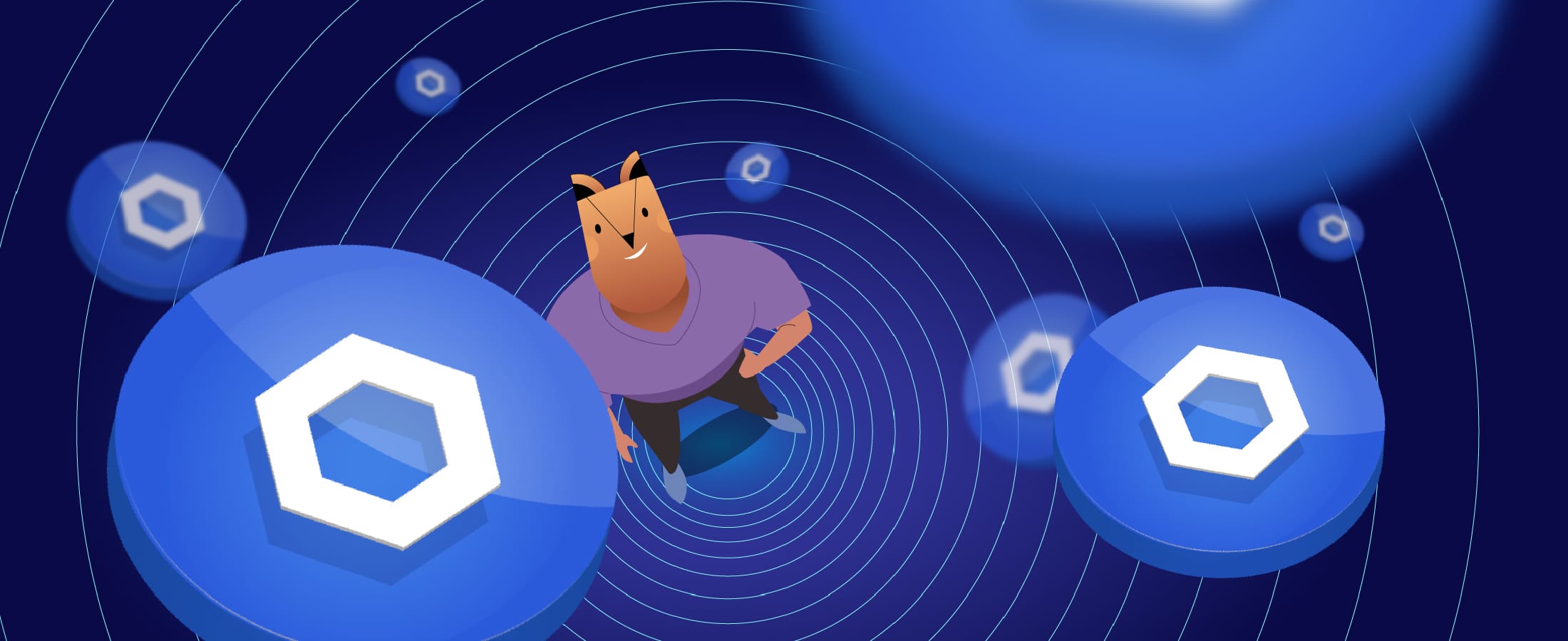 How do you rate this post?
What Is Chainlink?
Before learning about the Chainlink price prediction 2025, let's refresh your memory about this platform! Chainlink is a decentralised blockchain oracle network that was built on Ethereum.
Oracles provided by Chainlink are used for providing data for smart contracts from third-party resources. Chainlink's oracles also provide access to APIs and other trustworthy data feeds to ensure the provided data is valid and the interconnectivity in smart contracts is increased. Find answers to What is Chainlink in detail.
What is LINK Token?
The LINK token is an ERC677 standard token on Ethereum, which is an extension of the ERC20 standard. At the time of writing this article, on Nov 29, 2022, the Chainlink token only has a single use case, i.e., to pay the node operators that provide data to the network and feed them to the smart contracts.
However, Chainlink has announced that it is planning to enable staking for the LINK token in 2023.
Read more: Gala Price Prediction 2023, 2025 and 2030: Is Gala A Good Investment?
Price History
On September 17, 2017, when LINK first came into circulation, the token fluctuated around $0.1 and gradually rose to the $0.4 realm at a slow, stable pace.
About two years later, in May 2019, pumps were spotted in Chainlink token's price action, and the token reached a peak of $3.5 before going back to around $1.8.
Around a year later, in August 2020, Chainlink reached a new All-Time High of $16.78, and its price fell to the $12 stage and stayed there for the rest of 2020.
2021 was the golden year for Chainlink! It kept skyrocketing to new All-Time Highs and hit its ultimate All-Time High of $49.16 on 8 May 2021.
The closest Chainlink has gotten to its All-Time High was during November 2021's bull run ($34.8).
Below is the chart of Chainlink's price action since the day it came into circulation.
Chainlink Financial Analysis
Chainlink is currently being held in 912K wallets, and there have been more than 15 million transactions, including the LINK token, in the past 24 hours. Financial data from Cryptologist analytical charts indicate that Chainlink's liquidity score is 70%, which is above the market's average, making LINK a relatively easy sell in bear markets.
Further, we will dive into Chainlink's financial characteristics and find answers to "Is Chainlink a good investment?".
LINK Tokenomics
The LINK token came into circulation on Sep 19, 2017, and out of its maximum supply, 35% was put aside for public sale and pre-sales. Chainlink token was sold at the price of 0.9% during its pre-sale, and investors who participated in the ICO would earn a 20% bonus.
Later on, during the public sale, LINK became available at $0.11 per token. A total of 350 million LINK was put aside for purchase during the pre-sale and the public sale. The rest of the LINK token distribution is as the following chart depicts.
Public Sale & Pre-Sale - 35%
Chainlink Token Distribution
ROI
Since the day the token came into circulation, Chainlink's ROI is roughly 64.51x, meaning if you'd invested $100 in LINK at its launch, you would've made $6451.
However, LINK's price had a downtrend during 2022, resulting in a yearly ROI of -70.39%, while projects in similar categories had a 1,678% growth over the same period.
Market Cap
According to Chainlink financial analysis, the token currently has a $3 billion market cap and ranks #21 in market cap rankings.
ATH And ATL
Chainlink's All-Time High (ATH) was recorded on May 10, 2021, at $52.70, and its All-Time Low (ATL) was marked on Nov 29, 2017, at $0.148183. Chainlink's current price is 85.5% lower than its ATH and 4945.1% higher than its ATL.
Chainlink Token Fundamental Analysis
Here, we will go through Chainlink's fundamentals and answer the following questions: Who runs Chainlink? How popular is Chainlink? Which investors have invested in Chainlink?
Team
Sergey Nazarov is the CEO of Chainlink. He founded various venture capital companies before he found his way into the crypto world in 2014. Before founding Chainlink Labs, he founded crypto companies such as SmartContracts and Secure Asset Manager.
Other team members of Chainlink and their roles include:
Steve Ellis: CTO
Dan Kochis: Head of BD & Partnerships
Brendan Magauran: Director of Operations
Johann Eid: VP of Go-To-Market
Popularity
The popularity of a crypto project, especially on social media, directly impacts the project's token performance. Throughout the past six months, Chainlink's popularity has grown by 9% on Twitter.
However, it had a downtrend of -18% on Telegram, which could suggest existing users are losing interest in the project, and new users are joining the platform. Take a look at Chainlink's popularity chart over the past six months below.
Investors
One of the Chainlink's investors is Fundamental Labs, which has invested in various big crypto projects such as Avalanche, BNB, BAT, Coinbase, Near Protocol, Golem, and VeChain. Other Chainlink investors include Nirvana Capital, AlphaCoin Fund, and angel investors such as Andreas Schwartz and George Burke.
Chainlink Price Prediction 2023
The average price of each LINK token may rise to $15.78 in 2023 if the project performs better on social media and attracts more users. Chainlink experts expect a maximum price of $16.38 and a minimum price of $13.71 for Chainlink in 2023.
Chainlink Price Prediction 2024
Chainlink's price is predicted to reach $22.81 if the market experiences a bull run in 2024. The average price of LINK is expected to revolve around $22.36, and its price can fall to a low level of $18.79 throughout 2024.
Chainlink Price Prediction 2025
According to crypto experts, Chainlink price prediction 2025 includes an average trading price of $28.25 for Chainlink coins. Each LINK coin's maximum and minimum prices can reach $29.10 and $24.49, respectively.
According to other resources for Chainlink price prediction 2025, LINK can be traded at $158.77 on average and reach $153.03 and $192.04 at a minimum and maximum, respectively.
Chainlink Price Prediction 2030
As crypto experts claim, Chainlink is a good investment option for the long term, and 2030 can be the year for the LINK price to skyrocket if more adoption and partnerships occur among the top blockchain networks.
LINK token can be traded at $87.67 on a minimum in 2030, and it is expected to be traded at an average price of $90.26, with a maximum price of $91.82 for 2030. To sum up the Chainlink price predictions from 2023 to 2030, check out the chart below.

Should I Invest In Chainlink?
Chainlink is a worthy investment, especially for those who seek long-term, low-risk investment options. Chainlink is the first platform to bring oracles to the decentralised world.
Therefore, it has various utilities and will become a vital part of the blockchain world. In conclusion, as the blockchain and crypto market grows as a whole, Chainlink's value will also increase.
Why Chainlink Is Not A Good Investment?
Chainlink token currently has next to no utility in the platform and is only up for investment because of the rumours of its future growth and its long-awaited staking platform. Chainlink has announced the launch of its staking platform to be in 2023.
Until then, there's no real utility for the LINK token, which only derives value from value speculations. It means most investors haven't invested in the LINK token because of its utility; they've invested solely because they speculated the token's value would skyrocket. These are some of the reasons some experts put forward about investing in Chainlink for the short term.
FAQ
Congrats! You've learned all about Chainlink's financial and fundamental matters. Let's move on to some FAQs to grow your knowledge about LINK.
Is Chainlink Worth Buying?
Chainlink is a worthy investment. Chainlink provides an essential utility to the crypto ecosystem, and its significance will grow as blockchain technology gets more mass-adopted.
Does Chainlink Have A Future?
Chainlink is an active project, and the team is constantly working on bringing new features like staking to Chainlink. Chainlink is a blockchain project with utility that will uncover a large part of its potential in the future.
Can Chainlink Reach $1,000?
It is not possible for Chainlink to reach $1,000 in the near future. If you multiply the 1 billion maximum supply of Chainlink by the price of $1,000, You will get a market cap of 1000 billion! All the while, the entire crypto market value is currently only 823 billion!
How do you rate this post?