Chainlink Price Prediction 2030 & Updates: The Journey Ahead
tl;dr
Chainlink currently holds the market cap rank #27 and helps developers and users build smart contracts. Providing a reliable network, seamless connection to APIs, efficient solutions, and secure off-chain computations, Chainlink aims to provide security and flexibility. This article will focus on the updates of this project and provide you with hints about the Chainlink price prediction in the coming years. Keep scrolling!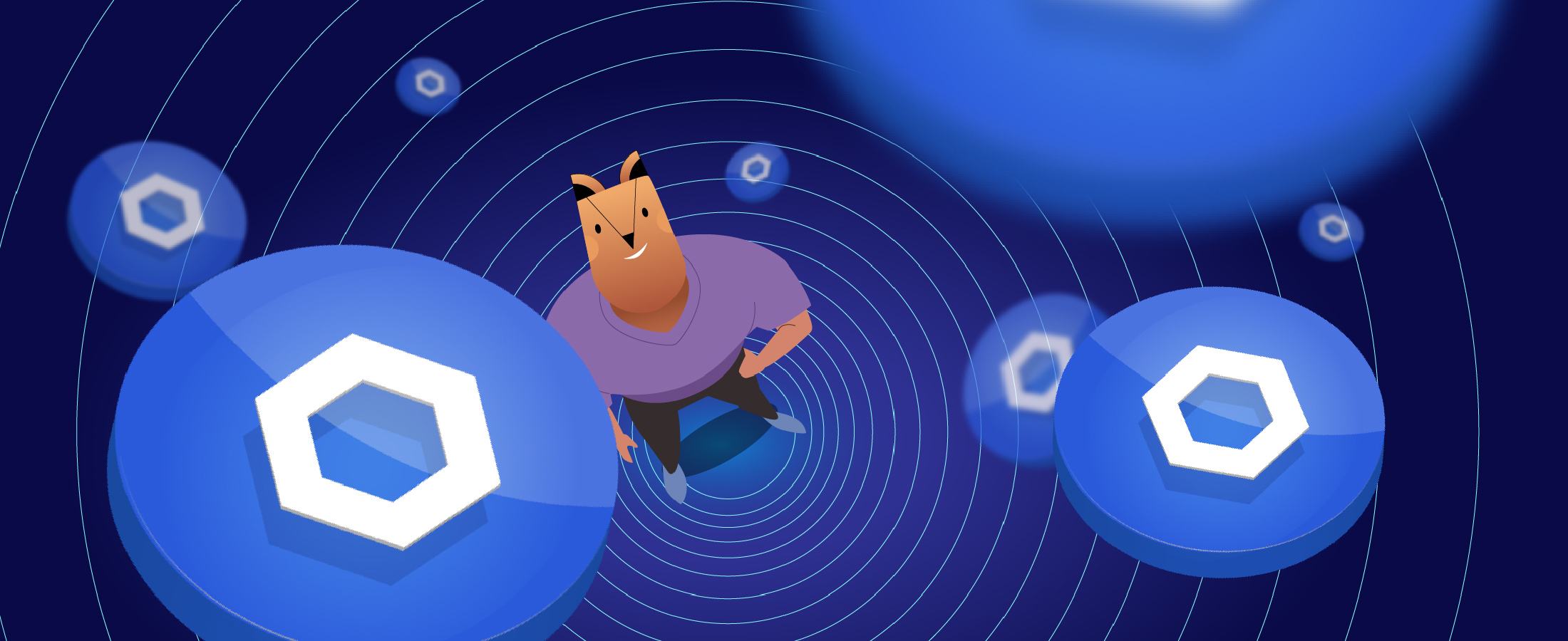 How do you rate this post?
Chainlink Price Prediction: What Is Chainlink?
Before learning about the Chainlink price prediction, let's refresh your memory about this platform. Chainlink was built on Ethereum as a decentralised blockchain oracle network. Oracles are mainly used to send data from third-party sources to smart contracts on the blockchain. But it's not the only benefit it provides to smart contracts, as it provides access to trustworthy data feeds, payments, APIs, and other resources for smart contracts, which results in increasing interconnectivity in smart contracts. Explaining the details of Chainlink is not within the scope of this article. But we've provided a complete guide about Chainlink here.
Chainlink Price Prediction: Updates First!
Chainlink is constantly developing and introducing new options for users. In addition to developing the infrastructure, the system, and the user interface, Chainlink is hosting a crypto event called SmartCon 2022, which may affect the Chainlink price prediction.
What Is SmartCon 2022?
SmartCon is a Web 3.0 event extended to a week, including learning from experienced crypto players, getting to know top-notch blockchain developers, and connecting with fellow blockchain enthusiasts. If you wish to grow in the crypto market, learn how the competitors are developing, and get in touch with Web 3.0 experts, this event is for you to attend.
When Is SmartCon 2022 Held?
The last days of September 2022 (28th - 29th) will witness the SmartCon event of Chainlink. This must-attend event will be held in New York City, hosting speakers from around the world. The following image depicts some of the key speakers of SmartCon 2022.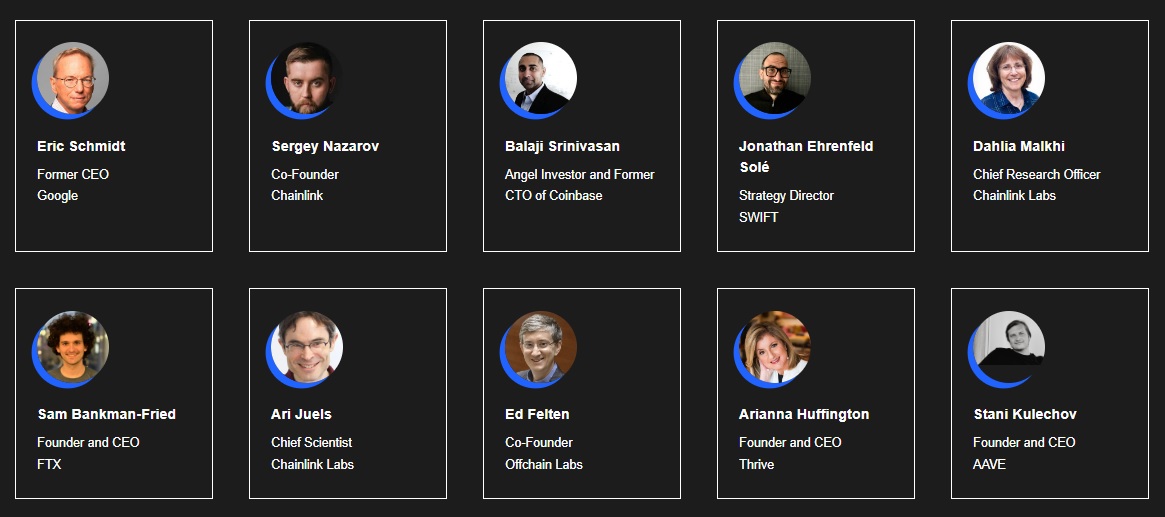 Why Do I Attend SmartCon 2022?
Attending such events is important for learning about the advancements in crypto technology, the updates and developments to see where the market is heading, and how to build applications. You may also hear valuable information about the Chainlink price prediction. To get more details, check out the Chainlink SmartCon event.
Chainlink Price Prediction and Financial Analysis
Financial reports from Cryptologi.st indicate that today, on Sep 14, 2022, Chainlink coin (LINK) is being held in over 696,000 wallets, which means its popularity among users. These wallets have conducted 12,300,000 transactions. Today, each Chainlink coin is traded at $7.26, and its 24-hour trading volume is $549,271,924. In the last 24 hrs, the price of LINK has decreased by 6.2%. Its circulating supply is 470 Million LINK coins, with a total supply of 1 Billion.
Chainlink Price Prediction and ROI
The financial charts at Cryptologi.st show that Chainlink's Return on Investment (ROI) over the last year has been -74%, meaning that your $100 investment in LINK would result in losing $74, not a lucrative investment for sure! However, similar projects and the crypto market, in general, outperform Chainlink over the same period. Having said that, Chainlink's ROI in the last seven days have been 5%, which is a good sign after a long time of downward trends and will positively affect the Chainlink price prediction.
Chainlink Price Prediction and Liquidity Score
Data indicate that Chainlink's liquidity score is 70%, which is above the market's average and a relatively easy sell in bear markets. If you're considering trading Chainlink, Dcoin is currently one of the active exchanges. The following chart portrays the Chainlink price and market cap over the last six months.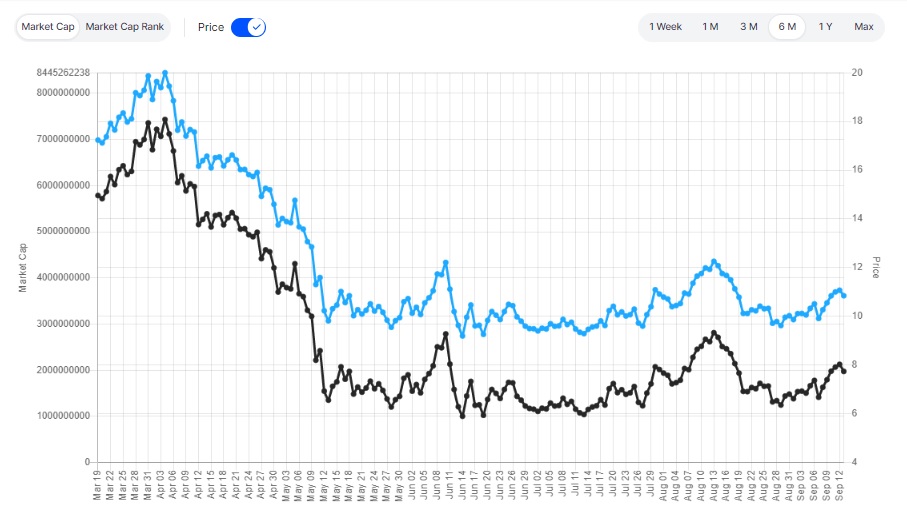 Chainlink Price Prediction
The current price of Chainlink on Sep 14, 2022, is 86.2% lower than its All-Time High of $52.70 on May 10, 2021. But, it is 4816.0% higher than its All-Time Low of $0.148183 on Nov 27, 2017. Data indicates a stable presence and steady increase despite the misfortunes during the current bear market. Let's explore the Chainlink price prediction for the coming years and 2030.
Chainlink Price Prediction 2022
According to the current performance of Chainlink, experts predict that by the end of 2022, each LINK can be traded at an average price of $9.06. The year 2022 can end with a maximum price of $10.06 and a minimum price of $8.7.
Chainlink Price Prediction 2023
The average price of each LINK token may rise to $12.66 in 2023 if the project performs better on social media and attracts more users. Chainlink price prediction expects a maximum price of $15.05 and a minimum price of $12.20 for Chainlink in 2023.
Chainlink Price Prediction 2024
Chainlink's price is predicted to reach $21.68 if the market experiences a bull run in 2024. The average price of LINK is expected to revolve around $18.57.
Chainlink Price Prediction 2025
Experts predict that in 2025, the average trading price of Chainlink coins will reach $26.50. The maximum and minimum prices of each LINK coin can reach $31.26 and $27.24, respectively.
Chainlink Price Prediction 2030
As crypto experts claim, Chainlink is a good investment option for the long term; 2030 can be the year for the LINK price to skyrocket if more adoption and partnerships occur among the top blockchain networks. LINK is expected to be traded at an average price of $187.01, with a maximum price of $213.35 for 2030.
Final Remarks
Now that you've read about the Chainlink price prediction and updates, checked the related articles like Chainlink VRF, and used the easy-to-use charts at Cryptoloig.st, you can make investment decisions with your eyes wide open. Always remember that to invest with confidence, especially in crypto, you need to follow the best risk management strategies, like the ARC Strategy. To be among the first crypto enthusiasts who learn about market changes, use cutting-edge screening tools, and know about the latest news, follow Cryptologi.st.
How do you rate this post?