Boki NFT Review: Step Into Your Imagination!
tl;dr
The world of Boki NFT is home to all dreamers worldwide! It's an incredible universe where all dreamers and adventurers can explore new lands, make new friends, and grow communities together while multiplying their incomes! An imaginary project inside and out with a flavour of love, passion, escape and adventure! Keep scrolling to learn about Boki NFT, its utilities, how the Boki airdrop has performed, and where the project is heading!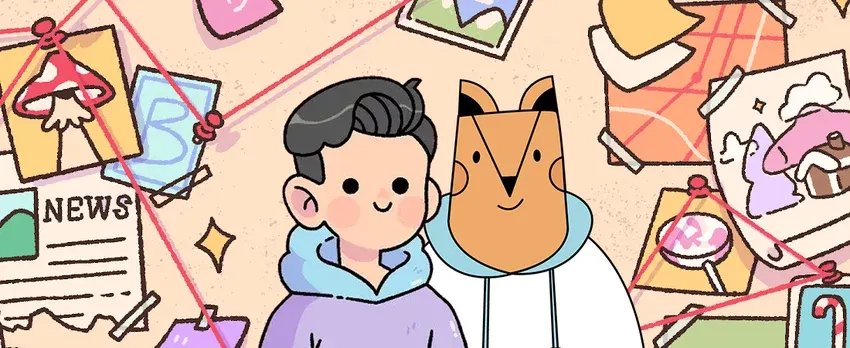 How do you rate this post?
What Is An NFT?
Before jumping to the Boki NFT, you need to understand NFTs first to avoid confusion later. The acronym NFT stands for Nun-Fungible Token, a type of cryptographic token on a blockchain representing ownership of unique items.
These items diversify into art, music, in-game items, videos, and more. If you care to learn all about NFTs and answer, "What is an NFT?", here you go!
What Is Boki NFT?
NFTs have perked up the crypto industry, and Boki NFT is a paragon of a fresh community-based project where child-like imagination runs free, and fantasy is celebrated.
Boki NFT is a series of 7,777 unique Non-Fungible Tokens (NFTs) based on the Ethereum blockchain. There is a total of 7777 NFTs minted so far, held by 3591 unique owners with a total market cap of $1,458,422.98.
What Is OpenSea?
With a lot of buzz around NFTs, you should have heard about Opensea, the first and largest marketplace for NFTs. Opensea is the first-ever decentralised NFT marketplace built on the Ethereum blockchain, where users can buy and sell NFTs.
Boki's 7,777 collections of unique NFTs are available on Opensea, and you can check them out here.
Boki Goal
Boki has built a community-based project intending to create a space for Boki holders, dreamers and imaginative people who want to learn about Web3.
Boki also aims to be scaled into becoming a globally recognised brand with free-flowing communication and a spirit of adventure.
Boki Airdrop
Boki pledges to expand its world with special airdrops for Boki NFT holders. This airdrop includes "Adventure Companions"; however, no further details have been released yet. We're only asked to stay on our toes until further notice! You can follow BokiNFT on Twitter to stay up-to-date.
Boki Roadmap
As the Pre-Mint phase started in Q2 2022, Boki collaborated with major NFT projects and cooperated with WEB2 brands to be paired with their avatars for rare Boki genesis NFT holders. However, a lot of development and scaling work still needs to be done. Keep reading to learn about the road ahead of Boki!
Boki Mint Phase | Q3 2022
Web3 implementation on Bokilive. (Holders will be able to connect their wallets to unlock Boki Alpha Membership).
Holders of Boki Alpha Membership will get discounts, limited edition physical products, fashion collaborations, and regular airdrops.
First access to WL spots for identified high-potential collections, AMA's with well-known entrepreneurs, founders and artists of the NFT Space and also from reputable Web2 brands.
Boki Verse | 2023
Landing acquisition in the Web3 Space, the launch of Boki's first digital store.
Hiring and teaming up with experts and utilising the work of in-house developers and 3D artists, creating their own Metaverse, but in Boki.
Boki Team
Boki enjoys a large 12-person team made up of the founder Otter, along with several artists, animators, developers, community managers, and a writer at the heart of its team.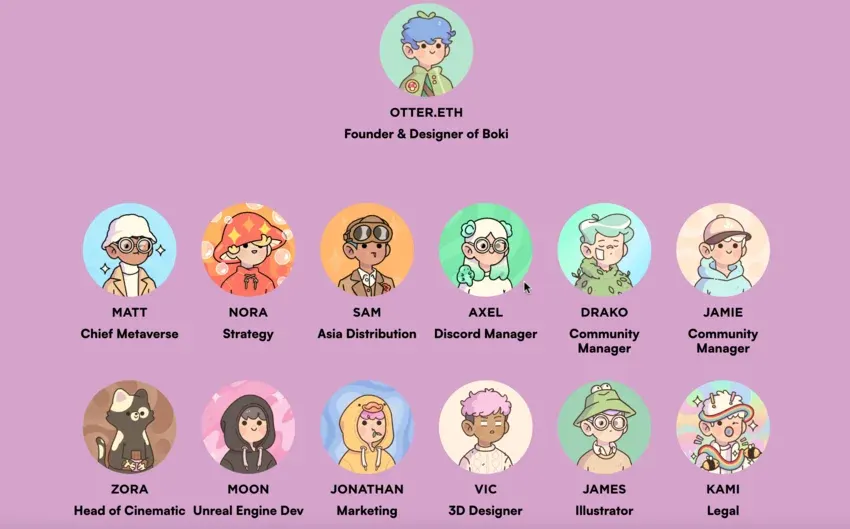 Boki NFT Floor Price
At the time of writing this article, on Nov 2, 2022, Boki's (BOKI) price floor today is $187.53, with a 24-hour sales volume of 2.1 ETH.
Boki NFT Utilities
Going through the mint process and starting your journey with Boki, you will be able to use the Alpha channel. The channel includes loads of promised utilities for Boki holders, from whitelisted giveaways to "story-telling", "tools", "write-ups" and more to assist you in your trading and investing journey.
Boki Events
Boki is an imaginary place where you can be a master of Web 3 and communities with others. To achieve this goal, Boki thrives on merging Web2 and Web3 through live Boki Events.
30% of Boki Mint revenue and 20% of Perpetual Secondary revenue belongs to Boki Community Wallet. Each community member can participate and add those funds to their investment to strengthen the Boki community.
Boki Merchandise
Boki seeks to expand its artwork to the physical world by exposing its merchandise. These upcoming physical merchandise will expose every aspect of our 7,777 NFTs as well as evoke a style appealing to everyone.
The Boki NFT Launch
On May 2, 2022, the Boki team announced that their 7,777 Boki NFTs collection would be released through their official website on May 12, 2022, with a cost of 0.066 ETH.
According to their launch structure, presale, public sale, and final sale for Boki NFTs should have been done so far. However, no further details have been given, and their world has now been closed. You need to stay tuned for more details as the Boki world expands!
Where Can I Buy a Boki NFT?
According to Boki's official website, Boki NFTs are available to purchase on OpenSea, LooksRare, and X2Y2.
Summary
The world of Boki is a world of escapism and childish alternate reality consisting of 7,777 unique NFTs. It aims to bridge Web 2.0 and Web 3.0 and offers all dreamers some adventure while they are investing!
Putting it all together, I hope you find joy and some cash in all your investments, especially in your Boki NFT investments! Make sure you visit Cryptologi.st often for more news and cool investor tools. And if you like this article, show us some love on our Twitter.
FAQ
Now that you have read through the article, you have a clear picture of Boki NFT. In addition, you can find the answer to the most frequently asked questions here.
What Is Boki Collection?
This collection of 7,777 NFTs runs on the Ethereum blockchain, appearing with impressive ​​hairstyles, outfits, accessories, and more to best represent both the Boki world and also Boki's wonderful community.
Who Created Boki?
Boki was formed by Otter, a passionate and experienced NFT enthusiast and trader.
How do you rate this post?