Bluzelle Coin Price Prediction 2023, 2025 And 2030
tl;dr
Bluzelle users leverage crypto games, store their hard-earned rewards safely, and lend and borrow gaming/ NFT assets without switching between platforms. Bluzelle does so, thanks to the BLZ coin. Because of Bluzelle's features, BLZ shows a massive price growth potential. If you have similar needs and wish to invest in BLZ, keep reading to learn all about BLZ and Bluzelle coin price prediction.
How do you rate this post?
What Is Bluzelle?
Bluzelle is a GameFi ecosystem that produces high-quality crypto games and protects players' NFTs and game assets in its decentralised storage.
Having been built on the Cosmos blockchain, Bluzelle has integrations with other DeFi apps on Cosmos to allow borrowing, lending, staking, and yield farming for its in-game assets.
Bluzelle ecosystem has three main products: BluzelleNet, Gamma 4, and Bluzelle R2. the following sections tell us what roles each of them plays.
BluzelleNet
BluzelleNet is Bluzelle's Cosmos-based, delegated, and PoS blockchain, which can process more than 10,000 transactions per second.
Gamma 4
It is a real-time, Play-to-Earn (P2E) game of battling with cards where players can combat against in-game challenges or can fight other players. Players of this game earn tokens that can be used for buying NFTs or governance purposes.
Bluzelle R2
It is a decentralised cloud storage where users can safely store their files and NFTs. Assets stored on Bluzelle R2 are instantly stored across multiple nodes to ensure security.
Moreover, Bluzelle comes with various features, helping it stand out among other GameFi projects. Let's elaborate on its features below.
Read more: Chess price prediction 2023, 2025 and 2030. Is Tranchess A Good Investment?
Bluzelle Features
Decentralised, yet Mutable: Other decentralised databases are immutable, meaning they keep the data forever, which only results in increased data storage costs. However, Bluzelle stores data with an update-and-delete model, made possible through Tendermint, a byzantine fault-tolerant system.
Global Coverage: Bluzelle offers services in North America, Asia, and Europe and will soon expand to Australia, South America, and Africa. It exposes developers to access a massive market of customers.
Lower Costs: Bluzelle has reduced its costs by using outside resources, which allows developers to access Bluzelle's services at a very low price.
The Bluzelle ecosystem provides its services using its BLZ coin, which is the fuel of this platform, and we'll explain all about it below.
What Is BLZ Coin?
The BLZ coin is Bluzelle's native cryptocurrency and is a key component of Bluzelle's products. BLZ is used for purchasing NFTs, in-game activities, transactions, validator rewards, and governance.
It also allows users to store their NFTs on Bluzelle's decentralised storage.
BLZ is used across the entire Bluzelle ecosystem, meaning it's part of the success of Bluzelle, and its price is an essential factor.
That's why Bluzelle coin price prediction depends on the BLZ price performance. So, before making any price estimations, let's analyse how BLZ has performed so far.
Read more: XEN Crypto Price Prediction 2025 and 2030
Price History
Bluzelle began trading on Feb 10, 2018, with an initial price of $0.78.
Its price had a constant decrease and reached $0.29 on Apr 6, 2018.
The BLZ coin's price pumped on May 2018, reaching $0.66 and getting close to its initial price.
After May, Bluzelle's price experienced a downfall and reached $0.05, and remained in this range from May 2018 until August 2020.
In February 2021, BLZ's price skyrocketed from $0.05 to $0.5.
Bluzelle's price gradually fell back to $0.05, and as of today, on Jan 24, 2023, each BLZ token is priced at $0.07.
You can check Cryptologist's Bluzelle price chart below since the day it came into circulation to get a visual idea of its general price performance. In the following section, we will go further and analyse the financial aspects of Bluzelle to make a better Bluzelle coin price prediction.
Bluzelle Financial Analysis
At the time of writing, on Jan 24, 2023, Bluzelle is being held in more than 30K wallets. The BLZ coin has a 24-hour trading volume of $5.7, and during the same time span, there have been 267K transactions with this coin.
This token has a liquidity score of 46%, meaning it is a challenging sell during a bear market.
The other essential financial sectors of Bluzelle we need to go through in the following sections are Tokenomics, ROI, Market Cap, ATH, and ATL.
Bluzelle Tokenomics
Bluzelle's ICO was held on Jan 18, 2018, and ended on Jan 20 to raise $19.5 million. Each BLZ token was priced at $0.12.
Bluzelle has a maximum supply of 500 million BLZ, and currently, 356 million BLZ tokens are in circulation.
33% of Bluzelle's maximum supply was put aside for the public offering. To find out where the rest of the BLZ tokens went, check the chart below!
Reserved For Future Use And Staff - 27%
Advisors, Initial Investors And Strategic Partners - 15%
Developer And Community Growth Fund - 10%
Bluzelle Token Distribution
The chart below showcases how the raised funds are going to be used across Bluzelle's ecosystem.
Research And Development - 55%
Sales And Marketing - 20%
Accounting, Legal, Compliance - 5%
ROI
The Return On Investment (ROI) is an economic factor that measures the amount of profit you've made on an investment asset over a certain period. The ROI data for Bluzelle is as follows.
The Recent Year: -72.67%
The Recent Month: 8.94%
The Recent Week: 13.37%
The Recent Day: 5.26%
According to data provided by Cryptologist, Bluzelle has underperformed similar projects, which recorded an ROI of 12,219,080% on average throughout the recent year.
Read more: Retreeb price prediction 2023, 2025 and 2030. Is TREEB A Good Investment?
Market Cap
Bluzelle's financial analysis suggests that this token has a market cap rank of #645 and has a live market cap of $24 million at the time of writing this article on Jan 24, 2023.
ATH And ATL
Bluzelle's current price is $0.07, which is 90.7% lower than its All-Time High (ATH) of $0.783, recorded on Feb 10, 2018.
Bluzelle's current price is 1010% higher than its All-Time Low (ATL) of $0.006, seen on Mar 13, 2020.
In addition to the economic factors of Bluzelle, fundamental factors can influence how the BLZ coin will perform in the future. These factors are team members, popularity, and investors, which we'll go through below.
Bluzelle Fundamental Analysis
To better predict Bluzelle's future, we also have to check some non-financial factors. In the following subsection, we'll answer your fundamental questions about Bluzelle, i.e.,
Who are Bluzelle's team members?
Who has invested in Bluzelle?
How popular is Bluzelle?
Team
Bluzelle was founded by Pavel Bains and Neeraj Murarka.
Pavel Bains is also the CEO of Bluzelle and is an entrepreneur, designer, and investor in the IT industry. Additionally, he provides advisory services and capital raising in the finance and technology industries.
Neeraj Murarka is the CTO of Bluzelle and is a politician at the Libertarian Party of Canada.
According to Pavel Bains:
"Neeraj and I spent our careers in video games before entering crypto. Having worked with Electronic Arts, Nintendo, and Zynga, we know how to deliver quality games. Connect that with our understanding of crypto and Web 3.0 technologies, Bluzelle is well positioned to become a leader in the world of GameFi".
Popularity
Popularity is one of the most influential factors in the success of a crypto project. It impacts the performance of a crypto asset and helps the crypto project to remain competitive.
In the past six months, Bluzelle has grown by 53% on Twitter and 8% on Telegram. The popularity chart below helps you better understand how Bluzelle's popularity has grown in the recent six months.
Investors
The lead investor of Bluzelle is NGC Ventures, which focuses on Metaverse, DeFi, and CeFi projects and also has invested in other successful crypto projects, such as Avalanche, Algorand, Polkadot, Solana, and Elrond.
Other investors of Bluzelle include
Kosmos Ventures,
Tribe,
KR1,
Kinetic Capital,
8 Decimal Capital, and
Global Brain Corporation.
Reviewing Bluzelle's fundamentals and economics, we can now learn all about the Bluzelle coin price prediction.
Bluzelle Price Prediction
We've summarised Bluzelle's price prediction from 2023 to 2030 in the table below for your convenience. Keep reading to find out the growth percentages of BLZ coins in the coming years.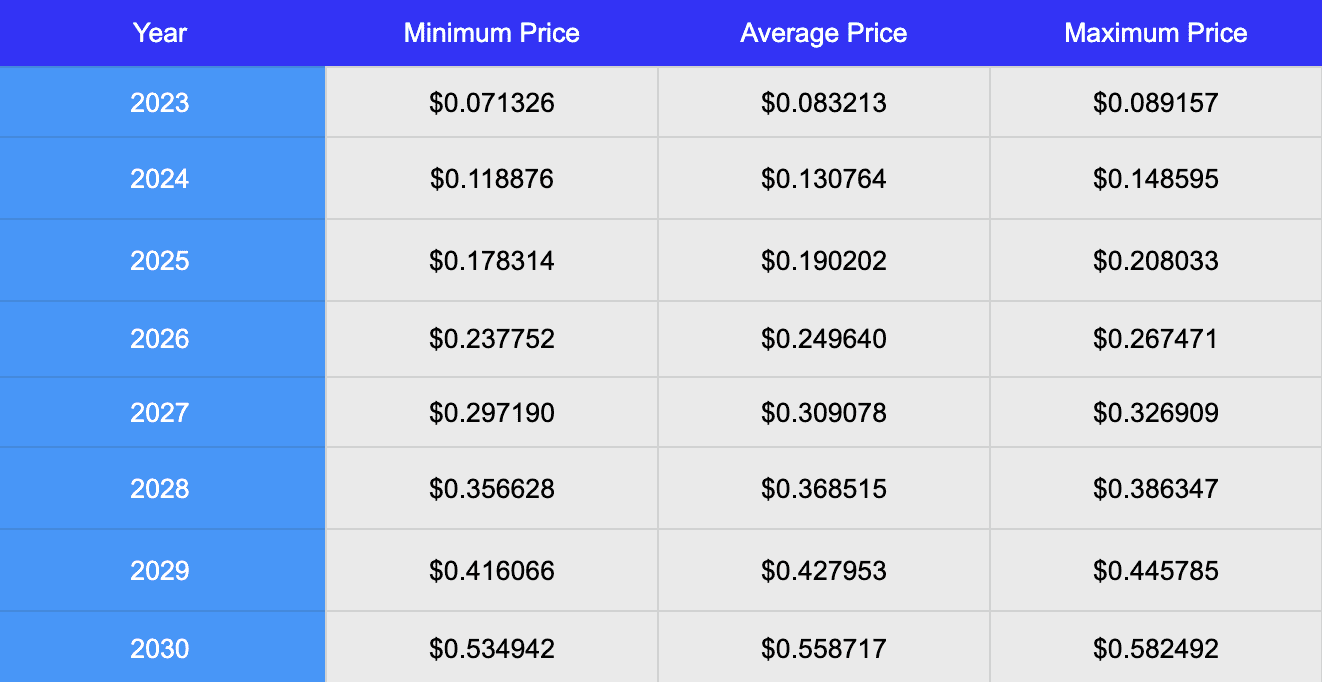 Bluzelle Price Prediction 2023
Price prediction resources suggest that this coin can have an average price of $0.083, which means a 7% growth compared to its current price. The minimum and maximum growth rates of Bluzelle are -7% and 15%, respectively.
Bluzelle Price Prediction 2024
It is estimated that the average price of BLZ coin in 2024 can be $0.130, marking a 68% growth rate on average. Bluzelle coin's price can grow by 53% at a minimum and 92% at a maximum.
Bluzelle Price Prediction 2025
The Bluzelle coin price prediction 2025 suggests that the BLZ coin can cost $0.190 on average, which showcases a 146% growth rate. The minimum and maximum growth rates of the BLZ coin are estimated to be 131% and 170% in 2025.
Bluzelle Price Prediction 2030
Bluzelle has the potential to skyrocket and grow by 624% in 2030 and cost $0.558 on average. The minimum price growth of BLZ can be 593%, and its maximum can be 655%.
Is Bluzelle (BLZ) Coin A Good Investment?
Bluzelle is a type of GameFi project that is not as risky as its competitors. Its founders are known, the project's goals are clear, and its community is active and supportive.
Also, the BLZ coin has had a reasonable price performance. Bluzelle is a good investment in general, but it is perfect for those who want to invest in gaming crypto without taking too much risk.
Summary
Bluzelle is a GameFi project that offers various crypto products, i.e.,
a fast and scalable blockchain,
a crypto card game,
secure decentralised storage, among others.
Bluzelle's native cryptocurrency, BLZ, is used for transactions, getting storage, voting, and in-game transactions.
When it comes to finding new, high-quality crypto projects like Bluzelle, Cryptologist is the best tool you can use. It gathers all the information you need in one place and helps you get a clear vision of the projects you're about to invest in.
Moreover, Cryptologist offers various products to help you find and keep an eye on a crypto project so that you make confident crypto decisions.
FAQ
Let's answer some frequently asked questions about Bluzelle to better wrap our heads around this GameFi project.
Will Bluzelle Go Up?
Yes, Bluzelle coin price prediction suggests that Bluzelle has a high potential to go up in the future.
What Will Bluzelle Crypto Be Worth In 2025?
The BLZ coin is estimated to cost $0.19 on average in 2025. It can cost $0.20 at maximum and $0.17 at minimum.
What Does Bluzelle Do?
Bluzelle offers a scalable blockchain with 10,000 TPS, a card battle game, and decentralised storage for users to store their files and NFTs.
Is Bluzelle A Good Project?
Bluzelle is a good project for anyone who seeks to invest in gaming crypto assets. The team behind it is actively working on new features, and the BLZ token shows reasonable price growth potential.
How do you rate this post?