Biswap Token: Overview and Price Prediction
#binance
#dapp
#decentralized
#defi
#dex
#bsw
tl;dr
Biswap is a decentralised exchange on Binance Smart Chain, allowing swaps for BEP-20 standard tokens. Biswap offers lower transaction fees than other Binance Smart Chain DEXs (0.1% fees) and offers many yield farming opportunities. Biswap token is Biswap DEX's native cryptocurrency, which brings utility to the platform, and is also used for governance purposes. Keep on reading to learn more about the largest BSC DEX and see if the Biswap token is a good investment for you.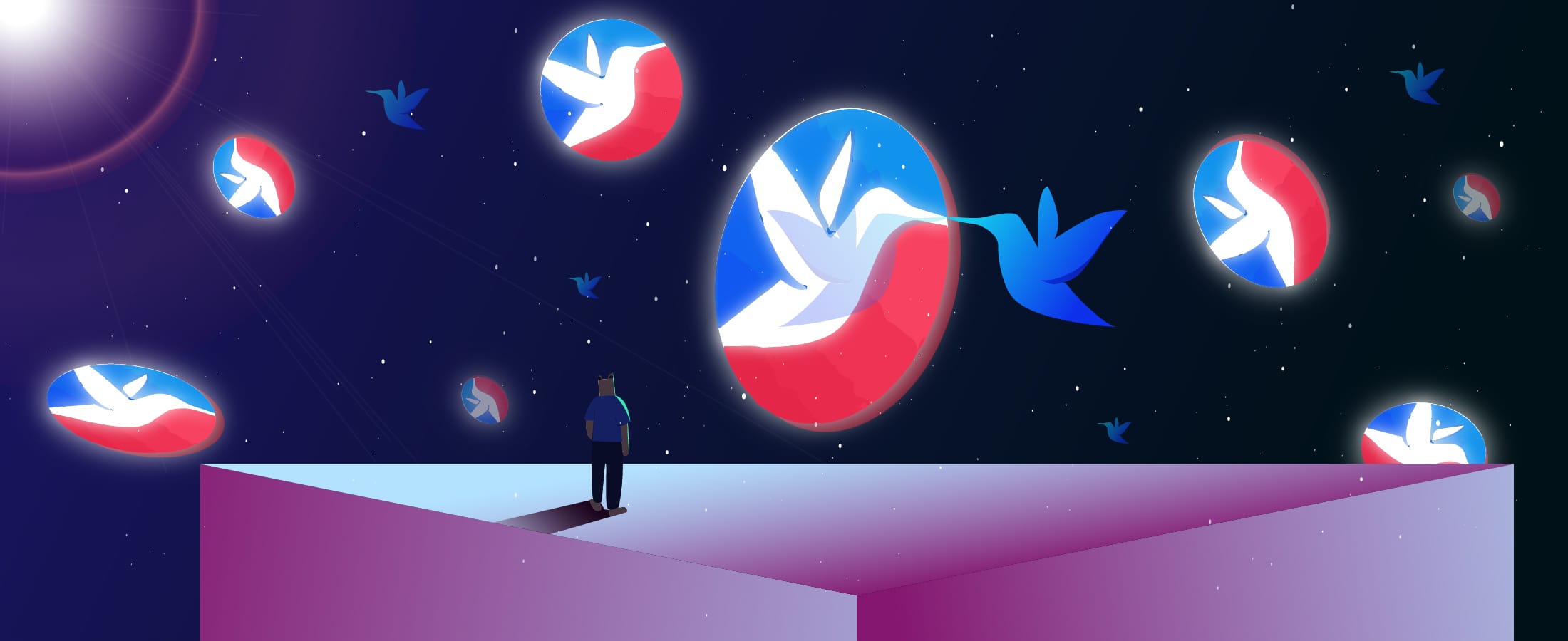 How do you rate this post?
Biswap Token: A Token For Binance's First DEX
Biswap is the first decentralised exchange and automated market maker on the Binance Smart Chain blockchain. Launched in July 2021, this DEX offers swaps for BEP-20 standard tokens and guarantees quick and cheap transactions, which can get as low as 0.1%. In addition, Biswap has an NFT marketplace supporting four crypto tokens, including the Biswap token. Biswap's NFT marketplace enables fixed price sales for NFTs and helps sellers conduct and manage NFT auctions.
Biswap Token Use Cases
Biswap token or BSW is the utility and governance token of the Biswap DEX. This DEX uses a 3-type referral system to incentivise new users to the platform. By inviting others, users can earn commission rewards every time the invitee swaps their BEP-20 assets, like the Biswap token. Also, the inviter earns 5% of invitees' income in Biswap's farms and launchpools.
Farms: Biswap offers an opportunity for users to provide liquidity for a liquidity pool and earn passive income. To enable liquidity farming on Biswap, users need to get LP tokens first from the liquidity provision section. Also, liquidity needs to be provided for both tokens in a liquidity pool. Once users provide liquidity, they can stake their LP tokens and earn BSW tokens as yield.
Launchpools: Biswap Launchpools are a less resource-intensive alternative to the proof-of-work mechanism. To enter a Launchpool, users can either stake in BSW Launchpools or stake in Tokens Launchpools. The BSW Launchpool allows users to stake BSW and earn yield in the form of other tokens, whereas the Tokens Launchpool allows users to earn BSW by staking other tokens.
Other use cases for the Biswap token are: buying Biswap lottery tickets, gaming on the BetFury platform, and earning liquidity provider fees.
Biswap Token Financial Analysis
At the time of writing, on May 29, 2022, the Biswap token had a daily trading volume of $12 million, and the Biswap DEX had a total value locked of $433 million. Biswap token's market cap is $158 million, giving it the #214th rank in market cap rankings. BSW Token has a liquidity score of 52%, meaning it might be a challenging sell during a bear market, but it shouldn't be too hard either. Biswap token has a circulating supply of 260 million, which means 37% of its maximum supply (700 million) is in circulation. This Token currently has a total supply of 305 million.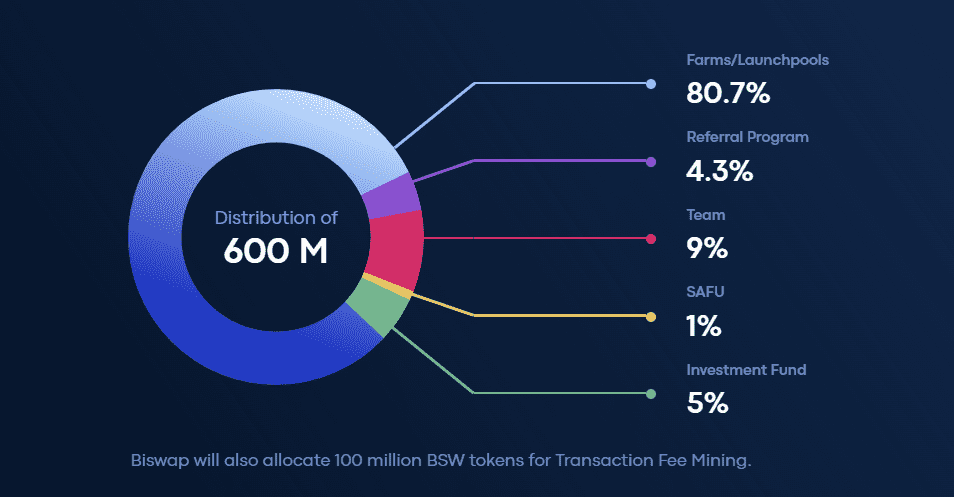 Biswap Token Burning Schedule
Biswap has a weekly BSW burning schedule meant to maintain and increase the price of the Biswap token in the long run, hence the current total supply of 305 million. The burning mechanisms are as follows:
50% of all trading fees on Biswap are used for buying BSW tokens and burning them.
The rewards coming from accounts without any referrers are used for burning Biswap tokens on a weekly basis.
A performance fee of 1.99% is subtracted from every harvest in the BSW Auto Compound pool and is burned weekly.
13% of every lottery ticket is collected on a separate wallet account and is also burned every week.
Disclaimer: Don't take this article as financial advice. You need to DYOR (Do Your Own Research) before investment.
Biswap Token Price Prediction
Biswap token's price as of today is $0.6, which is down by 73.6% from its all-time high on December 8, 2021. This token's current price is 98.5% higher than its all-time low of $0.2 on Oct 12, 2021. BSW token's monthly ROI is -58%, meaning if you invested $100 in BSW a month ago, you would have $42 by now.
Biswap Token Price Prediction For 2022
Crypto experts predict that the Biswap token will be traded at an average price of $0.70 throughout 2022. At its minimum, it can reach $0.68, and at its maximum, it can be traded at $0.76.
Biswap Token Price Prediction For 2023
The average price of a Biswap token is estimated to be $1.03 in 2023. It can reach a minimum of $1 and a maximum of $1.21.
Biswap Token Price Prediction For 2024
In 2024. the price of the Biswap token is predicted to reach a maximum of $1.73. The price of each BSW token may hit a low level of $1.45, with an average trading price of $1.49.
Biswap Token Price Prediction For 2025
Biswap token's average price in 2025 is estimated to be $2.13. The maximum price could be $2.47, and it can hit a minimum of $2.07.
Biswap Token Popularity
Biswap token's popularity throughout the past six months has gone up by 35% on Twitter, where the Binance service and ecosystem, in general, is most active. However, Biswap has seen a downward trend on Telegram, and its Telegram members have decreased by 25% in the past six months.
Biswap Token Available Markets
Biswap Token can be purchased or swapped on Biswap DEX itself as well as many well-known exchanges like Binance, PancakeSwap, Gate.io and KuCoin.
Biswap Token Investment: Final Words!
Generally speaking, most DEX tokens aren't good "investments", but they are more of a passive income opportunity. Currently, it's impossible to calculate yearly ROI for Biswap token, but according to the price charts at Cryptologi.st, it has had a few peaks and got close to $2, but then returned to under $1. According to our analyses and charts, BSW is not suitable for long-term investments, so you should plan your strategy accordingly or check other cryptocurrencies in similar categories. Always remember to DYOR before making any investment decisions. At Cryptologi.st, we offer various articles for you to DYOR without spending hours just to find a little piece of information. Use our free screener and put the Biswap token on your watchlist to organise your strategies and make the best investment decisions.
How do you rate this post?