10 Best Coins to Stake in 2023 with The Highest Staking Rewards
#cryptocurrency
#dapp
#decentralized
#defi
#investment
#pos
#pow
#smart-contract
#eth
tl;dr
Crypto gurus are making money in the current bear market with one simple strategy, HODL (Hold On for Dear Life), to generate passive income by staking crypto. To learn all about staking and find the ten best coins to stake in 2023 with the highest staking rewards, read through this ultimate guide.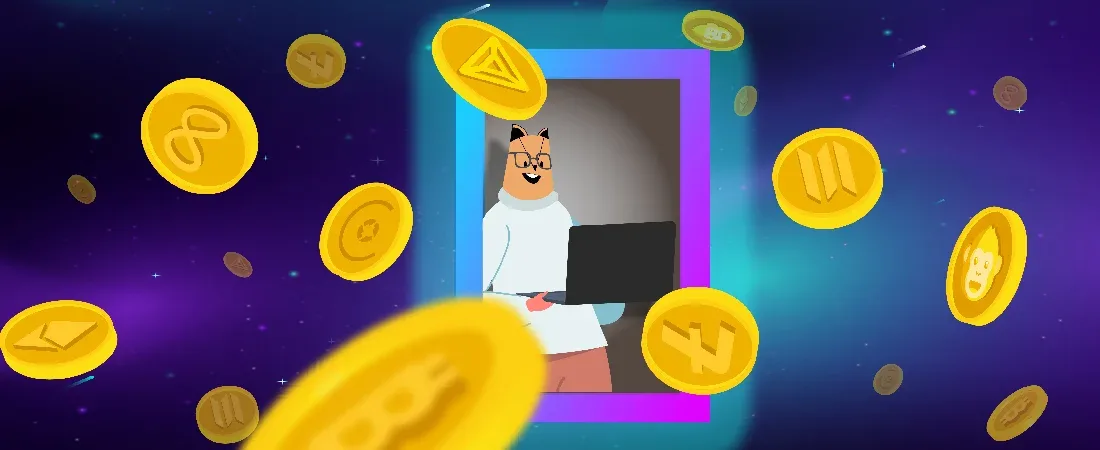 How do you rate this post?
What Is Staking?
Staking is a way to support blockchain operations by simply holding certain cryptocurrencies for a fixed period. Staking helps both the blockchain network and the stakers as the stakers earn rewards for staking the tokens, which in turn helps secure and stabilise the network. Learn about staking in detail and find out all about different types of staking.
Staking crypto is offered by many blockchain networks to let users earn staking rewards by supporting the network. Let's see what staking rewards are. Next we will talk about coins that have highest staking rewards.
What Are Crypto Staking Rewards?
Staking rewards are cryptocurrencies rewarded to the network users who HODL their cryptocurrencies for a certain time and do not sell them. This mechanism is to incentivise individuals to hold funds in a crypto wallet and support the network operations.
Staking rewards are similar to earning interest for a bank deposit, but here instead of money, the users earn more of the same token they HODL. How much will the staker be awarded? Well, it depends on various factors we'll address below.
Read more: What Is NFT Staking? Is It Safe? What Are The Best NFTs?
Factors Affecting Staking Rewards
Crypto Staking rewards are affected by various factors, including the following.
The Number of Coins Staked: The more coins you stake, the more rewards you'll earn.
The Period of Staking: The longer you stake, the more rewards you'll receive.
Network Function and Stability: More active networks with more demands tend to spare more staking rewards.
So far, we have learned that the staker doesn't need to perform any specific action to be entitled to staking rewards but HODL the tokens. It seems like an effortless and profitable strategy to follow, but how can we choose the best coins to stake?
Read more: Top 10 Next Meme Coins To Explode In 2023: How To Find Them?
How to Choose The Best Coin to Stake in 2023?
The following factors help you spot the best staking crypto.
The Coin's APY: Annual Percentage Yield is an indicator most stakers use to measure if a coin is good enough for staking. Usually, the networks with higher APY are more favourable for staking.
Lock-Up Period: Many crypto networks allow flexible lock-up periods, i.e., letting the stakers stop staking anytime they wish. However, projects with fixed lock-up periods tend to offer more returns.
The Cryptocurrency Network: To spot the best staking coins, one needs to evaluate the level of support and community engagement for the coin.
The Coin's Staking Ratio and Staking Market Cap: We'll elaborate on them below.
What Is The Crypto Staking Ratio?
The Staking Ratio is a metric to measure the proportion of a cryptocurrency staked, which is considered a key criterion in deciding if a crypto project is secure. To calculate Staking Ratio, one must divide the total amount of the coin staked by the total supply of that coin.
Here's how to do the math. If a total of 10 million coins are staked, and the total supply of that coin is 100 million, then its Staking Ratio would be 10%.
If the Staking Ratio of a given coin is high, it means a large part of the network is supported by the staked funds, which is an indication of the network's stability and security.
Read more: 10 Best Crypto Magazines for 2023 Free and VIP
What Is Crypto Staking Market Cap?
The Staking Market Cap is the total value of all the staked coins, which shows a cryptocurrency's growth potential. To calculate the Staking Market Cap, we need to multiply the total of the coin staked by its current market price.
A high Staking Market Cap means a considerable value is invested in the network, indicating the network's stability and security.
The Best Coins to Stake in 2023 Based on Market Cap
Enough of introductions and preliminary must-knows; it's time to get to know the ten best coins to stake in 2023. These ten crypto projects have their pros and cons, which we won't elaborate on here as it's not in the scope of this article.
But we'll elaborate on the main points of each project and what they are famous for. The following table is a visual display of the ten best coins to stake in 2023, all factors considered.
The chart reveals each coin's
Price,
Reward (the percentage of estimated annual reward),
Market Cap (the token price multiplied by its circulating supply),
Staking Market Cap (the total USD value of all tokens participating in staking), and
Staking Ratio (the percentage of eligible tokens being staked). Remember that the numbers can change over time.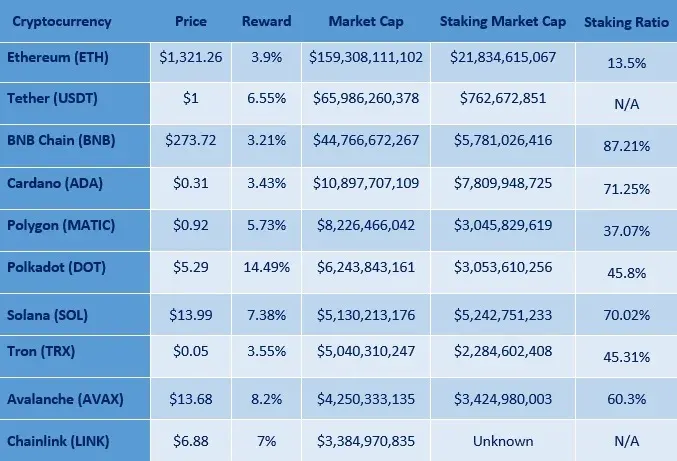 Ethereum (ETH): The Best Overall
Ethereum is the largest altcoin with a Proof-of-Stake consensus mechanism since its merge. Ethereum gives a 3.9% reward to ETH stakers, with a current staking ratio of 13.5%. Learn all about Ethereum 2.0 and Ethereum Testnet Merge.
The best platforms to stake ETH include Binance, Coinbase, Kraken, eToro, Huobi Global, OKEx and Bitfinex.
Tether (USDT): The Best Low-Risk Staking
Tether is a blockchain-based stablecoin pegged to the USD and is considered a low-risk staking option. Currently, it offers a 6.55% staking reward, with a staking market cap of $762,672,851.
The best platforms to stake USDT include Gemini, KuCoin, Kraken, Coinbase, Binance.US, Bitstamp and eToro.
BNB Chain (BNB), The Best Staking Ratio
BNB is the native token of the biggest cryptocurrency exchange, with the highest staking ratio of 87.21%. However, its staking reward is currently 3.21%, which is ranked among the lowest.
The best platforms to stake BNB include Binance, KuCoin, Crypto.com, and Trust Wallet.
Cardano (ADA): The Best Promising Project
Cardano is one of the most active cryptocurrency staking platforms, handling 75,000 transactions per second. Cardano's staking reward and ratio are similar to BNB's, with a bit higher reward (3.43%) and a bit lower ratio (71.25%). The best platforms to stake ADA include Kraken, KuCoin, and Uphold.
Polygon (MATIC)
Over $2.36 Billion MATIC coins are currently staked on the Polygon Network, making it one of the publicly favoured staking platforms. Its staking reward is about 5.73%, with a staking ratio of about 37%. The best platforms to stake MATIC include Binance, ByBit, KuCoin, Crypto.com, and Lido Finance.
Polkadot (DOT): The Best Staking Rewards
Polkadot is every staker's heaven with a current 14.49% staking reward. Its staking ratio is around 45%, which is a bit low for a cryptocurrency that ranks among the top 20 of the market. Binance, ByBit, Ledger Wallet, Kraken, and Crypto.com are the best platforms to stake DOT.
Solana (SOL)
Solana (SOL) is currently fighting Polygon over gaining more users on the one hand and is considered a potential 'ETH Killer' on the other! Solana is giving the SOL stakers an annual reward of around 7.38%. If you hesitate between Solana and Polygon, read their thorough comparison named Solana vs Polygon.
The best platforms to stake SOL include Binance, Coinbase, FTX, Kraken, Crypto.com, Huobi, Phantom, and Solflare.
Read more: Solana vs Cardano: Which One Is Built for The Future?
Tron (TRX)
Tron is not an expensive cryptocurrency to buy now and offers a 3.55% staking reward close to Ethereum's. Its staking ratio revolves around 45.31%, which is close to Polkadot's staking ratio.
The best platforms to stake TRX include Binance, eToro, KuCoin, Ledger Wallet, and Trust Wallet.
Avalanche (AVAX)
Currently, Avalanche provides high returns to network delegators, with a staking reward higher than the average (8.2%). Its staking ratio (60.3%) is the fourth in our list of top ten staking coins.
The best platforms to stake AVAX include Binance, OKX, Bitpanda, Midas Investments, Nexo, Bitrue, and Huobi.
Chainlink (LINK)
Chainlink is a decentralised network of data providers (Oracles) that exchanges data among off-chain and on-chain sources. Currently, Chainlink offers a 7% staking reward, which is higher than Ethereum, Tether, BNB Chain, Cardano, Polygon, and Tron.
The best platforms to stake LINK include Binance, BitStamp, MyCointainer, Stake.Fish, Coinbase, Crypto.Com, eToro, KuCoin.
The Best Coins to Stake in 2023 Based on Staking Market Cap
The following cryptocurrencies are the five best coins to stake in 2023 based on Staking Market Cap.
Ethereum: $21,920,037,553
Cardano: $7,810,025,872
BNB Chain: $5,758,002,648
Solana: $5,250,256,962
Avalanche: $3,454,701,595
The Best Coins to Stake in 2023 Based on Staking Rewards
The following are the five best coins to stake in 2023 based on Staking Rewards, i.e., they offer the highest staking rewards.
Evmos: 122.64%
Decimal: 109.68%
DODO: 83.22%
Hydra: 49.7%
Yearn.finance: 54.87%
Why Do Some Coins Have High Stake Rewards?
Some coins offer high staking rewards for various reasons; the main one is to incentivise the users. Other factors affecting the amount of reward given by a blockchain network are
The Total Supply of The Coin,
The Number of Stakers, and
The Coin's Inflation Rate.
Remember that, generally, more staking rewards indicate the network is active and functioning properly. Let's get to know some of these cryptocurrency networks.
Why Do The Staking Rewards Change?
These platforms offer high staking rewards now, but it doesn't mean they'll always do so, as staking rewards can change over time. So, it's a must to check the current staking rewards a platform offers. But why do the staking rewards change?
Here is a list summarising the main reasons why staking rewards can change.
Inflation (i.e., the rate at which the total supply of a coin increases): An increase in the supply of cryptocurrencies means staking rewards can decrease.
The number of users participating in staking: The more the number of stakers, the less share of rewards will be given to each staker (it's like sharing a cake among many people).
Change by the development team: A coin's staking reward can change by the team behind the project to encourage or discourage certain behaviour on the network.
The Best Stablecoins to Stake in 2023
There are various stablecoins suitable for staking. The list below introduces the five best stablecoins to stake in 2023.
USD Coin
Dai
Tether
USDD
TrueUSD
The Best DeFi Coins to Stake in 2023
DeFi coins are the cryptocurrencies aiming to move toward Decentralised Finance by focusing on removing third parties and centralised authorities from financial transactions. These coins are among the most popular cryptocurrencies. The following list introduces the best DeFi coins to stake in 2023.
PancakeSwap
GMX
Curve DAO Token
Synthetix Network Token
Aave
Summary
Staking is a popular and relatively safer strategy followed by both experts and beginners to make money easily in the crypto sphere. Stakers are to HODL a certain number of a cryptocurrency for a specific period to help validate the transactions and earn rewards for this participation in the network.
This article elaborated on various categories introducing the best coins to stake in 2023. It's no secret that each of the mentioned cryptocurrencies comes with positive and negative features.
But wise crypto investors always do their research to make confident investment decisions. Cryptologist helps you stay on top of your game with the all-in-one tools and articles it provides.
How do you rate this post?