ApolloX: The World's First Hybrid Exchange
#blockchain
#dex
#cex
#defi
#apx
tl;dr
These days, with the growth of the cryptocurrency industry, more and more people are drowning in the crypto world and participating in cryptocurrency trading to gain more profit. This is the point that highlights the role of CEX/ DEX in this industry! ApolloX is the world's first centralised and decentralised (CEX-DEX) hybrid crypto exchange, with Bitcoin, Ethereum, and other major cryptocurrencies available for trade. In this article, we will learn A to Z of the ApolloX project. Let's go!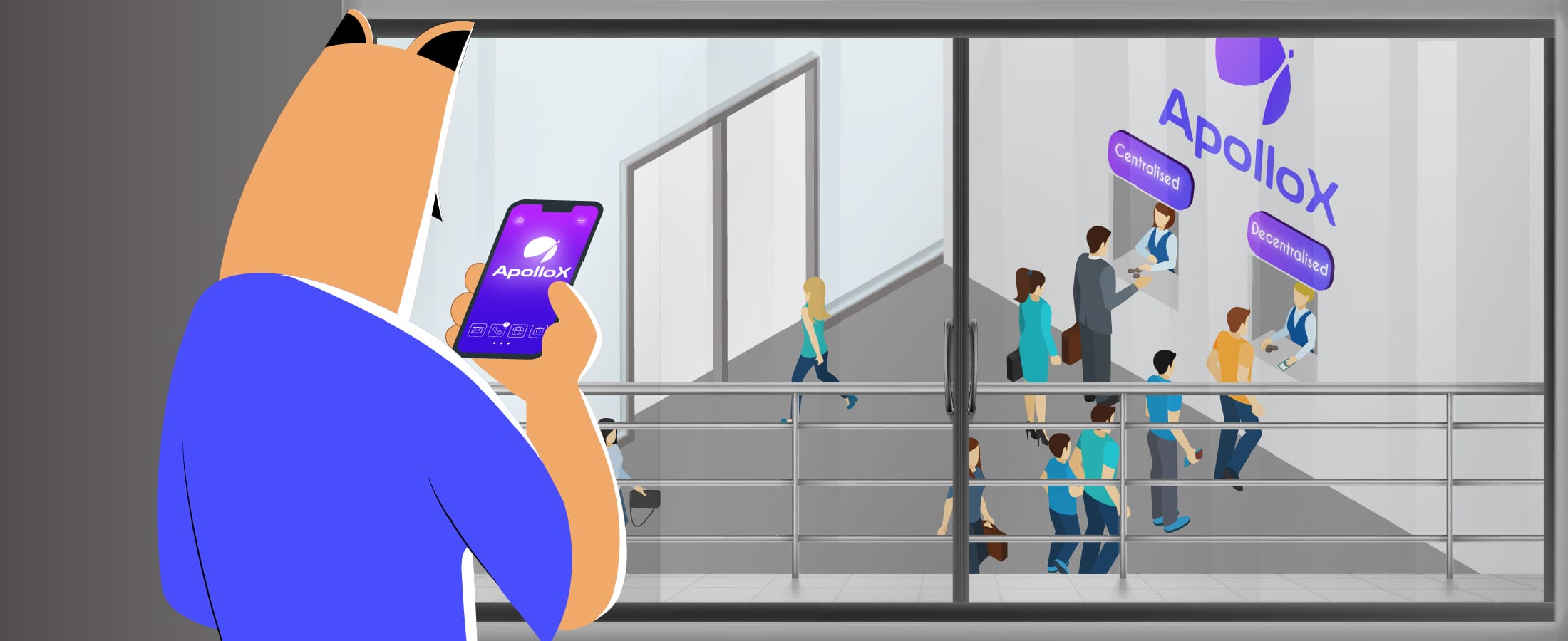 How do you rate this post?
ApolloX In Simple Terms
ApolloX is the first CEX-DEX hybrid cryptocurrency exchange that was launched in 2021. It aims to shade barriers of entry and make crypto accessible to everyone. The name of ApolloX is a combination of two words; "Apollo," referring to the first Moon exploring program, Apollo, and the letter "X," which stands for cryptocurrency exchange. The platform allows users to trade a set of USDT-margined perpetual futures with up to 50x leverage. Users can trade BTCUSDT and ETHUSDT with up to 150x leverage and 100x leverage, respectively. ApolloX CEX (Centralized Exchange) utilises Binance Cloud technology, and ApolloX DEX (Decentralized Exchange) is developed using AplolloX's own proprietary technology. Removing central authority from exchanging processes is a key difference between centralised and decentralised exchanges that make DEXs interesting for crypto traders.
What Are the Main Components of ApolloX?
The ApolloX crypto ecosystem is rapidly expanding, with centralised and decentralised exchanges, a native currency, ApolloX Rockets NFTs, a crypto education channel, etc. The utility token of ApolloX is APX, which can be gained by trading on the platform.
How Does ApolloX Work?
ApolloX Finance's main architecture consists of on-chain fund settlement as well as custody and off-chain transaction matching. A Web 3.0 interface lets users connect their decentralised wallets to the exchange before signing and validating the connection. The (ERC-20/BEP-20) tokens can then be transferred into the smart contract for fund custody and settlement. Users can utilise the funds to trade derivatives off-chain once the off-chain ledger is recorded, and the PnL will be accounted for in the ledger. Users can withdraw funds when the smart contract is settled by calling it.
ApolloX Benefits
ApolloX offers traders several benefits as follows:
The DEX is designed highly intuitively and provides an easy-to-use interface.
Users can enjoy increased privacy without any sign-ups requirements.
Traders can save gas fees paid for each transaction.
Due to removing all intermediaries, users can be more confident about the platform's security and have more autonomy.
ApolloX Strengths
According to the ApolloX whitepaper, the strengths of this CEX/ DEX over other similar projects are as follows:
Ease of use: Everyone, not just Wall Street traders, can participate.
Security: The main priority is safely storing users' assets on the exchange through 2FA.
Deep Liquidity: Unparalleled order-book liquidity, enabling people to transact efficiently and with the least slippage possible.
Stable System Functionality: The stable and reliable system functionality makes the users sure that the system will not run into downtime problems.
What Makes ApolloX Unique?
ApolloX has both a decentralised exchange and a centralised exchange, namely, ApolloX Finance and ApolloX CEX, respectively. This unique feature allows the platform to serve different trader profiles. The "off-chain matching + on-chain settlement" helps ApolloX achieve fast response speeds and high transaction performance while ensuring users' funds' safety and transparency. Due to sharing liquidity with ApolloX CEX, ApolloX Finance also has excellent market depth. ApolloX Finance leverages the order book model to support futures trading, while other decentralised exchanges adopt the common automated market maker (AMM) model. ApolloX announced the launch of ApolloX 2.0 in April 2022, in which it will burn 5,755,000,000 APX and transition toward a DAO structure.
What is APX Token?
ApolloX's native token is APX, which was introduced in December 2021, with a total supply of 10 billion APX. PancakeSwap is the first DEX for APX, with a listing price of $0.0004. On ApolloX, APX is generally obtained through trading prizes. Users can also lock and stake APX to increase their APX earnings. The utility will be added to ApolloX 2.0 as a governance token.
ApolloX Financial Analysis
With more than a $23 million market cap, ApolloX is ranked #829 among crypto projects in the market when writing this post. ApolloX experienced its best stat on Dec 27, 2021, when it ranked #546. Its liquidity score is 15% below the market's average score, making it a difficult sale in bear markets. Data provided on Cryptologi.st shows that ApolloX's Twitter account followers went up by 47% over the last six months, surpassing 31k followers. Over the same time frame, its Reddit subscribers grew by 37%.
To Sum UP
ApolloX is another CEX/ DEX struggling to provide more options for the end-users and traders. However, for ApolloX to stand out from the crowd, sticking to the roadmap and providing more options is a must! Therefore, to avoid falling off the wagon or diving into unknown seas, you must weigh all the affecting factors. Cryptologi.st is not a financial advisor, but it can assist you in making your coin selection by providing extensive reviews of the top 1500 currencies, breaking news, and much more.
How do you rate this post?