Apeswap Price Prediction 2023, 2025 and 2030, Is Apeswap a good investment?
#dao
#dapp
#defi
#dex
#nft
#banana
tl;dr
Here we will analysis Apeswap financially and fundamentaly. We will discussed about Apeswap Price Prediction 2023, 2025 and 2030. Apeswap is a DeFi platform on Binance Smart Chain and Polygon, which offers various DeFi services such as a DEX, staking assets, margin trading, and hosts IDOs known as Initial Ape Offering (IAO)! Keep reading to learn more about this monkey-themed DeFi hub and its Apeswap price prediction.
How do you rate this post?
What Is Apeswap Finance?
Apeswap Finance is a DeFi platform offering various services such as a decentralised exchange, token staking, launchpad, lending and borrowing, margin trading, and IDOs on Binance Smart Chain and Polygon.
Apeswap is overseen by the Apeswap Decentralised Autonomous Organisation (DAO). Apeswap describes itself as the 'most connected and most supportive DEX in crypto' and has more than 200 partners from various sectors of the crypto industry. Next we will discussed about Apeswap Price Prediction 2023, 2025 and 2030.
How Does Apeswap Finance Work?
Apeswap Finance has a two-token system: BANANA and GNANA (Golden Banana). Even though both of these tokens are utility tokens, they have complementary purposes.
Users can buy BANANA and GNANA by connecting their wallets to the exchange and start swapping. Since Apeswap Finance doesn't require KYC (Know Your Customer) information, all you need to get started is a wallet which supports Apeswap.
What is BANANA token?
BANANA is used for incentivising users to add liquidity to the platform. It is the main and native token of Apeswap Finance, which has several functions and use cases:
Staking BANANA: Users can stake BANANA in staking pools to earn more BANANA tokens. Apeswap Finance offers a 69% APY on staked BANANA and 87% APY on the BANANA-BUSD pair on its staking platform.
Purchasing GNANA: BANANA is used for purchasing the GNANA governance token on the Golden Banana page.
Providing Liquidity: Users can provide liquidity by pairing BANANA tokens with BUSD or BNB, which results in creating the APE-LP liquidity provider tokens. These LP tokens earn trading fees and also can be staked for earning yield and passive income.
Treasury Bill NFTs: Users can acquire Treasury Bill NFTs with the APE-LP tokens, which will earn them BANANA tokens after a certain vesting period.
Lending and Borrowing: Users can lend and borrow against BANANA tokens to earn interest or unlock liquidity without having to sell their BANANA tokens.
Apeswap Finance GNANA Token
GNANA is used specifically for the governance of Apeswap Finance and is a way of rewarding the most committed users on this platform. GNANA also provides holders with exclusive benefits and opportunities:
Passive Income: Users can earn farm rewards simply by holding GNANA in their wallets. This income is in the form of reflecting fees proportional to the amount of GNANA held in users' wallets.
Apeswap Governance: GNANAN is the core governance token of the Apeswap ecosystem. Users' ability to vote on Apeswap governance directly corresponds with how much GNANA a user has.
Exclusive Staking Pool: Instead of BANANA, users can stake GNANA to earn Apeswap partners' tokens at high APRs. Also, a GNANA staking pool is available, which earns BANANA for stakers.
Access to IAO: Holders of GANANA have special access to token allocations, known as Initial Ape Offerings (IAO). All GNANA tokens raised at these IAOs are converted to BANANA and sent to a burn address.
Apeswap Tokenomics and Financial Analysis
Today, on Jun 1, 2022, Apeswap Finance has a $20 million market cap and ranks #701 in market cap rankings. This DEX has $134 million TVL (total value locked), and its token, BANANA's 24-hour trading volume, has been $496 thousand.
The BANANA token has a 20% liquidity score, meaning it'd be challenging to sell this token during a bear market. Apeswap Finance has a maximum supply of 151,341,691, of which 82% is in circulation (123,562,561 BANANA). Apeswap Finance burns 316,800 BANANA per day, and the distribution chart for BANANA is as the following: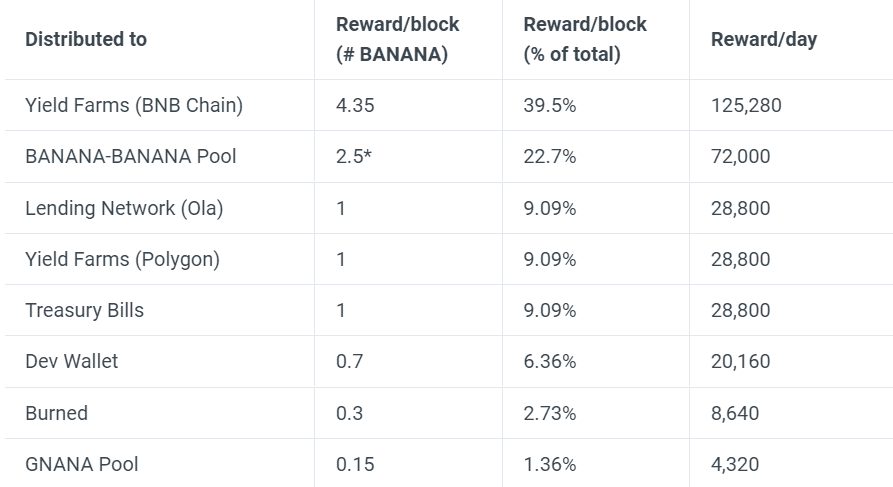 Apeswap Finance Burn Mechanisms
Apeswap Finance aims to make BANANA a deflationary token and has implemented various burning mechanisms to maintain the token's inflation.
Quarterly Buyback And Burn: Out of all the trading fees earned by the Apeswap DEX, 50% are used for buying back BANANA from the open market every three months.
Weekly Manual Burn: Out of 11 BANANA emitted from each solved block, 0.3 BANANA, at minimum, is dedicated to manual burns performed every Thursday. (#BURNSDAY!)
Weekly Protocol Burn: The weekly burn schedule includes protocol burns from other parts of the ecosystem. This is the result of normal operations and burns from partners of Apeswap.
Lending Network Burn: Apeswap collects fees from its native lending network. 90% of these fees are used for buying back BANANA from the market, and 10% of them are stored in the Apeswap Treasury.
Burn Partners: Apeswap Finance's partners like Growth DeFi and CryptoGuns burn BANANA as part of their partnership with Apeswap.
Initial Ape Offering: Apeswap Finance converts all GNANA raised in an Initial Ape Offering (IAO) back to BANANA and burns them.
GNANA Burn Fee: Users incur a 28% burn fee by swapping BNANA for GNANA.
GNANA Reflect Fee Burn: the GNANA staked on pools collect reflect fees, converted back to BANANA and burned.
ApeLabs Tuition: Apeswap Finance team collects and burns half of all BANANA tokens collected as tuition fees by the ApeLabs.
Disclaimer: Don't take this article as financial advice. You need to DYOR (Do Your Own Research) before investment.
Apeswap Finance Price and ROI
Today, on Jun 1, 2022, the price of Apeswap Finance's BANANA token is $0.16. It is 98.6% lower than its all-time high at $11.53 on May 2, 2021, and is 23.1% higher than its recent all-time low of $0.13 on May 12, 2022.
BANANA token's yearly ROI is -95% and has underperformed compared to similar projects, with an annual ROI of 6,821% throughout this year. These similar projects are in the 'DEX Token, Polygon Ecosystem, AMM, Yield Farming, Binance Smart Chain Ecosystem' categories.
Apeswap Price Prediction For 2022
It is expected that Apeswap's Finance's price will be $0.59 at least throughout 2022. However, the price can peak at $0.67, and the average trading price is estimated to be $0.61.
Apeswap Price Prediction For 2023
Crypto experts estimate that the BANANA token will be traded at a minimum of $0.86 in 2023. The maximum trading price of Apeswap Finance is expected to be $1.02, and the average price is expected to be $0.89 this year.
Apeswap Price Prediction For 2024
According to reports, the BANANA token price will be at least $1.21 in 2024. It can potentially hit a maximum of $1.50. The experts estimate that the average price of Apeswap Finance would be $1.25.
Apeswap Price Prediction For 2025
It is predicted that Apeswap Finance will be traded at an average price of $1.83 throughout 2025. The price can potentially go up and hit a maximum of $2.14 and $1.77 at a minimum.
ApeSwap Price Prediction for 2030
The price of ApeSwap Finance is expected to reach at a minimum value of $8.31 in 2030. The ApeSwap Finance price could reach a maximum value of $9.98 with the average trading price of $8.60 throughout 2030.
How Popular Is Apeswap Finance?
Apeswap Finance's popularity on Twitter has grown by 26% in the past six months. However, their popularity in the Telegram community dropped by 8% during the same timespan.
Is Apeswap Finance A Good Investment?
By comparing the BANANA token's overall popularity, yearly performance and ROI of -95% to similar projects' +6,000% ROI, it becomes clear that the BANANA token is not the best investment option in the DEX tokens category.
Apeswap Finance shows potential for becoming a DeFi hub on the Binance Smart Chain, but it still has room for growth and is in its early stages.
If you want to find out more about projects like this, Cryptologi.st is all you need! We offer you informative articles and overviews of various crypto projects and provide you with tools like Screener and Watchlist so you can better compare your options and make confident crypto investment decisions.
How do you rate this post?