Ape Coin Price Prediction 2025 And 2030: Is Ape Coin A Good Investment?
Ape Coin was launched by the creators of Bored Ape Yacht Club, the successful NFT collection that blew up and caught the eyes of many investors and celebrities like Snoop Dogg and Eminem.
Only one day after its launch, Ape Coin doubled in price and made investors wonder if this token would reach new highs, as some predictions claim it is to skyrocket.
Ape Coin offers exclusive features, such as IRL events for its holders, and has massive brands like Adidas and Coinbase investing in it.
Read the Ape Coin price prediction 2023, 2025 and 2030 to find out if you should invest in Ape Coin!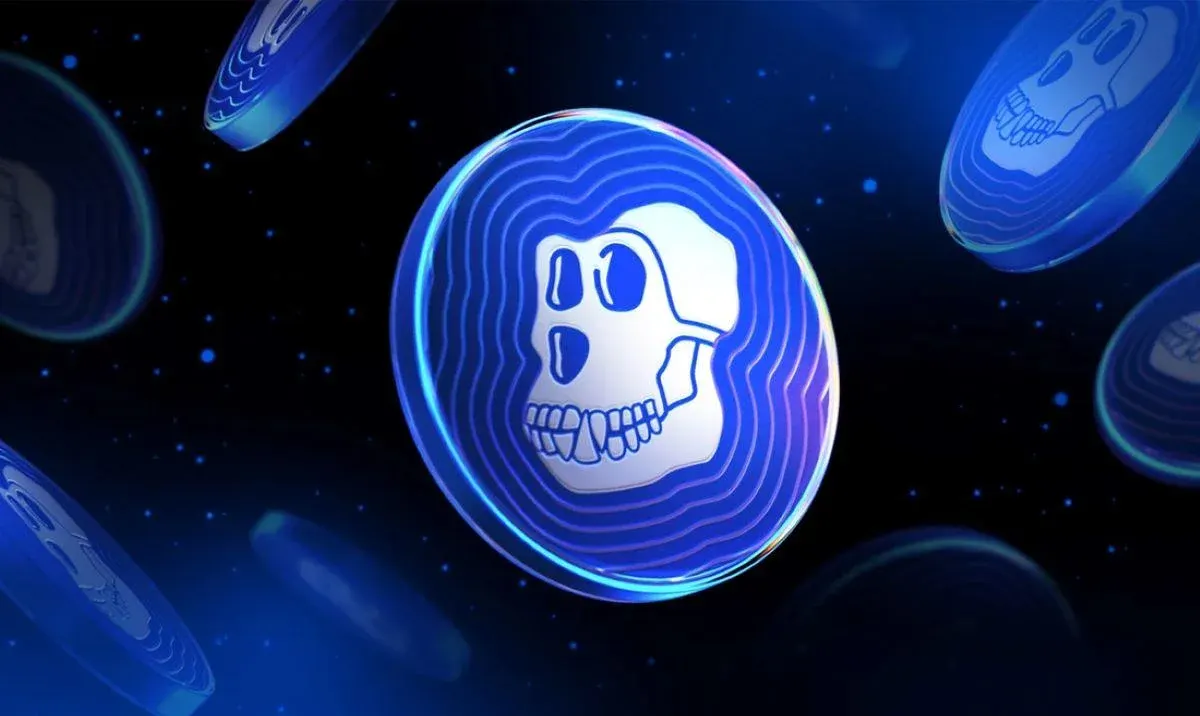 How do you rate this post?
What Is The Ape Coin?
Ape Coin (APE) is an ERC-20 token on Ethereum that is used in the Yuga Labs, the Bored Ape Yacht Club, and APE ecosystems. At its core, Ape Coin is a utility and governance token that serves various purposes, including:
Governance: Ape Coin allows its holders to participate in the Ape Coin DAO and vote on changes to the platform.
Unification of Spend: Being a utility token, Ape Coin is the APE ecosystem's open cryptocurrency to be used as a medium of exchange throughout the platform.
Incentivisation: Third-party developers can participate in the APE ecosystem by utilising the Ape Coin in their products, services and games.
Access: Ape Coin allows users to access specific sections of the APE ecosystem, such as events, merch, and services exclusive to the Ape Coin holders.
Which Platforms Use The Ape Coin?
Ape Coin is used in multiple platforms, including the following, which form an entire ecosystem.
Yuga Labs: The creator of BAYC NFTs and the Ape Coin and the owner of Meebits and CryptoPunk NFT collections
BAYC: An NFT collection of Bored Ape NFTs
Ape DAO: A Decentralised Autonomous Organisation (DAO) for all APE holders to vote on token allocations, changes to the platform, and future decisions
The APE Foundation: The executor of the governance decisions made by the Ape DAO
ApeCoin Board: The administrator of the Ape DAO's proposals applying the changes to the platform that was voted on by the DAO
Otherside: The developing Metaverse centred around the Ape Coin.
Animoca Brands: The partner of Yuga Labs in building multiple P2E games that utilise Ape Coin for various in-game features
As seen above, Ape Coin is used across a massive ecosystem of blockchain projects like NFTs, Metaverse, and crypto gaming.
Ape Coin's future price may significantly impact the popularity of these projects in the following years. So, let's check the Ape Coin price prediction 2023, 2025, and 2030.
Read more: MetaVPad Price Prediction 2023, 2025 and 2030, Is MetaV a Good Investment?
Price History
One of the main factors affecting the Ape Coin price prediction 2030 is its price changes so far! APE showed a massive price potential, especially in its early days. However, it didn't keep this price performance for long.
The earliest recorded price for Ape Coin is $7.8 on Mar 17, 2022. The day after, its price doubled and reached $16.
Ape Coin's price fluctuated in the $11-$16 range in late April 2022. On Apr 23, 2022, APE's price began skyrocketing and reached its All-Time High of $39 on Apr 28, 2022.
Ape Coin started declining in May after experiencing that massive price pump (its ATH) and dropped back into the $7 zone in June 2022.
Since June 2022, Ape Coin has cost $5 on average without recording any significant ups and downs.
Today, on Dec 20, 2022, each Ape Coin is traded at $3.55.
To get a clear picture of the Ape Coin price trends since its launch, check out the following chart. What follows the price chart is the Ape Coin financial analysis in detail.
Ape Coin Financial Analysis
At the time of writing, on Dec 20, 2022, Ape Coin is being held in more than 104K wallets. There have been 1.4 million APE transactions in the past 24 hours, with a trading volume of $134 million.
Although Ape Coin's trading volume is high, it has a Liquidity Score of only 35%, meaning it can be challenging to trade this token during a bear market.
Take a close look as we break down other financial factors of Ape Coin, i.e., Tokenomics, ROI, Market Cap, ATH, and ATL.
Read more: Firo Price Prediction 2023, 2025, 2030: Is Firo (Zcoin) A Good Investment?
Ape Coin Tokenomics
The Ape Coin was launched at $0.18 on Mar 22, 2022, with a Strategic Sale in which the project raised $450 million.
Ape Coin has a Maximum Supply of 1 billion; as of today, nearly 37% of Ape Coins (361 million APE) are in circulation. The token distribution of Ape Coin is as follows.
Launch Contributors - 14%
BAYC/ MAYC NFT Holders - 15%
Treasury/ Resources - 47%
ROI
Since it has been less than a year since Ape Coin was launched, it is not possible to calculate APE's Annual Percentage Yield (APY). But it doesn't mean we don't have your ROI needs covered! Ape Coin's ROI throughout different time spans is listed below.
ROI For One Month: 11.87%
ROI For One Week: -17.43%
ROI For One Day: 1.13%
Market Cap
The Ape Coin financial analysis indicates that the token has a Market Cap of more than $1.2 billion. Ape Coin ranks #33 in the market cap rankings among all crypto projects in the market.
ATH And ATL
As of today, on Dec 20, 2022, each Ape Coin is traded at $3.5, which is 86.9% lower than its All-Time High of $26.70 recorded on Apr 28, 2022. Also, its current price is 33% higher than its All-Time Low of $2.63 recorded on Nov 14, 2022.
In addition to financial analysis, Ape Coin's fundamental analysis helps uncover some facts about this coin and its platform.
Ape Coin Fundamental Analysis
In the following sections, we will take a close look at Ape Coin's team members and investors and analyse how popular the project is in the crypto community on social media platforms.
Team
The APE Foundation, specifically the ApeCoin DAO, is overseen by a special council called the Board to apply the DAO's votes on changes to the platform and administer its proposals.
The initial Board's members serve for six months; after that, the DAO members would annually vote on Board members. Currently, the Board consists of well-known crypto experts, including:
Alexis Ohanian: Co-founder of Reddit and Founder of Seven Seven Six
Amy Wu: Head of Ventures and Gaming at FTX
Dean Steinbeck: President and General Counsel at Horizen Labs
Maaria Bajwa: Principal at Sound Ventures
Yat Siu: Co-founder and chairman of Animoca Brands
Investors
Ape Coin had two fundraising rounds, one in July 2021 and the other in March 2022.
In July 2021, The Ape Board raised $1.2 million in a seed round. The lead investors of this round were SCB 10x venture capital and Do Kwon, CEO of USDTerra.
In March 2022, Ape Coin raised $450 million in a seed sale and 37 investors participated in the fundraising. The lead investors consisted of well-known crypto investors and even non-crypto brands, including Andreessen Horowitz (AKA a16z), Adidas, Coinbase, and Mark Cuban.
Popularity
Ape Coin's main social media platform is none other than Twitter. The APE token and projects affiliated with it, such as BAYC and MAYC, have always had an active, enthusiastic community on Twitter.
The data on Ape Coin popularity from Cryptologist indicates that over the past six months, APE's popularity on Twitter has grown by 225%!
For further clarification, take a look at Ape Coin's six-month popularity chart below and then dive into the Ape Coin price prediction!
Ape Coin Price Prediction At A Glance
In the following table, you can see the Ape Coin price prediction 2023, 2024, 2025 and 2030, along with its predicted minimum, average and maximum prices at a glance. We'll elaborate on each year's details in the following section.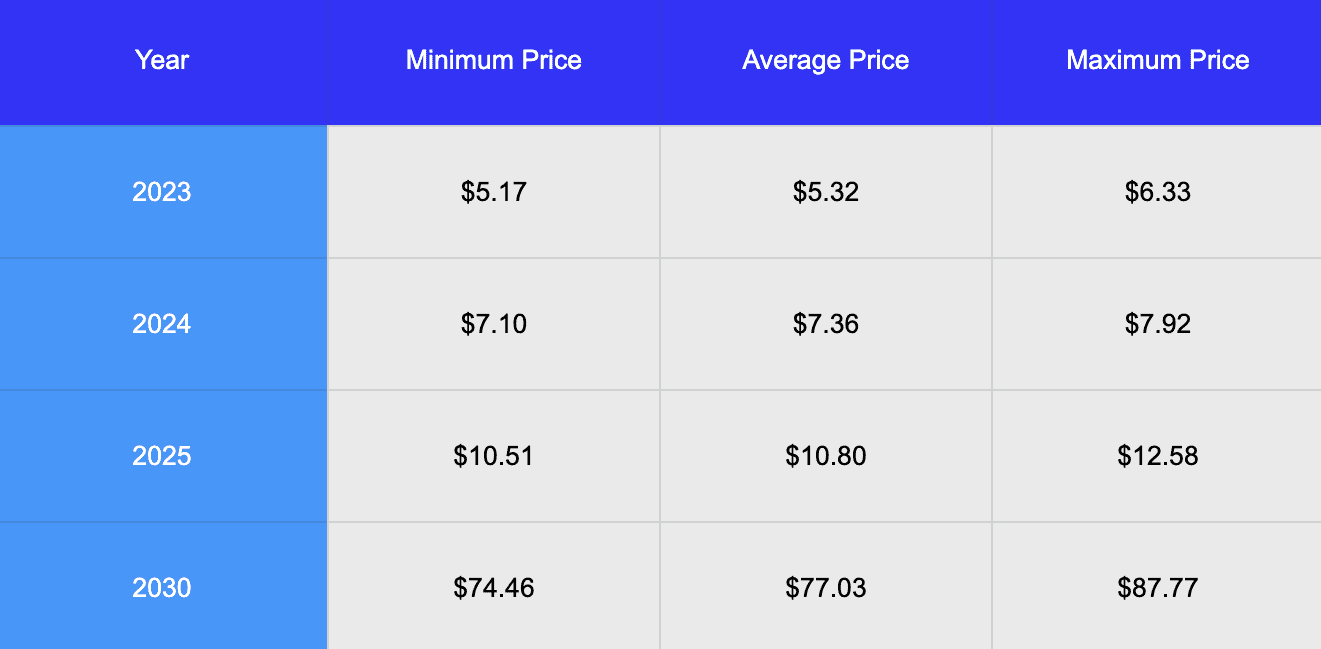 Ape Coin Price Prediction 2023
The Ape Coin price prediction 2023 suggests that this token would have a price growth of 54% and cost $5.32 on average. Ape Coin's minimum and maximum prices can grow by 50% and 84% during 2023.
Ape Coin Price Prediction 2024
Crypto experts predict that the Ape Coin can grow by 113% on average in 2024 and reach $7.36. Ape Coin's maximum growth rate is estimated to be 130%, and its minimum growth rate is predicted to be 106%.
Ape Coin Price Prediction 2025
According to Ape Coin's price prediction 2025, the price of each APE can grow by 213% on average and reach $10.80. Ape Coin's price can increase by 205% at a minimum and cost $10.51. Also, the coin has the potential to grow by 265% at a maximum and cost $12.58 in 2025.
Ape Coin Price Prediction 2030
The Ape Coin price prediction 2030 estimates that each APE token can experience a 2,139% growth on average and reach $77.03. During 2030, the minimum and maximum price growth the Ape Coins can see are predicted to be 2,064% and 2,451%, respectively.
Is Ape Coin A Good Investment?
Throughout the past year, Yuga Labs managed to make its products something more than "just regular crypto projects", and Ape Coin's early price pump endorses it.
Ape Coin would make a good investment, especially for users looking for an altcoin with an experienced team, a promising future in Metaverse, well-known investors, an active community, and price volatility good enough for day trading!
However, remember that Ape Coin is not a risk-free investment as data indicates the token has a current Liquidity Score of only 35%, so it is best to use the Cryptologist Screening Tool to evaluate your options and monitor the changes before making investment decisions.
Summary
Ape Coin is an ERC-20 token developed for the Bored Ape Yacht Club NFTs community. Ape Coin's main purpose is to fuel an ecosystem of digital art, games, merch and events and act as a governance and utility token.
According to Ape Coin price prediction, this token's price has the potential to grow by more than 2,000% by 2030. To find more projects like Ape Coin, check out Cryptologist!
FAQ
Having learned all about Ape Coin, let's answer some of the most commonly asked questions about this unique token.
Can Ape Reach $100?
Considering the crypto market's current state and market value, we can't assume Ape Coin will reach $100 anytime soon. However, as the crypto market grows, APE can cross $100 after 2030.
Is Ape Coin Good For The Long-Term?
Ape Coin price predictions suggest that Ape Coin can perform very well in the long run.
Why Is Ape Coin Popular?
The main reason behind Ape Coin's popularity is that Ape Coin was launched by the team behind the viral NFT collection Bored Ape Yacht Club and is directly tied to the BAYC's ecosystem.
How do you rate this post?