AAVE Price Prediction 2030: Is AAVE Coin a Good Investment?
#investment
#cryptocurrency
#blockchain
#aave
tl;dr
Stop all your investment plans right now, as AAVE price prediction 2030 expects Aave to grow by 2000%! This is the opportunity you were looking for to turn your financial life around. Keep scrolling to answer all the questions popping up in your mind!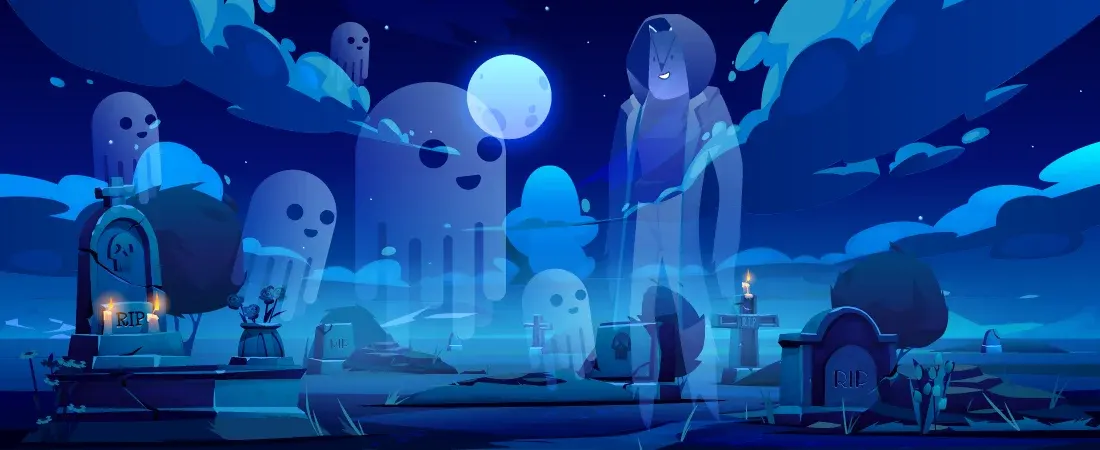 How do you rate this post?
What Is AAVE?
Aave (AAVE) is a DeFi liquidity protocol to let users lend and borrow a wide range of cryptocurrencies. To run this lending and borrowing process, AAVE allows the users to participate as borrowers or depositors.
The borrowers can borrow funds in an over-collateralised (perpetually) or under-collateralised (one-block liquidity) way. To do so, they need to collateralise their crypto assets and take out loans from the liquidity pools.
On the other side of the game, to incentivise the depositors to add liquidity to the platform, AAVE provides staking for the users to earn passive income for their participation.
If you consider staking, check the 10 best coins to stake in 2023.
To benefit from staking and passive income options in this platform, you need the token of this network, which is also called 'Aave'. We'll get to know this token after learning about the main features of the AAVE platform.
AAVE Features
The intrinsic features of AAVE differentiating it from similar platforms include being
decentralised,
open-source, and
non-custodial.
Being decentralised means a central authority is not in control and being non-custodial means that the users control their private keys, not the platform.
Also, AAVE uses smart contracts to run its activities in a permissionless and trustless way. Another significant feature of AAVE is the possibility of creating "flash loans".
As the name suggests, a flash loan is to be available in a few minutes, i.e., in a flash! When the loan period is over, the loan is repaid automatically, and no collateral is needed.
The main difference between flash loans and traditional ones is that flash loans don't work based on credit but on the borrower's capacity to pay back the funds in the short period specified. Also, the borrower must have a definite amount of liquidity to be entitled to the loan.
The best thing about AAVE flash loans is that you can use them for
arbitrage trading
liquidity provision, and
yield farming.
Despite these advantages, flash loans are high-risk options, and you need to ensure to gain enough technical knowledge of DeFi before taking flash loans.
To get these flash loans or generally borrow from the AAVE platform, we need the protocol's native cryptocurrency - AAVE Coin. Let's learn more about this token and its use cases.
What Is AAVE Coin?
The native token of the Aave protocol is called the AAVE coin, and knowing how it works is the prerequisite of AAVE staking and AAVE price prediction.
As the governance token of the platform, AAVE allows its holders to participate in controlling the protocol's activities and decisions by gaining voting rights.
This token can also be used for staking, borrowing, and protecting liquidation. Let's see how.
Staking: To earn passive income from the Aave platform, users need to stake their AAVE tokens, i.e., they need to hodl them to be rewarded with a share of the fees collected in the platform.
Borrowing: The AAVE token is used as collateral so the users can borrow other assets.
Protecting Liquidation: In case of price drops, AAVE tokens can be used to protect borrowings from being liquidated.
AAVE Coin has seen significant price changes since its launch, which we're about to elaborate on in the following section on AAVE's price history.
Read more: Gala Price Prediction 2023, 2025 and 2030: Is Gala A Good Investment?
Price History
As mentioned above, knowing AAVE Coin and its uses-cases is an essential requirement for AAVE price prediction. In addition to the token's use cases, we need to know all about its price changes to see how it's performed so far.
Also, based on the patterns we find, we can predict how it may perform in the coming years.
AAVE Coin was first traded on Oct 03, 2020, at $56.16.
Early days after the first trade, AAVE was accompanied by a downtrend, which continued for a month, and on Nov 05, 2020, the token's lowest value was recorded at $27.66.
Fluctuations started since then but with a general upward trend, which resulted in the token's first significant peak at $302.29 on Feb 03, 2021.
The upward trend continued, and the token's price jumped from $302.29 to $502.01 in only three days.
After that, ups and downs changed the token's price between $300 and $500 for about three months, and finally, on May 18, 2021, AAVE hit its highest price ever at $661.69.
Since its highest value, AAVE started a downward trend and even reached $190.18 on Jun 26, 2021.
Fluctuations continued with a general downtrend for about six months until today, Jan 12, 2023, when the token is traded at $67.09, with a 24-hour trading volume of $83,275,428.
To get a better picture of the AAVE price changes in the recent year, check out the following price chart and continue in the next section to read the details of its financial analysis.
Read more: Retreeb price prediction 2023, 2025 and 2030
AAVE Financial Analysis
AAVE Coin is currently held in over 382K blockchain wallets, recording a total of over 2.6M transactions. Its current liquidity score is 64%, which is higher than the market average, making AAVE a relatively easy sell in bearish markets.
If you are considering buying or selling Aave, you can use Bitge, which is currently one of the active exchanges to trade this token.
Other financial factors we need to know about AAVE include its Tokenomics, ROI, Market Cap, ATH and ATL, which we'll elaborate on in the following sub-sections.
AAVE Tokenomics
AAVE token is allocated as the following pie chart depicts. As you can see, the biggest share is dedicated to core development. Also, the platform allocates the same 20% to management & legal issues, user experience development, and promotions & marketing. The remaining 10% is allocated to unexpected costs.
User Experience Development - 20%
Management and Legal - 20%
Promotions and Marketing - 20%
AAVE Price Prediction: Tokenomics
ROI
ROI (Return on Investment) is an index indicating a token's lucrativeness in varied time frames. Let's check the AAVE ROI and see how beneficial the token has been in the recent year, month, week, and 24 hours.
AAVE Annual ROI: -69.18%
AAVE Monthly ROI: 9.63%
AAVE Weekly ROI: 15.89%
AAVE 24hr ROI: 7.04%
AAVE's yearly ROI is way lower than similar projects, which hit a total ROI of 11,503,205% during the time frame. Over the same period, the crypto market, in general, has reached an ROI of 8,720,318%.
AAVE's -69.18% Return on Investment means that if you invested $100 in AAVE a year ago, you'd lose about 70% of your funds.
Don't forget that the bear market situation worsens the returns, and many projects have experienced the same downtrends during the recent year.
Market Cap
AAVE financial analysis indicates that the token's current Market Capitalisation is $868,579,613, with a market cap rank of #43 among all the crypto projects in the market.
Also, the token's total supply is 16,000,000, with an 89% circulating supply, equalling 14,228,708 AAVE coins.
ATH and ATL
AAVE hit its All-Time High on May 18, 2021, at $661.69, which is 89.9% higher than its current price ($67.09).
AAVE recorded its All-Time Low on Nov 05, 2020, at $26.02, which is 155.7% lower than its current value ($67.09).
Learning the financial situation of AAVE is only one side of the story. The other side includes its fundamental analysis. Let's see what we mean by the term.
AAVE Fundamental Analysis
The term fundamental analysis refers to AAVE's team, popularity, and investors. Why do we need to know these? Well, knowing the team behind AAVE helps us understand if the developers know their way around the crypto space and if we can expect good work.
Also, the popularity of a project on social media shows how active its community is, which directly impacts a token's future price pumps.
Additionally, the investors behind a project can tell us how strong the project is, i.e., if a crypto project is not backed by strong investors, the possibility of sudden dumps increases, which is a clear red flag. So, let's learn it all about AAVE.
Read more: Dogelon Mars Price Prediction 2023, 2025 And 2030
Team
Co-founder and CEO: Stani Kulechov
Co-founder and COO: Jordan Lazaro Gustave
Chief Finance Officer: Peter Kerr
Full-Stack Blockchain Developer: Emilio Frangella
Senior Software Developer: Daniel Martín Jiménez
Business Development Officer: Irene Fucile
Chief Design Officer: Rowan van Ginkel
Popularity
Popularity charts made by Cryptologist indicate that in the recent year, AAVE has gained popularity over social media as its Twitter account's growth rate is 32%. Also, its accounts on Reddit and Telegram have seen a growth rate of 10% and 12%, respectively. However, during the recent six months, Aave's Telegram channel has shown a negative growth rate (-3%).
Investors
AAVE is backed by the following investors.
Blockchain Capital
Standard Crypto
Blockchain.com Ventures
Three Arrows Capital
Framework Ventures
ParaFi Capital
DTC Capital
AAVE Price Prediction 2023 - 2030 At A Glance
After learning the essential basics of the AAVE platform, it's time to check AAVE price prediction. We'll elaborate on the token's annual growth rate in the following sections, but here you can take a glance at AAVE price prediction from 2023 to 2030.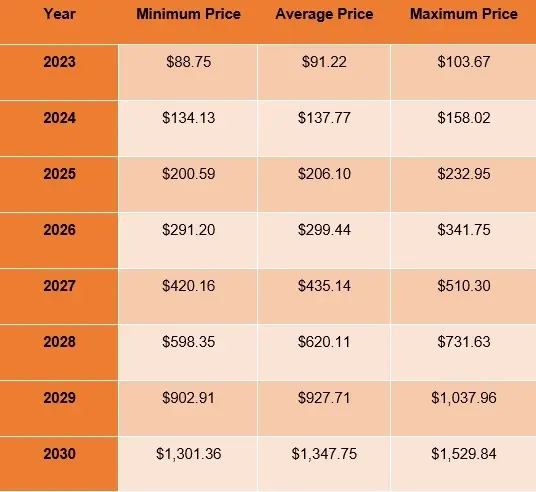 AAVE Price Prediction 2023
AAVE price prediction 2023 indicates that the token's minimum price is expected to have a 32% growth by the end of 2023, reaching $88.75. Aave's average and maximum prices are predicted to increase by about 36% and 54%, respectively.
AAVE Price Prediction 2024
AAVE price prediction 2024 shows that the token can see a 100% increase in its minimum price. Reaching $137.77 and 158.02 in 2024, AAVE's average and maximum values can increase by over 105% and 135%, respectively.
AAVE Price Prediction 2025
AAVE price prediction 2025 expects to experience a roughly 200% increase in AAVE token's minimum price. Its average and maximum price levels can see growth rates of about 207% and 247% during 2025, hitting $206.10 and $232.95, respectively.
AAVE Price Prediction 2030
AAVE price prediction 2030 expects exponential growth in the token's price. Its minimum value is expected to grow by over 1800%. Its average trading price has the potential to grow by over 1900% reaching $1347.75. Optimistically predicting the AAVE Coin's price in 2030, we can expect a 2180% growth.
Is AAVE Coin A Good Investment?
AAVE is currently traded at a good price of $67.09, with a liquidity score of 64% in the current bear market. Its popularity is increasing over social media platforms, and the number of its transactions is on the rise.
As the above price predictions indicate, AAVE has the potential to grow even more in the coming years, meaning that AAVE can be a lucrative investment in the long term.
In addition to that, providing the staking option can make AAVE an ideal choice for those who wish to earn some dollars while waiting for the token's golden years to come.
FAQ
If there are still unanswered questions on your mind about AAVE price prediction, check out the following Q&As.
Is It Safe To Use AAVE?
Yes, AAVE seems to be a safe platform with its efficient lending and borrowing processes. Also, it recurrently appears on many lists of recommended tokens.
Can Aave Reach $1000?
Yes, some predictions expect AAVE to reach $1000 by 2029.
How Much Will Aave Be Worth In 2030?
AAVE price prediction 2030 shows that the token is expected to be worth about 1347.75$ on average.
How do you rate this post?