DYDX Price Prediction 2025 and 2030: Is DYDX A Good Investment?
#dydx
#gem
#news
#defi
#decentralized
tl;dr
What does a crypto investor want from a cryptocurrency exchange other than low fees, fast transactions, security, and ease of use? That's all dYdX offers but plus more! This article walks you through the main features of the dYdX platform and focuses on DYDX price prediction 2025 and 2030. Buckle up, and let's have a read!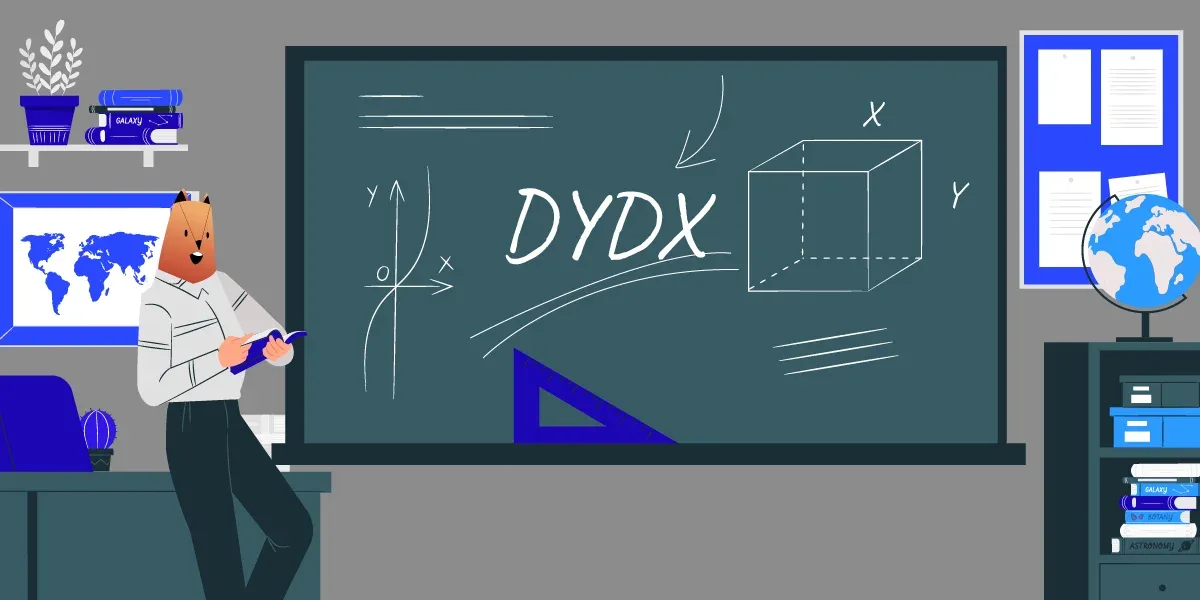 How do you rate this post?
What Is DYDX?
Before elaborating on the DYDX price prediction 2025 and 2030, we need to see what dYdX is. dYdX is a decentralised exchange platform combining high-tech financial tools with decentralisation to support margin trading of plus 35 popular cryptocurrencies, including BTC, ETH, DOGE and ADA.
The volume of dYdX crypto margin trading products is more than the Ethereum blockchain. dYdX has recently moved to layer 2 to provide:
Low Fees, No Gas Costs
Fast Withdrawals
Security and Privacy
Instant Trade Execution
Cross-margining.
What Is DYDX Token?
DYDX is the governance token of the dYdX platform, which is a layer 2 protocol and a non-custodial DEX (Decentralised Exchange). The token is to streamline executing layer 2 and let traders, liquidity providers and partners participate in shaping the platform's future as a community.
Price History
You may wonder how price predictions work. Well, one of the criteria helping make a reliable DYDX price prediction 2025 is going through its price history to learn when and how its price has changed.
DYDX started trading on Sep 9, 2021, at $12.61, with a trading volume of $366,745,750.
At the end of the same month, on Sep 30, 2021, DYDX experienced a significant rise and hit its All-Time High of $27.86.
Since its ATH, DYDX started a downtrend until it reached its All-Time Low price at $1.01 on Jun 18, 2022.
Currently, on Dec 08, 2022, each DYDX token is traded at around $1.59.
The following chart visualises DYDX's price changes since its launch.
DYDX Token Financial Analysis
DYDX Token financial analysis indicates that the token is currently held in over 31,000 cryptocurrency wallets, recording a total of about 378,361 transactions. Let's elaborate on its key metrics and see how the token has done financially.
DYDX Tokenomics
DYDX token is allocated as the following pie chart depicts.
Employees and Consultants - 17.27%
Liquidity Provider Rewards - 7.5%
Future Employees and Consultants - 5%
Safety Staking Pool - 2.5%
Liquidity Staking Pool - 2.5%
ROI
Financial data from Cryptologist indicate that the DYDX token has had the following Return on Investment (ROI) percentages in different time frames.
Annual: -81.76%
Monthly: -7.27%
Weekly: -8.4%
24hrs: -1.55%
During the same year that DYDX reached an ROI of -81.76%, similar projects yielded an ROI of 1,958%, and the Return on Investment in the crypto market, in general, has been 1,203%.
Market Cap
DYDX currently holds the market cap rank #132, with a market cap of $231,716,962. Its circulating supply is 139,752,668 DYDX tokens, i.e., 14%, with a 1,000,000,000 maximum and total supply.
The current liquidity score of DYDX is 56%, which is not significantly higher than the market average, making the token a hard sell in bearish markets.
ATH and ATL
DYDX hit its All-Time-High on Sep 30, 2021, at $27.85. Its current price is 94.1% lower than its ATH, but it is 62.5% higher than its ATL, which happened on Jun 18, 2022, at $1.01.
DYDX Token Token Fundamental Analysis
We mentioned price history as one of the key factors affecting DYDX price prediction 2025. Another critical factor is the token's fundamental analysis, which includes the development team, the popularity of the project on social media platforms and the project investors. It's all covered in the following sections.
Team
DYDX has the following team members on board. To know more about each member, you can check the DYDX team analysis to get their social media accounts.
Founder: Antonio Juliano
Head of Business Development: Vijay Chetty
Software Engineer: Bryce Neal, Brendan Chou
Senior Growth Associate: Corey Miller
Growth Lead: David Gogel
Head Of Operations: Zhuoxun Yin
Popularity
Effective marketing strategies to create optimal brand awareness and online presence positively impact a crypto project's success. According to DYDX social media analyses, DYDX has experienced a 79% growth on Twitter in the recent six months. Its growth on Reddit and Telegram during the same period has been 11% and 0%, respectively.
Investors
DYDX is backed by various investors, which is a good sign indicating the project is not left alone, which in turn decreases the possibility of scams. The more reputable investors a project has, the more reliable it will be. The following list shows the DYDX top investors. To learn more about them and check their accounts on social media platforms, look at Cryptologist's DYDX investor analysis section.
Andreessen Horowitz
Menai Financial Group
CMS Holdings
Kronos Research
QCP Capital
Paradigm
Finlink Capital
DYDX Token Price Prediction 2023
Crypto experts predict a minimum value of $2.63 for each DYDX token in 2023. They also believe that the token's price can reach a maximum of $3.17, with an average trading price of $2.70.
DYDX Token Price Prediction 2024
The price action analyses of dYdX indicate that in 2024, each DYDX token can be traded at an average price of $4.04. The minimum and maximum trading values of DYDX are predicted to revolve around $3.94 and $4.52, respectively.
DYDX Token Price Prediction 2025
DYDX price prediction 2025 shows that the price of dYdX can reach an average value of $6.11. Crypto experts expect each DYDX token to fall to a minimum price of $5.91 and rise to a maximum of $6.75 in 2025.
DYDX Token Price Prediction 2030
The present performance of DYDX and its financial analyses indicate that the token can reach $37.04 at a minimum. However, the DYDX price can reach $42.44 at a maximum, with an average trading price of $38.04. The following table depicts the DYDX price prediction 2025 and beyond.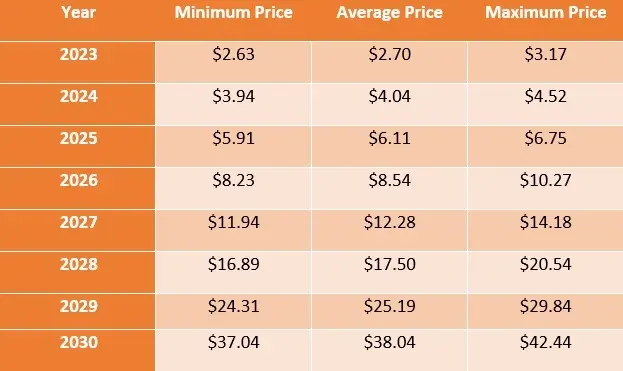 Is DYDX A Good Investment?
The recent downtrends in DYDX price make it a good buy only for those who can wait a good time for a significant return. A project with this market cap rank, popularity and such inventors has the potential to pump in the next bull run.
However, DYDX cannot be a good option for day traders and those who wish to make good money quickly.
Summary
Every crypto project has its story, ups and downs, and unique features. It may seem confusing and next to impossible to choose some among the hundred crypto platforms out there.
To make the best and most confident investment decision in a volatile crypto market, you need to be equipped with the best tools.
Cryptologist is an all-in-one platform to provide you with everything you need to have a profitable investment in cryptocurrencies. Check the Cryptologist website to find all you need.
FAQ
The following sections answer the most frequently asked questions about DYDX.
Is dYdX Exchange Legit?
Yes, dYdX is legit to a good extent, mostly because of being secured by the Ethereum blockchain and being decentralised. It means that your funds are kept in smart contracts, not any random exchange.
Does dYdX Have A Future?
According to DYDX price prediction 2025, the token's price can surge in the upcoming years and reach a maximum value of $6.75 in 2025 and $42.44 in 2030.
Why Is dYdX So Popular?
One of the main reasons for dYdX popularity is its migration to layer 2 to provide fast, seamless and inexpensive transactions. Layer 2 dYdX enables crypto users to do perpetual contract trading for various digital assets.
How do you rate this post?