UFO Price Prediction 2023, 2025 and 2030: Is UFO A Good Investment?
tl;dr
No stress, no worries, no giant competitors, and no loss on UFO because even if you lose, you're still a winner! UFO is a magical place where you can chill, play your favourite game, and earn while you don't have to be the best to win. Keep reading to learn all about UFO price prediction 2023, 2025, and 2030 to decide if UFO is a good investment.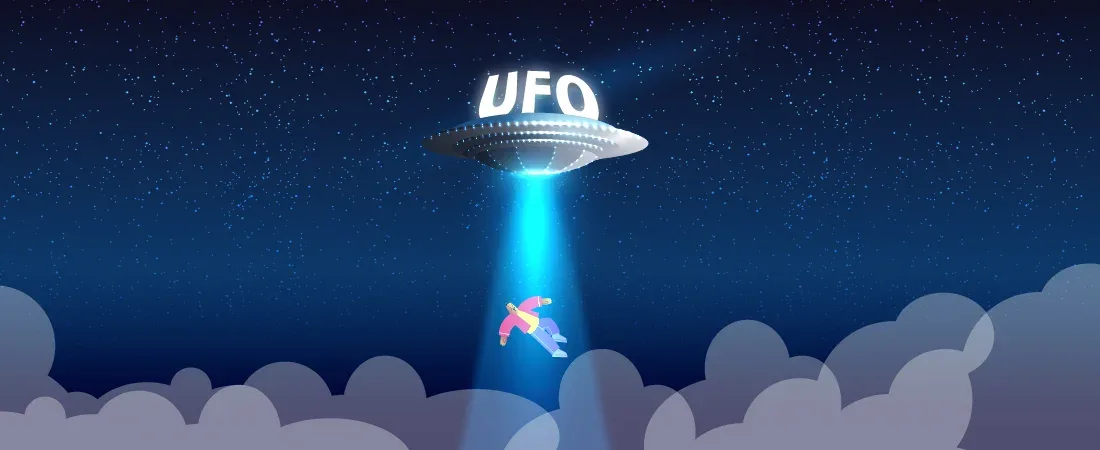 How do you rate this post?
What Is UFO Gaming (UFO)?
To learn about UFO price prediction from 2023 to 2030, we first need to understand what UFO is. UFO Gaming is a fully decentralised gaming platform that bridges the gaming industry and blockchain technology.
It allows users to earn while offering them a diversified range of Play-to-Earn (P2E) games, DeFi services and NFTs all in one place. The primary token of the UFO Gaming platform is called UFO, and we'll know more about UFO price prediction 2023, 2025, and 2030 following section.
What Is UFO Token?
UFO, the primary token in the UFO Gaming ecosystem, is an ERC-20, connecting everything all over the ecosystem. It can be used to purchase in-game assets and conduct transactions within the Metaverse.
For instance, players need to stake UFO tokens to play Super Galactic, the first game in the ecosystem. This token has experienced some surprising statistics since its launch. So, to make a reliable UFO Price Prediction 2023, we need to check out its price history below.
If you're interested in Metaverse and Gaming projects, take a look at the details of What Is the Metaverse? A Mind-Blowing Revolution! and Top Metaverse Projects by Market Cap in 2022!.
UFO Price History
UFO Gaming's native token, UFO, is the #469th largest cryptocurrency by market cap.
The initial trade with UFO occurred on Jun 30, 2021, at $0.000000006.
Twenty days after its launch, on Jul 20, 2021, the token touched its lowest value (ATL) at $0.000000350110.
It saw its first peak after ATL on Nov 20, 2021, when its value went from $0.0000003501 to $0.000029.
Six days after its first peak, the token was traded at its highest value (ATH) of $0.00005569 on Nov 26, 2021.
Now, on Dec 19, 2021, each UFO token is traded at $0.0000011.
The following price chart illustrates the UFO's price changes over the last year. Take a close look at it as the next section will elaborate on UFO's financial analysis
UFO Financial Analysis
The UFO token has a current Liquidity Score of %33, which is lower than the market's average, making it a hard sell in the current bear market. The token comes with a circulation supply and a total supply of 25,757,575,757,575. It is being held in 66,360 wallets, recording a total of 398,090 transactions.
In addition to the above factors, UFO's ROI, Market Cap, ATH and ATL affect the UFO price prediction 2023, 2025. However, when it comes to putting together all these financial data about crypto projects and making a conclusion, most people are bored out of their minds!
But don't worry! We'll walk you through all this information to learn how UFO is doing financially in a digestible way.
UFO ROI
In cryptocurrency and blockchain, ROI (Return on Investment) shows your investment's profit or loss in various time frames.
Financial data from Cryptologist indicates that the value of UFO has decreased by %93 over the past year while its similar projects have shown a %2,814 growth at the same time.
Considering UFO's ROI in the last month, we are witnessing that the token has seen a -14.45% drop in its value.
UFO's value has dropped by 13.27% during the recent week.
UFO has also seen a 1.63% drop in its price during the past 24 hours.
UFO Market Cap
Market cap is among the most critical factors when financially analysing crypto projects. At the time of writing this article, on Dec 19, 2022, the live market cap of the UFO token is $30,254,519.
UFO ATH And ATL
UFO token recorded its All-Time Low during the first days of its launch on Jun 20, 2021, when each UFO token was worth about $0.000000350110.
18 months after recording its ATL, on Sep 22, 2021, UFO's price spiked from $0.000002773 to its All-Time High of $0.00005592 on Nov 25, 2021.
The current value of each UFO (on Dec 19, 2022) is 97% lower than its All-Time High and 284.9% higher than its All-Time Low.
Now that we've got a clear picture of what UFO is and how its token has performed financially, let's see where the project comes from, who has created it and how popular it is.
UFO Fundamental Analysis
UFO price prediction 2023, 2025, and 2030 can be influenced by the team behind the UFO Gaming platform and how much the project has gained attention throughout social media. Let's elaborate on each one below.
UFO Gaming Team Members
Some of the UFO Gaming team members are listed below.
Advisor: Tigran Smith
Game Designer: Edward Whitaker
Project Manager: Alexander Savkin
Popularity
The more a crypto project gains popularity, the more it has the potential to grow, especially if it's backed by an active and supportive community.
UFO's popularity on Twitter has grown exponentially over the last six months, surpassing 145k followers when writing this article on Dec 19, 2022. Moreover, UFO's Telegram channel users increased by 89% during the same period.
The UFO Token Price Prediction 2023 - 2030
We have summarised each UFO token's minimum, average, and maximum prices for the coming years in the following table. The details and growth percentages for each year are provided below the table.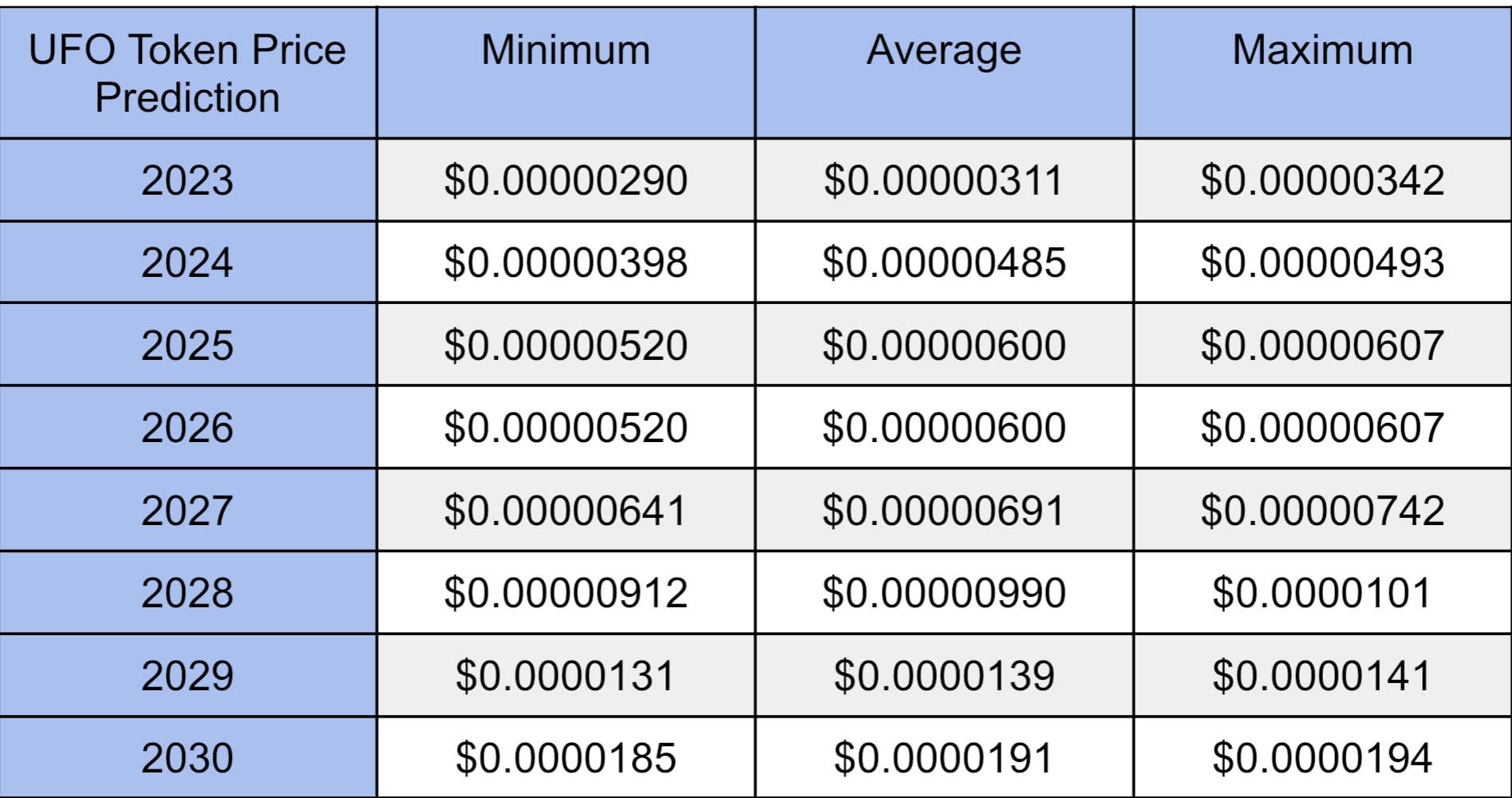 UFO Token Price Prediction 2023
According to the UFO price prediction 2023, the token's average price has a chance to grow by about 182%, reaching $0.0000031. Its minimum price can see a 163% growth, amounting to $0.0000029, while its maximum value can have a 210% growth, climbing to $0.0000034 in 2023.
UFO Token Price Prediction 2024
According to the latest UFO price prediction 2024, the average value of each UFO token will increase by about 340%. Its minimum and maximum price can grow by about 261% and 348%, respectively.
UFO Token Price Prediction 2025
2025 is considered a crucial year for UFO token price prediction. Crypto and financial experts believe that the UFO token can reach new highs in terms of ATH and Market Cap.
UFO token price prediction 2025 suggests that UFO's price will grow by about 445%. It's predicted that each UFO token's minimum and maximum value can increase by about 372% and 451% in 2025, respectively.
UFO Token Price Prediction 2030
UFO token price prediction 2030 indicates that the average price of each UFO token can grow by about 1636%. It is also possible that the minimum and maximum values of the UFO token rise by 1581% and 1663%, respectively.
Why Is The UFO Price Going Down?
The entire crypto market is seeing its worst days, and the bear market is not over. Most of the cryptocurrencies, even the largest one, Bitcoin, have faced tremendous downtrends, and so does the UFO token.
So far, we have learnt about the whole project and its future. Now let's reach a conclusion and answer, "Is UFO a good investment?".
Is UFO A Good Investment?
When it comes to investing in crypto assets, various factors indicate a project's success or failure, like tokenomics, popularity, a detailed whitepaper and roadmap, the team behind the project, investors, etc.
The token rose to fame in the first months of its journey and gained eye-catching popularity on Twitter and Telegram.
UFO's founder is unknown, and the lack of a whitepaper and solid roadmap can concern the inventors.
Regarding finance, if you had invested $100 in the UFO token, you would have only $7 after one year. Moreover, having a liquidity score of %33 doesn't make a project an easy sell, especially during the bear market!
Summary
That's all about UFO Gaming and UFO price prediction 2023, 2025. Note that the articles on Cryptologistst are not meant to offer financial advice. Instead, they inform you about the details of the top 1500 projects. The analytical reports and unique tools help you become an educated investor who does his own research and makes confident crypto decisions.
FAQ
The following Q&As help you get a clear picture of UFO price predictions in 2023 and 2025 and see if UFO is a good investment.
How High Will UFO Gaming Go?
Crypto experts and analysts believe that the Value of UFO tokens could reach a minimum level of $0.0000052, an average price of $0.00000602, and a maximum of $0.00000609 in 2025.
Should You Invest In UFO Gaming?
Since the UFO token hasn't performed well financially so far and due to the current high market volatility, the token couldn't be considered a promising short-term investment.
How Much Is UFO Coin Worth?
At the time of writing this article, on Dec 19, 2022, each UFO coin is worth $0.0000011, with a circulation supply of 25,757,575,757,575 coins.
Is UFO Gaming On Binance?
No, the UFO Gaming platform and the UFO token have not been listed on Binance yet.
What Is UFO Gaming Market Cap?
The current market cap of UFO Gaming is $30,254,3519 on Dec 19, 2022.
How do you rate this post?