Shiba Inu Price Prediction 2025: Will Shiba Inu Reach 1 Cent?
#blockchain
#dex
#shib
#metaverse
tl;dr
Here, we will analyse the Shiba Inu price prediction for 2025 and check if the Shiba price prediction is promising for the coming years and if Shiba Inu will reach 1 cent by 2025. Shiba Inu is one of the fastest-growing meme tokens released in August 2020. This decentralised ERC-20 token was created to provide an environment fully managed by its users.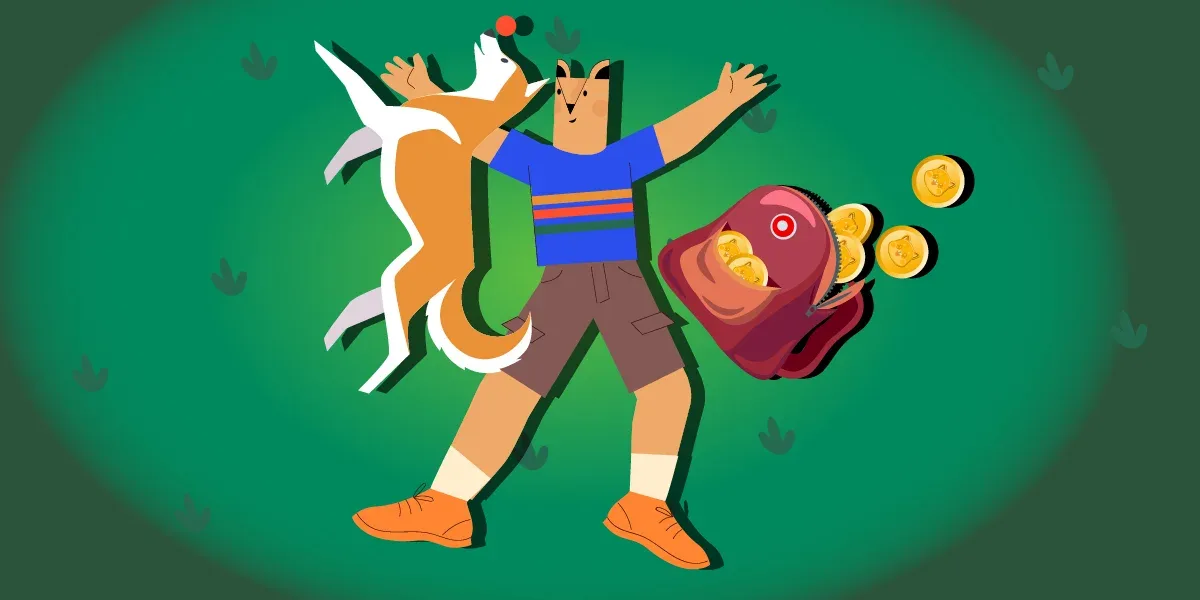 How do you rate this post?
What Is Shiba Inu?
Shiba Inu is an Ethereum ERC-20 token created by Ryoshi, an unknown individual. The coin is a decentralised meme token developing into a thriving ecosystem.
Shiba Inu was created in August 2020 to answer a simple question: "What would happen if a cryptocurrency project was entirely managed by its users?" Supporting decentralisation, Ryoshi believes that
"... through the power of collective decentralisation, we can build something stronger than a centralised team ever could create. A community-run token is nothing without the united individuals who give it purpose." In this post we will analyse the Shiba Inu price prediction 2025 and 2030.
What Is ShibaSwap?
ShibaSwap is the next generation in DeFi platforms, combining SHIB, LEASH, and BONE. ShibaSwap's complex and novel passive income incentive system allows users to DIG (provide liquidity), BURY (stake), and SWAP tokens to earn WOOF Returns.
CertiK, a business that offers security audits for smart contracts, dApps, blockchain protocols, and more, is developing the code for ShibaSwap, a decentralised trading platform.
The ShibArmy may also use this platform to access new NFTs and other tools, such as portfolio trackers, to make navigating the crypto world easier.
Read more: Last Update On Shibarium Release Date! What Is Shibarium Blockchain?
What Is SHIB Token?
The SHIB token is the platform's foundational currency that lets investors hold as much of it as they wish in their wallets. SHIB is expanding its reach thanks to the community members known as Shib Army.
SHIB is the first token listed and incentivised on the platform's DEX, ShibaSwap. Plus SHIB, the Shiba Inu platform enjoys two other tokens, i.e., LEASH and BONE.
LEASH
LEASH was initially designed to be a rebase token and was allowed to reach its full potential. It represents the other extreme of the ecosystem spectrum, with a total supply of 107,646 tokens.
LEASH is the second token to be incentivised on ShibaSwap, and its holders will be rewarded lucratively for providing liquidity.
Read more: XNO crypto price prediction 2025 and 2030, Is NANO a good investment?
BONE
BONE has a circulating supply of 250,000,000 tokens and is designed to fit perfectly between the previous two tokens in terms of supply. Furthermore, the token is a governance token, allowing the ShibArmy to vote on Doggy DAO proposals.
Shiba Inu Price History
Shiba Inu's price was around $0.000000000972241 on its starting days on Aug 01, 2020. Its first peak happened on May 11, 2021, at $0.00003532. Its price fluctuation continued the downward trend and reached $0.00000694 on Sep 28, 2021. Then, its upward trend started.
Today, on Nov 15, 2022, each SHIB token is traded at $0.000009197080, with a 24-hour trading volume of $216,140,711. In the previous 24 hours, Shiba Inu's price has been down by 0.9%.
Its circulating supply is 590 Trillion SHIB coins, with a total supply of 1 Quadrillion. The following chart depicts the SHIB token price in the recent year. Next, we will discuss about the Shiba price prediction 2025 and 2030.
Read more: Firo Price Prediction 2023, 2025, 2030: Is Firo (Zcoin) A Good Investment?
SHIB Tokenomics
SHIB tokens run on the Ethereum blockchain and have shifted from PoW to PoS. Shiba Inu was the first crypto project to mint 1 Quadrillion tokens. It also burned 50% of the SHIB tokens to Vitalik Buterin's wallet.
The platform has two concepts called "burying" and "digging", which work for all three tokens, i.e, SHIB, LEASH, and BONE. The following images show burying and digging SHIB. Shiba Inu's token allocation is displayed in the following pie chart.
Shiba Inu (SHIB) Token Allocation
Shiba Coin Financial Analysis
Shiba Inu, with the symbol SHIB, is a cryptocurrency project or a kind of crypto asset holding the current market cap rank #15 and a live market cap of $6,125,216,543.
Shiba Inu has a Circulating Supply of about 589,367,170,760,186.6 and a Total Supply of undefined. Today, the Shiba Inu price is $0.0000093 with a 24hr trading volume of $531,944,518.06, indicating a -1.85% decrease in SHIB price.
The current price of Shiba Inu is 87.93% lower than its All-Time High of $0.00008616 on 28 Oct.
Currently, the SHIB token's annual Return on Investment (ROI) is -83%, meaning that if you had invested $100 in SHIB a year ago, you would have $17 left.
Despite Shiba's negative growth in ROI, its similar projects and the crypto market generally had a 1,267% and 877% growth in ROI during the same period.
Read more: EverGrow Coin Price Prediction 2023, 2025 and 2030: Is EGC A Good Investment?
Market Cap
Shiba Inu has a circulating supply of 590 Trillion SHIB coins, with a total supply of 1 Quadrillion. Shiba Inu's financial analysis indicates that its market cap is $5,426,210,110, with a market cap rank of #14 among all crypto projects.
Its current Liquidity Score is 70%, making it a relatively easy sell in bearish markets.
SHIB Token ATH and ATL
Today, on Nov 16, 2022, the SHIB token's price is $0.000009351210, which is 89.1% lower than its All-Time High of $0.00008616 on Oct 28, 2021. Its current price is 16694127.0% higher than its All-Time Low of $0.000000000056366 on Nov 28, 2020.
Shiba Inu (SHIB) Token Fundamental Analysis
Shiba Inu is a decentralized cryptocurrency created to bring the power and ease of use of cryptocurrencies to everyone.
The team has worked hard to ensure the coin is secure and stable, by implementing features such as 2-factor authentication and multi-signature wallets.
With its simple design and easy-to-use interface, Shiba Inu is an ideal choice for both experienced cryptocurrency users and those new to the world of digital assets.
The potential growth of the coin should be considered when deciding the price at which to buy it. Those looking for a long-term investment are strongly recommended to look into Shiba Inu's future prospects before making any decisions.
SHIB token aims to be an Ethereum-compatible alternative to Dogecoin (DOGE). Also, The Shiba Inu ecosystem supports projects like the Shibaswap, the NFT art incubator, and a decentralised exchange.
Let's see who the team members behind it are and how popular it is.
Team
Shiba Inu's team is comprised of Ryoshi, an unknown individual, who came up with the idea of Shiba Inu with the help of an anonymous friend.
Ryoshi claims that he is a nobody and that any attempts to reveal his true identity, even if successful, would be disappointing.
Besides Ryoshi, Navdeep Garg and John Chong are helping the platform as the Product Specialist and Media Marketing Manager, respectively.
Popularity
Shiba Inu's popularity charts indicate that its Shib Army community has been supporting the platform as Shiba's Twitter account has seen 8% growth in the recent six months.
During the same period, Shiba's Reddit experienced 1% growth, but its performance on Telegram hasn't been satisfactory as it's resulted in a -6% in the previous six months.
Why Is LEASH More Expensive Than SHIB and BONE?
LEASH is no longer a rebase token and has a maximum supply of only 107,000 tokens, which explains its high value. LEASH is a Proof-of-Stake token that may be staked for more BONE. Liquidity providers for ETH-LEASH pair will earn 0.1% of all Wrapped BTC and USDC swap transactions.
Why Is Shiba Inu Coin So Popular?
Shiba Inu Coin is primarily popular for two reasons:
Tesla founder Elon Musk once tweeted about his desire to purchase a Shiba Inu dog, which fueled the crypto market, causing SHIB prices to skyrocket by 300%.
Its value plummeted by 40% after Vitalik Buterin, the founder of the Ethereum Blockchain Network, gave 50 trillion Shiba Inu Coins to India's Covid Relief Fund, which is run by Indian crypto entrepreneur Sandeep Naiwal.
Read more: Brise Price Prediction 2025 and 2030: Is Bitgert A Good Investment?
Around Shiba, there are two particularly noteworthy developments. To begin with, it declared that it will join the Metaverse realm in 2022 with the debut of "Shiberse."
A Metaverse is a virtual reality environment that allows users to communicate with one another. Non-Fungible Tokens (NFTs) have also grown in popularity in the crypto world. Shiba produced 10,000 digitalised "lovable critters" for sale in October.
Shiba Inu Pros
High potential for growth: Shiba Inu coin has gained popularity due to its similarity to Dogecoin and has seen massive price surges in the past. This suggests there is potential for it to increase in value significantly in the future.
Wide availability: Shiba Inu coin is available on many popular cryptocurrency exchanges, making it easily accessible to investors and traders.
Active community: Shiba Inu coin has a large and active community of supporters who are enthusiastic about the coin's potential.
Unique features: Shiba Inu coin has unique features such as its "woofpaper" and "ShibaSwap" decentralized exchange that set it apart from other cryptocurrencies.
Shiba Inu Cons
Unproven track record: Shiba Inu coin is a relatively new cryptocurrency, and its long-term viability and success are uncertain.
High volatility: Like many cryptocurrencies, Shiba Inu coin is highly volatile, and its value can fluctuate rapidly, making it a risky investment.
Lack of a clear use case: It is not entirely clear what Shiba Inu coin is used for, and its value is mostly driven by speculation and hype.
Potential for scams: The popularity of Shiba Inu coin has attracted scammers who create fake tokens and exchanges to exploit unsuspecting investors. As such, investors should be cautious and do their due diligence before investing in any cryptocurrency, including Shiba Inu coin.
Shiba Inu Price Prediction 2022
Crypto experts believe that by the end of 2022, SHIB tokens' average price will revolve around $0.00001136. If the market remains steady and no sudden changes occur, the maximum price of Shiba Inu could reach $0.00001188.
Shiba Inu Price Prediction 2023
Shiba Inu price analyses indicate that by 2023, each SHIB token can reach a maximum price of $0.00001905 if 2023 comes with a bull run. The average trading price of Shiba Inu is expected to reach $0.00001603 for 2023.
Shiba Inu Price Prediction 2024
2024 can be the time for Shiba Inu's price to cross $0.00002696 if the bulls take over the crypto market. Since the SHIB tokens are expected to be held by long-term Shib Army investors, their average price for 2024 will revolve around $0.00002240.
Shiba Inu Price Prediction 2025
The price of Shiba Inu coin (SHIB) is expected to remain relatively stable into 2025, trading at an average price of $0.000048 according to technical cryptocurrency analysis.
The expected minimum price for 2025 is about $0.0000367663, and the maximum is $0.0000429257, with a median of $0.0000377762.
If market conditions continue upward, SHIB could reach a high of $0.000053 by 2025.
As 2025 is predicted to be an important year for the SHIB token, we've elaborated on its price prediction all year long in the following table.
Shiba Inu Price Prediction 2030
Shiba Inu coin (SHIB) is expected to be green over the next five years. Analysts project that the cryptocurrency's value is projected to reach and surpass its all-time high in 2026, with its price estimated at $0.000068.
By 2027, SHIB's price could cross an average of $0.000079, with a minimum level of $0.000076 before the end of that year. Additionally, in 2028 SHIB has the potential to break a resistant level and reach a maximum price of $0.000098 - otherwise, it will have a low at $0.000091 if total support isn't obtained by then.
Consequently, by 2030 Shiba Inu is predicted to reach a yearly close above $0.000113 with prices ranging between a minimum of $0.000121 and a maximum of$0.000128 on average at about$ 0.000124
The following table shows Shiba Inu's price prediction from 2022 to 2031.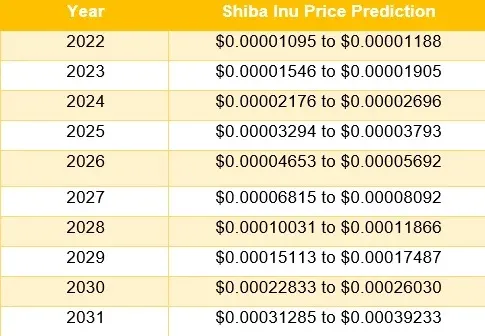 Is Shiba Inu (SHIB) a Scam?
No one can make sure a crypto project is not a scam. Some even believe that Bitcoin, the shining beacon of hope in the cryptosphere is not scam-proof!
Having said that, Shiba Inu is currently standing on the market cap rank #14, and with its Shib Army community, a 70% Liquidity Score, and a solid whitepaper, it doesn't look like a scam project.
Should I Invest In SHIB?
It is a question that only you can answer after considering your financial situation and preferences. However, many crypto experts and analysts believe SHIB has huge growth potential and investing in Shiba Inu Coin can be one of the best financial decisions you could ever make.
Despite this attitude, some characterise Shiba Inu as a "meme coin" and a pump-and-dump scheme. Also, the fact that the SHIB coins are kept in a single wallet and retail investors are motivated by FOMO concerns some users.
Summary
One of the reasons for experts' interest in Shiba Inu is its growing fanbase. SHIB is a favourite subject of discussion in international chat rooms, among social media influencers and meme-makers. The Shib Army consists of various groups of people, and it is one reason for the crypto's success potential.
At Cryptologi.st, we make it easier for you to make confident financial decisions by facilitating the process of comparing thousands of coins. We take care of all the hard work for you and deliver the most up-to-date coin reviews and news right at your fingertips!
FAQ
We have covered almost everything about Shiba Inu, but in case you have further questions, here you can check our answers to the most frequently asked questions about Shiba Inu.
Will Shiba Inu Reach 1 Cent?
If Shiba Inu should reach 1 cent, its market cap needs to be around $5.5 trillion, which is almost as much as the total US budget for the year 2022! So, it's highly unlikely that Shiba Inu's price can reach 1 cent, especially in the current bear market situation.
Why Is Shiba So Cheap?
For one thing, Shiba Inu is a relatively new project with a huge supply of 1 Quadrillion SHIB tokens and low demand.
Is It Too Late To Buy Shiba Coin?
No, it is not too late to invest in SHIB tokens. Actually, it has the potential to be a better long-term investment than many other crypto projects out there.
How do you rate this post?