Is Shiba Inu a Good Investment in 2022?
tl;dr
Shiba Inu is a decentralised cryptocurrency created in August 2020. This ERC-20 token was created to provide an environment fully managed by its users. Raising the praise of well-known figures, Shiba Inu has an active user base known as Shib Army! With an annual ROI of 354,015% and a value of $17.9 billion, Shiba Inu is doing fine financially. Siba Inu ecosystem is made up of three tokens, Shiba Inu (SHIB), Leash (LEASH), and Bone (BONE). As this vibrant ecosystem puts a step in the NFT and Metaverse world, learning more about it is a must!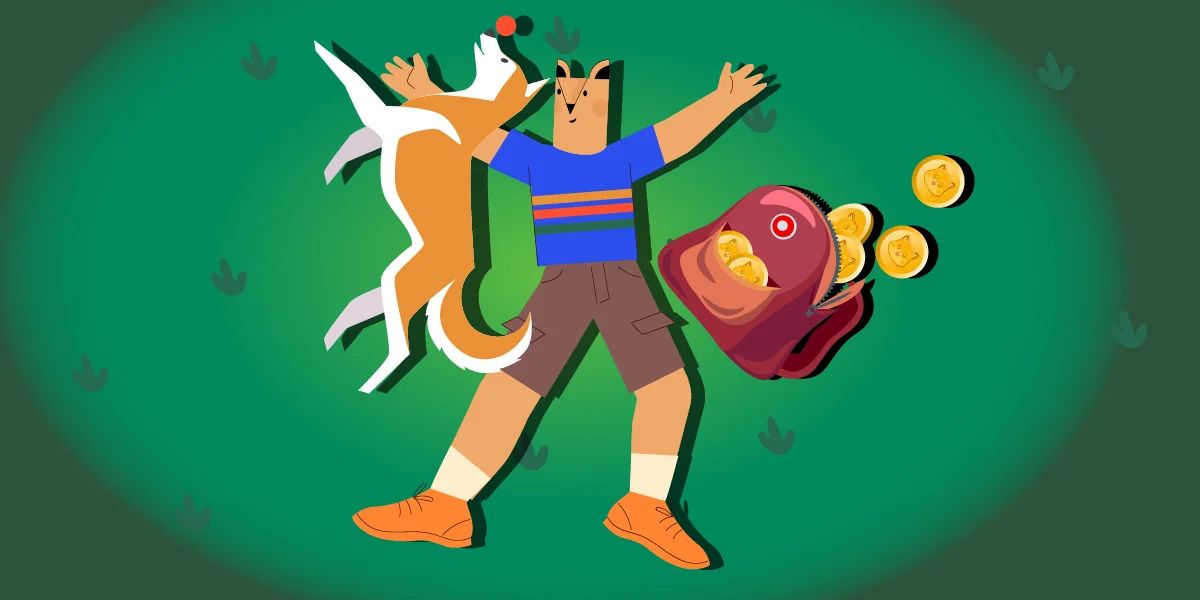 How do you rate this post?
How Has Shiba Inu Been Developed?
Shiba Inu is an Ethereum ERC-20 token created by Ryoshi, an unknown individual. According to the Shiba Inu website, the coin is a decentralised meme token developing into a thriving ecosystem. Shiba Inu was created in August 2020 to answer a simple question: What would happen if a cryptocurrency project was entirely managed by its users?
Who Is Behind Shiba Inu?
Ryoshi, with the help of an anonymous friend, came up with the idea of Shiba Inu. Ryoshi claims that he is a nobody and that any attempts to reveal his true identity, even if successful, would be disappointing. Shiba Inu was branded as a Dogecoin killer at first, but as explained by Ryoshi in his first Medium post, it is merely "an experiment on community governance and decentralisation".
Dog-themed Cryptocurrencies
Shiba Inu aspires to be Ethereum's answer to Dogecoin's Scrypt-based mining algorithm. Alaska Inu (LAS), JINDO INU (JIND), Baby Dogecoin (BabyDoge), Dogecoin (DOGE), and Alaskan Malamute Token (LASM) are among a swarm of dog-themed cryptocurrencies that include Shiba Inu and the SHIB token.
Why Was SHIB Created?
The Shiba Inu WoofPaper has three reasons why its team created SHIB:
"We started from zero, with zero."
"The brilliant minds behind SHIB had never collaborated before."
"We love Shiba Inu Dogs."
Shiba Inu Is a Multi-Token Ecosystem
Shiba Inu (SHIB), Leash (LEASH), and Bone (BONE) are the three tokens that make up the Shiba Inu ecosystem. The Shiba Inu ecosystem's most significant component is the SHIB token, so let's take a closer look at each one.
SHIB Token
SHIB is a token that aims to be an Ethereum-compatible alternative to Dogecoin (DOGE). SHIB, like DOGE, is designed to be abundant, having a one quadrillion coin initial circulating supply. The Shiba Inu ecosystem also supports projects like the Shibaswap, the NFT art incubator, and a decentralised exchange. The Shiba Inu token is a foundational cryptocurrency that allows investors to store millions, billions, or even trillions of dollars worth of it in their wallets. SHIB has been up thousands of times and is constantly growing its reach due to its international recognition and real utility. SHIB is the first to be listed and incentivised on ShibaSwap.
LEASH
LEASH was initially designed to be a rebase token, but it is not a rebase token anymore and was allowed to reach its full potential. It represents the other extreme of the Ecosystem spectrum, with a total supply of ONLY 107,646 tokens. LEASH is the second token to be incentivised on ShibaSwap, and its holders will be rewarded lucratively for providing liquidity.
BONE
BONE has a circulating supply of 250,000,000 tokens and is designed to fit perfectly between the previous two tokens in terms of supply. Furthermore, the token is a Governance token, allowing the ShibArmy to vote on Doggy DAO proposals.
Why Is Leash More Expensive Than SHIB And BONE?
Leash is no longer a rebase token and has a maximum supply of only 107,000 tokens, which explains its high value. All Leash tokens are in circulation at the time of writing (Feb 14, 2022). The leash is a Proof-of-Stake token that may be staked for more BONE. Liquidity providers for ETH-LEASH pair will earn 0.1% of all Wrapped BTC and USDC swap transactions.
What Is ShibaSwap?
ShibaSwap is the next generation in DeFi platforms, combining SHIB, LEASH, and BONE. ShibaSwap's complex and novel passive income incentive system allows users to DIG (provide liquidity), BURY (stake), and SWAP tokens to earn WOOF Returns. CertiK, a business that offers security audits for smart contracts, dApps, blockchain protocols, and more, is developing the code for ShibaSwap, a decentralised trading platform. The ShibArmy may also use this platform to access new NFTs and other tools, such as portfolio trackers, to make navigating the crypto world easier.
Why Is Shiba Inu Coin So Popular?
Shiba Inu Coin is primarily popular due to two reasons:
Tesla founder Elon Musk once tweeted about his desire to purchase a Shiba Inu dog, which fueled the crypto market, causing its prices to skyrocket by 300 per cent.
Its value plummeted by 40% after Vitalik Buterin, the founder of the Ethereum Blockchain Network, gave 50 trillion Shiba Inu Coins to India's Covid Relief Fund, which is run by Indian crypto entrepreneur Sandeep Naiwal.
How Is SHIB Different from DOGE?
Unlike DOGE, SHIB is compatible with the Ethereum ecosystem, allowing users to create crypto apps like ShibaSwap. The Shiba community intends to deploy an NFT platform and DAO-based governance mechanism for the Shiba ecosystem in the future (dubbed "DoggyDAO"). Despite the popular notion that a meme coin like SHIB is driven exclusively by hype and sentiment, the ShibaSwap ecosystem supports various practical services, like NFTs and a Defi-platform.
Shiba Inu Launches a Metaverse and Has NFTs!
Around Shiba, there are two particularly noteworthy developments. To begin with, it declared that it will join the Metaverse realm in 2022 with the debut of "Shiberse." A Metaverse is a virtual reality environment that allows users to communicate with one another. Learn the secrets of Metaverse. Non-Fungible Tokens (NFTs) have also grown in popularity in the crypto world. Shiba produced 10,000 digitalised "lovable critters" for sale in October.
Shiba Inu Financial Analysis
SHIB didn't have much value until February 2021, when the price started to rise alongside DOGE. SHIB's price continued rising in March and April and peaked in May after being listed on Binance. Even though 50% of all SHIB tokens were burned or donated, this token surprisingly has a market cap of 16 billion dollars.
SHIB's ROI
SHIB's ROI over the past year was 354,015% and has performed magnificently compared to other competing projects in the meme token category. Other similar projects in this category had an ROI of 950% in the same period. Shiba Inu has a liquidity score of 73%, and it sits comfortably at the 14th rank of market capitalisation. With the recent bull market and the following price pump, SHIB experienced a sudden jump in popularity. Its Twitter followers increased 252%, and the Reddit users increased by around 123% in less than a week.
To Wrap It Up
The Shiba Inu coin, or SHIB, is an ERC-20 token that fuels the Shiba ecosystem. As it is the among top 20 coins, it is essential to have more information about it. We at Cryptologi.st make it easier for you to make confident financial decisions by facilitating the process of comparing thousands of coins. We take care of all the hard work for you and deliver the most up-to-date coin reviews and news right at your fingertips!
How do you rate this post?