10 Best Crypto Magazines for 2023 Free and VIP
#blockchain
#cryptomarket
#news
#btc
tl;dr
There are various online and best crypto magazines and blogs to provide a wide range of crypto updates, hot news, educational content and price analyses for cryptocurrency enthusiasts. Before investing in any coins, you need to get your head around the essential facts about them provided in crypto magazines. That is why we have handpicked the best cryptocurrency magazine, VIP and free, among thousands available on the web. Let's take the tour!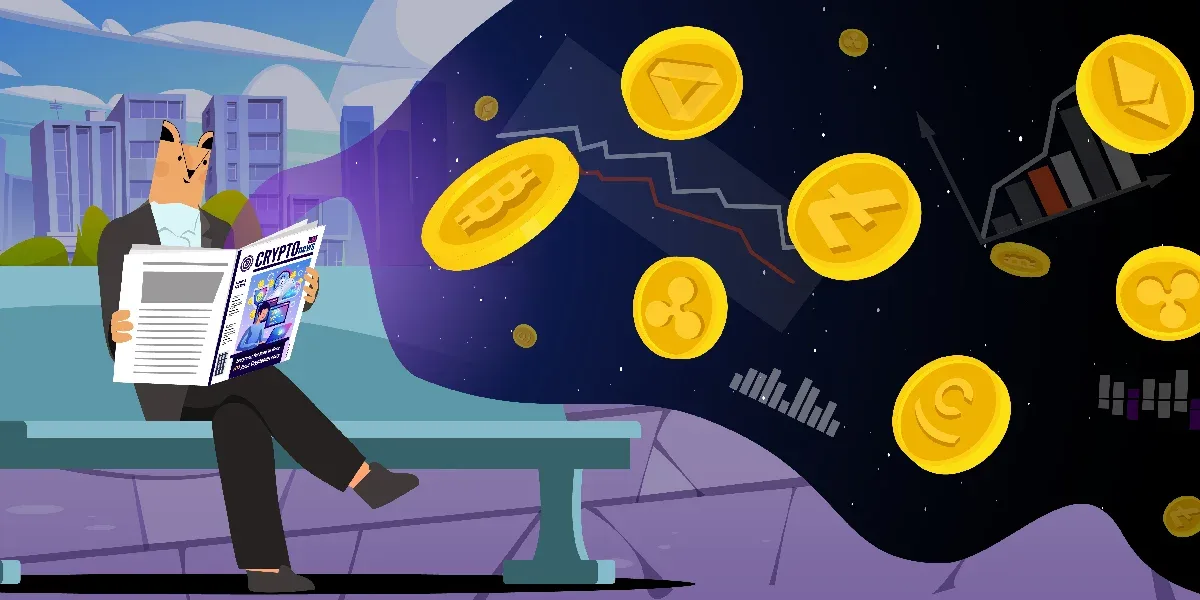 How do you rate this post?
How to Choose The Best Crypto Magazine?
The best cryptocurrency magazine must have some key features as follows.
It should provide authentic information.
Provided data must be reliable and based on research.
It must be up-to-date.
It needs to be quick in publishing the info (news, analyses, etc.)
It should follow the market changes closely.
It must include the vital subjects in crypto.
The writers need to have a good knowledge of crypto.
Free vs VIP Crypto Magazines: Which One Is Better?
The answer to whether free or VIP crypto magazines are better depends on your reasons for using crypto magazines. You need to see what each source offers, consider your needs, and decide if they're enough or need more.
It's no secret that when things get VIP in the crypto news industry - and by VIP, I mean you pay for the premium account or subscribe - you'll receive services not available in the free version. Some of these VIP services are
Specialised analyses,
Educational articles,
Entertaining content,
Trade hacks and tips,
Market info,
Guidelines, etc.
Some magazines even take it one step further and sell crypto-related hardcover magazines and books, NFT art magazines, shirts, hats, hardware, etc.
Read more: Top 10 Next Meme Coins To Explode In 2023: How To Find Them?
List of The Best Free Crypto Magazines
Here's a list of the five best crypto magazines which provide free information. Bear in mind that almost all crypto magazines offer some kind of VIP services, but the following ones provide adequate free services that meet your crypto needs without paying.
Bitcoin Magazine
Blockchain Magazine
Cointelegraph
Cryptologist
Bitcoin Exchange Guide
Bitcoin.com News
Cryptonews
Coin Desk
Let's explore each one in detail and see what they provide for crypto enthusiasts.
Magazine 1: Bitcoin Magazine
Bitcoin Magazine is one of the best crypto magazine that started its journey in 2011, 3 years after the birth of Bitcoin as the world's first online cryptocurrency magazine. It was founded by Mihai Alisie and Vitalik Buterin, the creators of Ethereum.
Bitcoin Magazine is the oldest magazine that provides breaking news, coin analysis, research and educational content about Bitcoin and other cryptocurrencies.
Currently, on Mar 6, 2022, Bitcoin Magazine is owned and published by BTC Media LLC, from its headquarters in Nashville, Tennessee, the media and broadcasting subsidiary of BTC Inc.
Magazine 2: Blockchain Magazine
Blockchain Magazine is the most trusted international platform, not only for investors but also for writers to take their skills to the next level, for researchers to provide the necessary resources, and for startups to jazz up.
It was founded in 2016 by Rohan Kumar and Rohan Randive and started to cover diverse categories of news on blockchain technology, crypto assets, and emerging FinTech trends.
Now on Mar 6, 2022, Blockchain Magazine has over 1 million monthly visitors and delivers highly accurate and up-to-date news from both the decentralised and centralised worlds.
Magazine 3: Cointelegraph
Cointelegraph is one of the most independent digital media resources founded by Toni Lane Casserly. Cointelegraph has come into play to provide the latest news, coins prices, breakthroughs and analysis since 2013.
It covers a wide range of news on blockchain technology. It consists of 3 million unique visitors per month and a total of over 1 million subscribers on different social platforms, including Facebook, Twitter, and Telegram.
If you want to greet digital currency with open arms, Cointelegraph can be one of the top 5 crypto magazines to help you. Top competitors of Cointelegraph include coindesk.com, coingecko.com, newsbtc.com, and coinmarketcap.com.
Read more: 10 Best Coins to Stake in 2023 with The Highest Staking Rewards
Magazine 4: Cryptologist
Cryptologist is one of the best crypto magazine. Cryptologist is a newfound project that has taken steps towards the crypto space since 2021. It was founded by Ashkan Hesaraki and is based in Sydney, Australia.
By providing unique analysis on the top 1500 crypto projects, breaking news, education content and investment blogs, Cryptologist aids users in staying in touch with the crypto world.
Moreover, the crypto screener tool is another useful service at Cryptologist that is essential for anyone engaged in the crypto world. With Cryptologist, you can remove emotion from your decisions and decide on investment options more confidently.
Magazine 5: Bitcoin Exchange Guide
The last magazine on our list is Bitcoin Exchange Guide (B.E.G), one of the fast-growing crypto magazines in the United States. B.E.G was founded to provide unbiased research on crypto and blockchain.
Bitcoin Exchange Guide provides five categories of information, including cryptocurrency news, blockchain, coins, wallets and blockchains. With over 700,000 unique monthly visitors, its purpose is to have the most active Bitcoin-related community.
Bitcoin News is all about Bitcoin, providing news and analytical content, including the crypto market, exchange rates, regulations and money politics. It also covers DIY tips, links to practical tools and reviews all about buying/ selling Bitcoin.
Magazine 7: Cryptonews
Cryptonews is another online crypto magazine to offer up-to-date, breaking crypto news about Bitcoin and all trending altcoins. It also covers educational content about Blockchain, NFTs, and related topics.
Magazine 8: Coin Desk
Coin Desk is a crypto platform covering events, data and indices not only about cryptocurrencies but about the future of money and the next generation of investing. Coin Desk provides content with analyses, videos and price updates concerning:
Cryptocurrency,
Bitcoin and Altcoins,
Blockchain,
DeFi, Web3, etc.
List of The Best VIP Crypto Magazines
Here's a list of the five best crypto magazines which provide free and VIP information. Just remember that almost no crypto magazine is only VIP, and almost all of them offer both free and paid services.
CryptoBriefing
Bitcoin Magazine
The free services they offer are similar to the ones we've already introduced, but in the following, we'll go through their VIP services.
Magazine 1: CryptoBriefing
CryptoBriefing aims to brief its readers with daily crypto updates on Bitcoin, Ethereum, and the future of finance. Crypto Briefing is an attempt to bring blockchain and cryptocurrency into everyday life.
One of the paid services by CryptoBriefig is SIMETRI, a set of research tools comprising investment reports, trade recommendations, and a live trading dashboard. The name and prices of the services are as follows:
SIMETRI Sapphire: $3000 a year, $6000 for a lifetime
SIMETRI Premium: $2000 a year, $5000 for a lifetime
Pro BTC Trader: $360 a year, $39 a month
SIMETRI Radar: $100 per month
Magazine 2: Bitcoin Magazine
Above, we introduced the free services that Bitcoin Magazine offers. Here, let's see what it can provide if we pay some money.
Bitcoin Magazine will send you a hardcover quarterly that's all about Bitcoin, containing:
interviews with leading Bitcoiners
insights on the crypto market status
breaking news and trends
photos and artwork from artists worldwide
Bitcoin Magazine will charge you $52 annually and delivers the quarterly every three months. The magazine will be shipped to your door, nice and easy!
What Is The Best Cryptocurrency Magazine?
The best cryptocurrency magazine is the one that provides up-to-date and authentic information. The crypto magazines we introduced here are the bests in the crypto market.
Nobody wants false or misleading information, especially when it comes to investing in a volatile market like cryptocurrency! To choose the best cryptocurrency magazine, check out the lists provided in this article, weigh your options and choose the one that meets your needs and suits your investment style.
Cryptologist Academy
Cryptologist Academy has been developed to support crypto investors, provide all the info they need in one place, and help them make confident crypto decisions. Cryptologist covers hot crypto news, educational content about blockchain, staking, DeFi, dApps, project analyses, etc. It also creates infographics and short, fascinating animations to educate crypto users.
Summary
The more you know about crypto assets, news and educational content, the more you can take control of your financial future. All the online magazines mentioned here share reliable info, avoid publishing fake news, and help you make better investment decisions. Keep an eye on Cryptologist for more educational articles and hot news.
FAQ
Now that we've learned about the best crypto magazines, it's time to answer the most frequently asked questions.
Is There A Bitcoin Magazine?
Yes, Bitcoin Magazine is the oldest news source about Bitcoin. It covers everything Bitcoin-related. We've introduced it fully above.
What Is The Most Profitable Crypto Strategy?
Based on your portfolio and the investment needs you have, you can set various strategies. However, one of the essential strategies you need to find and follow is risk management. The ARC Strategy is all you need for a balanced crypto portfolio.
What Is The Best Crypto Newsletter?
There are outnumbered crypto newsletters out there, but Messari, Coin Metrics, and Cointelegraph provide the most reliable crypto news.
How do you rate this post?