10 Best Free Crypto Screeners in 2023
#blockchain
#cryptocurrency
#cryptomarket
#btc
tl;dr
Top traders and investors strike it rich thanks to the best crypto screeners. Providing real-time data about crypto assets, a cryptocurrency screener helps investors seize the moment and make smart investment decisions. This article will explore the 10 best free crypto screeners to ease you into the game. Keep your eyes peeled, and don't miss out!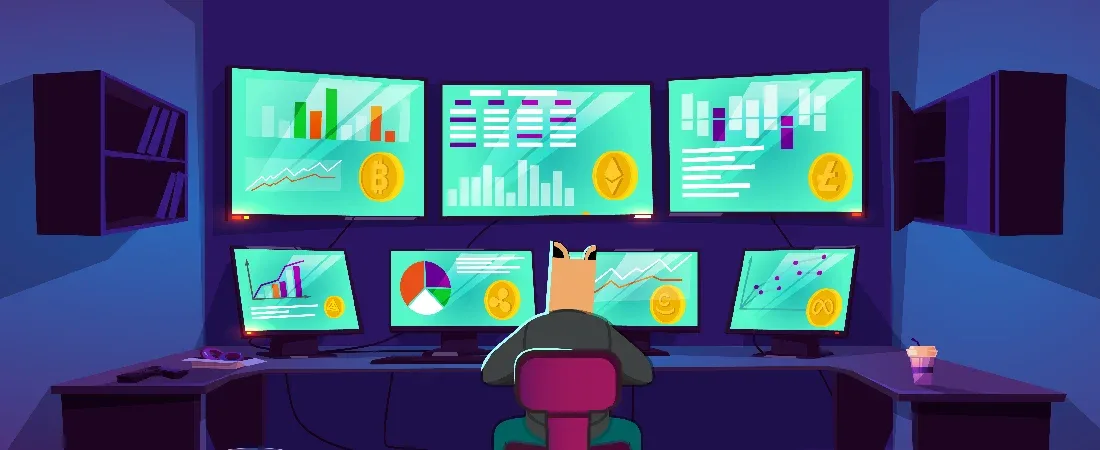 How do you rate this post?
What Is a Crypto Screener?
Long story short, a crypto screener is a web-based tool helping every crypto enthusiast
analyse each crypto's statistics,
sort through investment opportunities,
set alarm prices,
make a portfolio,
filter cryptocurrencies based on their favourite metrics, and
determine if they sell or hold their crypto asset.
Yes, I also feel a cryptocurrency screener is like a magic wand that you can move and get a clear investment roadmap! But there is more you need to learn before choosing a good crypto screener. Let's see how crypto screeners actually work.
Read more: The Best Crypto Signal Simulator For 2023
How Does a Crypto Screener Work?
As a crypto investor, if you want to buy low and sell high, you need a tool to scan all the market price changes in next to no time not to miss the opportunity since assets' prices fluctuate continuously.
A crypto screener is a tool that lets you scan all the crypto assets' data and provides you with several features. Here is how a crypto screener work and how it can help crypto investors/ traders.
A crypto screener allows you to create a watchlist and track your favourite coins.
Instead of spending several hours searching for information on various resources, you can freely follow the latest news and crypto project updates in one place.
Since cryptocurrencies experience continuous price fluctuations, a crypto screener helps you set a price alert, scanning all the market price changes.
Using a crypto screener, you can easily make your own portfolio and monitor your crypto assets.
Most crypto screeners include several filtering tools to customise searching and categorise crypto assets based on your favourite parameters.
In recent years, numerous crypto screeners have been developed in the crypto industry, but some have developed features that help them stand out. So, without further ado, let's find the best free crypto screeners to form our trading strategies.
10 Best Free Crypto Screeners At A Glance
A crypto screener allows us to track the pulse of the entire crypto market. Although each crypto screener can offer unique features, they all strive to combine common parameters, such as
Price,
ROI,
Market Cap,
Average Trading Volume, and
Percentage of Price Changes.
To consider the best free crypto screeners all in one place, we have summarised their launch date, the number of assets they support, their monthly visitors and drawbacks in the following table. Detailed explanations of each screener are provided in the sections following the table.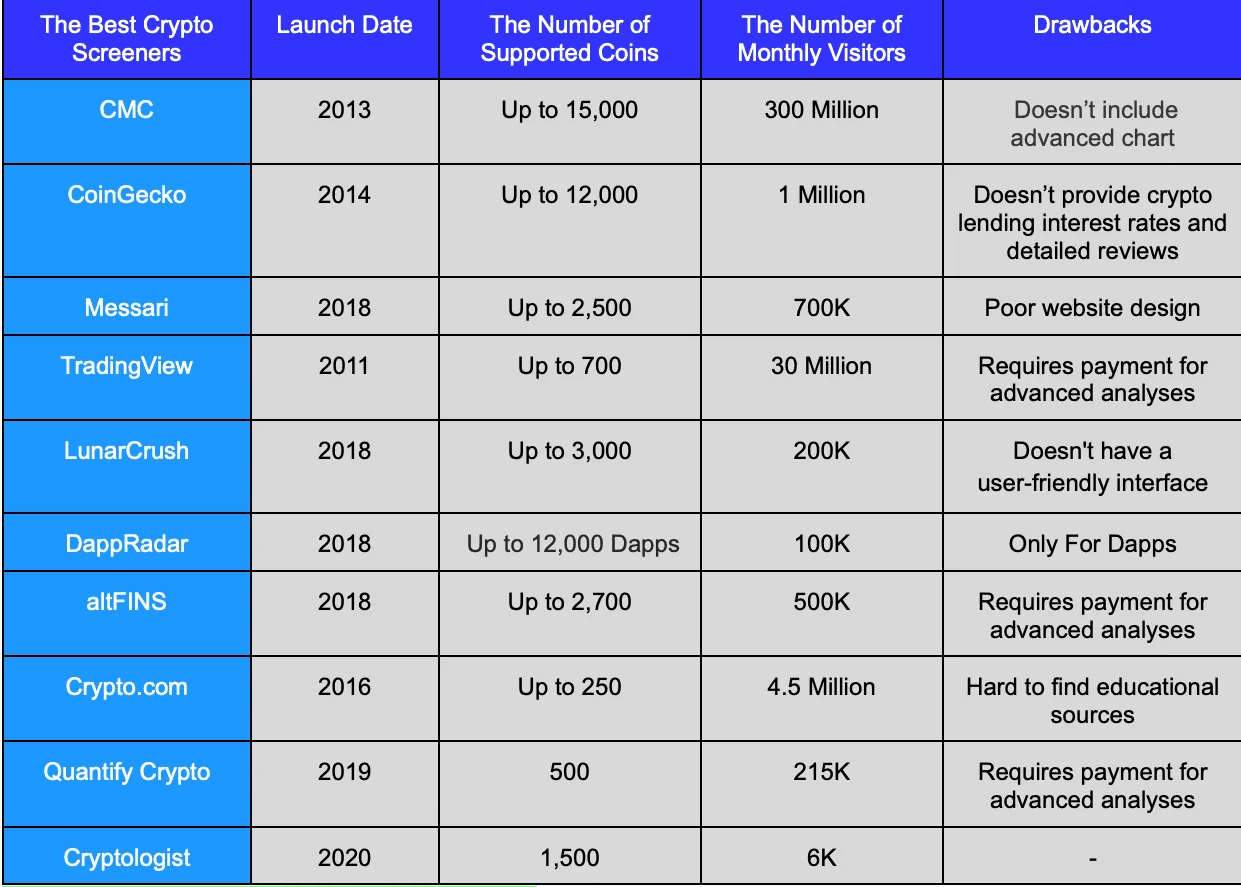 What Are The Best Free Crypto Screeners?
As different crypto screeners come with varying features and parameters, we need to know these features to choose the best screeners. We've listed the ten best free crypto screeners below to save you many hours crawling the net and various sources.
CoinMarketCap: A Free Crypto Screener for Beginners
The old favourite CoinMarketCap (CMC) is one of the best free crypto screeners, founded by Brandon Chez in May 2013. Let's elaborate on its top pros and cons.
A Great Number of Coins and Users: Listing more than 2,000 cryptocurrencies, CoinMarketCap offers free access to current and historical data for Bitcoin and thousands of altcoins, with over 300 million users visiting the website monthly.
Providing Educational Sources: There is no escaping that learning crypto is complicated, which is the dread of many new and experienced investors. CoinMarketCap can be one of our best choices for newcomers since it includes a learning section known as Alexandria to convey a great deal of crypto knowledge to beginners.
No Advanced Chats: On the flip side, CoinMarketCap does not include advanced trading charts for high-level and seasoned crypto traders.
CoinGecko: A Free Crypto Screener for Exchange Listing
Similar to CoinMarketCap, CoinGecko is one of the best free crypto screeners and a great choice if you want to find a list of different exchanges. CoinGecko comes with the following features.
More Data: Followed by 8 million users, CoinGecko provides a broader range of information and statistical data Compared to CoinMarketCap, including developer activity and community growth metrics.
Personalised Watchlist: You can make a watchlist for free to see the performance of your favourite coins.
A Wide Range of Projects: You can access categories of newly listed projects within the last 30 days, as well as different types of ecosystems, lending and borrowing projects, DeFi and CeFi platforms, NFT tokens and many more.
Hard to Compare Projects: The lack of crypto lending interest rates and detailed reviews poses challenges for investors as they can't compare different projects easily.
Messari: A Free Crypto Screener for Customised Filters
Messari is our third pick for crypto investors to gain an edge over the crypto market with its comprehensive lineup of filters, data, tools, and research.
Founded in 2018 in New York, Messari aimed to facilitate crypto investing by breaking down financial data and ultimately giving everyone the tools to mount up or reshape their investing thoughts. Here are its main features.
Portfolio of Other Investors: Providing top research on more than 2,500 cryptos and custom data, Messari allows you to see the portfolio of other crypto investors to learn from them or compare strategies.
Messari Is Not Completely Free: If you want to use all the features and benefits provided by Messari, you have to pay $29.99 monthly.
Poor Website Design: Although Messari tended to follow the other big crypto screeners' manner like CMC or Coigecko, it could have a better design and user interface.
TradingView: A Free Crypto Screenr for Seasoned Traders
Next on the list is the TradingView screener to scan the entire crypto assets based on various parameters, such as category, price change, growing TVL (Total Value Locked), and so on. The most important things to know about this screener are as follows.
Not Only Crypto But Other Financial Markets: In addition to screening cryptocurrencies, TradingView includes multiple additional online screeners, such as Stock Screener, Forex Screener, Stock Heatmap, and more, in both free and premium subscriptions.
Better for Advanced Users: TradingView is better suited to experienced investors and serious crypto traders than beginners, as it's not too easy to use.
Giving users insights into top-performing coins and NFTs, LunarCrush is another free crypto screener to mount up your investing strategies, founded on Jun 12, 2018, by Joe Vezzani and Jon Fargo. Let's check out its main features.
Collecting Opinions and Monitoring Data: LunarCrush collects community insights and users' opinions about cryptos, monitors the social media activity and market performance of thousands of cryptocurrencies, NFTs and stocks and delivers them to crypto investors.
No Friendly Interface: The LunarCrush website doesn't have a user-friendly interface.
Good for Advanced Users: It can be a better option for experienced investors and serious crypto traders than beginners of its complicated tools.
Limited Categories: LunarCrush only supports limited filters to categorise your crypto asset information.
DappRadar: A Free Crypto Screener for Decentralised Applications
With Decentralised Applications (dApps) becoming an increasingly important part of the crypto space, DappRadar aimed to focus on dApss only to enable users to track, analyse, and discover new decentralised applications. Here are its differentiating features.
Swapping: One of the unique features of DappRadar is that it allows users to swap their crypto tokens at the best market prices available.
Focused on dApps and Blockchains: DappRadar focuses solely on decentralised applications and blockchains. So, if you want to follow the newest and trading altcoins, you'd better start with another crypto screener.
altFINS: A Free Crypto Screener for Overal Charts
Similar to the previous crypto screeners, altFINS allows users to use crypto graphs along with essential parameters. Its main features are given below.
Screening A Good Number of Assets: It screens up to 2,700 coins directly using various signals and filters.
Expensive Advanced Features: If you need a more comprehensive view of the crypto market, advanced analyses and customised filter tools, you need to pay for the premium versions, which are quite expensive. altFINS' subscription fees range from $20 to $60 per month or $180 to $600 for a year.
Crypto.com allows you to track hundreds of cryptocurrencies and even buy, sell and trade them simultaneously, all in one place! Let's see what its main features are.
Developing and Popular: The world's fastest-growing crypto platform with over 50 million users and up to 250 cryptocurrencies.
Various Services and Features: Crypto.com offers services including Crypto.com App, Crypto.com Exchange, Crypto.com DeFi swap and Wallet, Crypto.com Pay, Crypto Earn, Crypto Credit, and many others services.
No Educational Content: Lack of educational resources concerns beginners as understanding complicated concepts of cryptocurrency and blockchain with Crypto.com takes time and effort.
Quantify Crypto: A Free Crypto Screener for Beginners
The great success of CoinMarketCap and other game changing-platforms inspired the next generation of crypto screeners like Quantify Crypto, which was founded in 2019, with the following main features.
Various Features: Quantify Crypto is a new emerging crypto screener that aims to provide analytics, price alerts, professional tools, heatmaps, strategies, educational content, news, and charts on the top 500 cryptocurrencies.
Paid Advanced Tools: Using the Quantify Crypto free version, you can only access the basic information of the top 500 crypto coins. You need to pay for a premium account (starting from $30/ month) to view the advanced tools and analyses.
Cryptologist
Last but not least, Cryptologist is another free crypto screener which has grown into a fully-fledged all-in-one platform to enhance your trading and crypto knowledge. Providing the following features, Cryptologist is growing bigger every day and can be one of the best choices for anyone wishing to invest in cryptocurrencies confidently.
Unique Analyses of The Top 1500 Coins
Easy-to-Digest Charts and Visuals
Personalised Watchlist
Cryptocurrency Portfolio
Hottest News of The Crypto Market
In-depth Educational Guides
Summary
That's all about crypto screeners and why we need them! In fact, investing in crypto assets is not a walk in the park, you have to scan the market and spot the best trading and investing opportunities.
This is where Cryptologist and other free crypto screeners come in handy to keep track of cryptocurrency metrics, help you improve your investing decisions, and make crypto trading less daunting.
How do you rate this post?