10 Best Crypto Apps You Need on Your Phone
tl;dr
Professional crypto investors and traders need to follow their crypto activities round the clock, but they can't take their PCs everywhere. That's why they need the best crypto apps on their phone to have non-stop access to their wallet, portfolio, crypto news, and more. If you want to invest/ trade like a pro, you need to have the best crypto apps. Keep reading to find out why these crypto apps deserve to have a spot on your home screen.
How do you rate this post?
What Are The Best Crypto Apps?
You need to find the best crypto apps if you want to have your crypto goods right in your pocket with you, keep track of the crypto space wherever you are, or simply want to trade crypto on your phone. There are many apps to check out and download, but we don't have unlimited time, energy and storage space.
We've done the research and made a list of the best crypto apps that you need to have on your phone so you don't have to.
When it comes to free crypto apps, MetaMask is the first app that comes to mind. MetaMask is an Ethereum-compatible hot wallet, and you can easily create multiple wallets and have them in one place - all for free! Many crypto decentralised apps allow you to seamlessly connect to MetaMask and finalise your purchase, making it an extremely convenient crypto app. MetaMask is available for both iOS and Android devices.
10 Best Crypto Apps No.2: Binance
Binance is arguably one the best crypto apps for traders and those who constantly want to buy and sell crypto assets. The Binance app offers over 1,000 trading markets with a broad range of cryptocurrencies. Also, Binance requires extremely low transaction fees, and if you hold BNB in your wallet, you will be rewarded with even lower transaction fees. Binance is the world's biggest CEX in regard to both size and liquidity. With these features, the Binance app targets a more advanced and experienced audience rather than crypto newbies.
10 Best Crypto Apps No.3: Coinbase
Coinbase is the best crypto app for beginners. If you're an extreme beginner with little experience and you want to buy crypto straight from your phone, you definitely need to download Coinbase. In this app, the investment process is provided with a step-by-step guide from the moment you create an account to the very last step of purchasing crypto.
10 Best Crypto Apps No.4: Blockfolio
Blockfolio is a news and portfolio tracker app for mobile. Blockfolio offers unique features like tracking your crypto asset across hundreds of exchanges, setting up custom portfolios, and viewing price charts and news. Blockfolio is one of the best crypto apps on mobiles and is available for both iOS and Android devices. This app was recently bought by FTX crypto exchange, which is where its portfolio tools are coming from.
10 Best Crypto Apps No.5: CryptoPanic
CryptoPanic is a crypto news aggregator app that constantly keeps you updated on important crypto news in the market. It allows you to track important crypto events and their impact on the performance of crypto assets. Users can comment on the news, react with how they feel about it, and vote to mark a specific news post as important. CryptoPanic is the best crypto app when it comes to constantly keep yourself updated with the trends and news.
10 Best Crypto Apps No.6: Brave
Brave browser is one of the best crypto apps - or at least crypto-related apps! - out there. In short, Brave allows you to have a choice when it comes to ads on the internet: unlike regular browsers that show ads without you ever asking for it, Brave lets you choose if you want to see ads, and you get paid in BAT token with each ad you interact with! Brave is also Chromium-based, so you won't have any trouble installing your Chrome extensions. It blocks unwanted trackers and has one of the best built-in ad blockers out there. Brave is available for both iPhone and Android. Enjoy YouTube without having to sit through 4 ads, and thank me later!
10 Best Crypto Apps No.7: CoinMarketCap
CoinMarketCap app allows you to access its unique features in an instant. It is one of the best crypto apps that offer daily OHLCV data, portfolio tracker, watchlist, candlestick charts, price alerts, conversion calculator, crypto comparing tool, fresh crypto news, and a dark mode. What else could you ask for? CoinMarketCap app is best suited for people who want to actively find new crypto projects and compare their crypto options, be they crypto newbies or advanced traders.
10 Best Crypto Apps No.8: TradingView
TradingView is an analytical and educational platform for investors, traders and learners to connect and share their ideas and perspective about the current performance of the market. TradingView is the best crypto app in what it does - educating investors through a community of other investors. Traders have access to real-time data and tools to better analyse the market and share their investment ideas with the world.
10 Best Crypto Apps No.9: Exodus
If you've got a keen eye and user interface, along with usability, matters to you the most, Exodus might be your go-to crypto wallet app. Aside from its beautiful design, Exodus has a built-in crypto exchange which is a very convenient feature as it allows you to trade your assets in the same place you keep them. This exchange supports more than 150 crypto assets. This app is also one of the safest crypto wallets out there, and all blockchain assets are secured with a password along with encryption. Overall, Exodus is the best crypto app in terms of convenience, design, and security.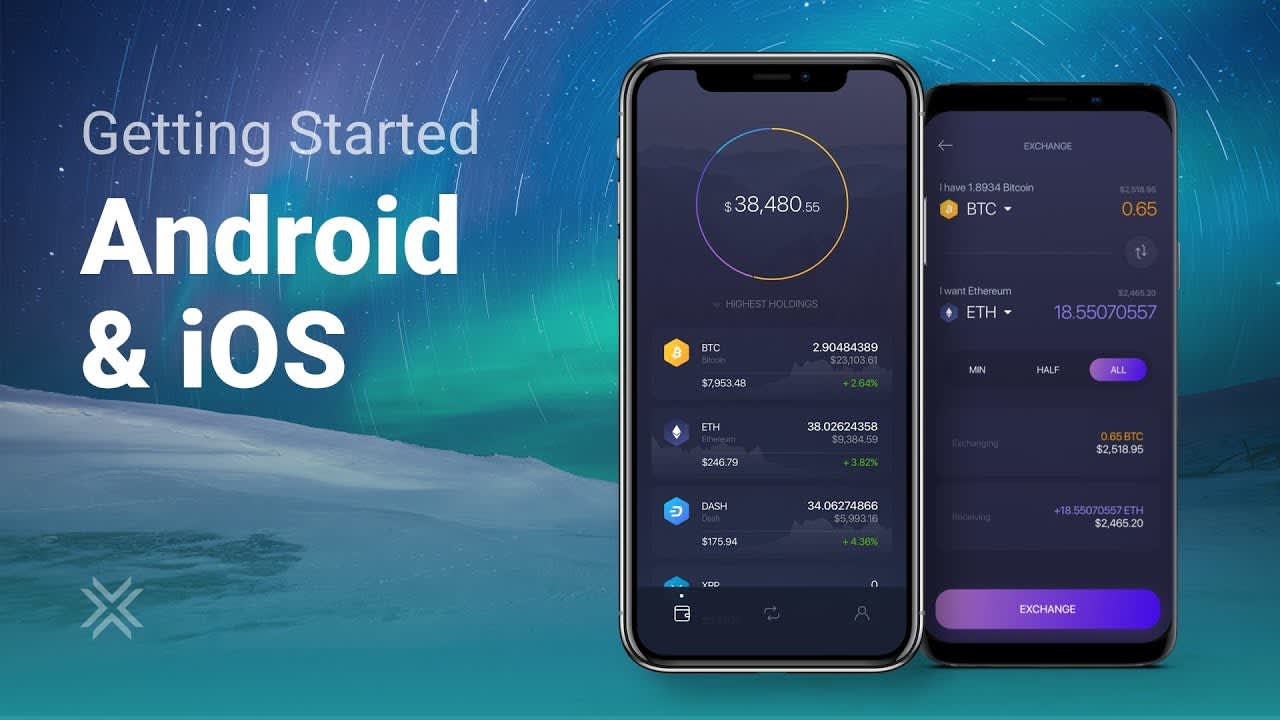 10 Best Crypto Apps No.10: ECOS
ECOS is a complete crypto ecosystem that offers everything you need to interact with crypto at its fullest. ECOS is one of the best crypto apps because it provides the following, all in one place: crypto wallet, cloud mining, exchanger, and a tool for investing in portfolios. Even though mining Bitcoin through your phone sounds like a hopeless dream, ECOS made it possible by allowing you to mine Bitcoin with their equipment and manage the process through your phone. Mining with ECOS can be as profitable as 200% per year, depending on the Bitcoin rate.
Cryptologi.st is the all-in-one hub for your crypto needs, especially if you're looking for tops! Here at Cryptologi.st, you can read the hottest crypto news never to miss another impactful crypto event, create a watchlist of the cryptocurrencies you want to keep an eye on, find the crypto assets you're looking for through this spider chart guides, check unique analyses of the top 1500 crypto projects, and make confident crypto decisions!
How do you rate this post?